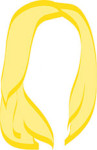 Because my fiance knows me so very well, he surprised me with an overnight layover in Dublin after our whirlwind three-day adventure in London. If you recall, I spent a year living in Ireland during grad school, and have since been chomping at the bit to take Sean back to the homeland and show him all of the pubs places I came to know and love during my time there.
Arriving in Dublin's fair city at 5:00pm and leaving early the next morning, I had approximately twelve hours to give Sean, a Dublin first-timer, a taste of one of my all-time favorite cities. And what better way to do so than drink our way around some of the best pubs the city has to offer…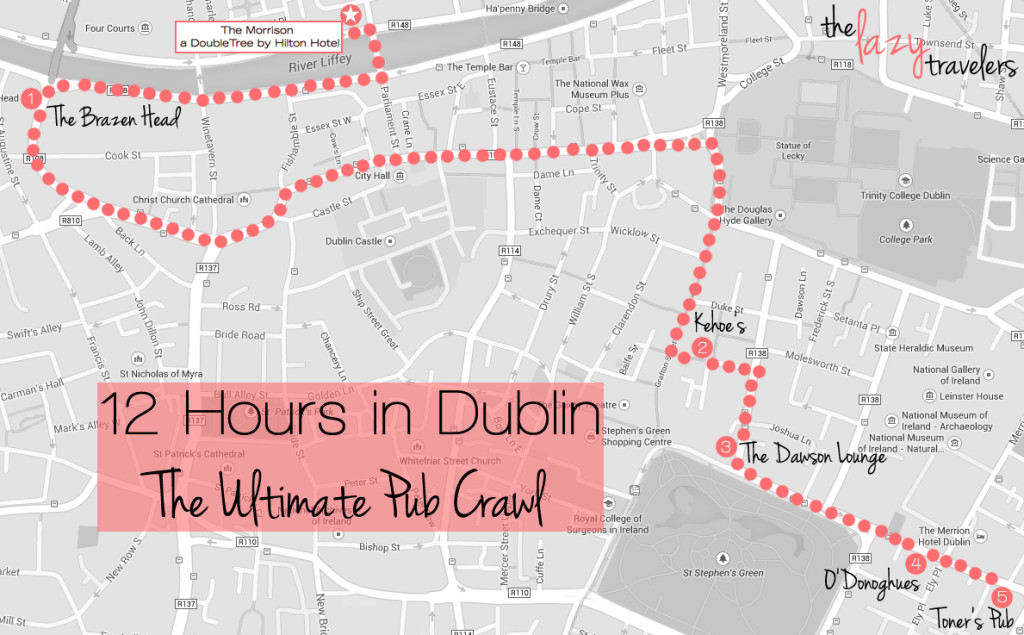 Where to start //
The Morrison, a DoubleTree by Hilton
Ormand Quay
In order to get the most out of our 12 hour layover in Dublin, I knew we had to stay somewhere super central, while at the same time providing enough comfort and luxury for my fellow weary traveler who happened to be experiencing a bit more jetlag than normal.
The Morrison Hotel sits on the north bank of the Liffey, only a short walk from the main drag of O'Connell Street (which is where the bus from the airport can drop you!) and directly across a pedestrian bridge from the busiest section of Temple Bar. Though it's less than a five minute walk from the front door of the hotel to your first pint in Temple Bar, its position across the river provides a much quieter atmosphere for those looking to escape the noises of City Center.
We were pleasantly surprised to find out at check-in that we were upgraded to a junior suite, which had a view of the river, minimalist and modern decor, and plenty of space for us to spread out and relax, should we choose. Though we could have spent the whole night lounging in our room, we bundled up against the Dublin December wind and made our way to the first stop on our pub crawl…
1. The Brazen Head
20 Bridge Street Lower
On the very first Sunday in Dublin during my grad school years, I spent the day roaming the city with my friend and partner-in-crime, Amy. After a stroll along the Liffey, we stumbled upon The Brazen Head (Ireland's rumored oldest pub), where we settled in at a corner table in the main bar and ordered a pint of Guinness and a traditional Irish lunch. When a band started playing Irish folk songs in front of the fireplace, I knew I was officially and wholeheartedly in love with Ireland.
Amy and I spent countless Sundays thereafter drinking pints upon pints and singing along to the live music. We made friends with the band members and bartenders, took our families and friends there when they came to visit, and whiled away afternoons and evenings in what would become my favorite bar in the world. Six years ago on my birthday, during a typical night at The Brazen Head, I got a call from a boy thousands of miles away who would become my fiance many years later.

I knew The Brazen Head was the first bar I would take Sean when we arrived in Dublin, and it didn't disappoint. It was a Sunday evening, so the music was in full swing when we arrived. We ordered pints (Sean's first Guinness!) and took a seat outside under the heat lamps. You are perfection, Brazen Head. Truly grand.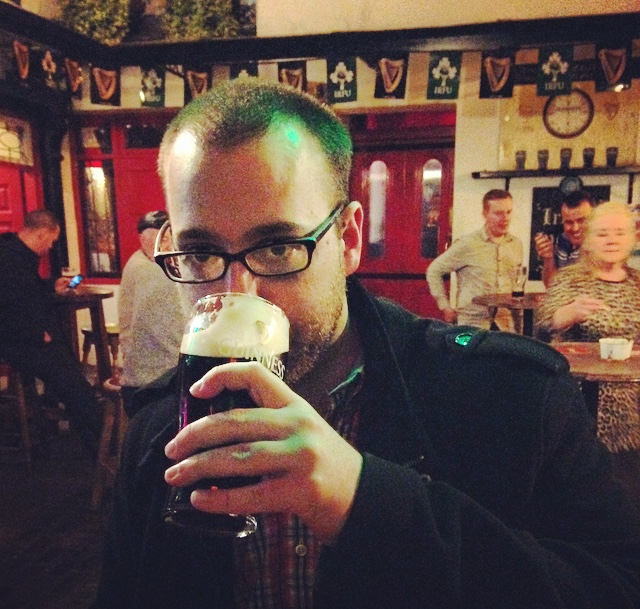 My goodness, Sean's first Guinness!
Starting at Brazen Head gives a Dublin first-timer the perfect chance to glimpse the sites and sounds of City Center. Though a thousand stops could have been made along the way, we walked east along Dame Street all the way to our next pub.
2. Kehoe's
9 Anne Street South
Kehoe's is a no-frills kind of pub in a very frilly kind of location. It sits on a side street just off of Grafton, one of Dublin's busiest shopping destinations and most famous attractions. If crowds give you rage (and we don't blame you if they do), you could walk down the quieter Dawson Street, but having a Dublin first-timer in tow, we braved the holiday shoppers and strolled along Grafton.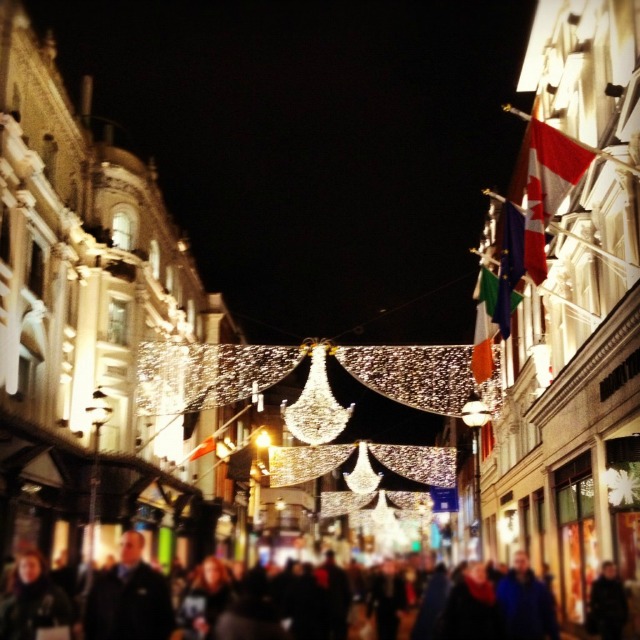 In addition to its convenient location, Kehoe's has become one of my go-to pubs when showing around Dublin newbies because of its historical interior and traditional ambiance. It's almost always jam packed, so expect standing room only, especially in the after-work hours and on weekends.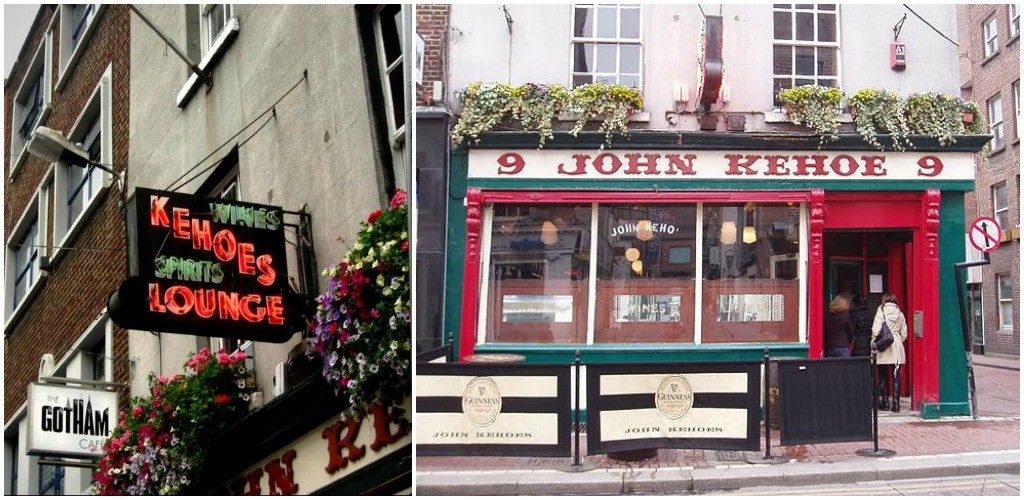 Photo (on right) credit / Timothy J. Barron
True to form, Kehoe's was bumping by the time we arrived. Here, a good Irish friend of mine, Emma, and her new fiance, Eoghan, met us for a celebratory drink. We ordered up two more rounds of Guinness and a cider for someone who was a little under the weather after a weekend of drinking (hint: it was one of the boys).
3. The Dawson Lounge
25 Dawson Street
Soon after learning that this was Sean's first time in Dublin, Eoghan was intent on making sure he had the city's finest Guinness. His favorite place for a pint was only a short walk away on the other side of St. Stephen's Green, so we made our way out of Kehoe's and embarked on a journey for the perfect Guinness.
Like all good Irish pub crawls, it was time for our first unscheduled stop. As we walked down along Dawson Street, Emma pointed out The Dawson Lounge, the city's smallest pub and a place I never had a chance to visit during all my time there. We felt obliged to make our way down for a pint and managed to find enough elbow room in a dark corner to enjoy a drink (or two).
4. O'Donoghues
15 Merrion Row
With the smallest pub in Ireland checked off our bucket lists, we were on our merry way to taste the best Guinness in Dublin, when lo and behold, another unexpected stop got in the way.
The historic O'Donoghue's pub is a favorite amongst both locals and tourists for its authentic feel, and on many nights, local musicians gather at the front tables to entertain the crowd. The music pouring out onto the sidewalk as we walked by was enough to draw us in, and we eagerly squished ourselves into the crowd for another pint.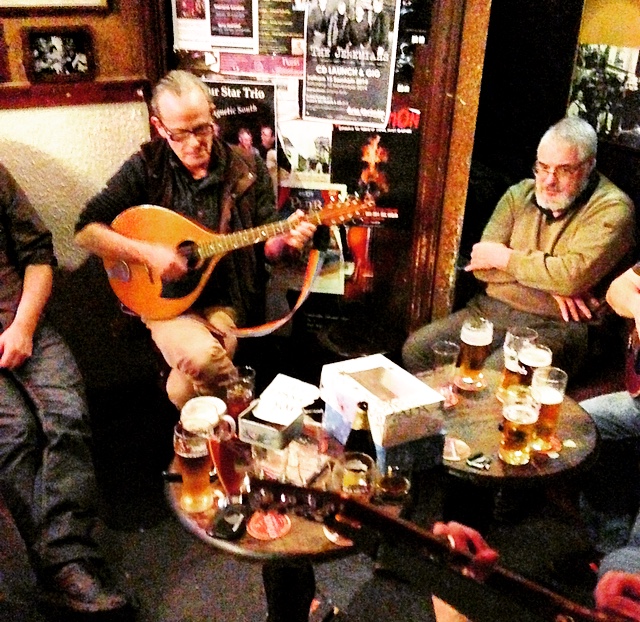 One of my absolute favorite parts of living in Ireland was watching the impromptu gatherings of musicians in pubs across the city, and I knew being able to show this to Sean would win over his first-timer's heart.
5. Toner's Pub
139 Lower Baggot Street
Alas, after one too many pints in O'Donoghue's, we made the short walk down Baggot Street to Toner's for what Eoghan claimed to be the best pint in Dublin.
When we wedged our way to the bar to order our pints, the bartender informed us that the snug was open. (The what??) The snug! Which apparently is a very Irish thing that I NEVER MANAGED TO LEARN ABOUT WHEN I LIVED THERE. History lesson: in most traditional Irish pubs, there exists a small private corner of the bar marked off by a frosted glass or wooden door, where people can drink privately. Historically, the snug was used for those who may not have wanted to be seen in a bar, like a police officer or parish priest, but now, nabbing the snug is more for bragging rights than anything privacy.
Eoghan, a Toner's regular, was beside himself when we were handed over the snug. So much so that we parked ourselves here for the rest of the evening until last call.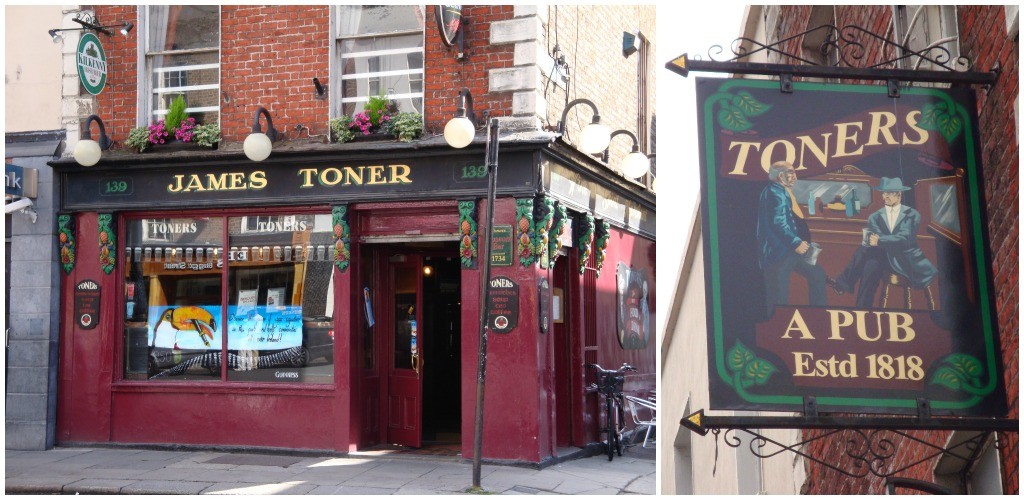 Photo credit / Timothy J. Barron
After five pubs and countless pints, my Dublin first-timer was ready to head back to our comfy suite at the Morrison and sleep for as long as we could until we caught our flight early the next morning.
But I wasn't done just yet. On the walk back to the hotel, we made one last stop at Rick's Burgers (a lazy travelers' fav!) for a much needed late night snack.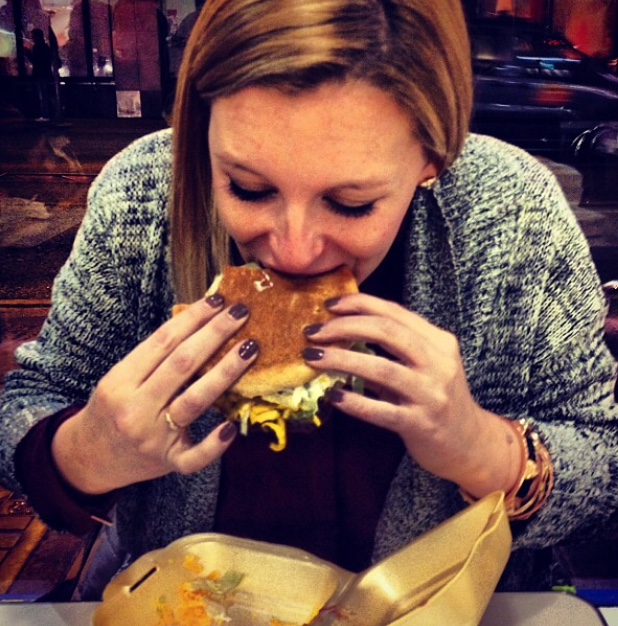 Until next time, my dear Dublin.
xo!
the wino
During our short stay in Dublin, we were guests of The Morrison Hotel. All opinions regarding the hotel are our own.
Cover photo credit: Patricia Hofmeester