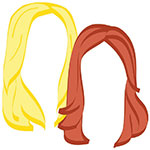 Though we did our fair share of the required sightseeing, wine drinking and animal obsessing while in South Africa, there was one big reason we finally tackled this long-time dream destination of ours. For years, we've toyed with exploring Africa together, and we knew that when we finally did, wherever we went, we wanted to incorporate volunteering into our experience.
We had tossed around tons of possible itineraries before #LTsouthafrica came to be, and when we met Christopher Hill, it felt like a sign. Chris is the founder of a luxury voluntourism company called Hands up Holidays that creates tailor-made itineraries, featuring philanthropy experiences all over the world. With Chris's help, our custom-built trip through South Africa combined traditional sightseeing, luxury accommodations, and two days of volunteering our time to help the local community. Having never done anything resembling this type of trip before, we had no idea what to expect! Would we be building houses or cleaning up beaches?!
One stand-out difference between Hands Up Holidays and other volunteer organizations is the variety of projects on their radar. Hands Up partners with local volunteer groups on anything from renovation and repair to environmental conservation to medical and physiotherapy. We were excited and nervous to see where we would be assigned — as two proudly lazy travelers who are easily rattled by loud noises, we knew we wouldn't be much help in a labor-intensive home build involving buzz saws, electric drills and hammers, because what even is a buzz saw?
Luckily, about a month before our departure, we were thrilled to learn that Hands Up had paired us with a less physically demanding (but equally as rewarding!) experience: helping to renovate children's care centers in Cape Town.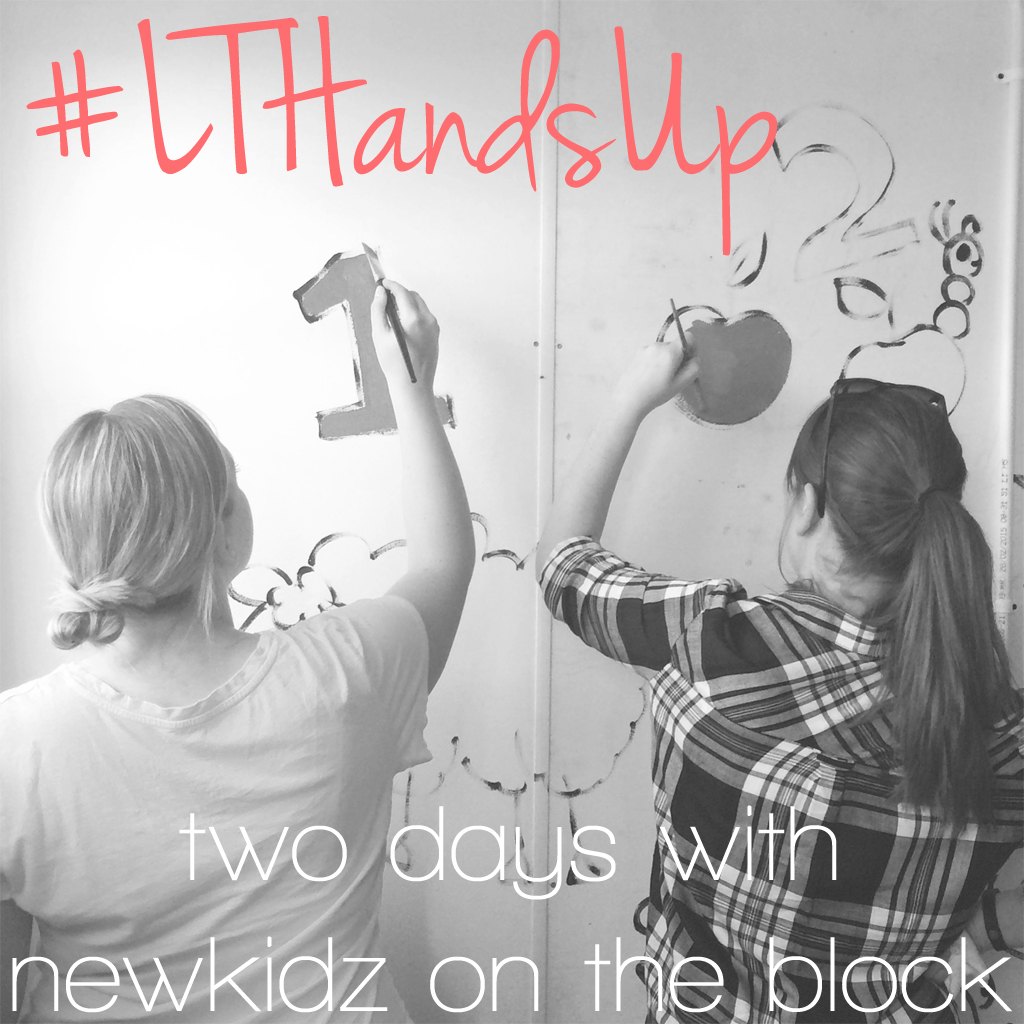 This was our first time having a third party put together a full itinerary for us, and it was definitely a learning experience — one we promise to get into a bit more in a later post. Without a doubt, however, the very best thing that Hands Up did for us was connect us with Newkidz on the Block, a local organization that works to create awareness for South Africa's 3 million orphaned, destitute and vulnerable children.
Together with the founders, Hilda and Michael De Beer, we would spend two full days showing some much-needed love to four care centers: Noma's Baby Centre, Lusanda Educare, Forever Educare and Christian Centre Educare. Though it would be a lot of work, we were so excited to make difference in the lives of 265 local kids.
Bright and early on our third day in South Africa, Hands Up arranged for us to be picked up from Dock House Boutique Hotel and driven about twenty minutes outside of downtown Cape Town to the Samora Machel community in the Phillipi township. As our Hands Up tour guide had explained to us on our first drive through Cape Town days before, townships are communities in and around South African cities that were historically reserved for non-white South Africans. During the time of apartheid, non-white South Africans were pushed out of designated "white only" neighborhoods in the cities, and forced into segregated "townships." Today, though the apartheid era has ended, townships are still mostly segregated, and are often severely underdeveloped and lacking in modern infrastructure, such as plumbing and electricity. We didn't take many pictures of the township itself, but if you're interested in learning more and seeing photos, this Township Tour post by Geraldine at The Everywhereist is worth a browse, and so is this post she wrote on the History of Apartheid.
Our first time in the township was jarring. Phillipi is one of Cape Town's largest townships, and is made up of thousands upon thousands of hand-made structures and dwellings. Most of the houses are literal shacks, built from a variety of materials, including tin, wood, and plastic waste. Over half are without electricity, proper sanitation, and plumbing. Despite the obvious hardships in Phillipi, we were surprised to see just how self-sufficient the township was. As we drove to our first stop, we spied a barber, a clothing store, more than one school, and numerous small businesses.
Our driver pulled onto a narrow dusty road and dropped us in front of Lusanda Educare, a children's day care facility that cares for approximately 30 children and is comprised of two small buildings adjoined by a narrow courtyard. Inside Lusanda's main building was a central play room with two windows, white plaster walls, and a small kitchen and bedroom off to the side. In the adjoining building, about 20 children ranging in age from about 2 to 6 sat crossed legged looking at books and escaping the hot morning sun while we started the remodeling of the main building.
The main educare room before we worked our magic!
We were met by a sassy local artist, Theo the Mural Maniac, who works with Newkidz from time to time on painting and renovation projects. Our task for the morning was to paint the inside of Lusanda's central room with an educational mural. As Theo quickly sketched numbers on one side of the room and the alphabet on another, we got to work painting.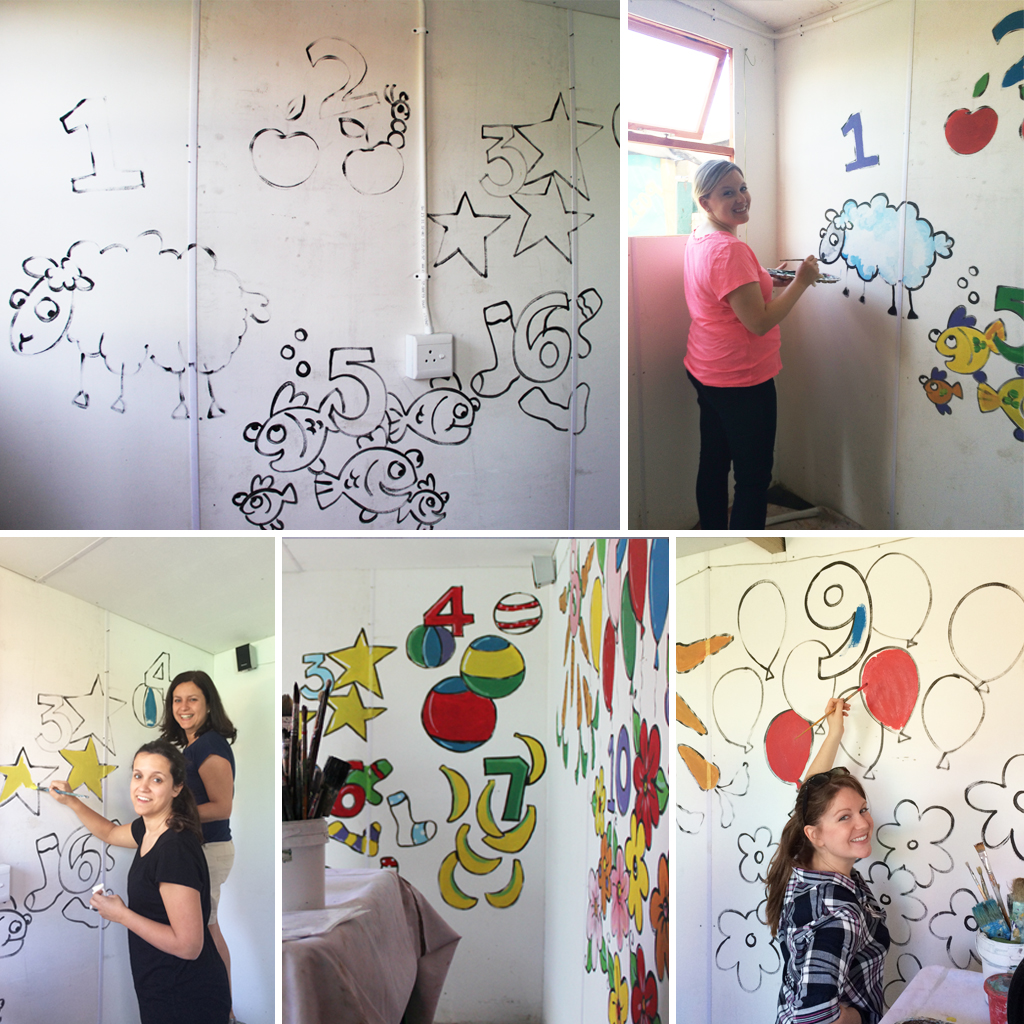 With the help of two interns from Newkidz (not pictured), we completed the murals, hung new curtains on the windows and added hooks for the children's coats.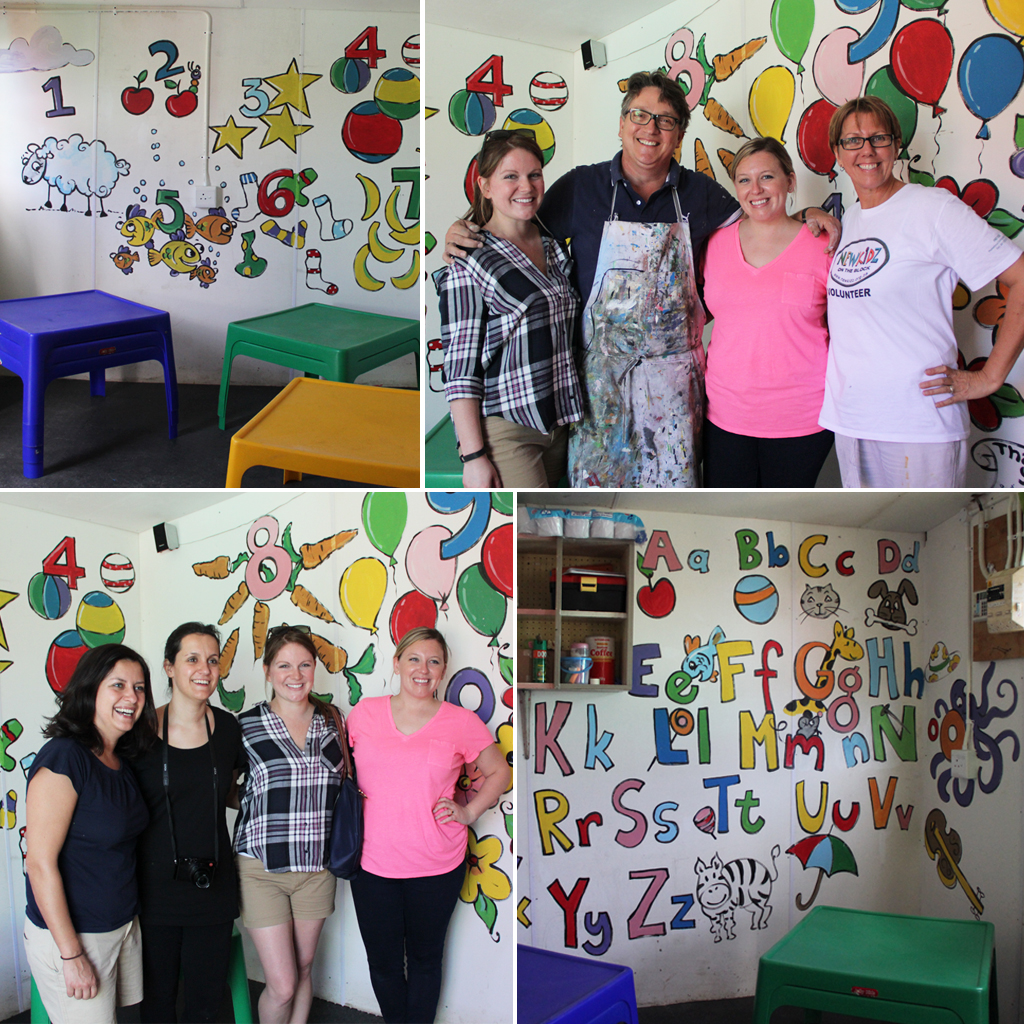 We quickly brought back in the furniture, and we were able to reveal the mural to the kids. They were shy at first, but soon they looked so genuinely happy to see their new, colorful room.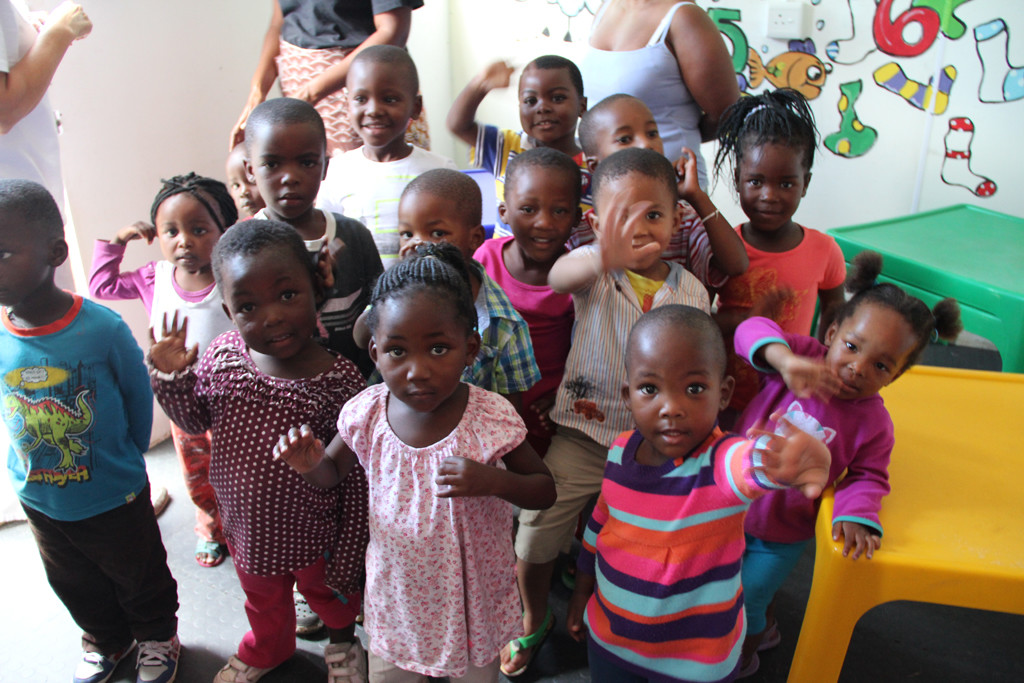 Photo used with express permission from Newkidz on the Block, Lusanda Educare, and the parents
After a quick lunch break, we drove to our next stop, Noma's Baby Care, where Theo and the Newkidz team were already hard at work priming the exterior of the building. Though Noma's isn't much larger than Lusanda's, it cares for more than double the amount of children, ranging in age from newborn to about 3-4.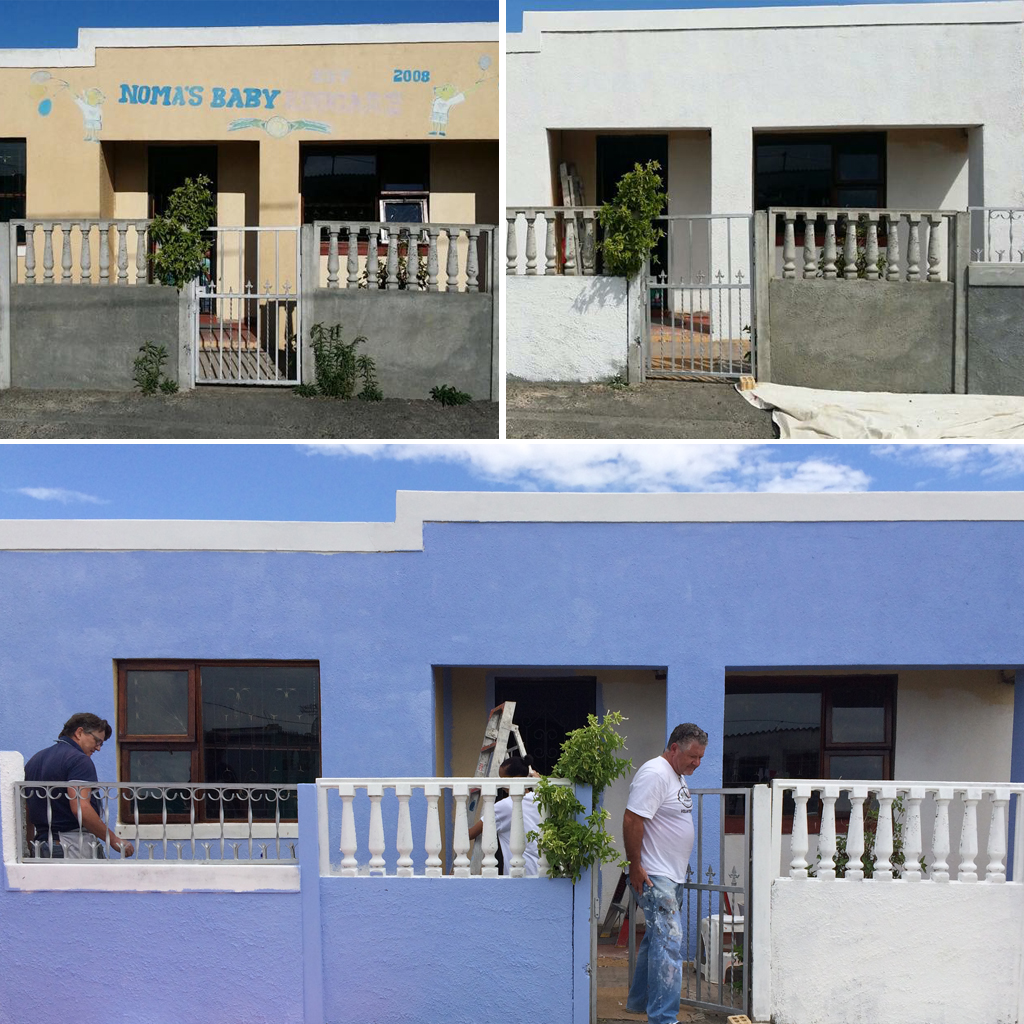 For the next three hours, we helped paint the entire front exterior of the building bright blue, and assisted Theo with murals on the front fences and the new "Noma's" signage above the door. With our arms shaking from a day full of painting and our clothes speckled with our efforts, we revealed the new exterior to Noma, who cried in delight and couldn't stop hugging us and the Newkidz team. You can imagine we had to keep our own emotions in check, so as not to ruin our tough girl street cred.
(Seriously, it was a good thing we were wearing sunglasses.)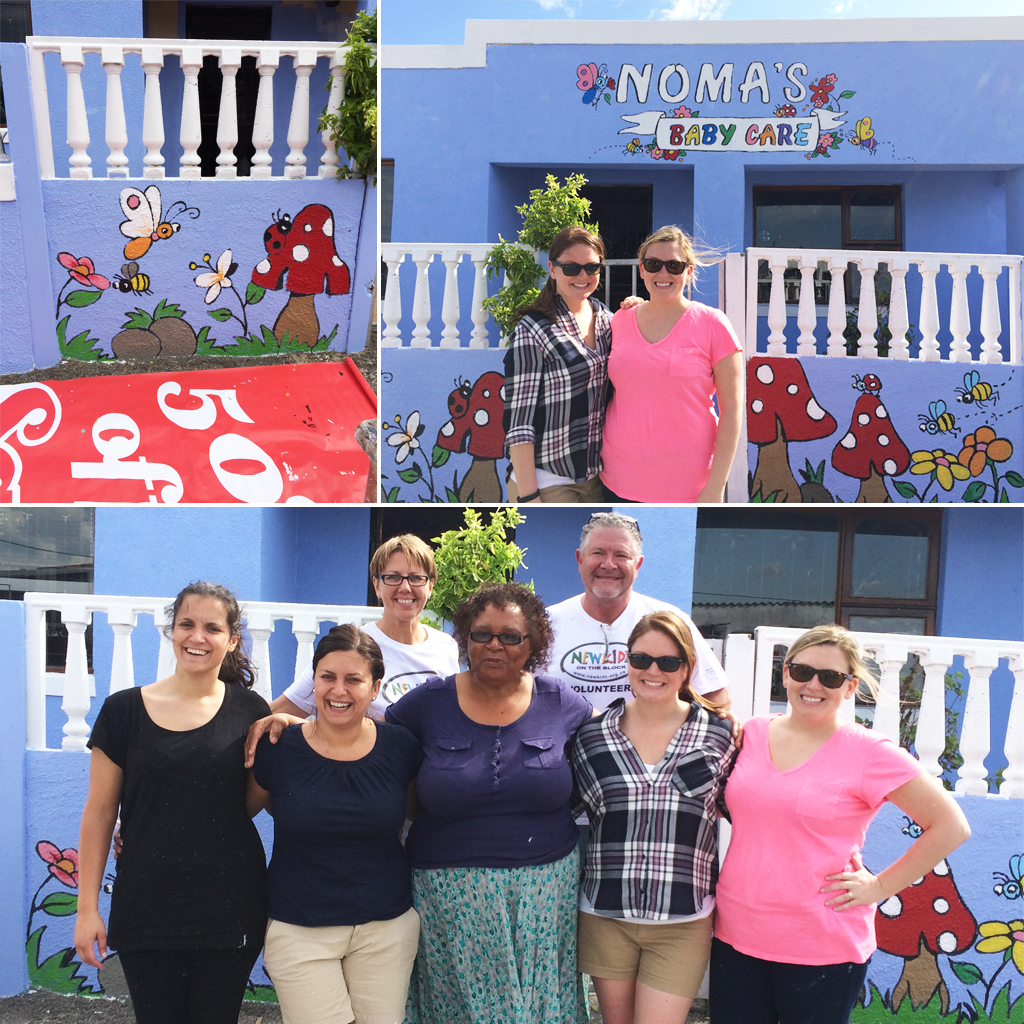 Climbing back into the van after our full day, we were on an absolute high. There was nothing like seeing everyone's reaction as we revealed our day's work, and a few days later, minus one wino, we got to do it all over again at Forever Educare and Christian Centre Educare.
In the end, along with the materials required for renovating these four spaces, Newkidz also used the donations from our readers to buy educational toys, rolls of papers, new curtains, gifts for the staff, groceries and healthy snacks, new signage, baby bottle sterilizers and more. We cannot thank you enough for your generosity, and we were so thrilled to see firsthand that the funds were used for such a worthy cause.
We can now say that our time with Newkidz was our favorite experience of the trip, by far. There are plenty of reasons we want to return to South Africa, and we as we said goodbye to Hilda and Michael, we promised that when we do, spending even more time with them is the first thing on our list.
xo!
the romantic & the wino
We were guests of Hands up Holidays during our time in South Africa. All opinions are, as always, our own.