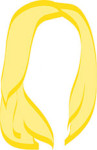 Chicago has long been on The Lazy Travelers' bucket list, and as two Americans who travel as much as we do, it's slightly pitiful that neither of us have been there in our near thirty years. When my job had me visiting Chicago for the very first time, I had no choice! I had to make a weekend out of it.
Though my husband normally joins me on my weekend journeys, my jaunt to Chicago fell over my mom's birthday. I decided to make it a girls' weekend and bring her along for the ride. SORRY, SEAN!
We arrived in Chicago early on Thursday morning, though work had me occupied until Friday. This meant we still had three full days in the Windy City to explore. Read: eat hotdogs and find the best deep dish pizza. Because I fell in love with Chicago within hours of arriving, I have SO MANY THINGS to tell you about. I had to really think about the format of this post before I started writing. To avoid losing you in a gushy novella about my new fave city, I decided on a bulleted list. And then, even that was too long.
SO, I've divided this Chicago round up into two parts. First up, the most important things to consider when visiting any new city! The best places to sleep, eat, and drink…
Where to sleep //
As a Chicago first-timer, it was important to me to stay somewhere extremely central. We especially wanted a handful of good restaurants, bars, and attractions within walking distance. I settled on the River North neighborhood. The next challenge was to find a hotel that was both luxe enough to bring mom along for her birthday and had enough character to keep us both entertained for the weekend. All, of course, without breaking the budget.
The ACME Hotel Company, located smack dab in the center of River North, proved to be the answer to both our search for prime locale and the perfect atmosphere. When we arrived, my mom was instantly hooked on the vintage album collection in the lobby and adorning the elevators. We wasted no time exploring the fun touches in our double room. We loved the chalkboard sign on the door to leave messages for housekeeping and a lip-shaped art installation in the bathroom mirror. The lushes in us were more than pleased to see the drinks in the minibar would set us back no more than $5/beer. We'll take them all, please!

Photo credit // ACME Hotel Company
It took us about two minutes in our room to discover the "Bare Painted Ladies." And yes, we nearly suffered a heart attack in the process. Painted by local artists from the School of the Art Institute, the painted mannequins are strung throughout the hotel's light wells. They're meant to give inward facing rooms a more interesting view… and they succeed.
The ACME's love for art doesn't stop with the quirky mannequins. Traces of the city's local art world are found throughout the property. These include the hand-painted brick mural behind the check-in desk, and the commissioned graffiti mural painted on a third floor rooftop, visible by some of the guest rooms. Kicking off in mid-September, ACME is celebrating its second annual Chicago Artists Month installation. This features an Instagram Art Gallery by local and nationally recognized photographers. Guests of the hotel will be able to view and purchase pieces of the collection throughout the fall.
Photo credit // ACME Hotel Company
Hands down the best perk of staying in the ACME is its "Morning Joe" coffee service. Guests can order complimentary coffee delivery the night before like they would a wake up call. You just let the front desk know what time you'd like it delivered. Then, in the morning, a light knock is made on your door. The coffee, served in a ACME Hotel thermos, is left waiting outside your door! I could enjoy my freshly brewed coffee back in bed without talking to anyone! Without changing out of my pajamas! The ultimate lazy traveler's dream.
Where to drink //
Pops for Champagne – By some divine act of God, there happened to be a champagne bar directly across the street from the ACME Hotel. (The even bigger miracle was that we had enough self-restraint to hold off on going until our SECOND DAY.) With over 250 champagnes and sparkling wines on the menu, we had no trouble finding two sparkling rosés to suit our tastes. Surprise, surprise, we stayed for a second glass. It's a wonder we made it anywhere else over the course of the weekend.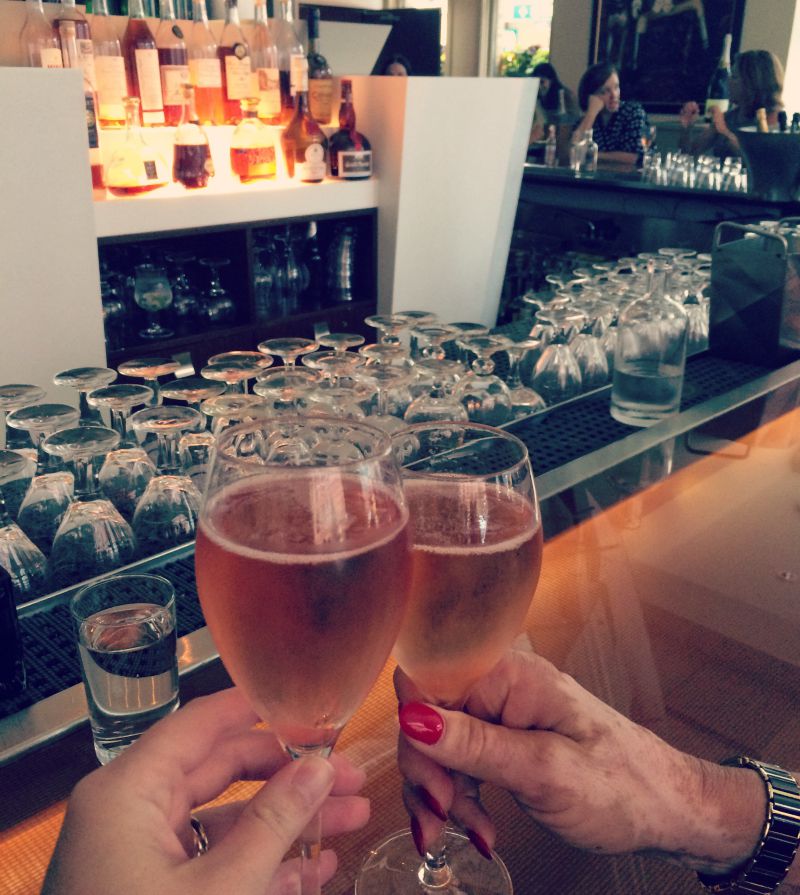 But do you think I should have gotten a manicure, y/n?
The Berkshire Room – One of the many highlights of staying at the ACME Hotel was the in-house bar and cocktail lounge, The Berkshire Room. Decked in our Friday finest, we spent happy hour at the Berkshire on our first night at the ACME. Much of the building's original architecture is preserved in this space. We almost felt like we were stepping back in time to the jazz-laced days of Al Capone and prohibition.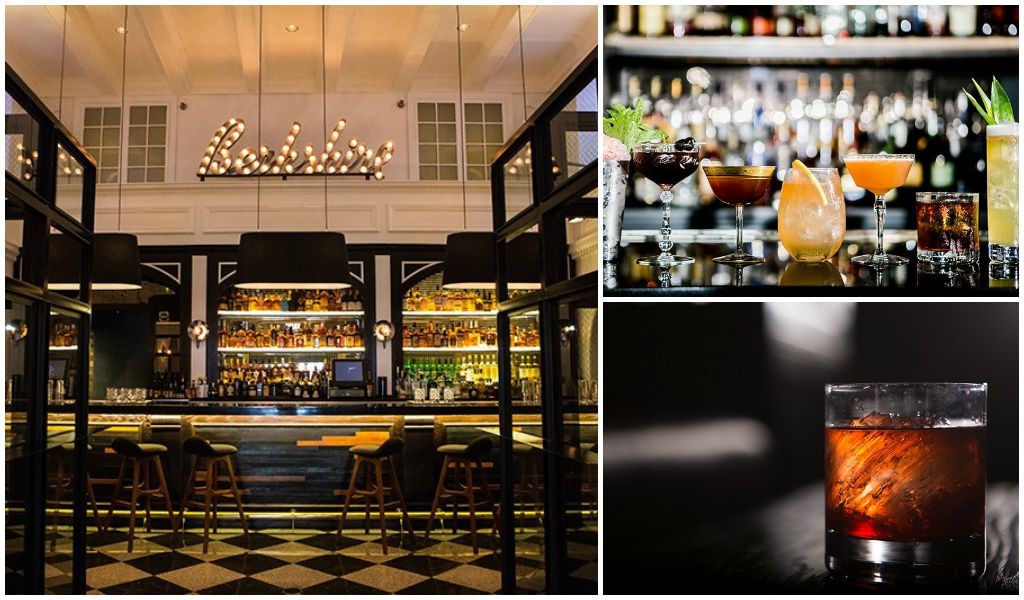 Photo credit // Berkshire Room
Tucked in a plush leather booth across from the bar, we browsed the menu of specialty cocktails, craft beers, and fine wines. I stuck with my trusty glass of red wine– a Bordeaux blend for this occasion. My much classier mom went with the "Old Money" barrel-finished cocktail. This little number mixed William Larue Weller bourbon with aperol, walnut liquor, and all spice. Though we weren't brave enough to give it a go, the coolest part of Berkshire's cocktail menu is the "Dealer's Choice" option. This allows you to select your spirit, flavor profile, and glass of choice, leaving the rest to the bartender. Meaning: each and every drink that comes out is totally unique.
Naturally, we couldn't leave without sampling at least a few of the bar snacks. We munched on candied nuts, smoked almonds, and tobacco and onion drip with crostini. Yes, that's right, I said tobacco and onion dip.
Where to eat //
Community Tavern – Chicago certainly has no shortage of amazing places to eat, but with an itinerary focused mainly on River North and the surrounding neighborhoods, we knew we wanted to get out of downtown at least one night for dinner. Named the one of the "Best New Restaurants 2015" by Chicago Magazine, Community Tavern is in the Portage Park neighborhood, which is largely residential and historically home to a large Polish community. When I say my mom and I went a little overboard while ordering, I'm afraid that's almost an understatement. Because it's impossible to talk about all of the Community Tavern delicious in one tiny paragraph, I'll be doing a full Foodie Break write up soon. You'll have to check back to see how my mom fared with her bone marrow appetizer.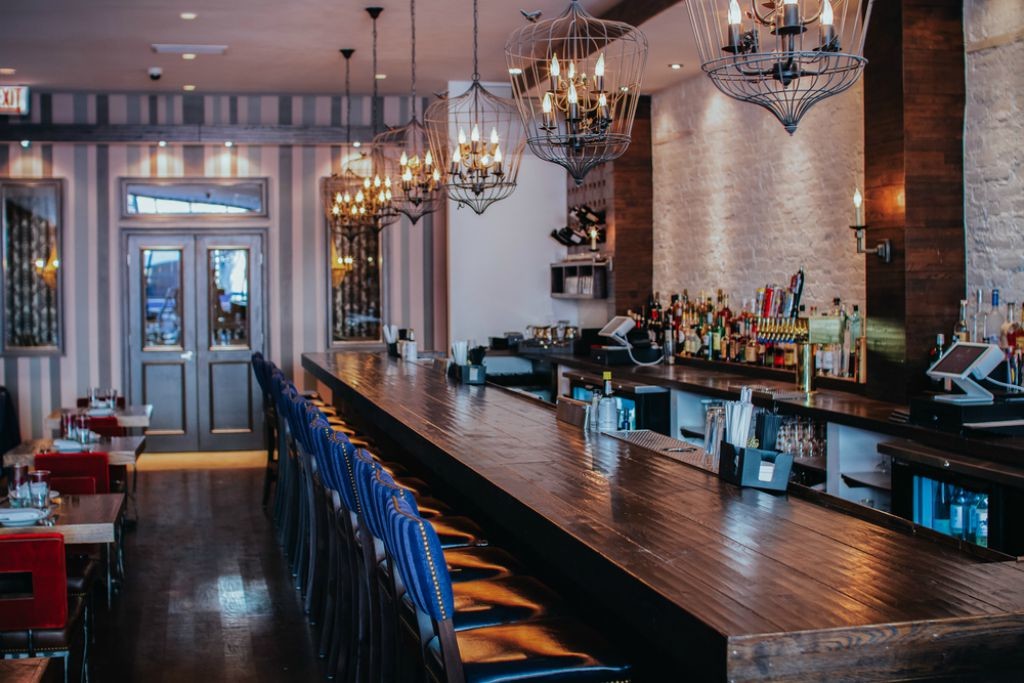 Photo credit // Community Tavern
Garrett Popcorn – The part of me that shakes my head at tourist-trappy sights is almost mad at myself for suggesting this one, but it's just too good to pass up. Garrett's is equally as known for its signature cheddar and caramel mixed popcorn as it is for its massively long lines. Though I'd normally rather take a fork to my eye than stand in line, my mom and I couldn't resist the smell of caramel popcorn as we walked by one of Garrett's busiest locations just off Michigan avenue. Though we waited in line for 30 minutes, every single bite of popcorn was 100% worth it. Also, if you have pregnant friends, I have it from a good source that a tin of this stuff makes for a great present…
Trenchermen – One of the best parts about our weekend in Chicago was that I got to catch up with my friends and fellow travel lovers, Ted from Traveling Ted and Francesca from The Working Mom's Travels. Both tried and true Chicagoans, I knew I could count on Francesca and Ted to find us a good dinner spot. Our unanimous vote was for Trenchermen in the Wicker Park neighborhood, where one of Francesca's friends from high school, Pat Sheerin, is now the executive chef and owner. Located in what used to be a Russian bath house in the 1920s, Trenchermen's decor and ambiance is vibrant with Chicago's history.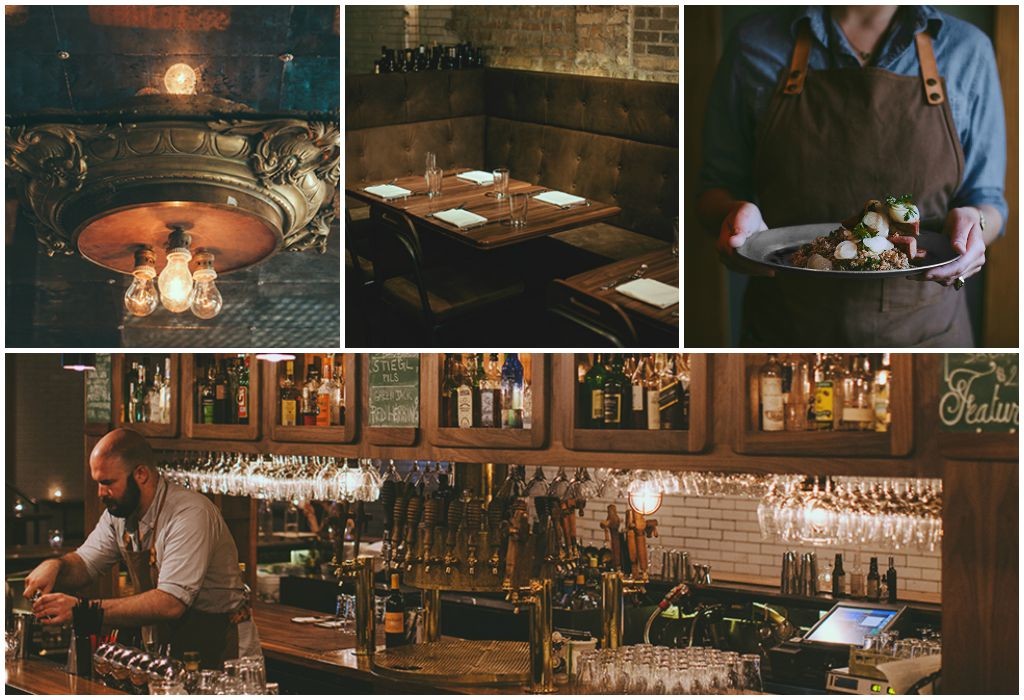 Photo credit // Trenchermen

After coming out to say hello, Pat sent us an off-menu appetizer of to-die-for beef carpaccio with grilled apricots. Afterwards, we munched on the beef tartare and burrata while sipping wine, cocktails, and beer and catching up on all things travel and life. For our main courses, my mom and Francesca ordered the scallops. Ted went with the salmon, and I opted for the beef shoulder. AND, because all of that food simply wasn't enough, the four of us split three desserts. The names escape me, due to the copious wine consumed throughout the meal.
Unbelievably, we ate much, much more than this post could ever show. The Chicago restaurant and bar (and hotel!) scene has truly won me over. Up next, the Windy City sights you shouldn't miss when you AREN'T busy drinking. And a few where you can have a drink at the same time, natch.
Stay tuned!
xo!
the wino
I was a guest of The ACME Hotel Company, The Berkshire Room, and Community Tavern during my stay in Chicago. All opinions are, as always, my own.