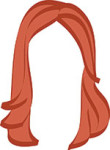 Confession time: though baguettes & brie & pain au chocolat will always be near and dear to my heart… I really, really needed a break from French food. So much so that it was pretty much our main inspiration for hopping on a flight to Rome for  a weekend of carboloading.
Due to our location precisely in the middle of nowhere, the hubs and I have been cooking more in our day-to-day than ever before. I'm not saying that this is a bad thing — it's actually been really fun. But, like? Seamless, we really miss you. And pizza? Real, true blue pizza? We miss you more.
As such, eating our way through Rome was a must. Cue our Rome Food Tour with Walks of Italy.
The Markets
We were scheduled to convene bright and early on Saturday morning, smack dab in the middle of Campo dei Fiori. We enjoyed a quick breakfast at Relais Orso, and then walked over to the square. Breakfast probably wasn't necessary, but cappuccino clearly was, AND it was included. Seeing as we're spending a year on some sort of strange married-person student budget, who are we to turn down included breakfasts, amiright?
Anyway, with a little bit of food already in our bellies, we met our guide, Joseph, and two other families at the base of Giordano Bruno and set off to first explore the markets.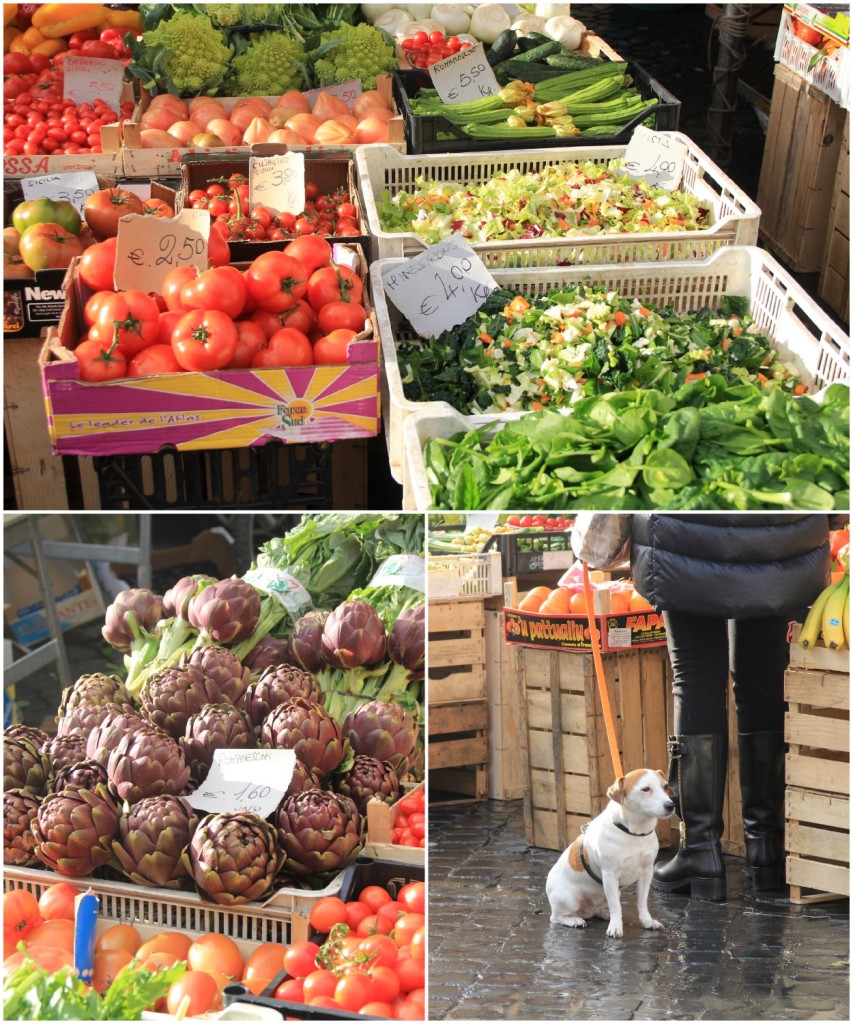 As we weaved our way through the stalls (as stealthily as you can with a group of 11), Joseph told us a bit more about himself. I was surprised to learn that he was a transplant from the Netherlands… though his love for all things Rome was abundant. At first I wasn't sure if having an expat guide was a good or bad thing, but in the end, it made it more interesting. He was able to highlight things he knew we would find intriguing — like the entire Italian concept of shopping at a separate store for each part of your meal, and the general lack of supermarkets, even in a large city like Rome. Though there is the same idea in France, Carrefour has pretty much made a permanent mark, even in our little village. In practice, I'm not sure I could deal with going to a separate butcher, bakery, and fruit/veggie market every few days just to re-stock, but for the purpose of our tour, it was quaint and lovely.
First thing was first, though! And that was pizza bianca from Roscioli. Yes, same as the place we dined the night before, we're so fashion forward.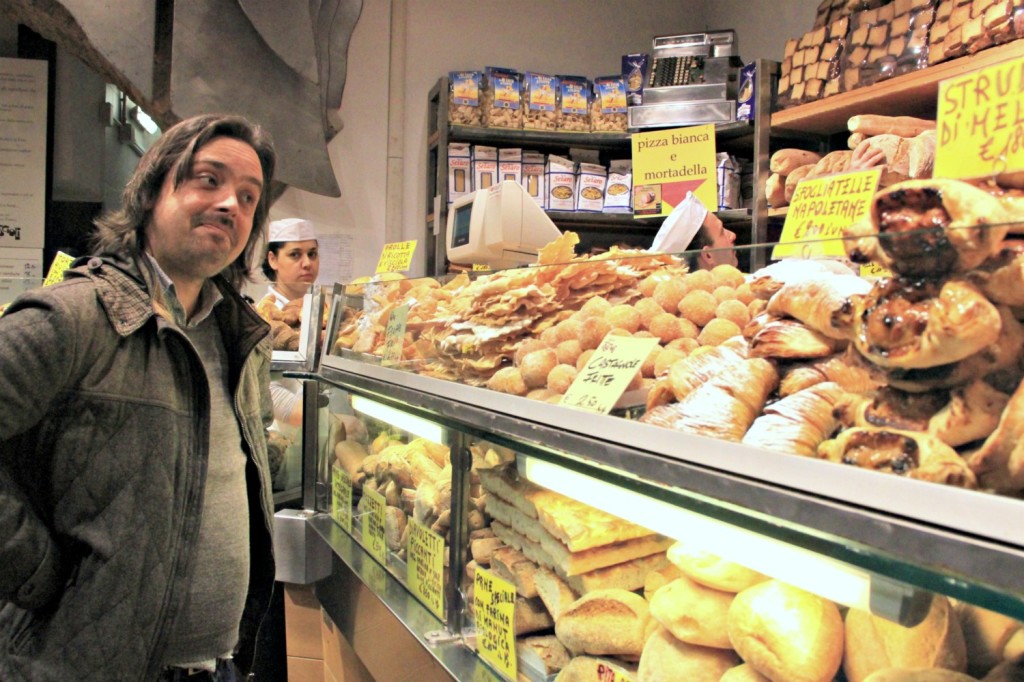 Clearly Joseph was dishing out the sass in exchange for some pizza bianca and bread for our next round of tasting: oil & vinegar back at the market. Because when you're in Rome, you eat olive oil, balsamic vinegar, and approximately one bajillion different types of pesto.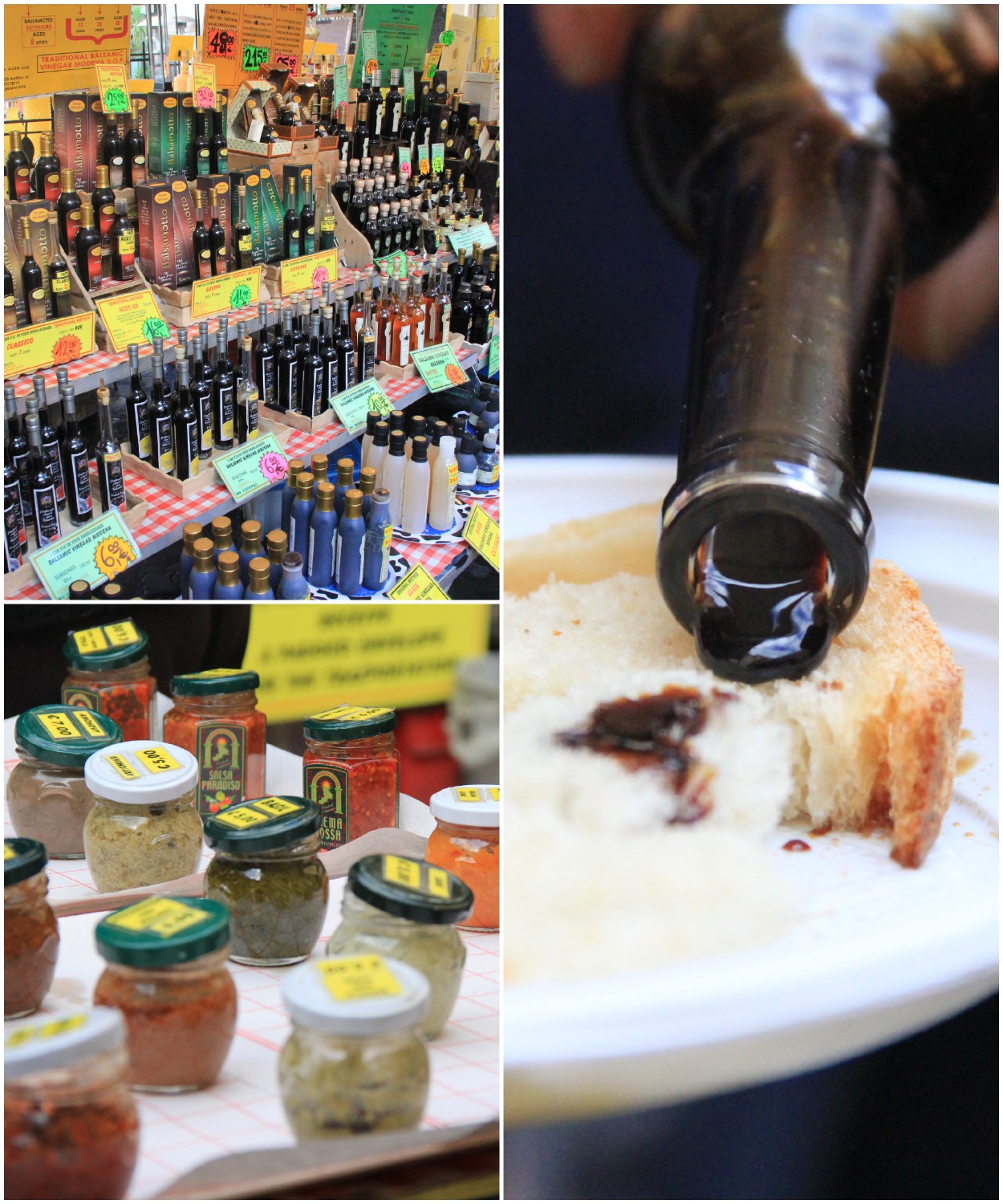 We tried all of these from the same pair of women running this section, and though they spoke limited English, they were completely charming and adorable. My personal favorite? Everything tartufo, naturally.
Oh, and limoncello, but of course.
Already feeling full, I wasn't quite sure how I was going to make it through the rest of this little tour, but never fear: make it I did. The rest of the afternoon was a blur of salami, cheese and wine… so, basically, how I would like every afternoon to be.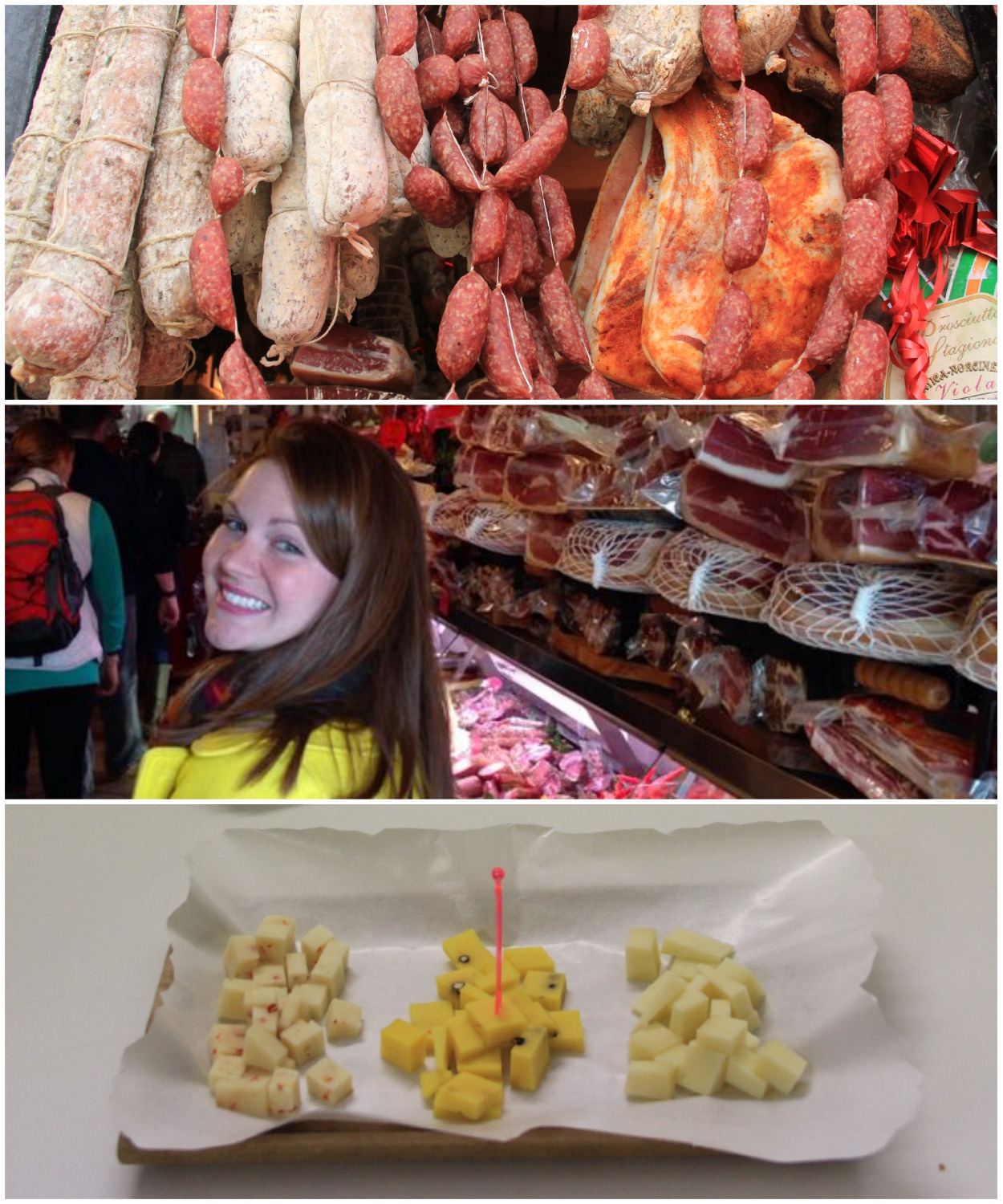 AND THEN. It was time: time for pizza making. I don't know if I can fully express just how severely I've been missing pizza since our move. I mean, sure, Roman style pizza is different than New York pizza. But different in all the best ways. Most importantly: it is extremely unlike France's version of pizza which is… no. Just no. I wanted a life-sized version that I could just wrap myself up into before falling asleep in a melty pile of cheese. This was everything.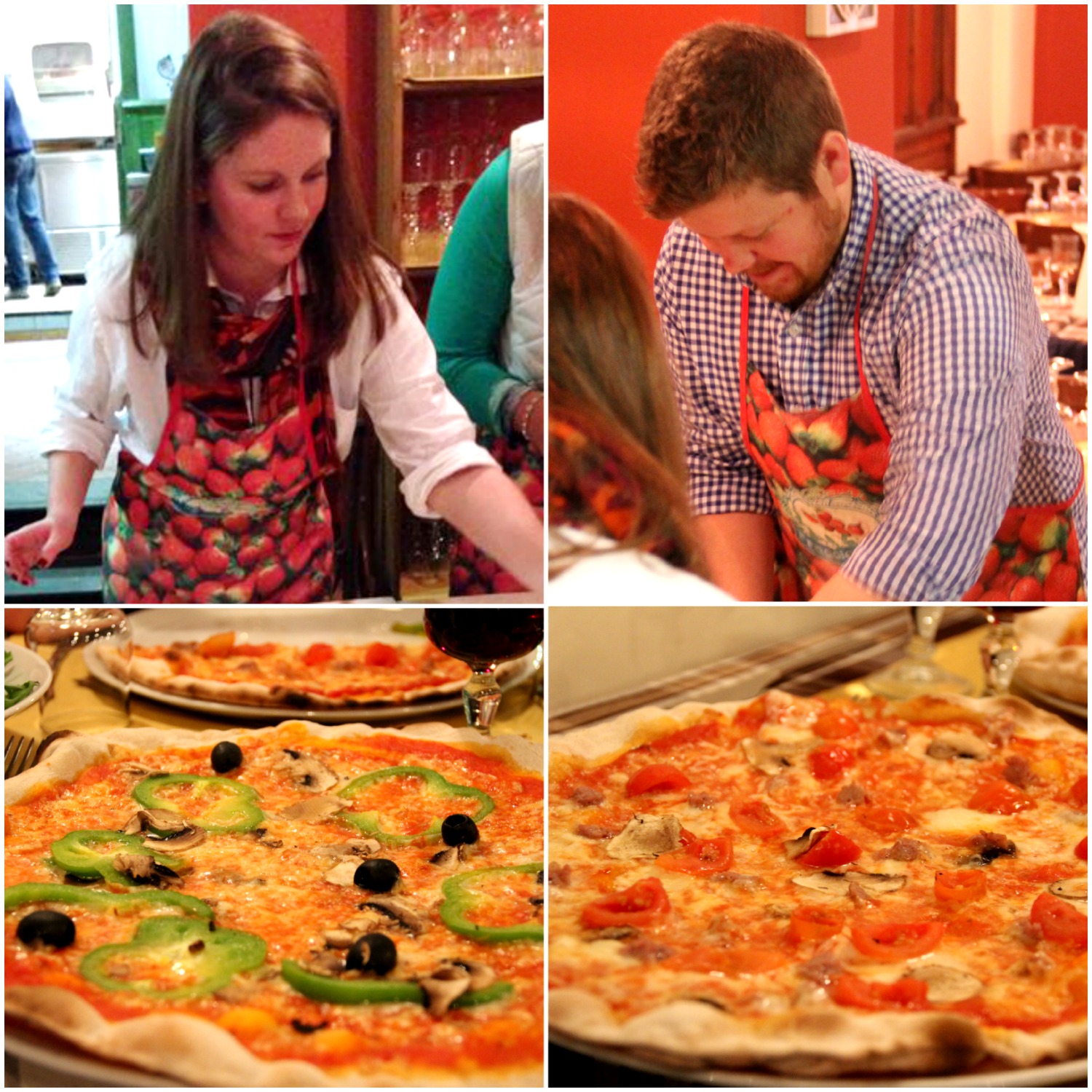 We were all business. The best part? There were leftovers, WHICH I ate cold in our hotel room later. I mean. Please. It was just what the doctor ordered. And not the weird finger doctor that plays screamo music in the French ER, either (…in case you missed it). This was Roman pizza for the soul. And for that, I am eternally grateful.
After a quick cup of coffee at Eustacchio, we said our farewells and strolled back to our hotel. We knew we were stuffed for the day. We are not people who skip dinner, but we skipped dinner, so keep this in mind if you're trying to cram a lot of food-related activities in one day. The tour should definitely stand alone.
Now, I'm going to go cry into my wine that my next real pizza isn't for quite awhile. Sigh.
xo!
the romantic
– Thanks to Walks of Italy for inviting us along on this tour as their guests. I wouldn't mind being bribed with Italian food, but alas, that wasn't the case here. All opinions are, as always, my own.