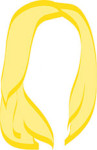 When one of my best friends, Amy, moved from New York City to Geneva for a new job, I started plotting ways I could make the trek across the Atlantic and meet her in Switzerland. After almost a year and a half of waiting, the stars finally aligned with a two-part ultimate reason. Finally, I would have 48 hours in Geneva.
Reason #1. With my 30th birthday looming on the horizon, my mom wanted to throw me a birthday party. I kindly declined. Instead, I suggested a different idea. What if we planned a mother/daughter birthday getaway to see Amy in Switzerland? (This plan worked.)
Reason #2. It was Amy's year to choose the location of #LTfriendsgiving, so naturally she wanted us to visit her in her new city, which is how we settled on our nearby alpine getaway to Val-d'Isère.
Wouldn't luck have it that my mom wanted to visit Geneva in December so we could see the Christmas markets? Thus, my joint #LTfriendsgiving/girls getaway/birthday trip was born! Please note that this kind of good planning happens very rarely in the universe of lazy travelers. It should therefore be celebrated without modesty.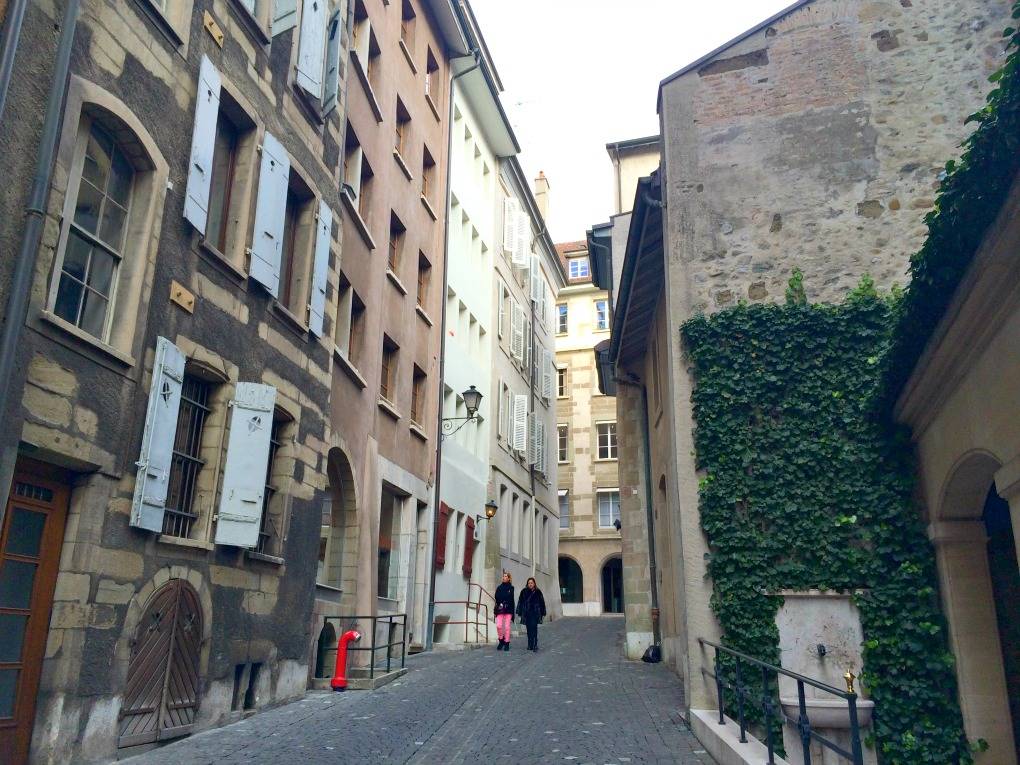 The last time I visited Geneva was with the romantic three years before during our first grand tour around Switzerland. At that time, we were both still living and working in Manhattan, and our budgets were… different. This time around, with my mom and her best friend Mari in tow, we were prepared to go big. We wanted to kick off our week-long Swiss adventure in the lap of luxury.
With 48 hours in Geneva, the first stop on our multi-city itinerary, we opted for a laid-back (read: lazy) approach. We nixed too much exploring and focused mainly on eating and drinking. Read on for the best places to stay, eat, drink, and escape!
Stay!
Geneva was our first stop, and my Mom and Mari would be recovering from their long-haul flight from the States. This meant comfortable and spacious accommodations where we could relax were KEY. And, since these two Switzerland first-timers would be taking the train from the airport to Geneva (a quick and inexpensive 10-minute ride!) and meeting me in the city, I knew I wanted a central location. We needed something super easy to find, and within walking distance of the train station.
When I read about Swiss Luxury Apartments in my pre-trip research, I knew I hit the jackpot. Located on the north side of the lake, Swiss Luxury Apartments are only a quick walk from both the train station to the north and the popular vieille ville, or Old Town, section of Geneva to the south, making it the perfect spot for both Geneva first-timers and returning visitors.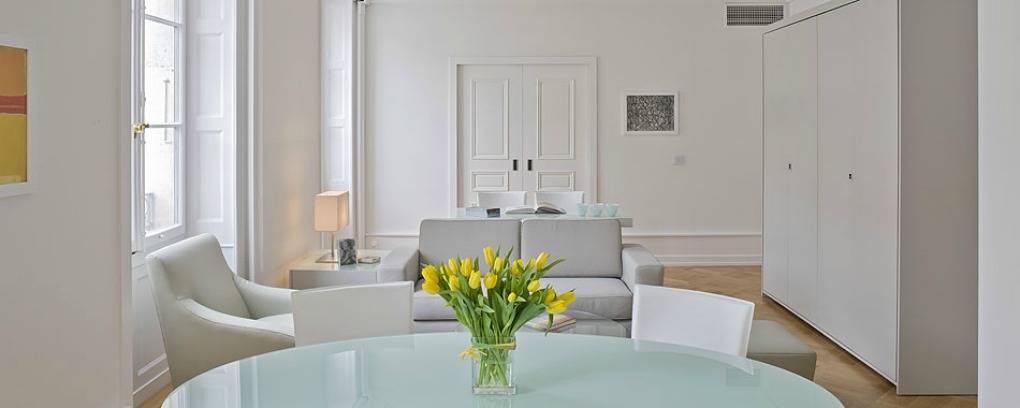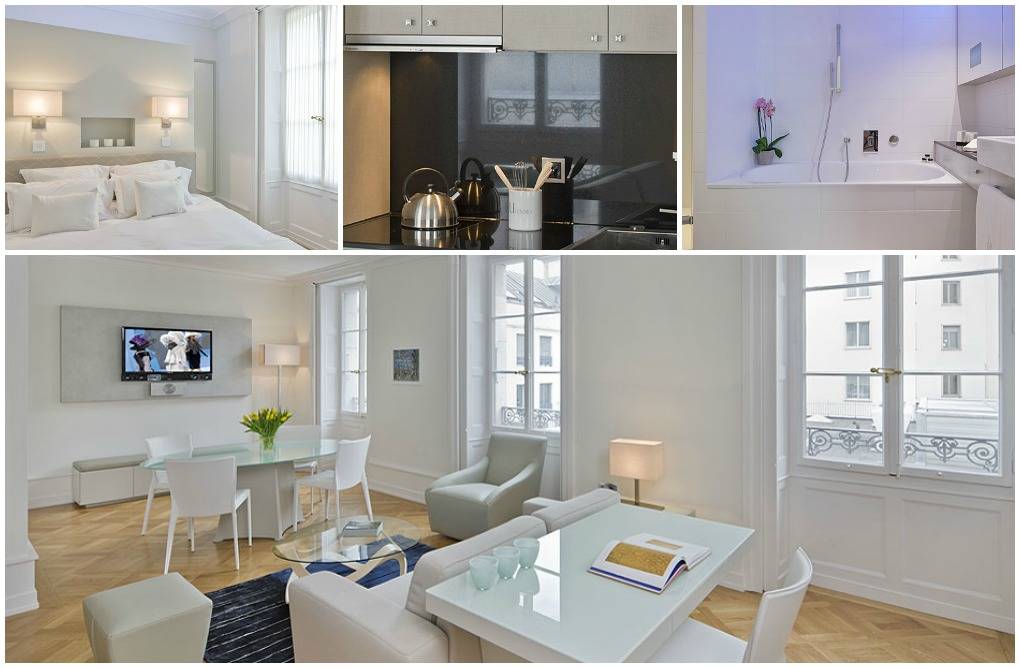 Photos via Swiss Luxury Apartments
Swiss Luxury Apartments offers three styles of rooms, all of which feature a fully equipped kitchen. Our bright and airy apartment had one queen-sized bedroom, which could be sectioned off with beautiful french doors. It also featured one and a half bathrooms, and a massive living space with a pull out couch. You feel like you're living in your own home, but Swiss Luxury Apartments offers all the amenities of a hotel. This includes daily housekeeping, concierge service, and round-the-clock room service. That especially came in handy when we just needed another bottle of wine after a night out on the town.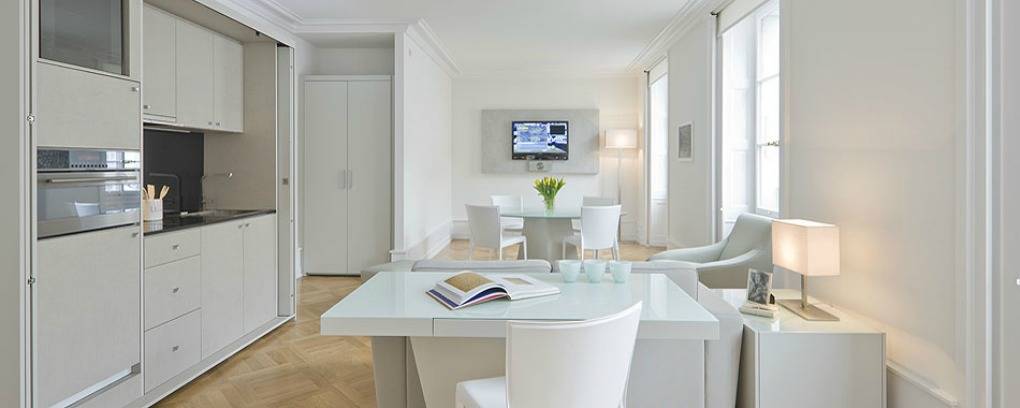 Photo via Swiss Luxury Apartments
Eat!

On Sunday, the day of my mom and Mari's arrival, we didn't have many plans except to wander the city. Oh, and, per their request, feast on fondue. Unfortunately, after an afternoon stroll through the vieille ville, jet lag hit them full-force. Instead, we ended up heading back to our apartment, where they fell asleep well-before dinnertime.
The next morning, the Sleepyhead McGees awoke from their roughly 14-hour slumber. They were determined to spend our second (and last) night in Geneva making up for all they missed. Read: beaucoup des Swiss eats. We spent the morning escaping central Geneva (more on that later) and returned to vieille ville, just in time for lunch. In typical Lazy Travelers' fashion, we wandered until we found a place that looked inviting. This turned out to be Cafe Le Flore, just across from the carousel in Place du Madeleine. Here, in a cozy window-side table, we ordered up a tartiflette, a simple omelette, and a salade de paysanne. We washed it all down with a carafe of house red wine. It was the perfect introduction to classic and delicious Swiss cuisine.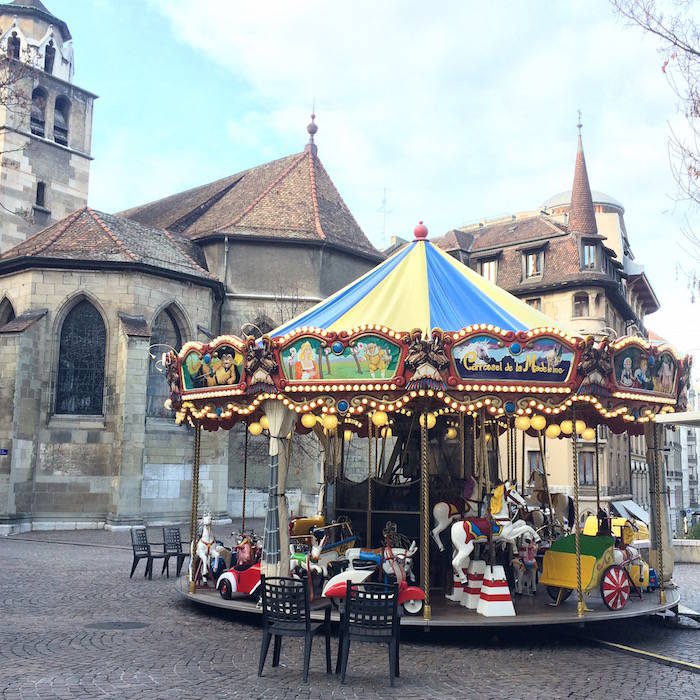 La carrousel dans La Place du Madeleine
via @lazytravelers on Instagram
Surprisingly enough, given how much we ate at lunch, we were fully ready that night to dine on fondue. My friend-turned-local tourguide, Amy, joined us, and took us to one of her favorite places, Restaurant Les Armures. This is one of the oldest restaurants in the city. Dinner was simple but outrageously delicious. Think beef tartare to start, followed by a massive pot of fondue aux bolets (cheese and wild mushrooms). We devoured fondue until we were almost bursting, and sat for much longer than was probably appropriate. Cue carafe after carafe of wine. Operation fondue = success.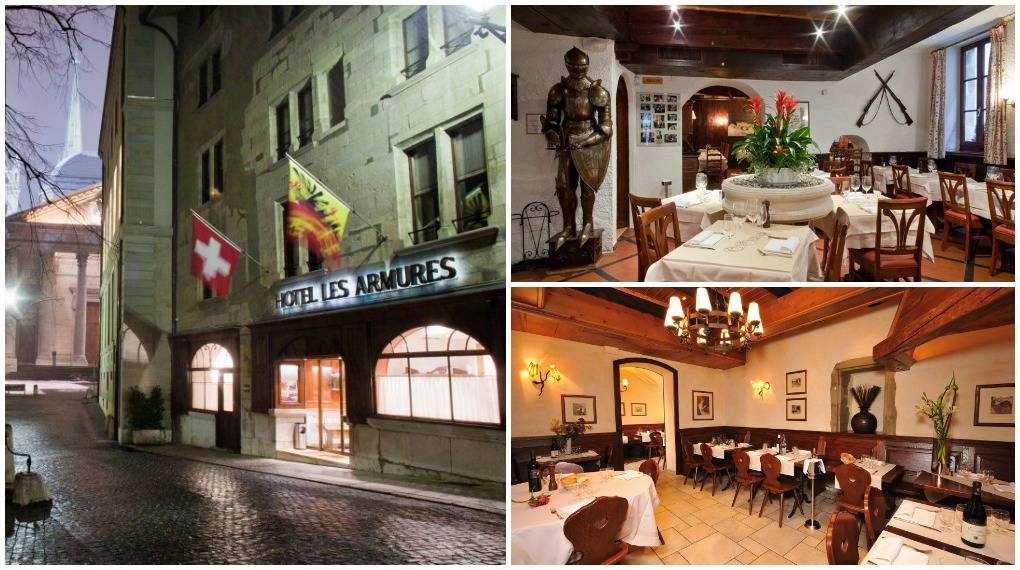 Photos via Restaurant Les Armures
Though we didn't make it there this time, it's worth noting that Le Relais de l'Entrecote, the famous French bistro, has a location in the center of Geneva which the romantic and I visited on our first trip there. Le Relais is known for serving one dish and one dish only– a walnut salad to start, followed by thinly sliced steak and crispy french fries. The best part? They'll keep serving you again and again and again until your stomach is content. If that doesn't sound perfect for the lazy traveler, we don't know what does.
Drink!
You may remember from our girls getaway to Chicago that I inherited my wine-loving ways from my mom. Just like the Lazy Travelers, one of my mom and Mari's favorite ways to get to know any city is spending time in the local bars, pubs, and cafés, and Geneva was certainly no exception.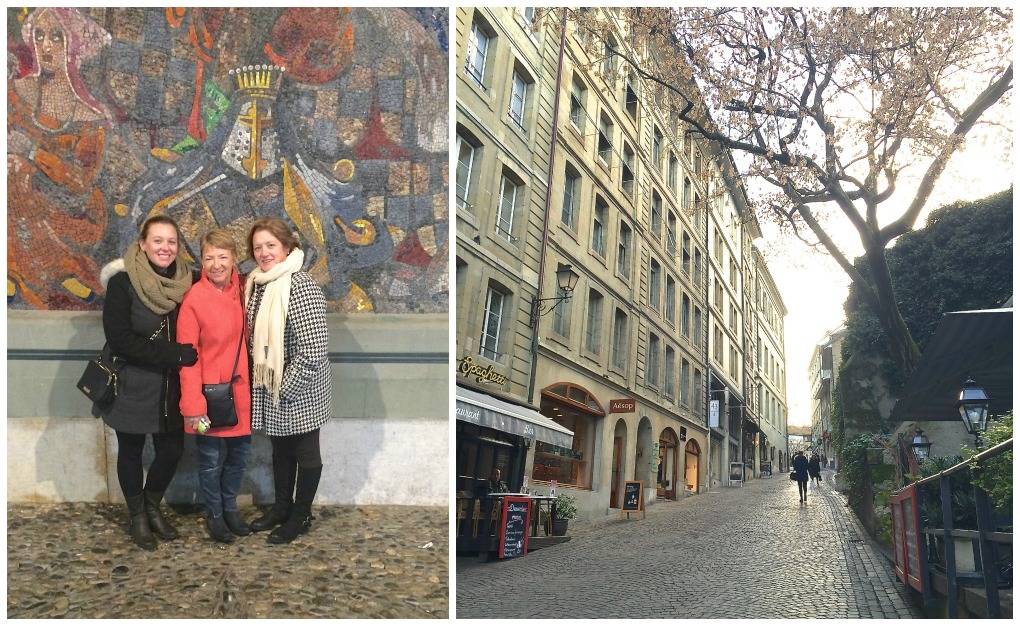 Though my travel companions spent Sunday night recovering from jet lag and catching up on some much needed sleep, by Monday they were ready to paint the town red. Early on Monday evening, we met Amy at the Cottage Café, which looks just the way you would imagine it– like a fairy tale cottage. Coincidentally, the romantic and I drunkenly stumbled upon the Cottage Café during our first trip Geneva. We quickly fell in love with it, so I was so happy to see it was only a block away from our place at Swiss Luxury Apartments. We settled in at a booth next to the window and ordered a bottle of Gamay, a typical Swiss red wine found on many menus in Geneva.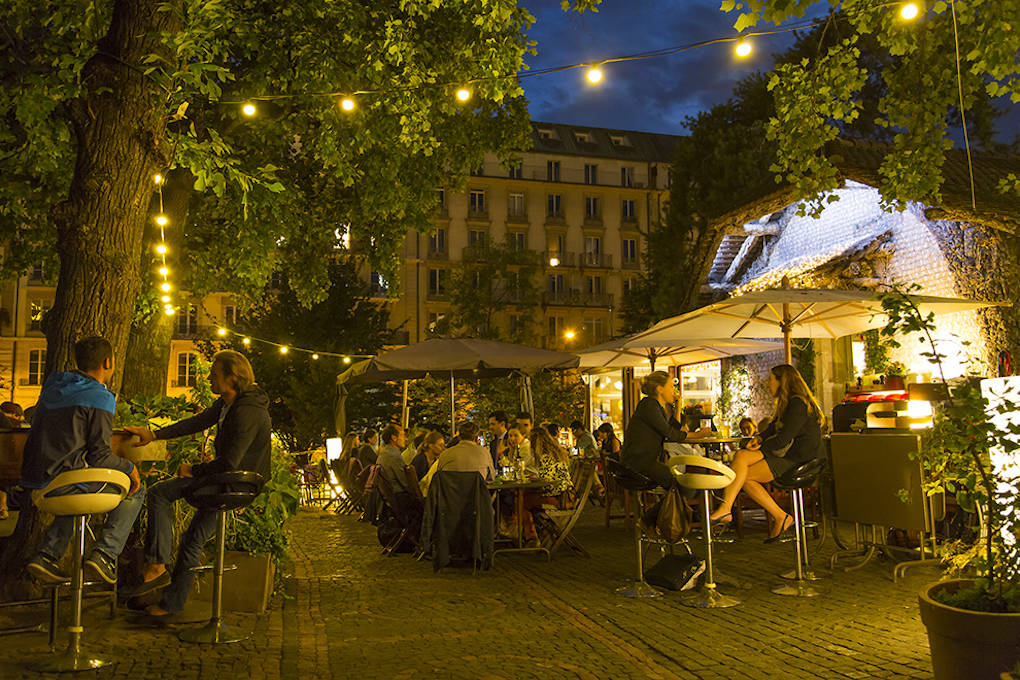 Photo via National Geographic
Afterwards, we strolled over the Pont du Mont-Blanc and into vieille ville for another quick drink at La Clémence before dinner. The tiny bar in the middle of Place du Bourg-de-Four, Geneva's oldest town square,  is an iconic drinking spot, and during the day, the terrace out front is packed with visitors enjoying a coffee or beer. On a cold December night, though, we were happy to find a small corner table inside where we could enjoy another glass of wine and warm up. We could have happily stayed in La Clémence the entire evening, sipping wine and eating peanuts, but the fondue at Les Armures was calling our names…
Escape!
Since this was my second time in Geneva, I wanted to be sure to balance our time between showing my mom and Mari my favorite parts of the city and exploring areas I hadn't seen before. After spending Sunday afternoon walking through vieille ville, we asked Amy for some suggestions on how to spend our second day in Geneva. Amy insisted we visit Carouge, a small municipality of Geneva located just south of the city center.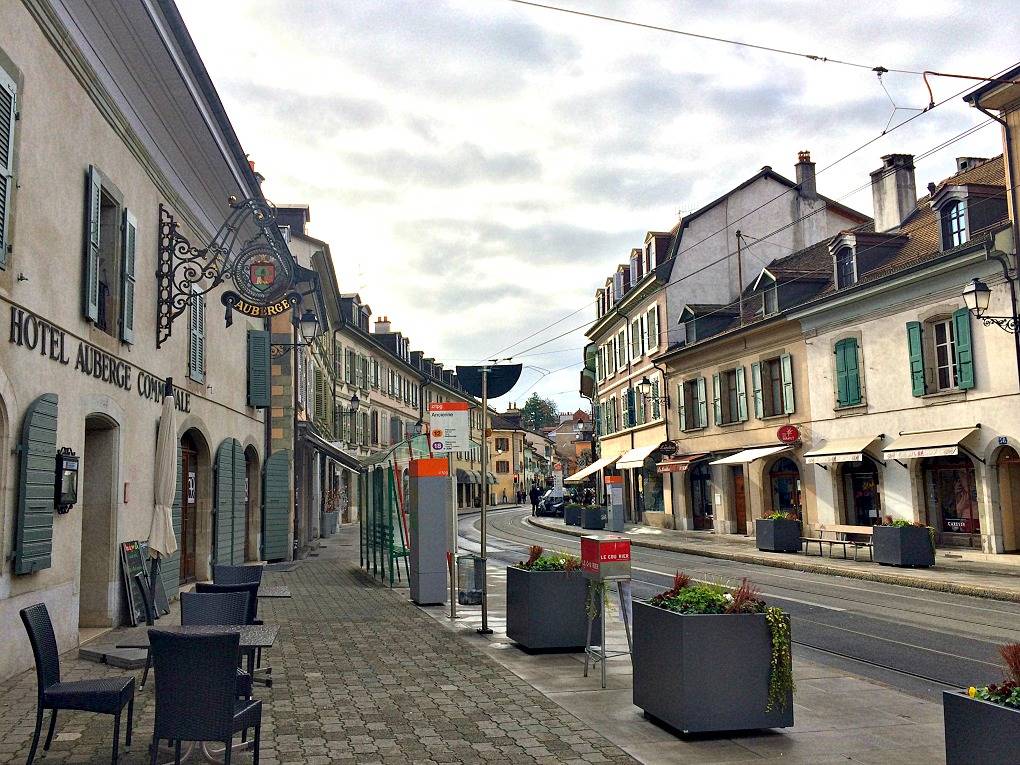 As part of our stay, Swiss Luxury Apartments issued us complimentary Geneva passes, which allowed us access on all of the city's public transportation, so we hopped on a tram for the short twenty-minute ride to the center of Carouge. Though Carouge is technically part of the city of Geneva, its shop-lined streets give off a distinctly small-town feel. We spent the morning hours lazily wandering the streets, stopping in cafés for coffee, and later wine, and popping in the many antique and craft shops. A word of warning, however; many  of the shops are closed Mondays, and had we known that in advance, we may have chosen to visit Carouge on Sunday instead.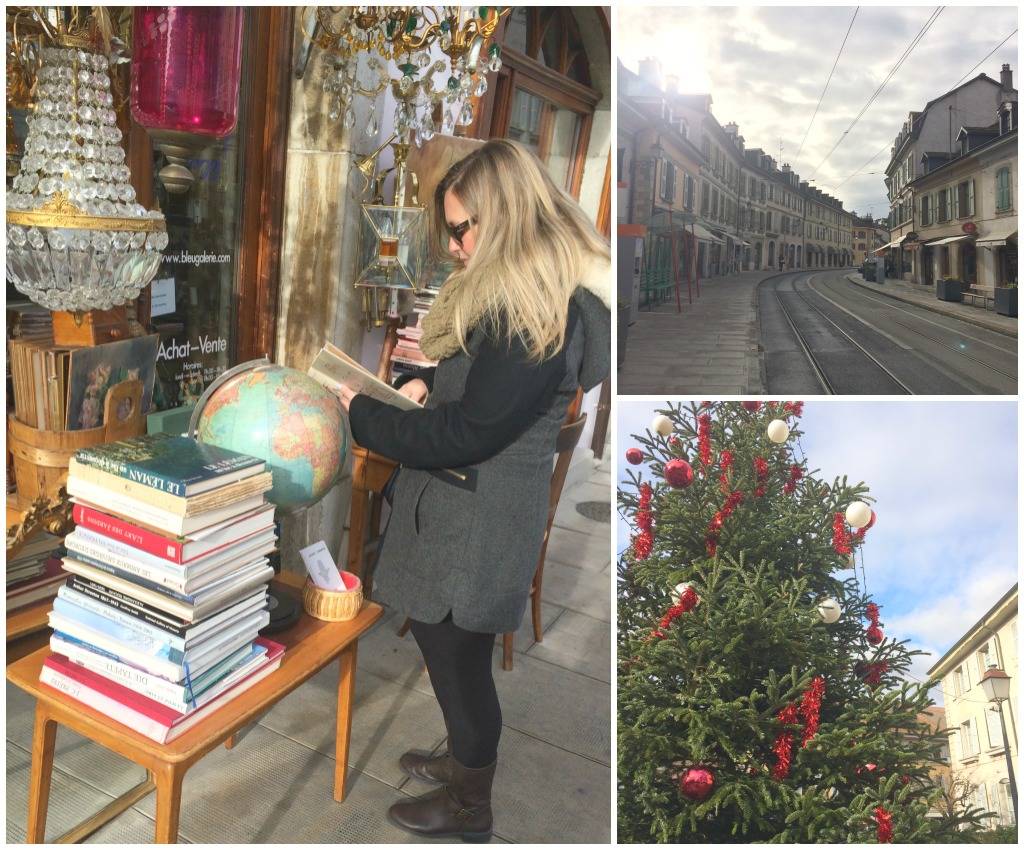 Before we headed back into the center of Geneva, we made sure to stop in Philippe Pascoët, which the concierge team at Swiss Luxury Apartments told us was a must if we were visiting Carouge. We grabbed a few truffles for the road and stocked up on a few take-home gifts for friends and family, all the while practicing my very rusty French with the shop manager. Très bon, for sure.
That night, our last in Geneva, we gorged ourselves on fondue and vin rouge. Then, we took one last nighttime stroll through the beautiful city, which was lit up in all its holiday glory. We may not have done much actual sight seeing, but Geneva proved the perfect introduction to Switzerland for my mom and Mari.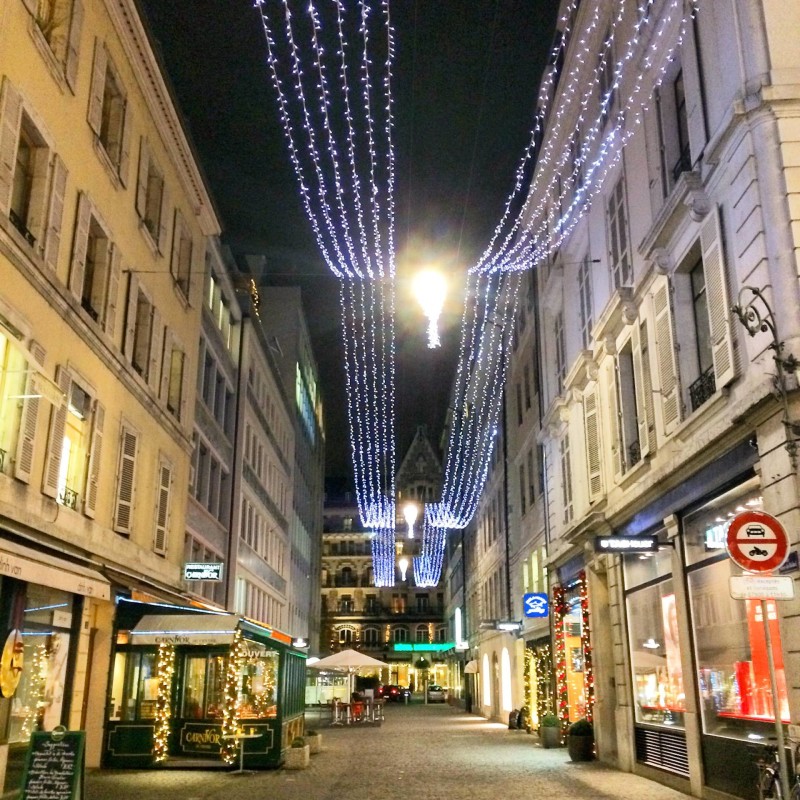 Photo via @_thewino on Instagram
We snapped some pictures on the walk back to our apartment, bidding adieu to the first city out of many on our grand Swiss adventure. Where did we go next? You'll have to stay tuned to find out!
xo!
the wino
We were guests of Swiss Luxury Apartments during our stay in Geneva. Thank you to Geneva Tourism for our complimentary city passes. All opinions (including the gratitude we felt for late-night bottles of wine) are my own.