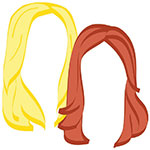 Perhaps the most exciting part of our #LTeastcoast adventure was that we finally made it to a city that's long been on our list: Boston.
Staying true to our itinerary-free way of traveling, we didn't have anything specific on our agenda except eating our weight in lobster rolls and clam chowder. Unfortunately, we also didn't have a ton of time in one of our new favorite cities, so we decided this would be the perfect excuse to re-introduce a feature from many moons ago when weekend escapes were our travel drug of choice.
Are you ready?? Join us for a perfect day in…
BOSTON
We set up shop for the weekend at the Nine Zero, a boutique Kimpton hotel conveniently situated in downtown Boston and across from Boston Common. Though each Kimpton property has its own unique feel and decor, we knew we could count on the Nine Zero to offer all the standard Kimpton features and benefits. Namely, the nightly wine hour from 5:00-6:00pm, where guests can kick back in the lobby and enjoy complimentary drinks, courtesy of the hotel.  And, pet owners rejoice, the Nine Zero allows pups, which means we spent the weekend stalking all the dogs walking in and out of the hotel.
From the Nine Zero, we had walking access to almost all of Boston's best neighborhoods, making a walking tour extremely easy.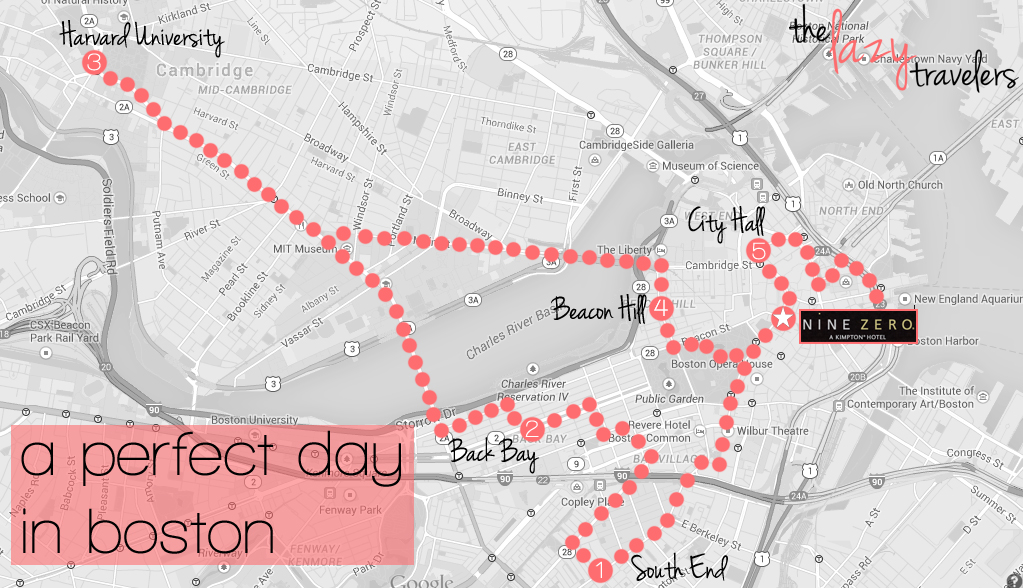 Stop 1: South End
Allow us to let you in on a secret: Boston's South End is not "Southie." Maybe it's just us, but we assume this is a common mistake (and if it isn't, we'll just scrap this from the record, ok?). We took the 20-minute walk south from the hotel expecting to bump into the characters from Good Will Hunting and Boondock Saints, but instead we found tree-lined streets with charming brownstones and loads of restaurants and bars.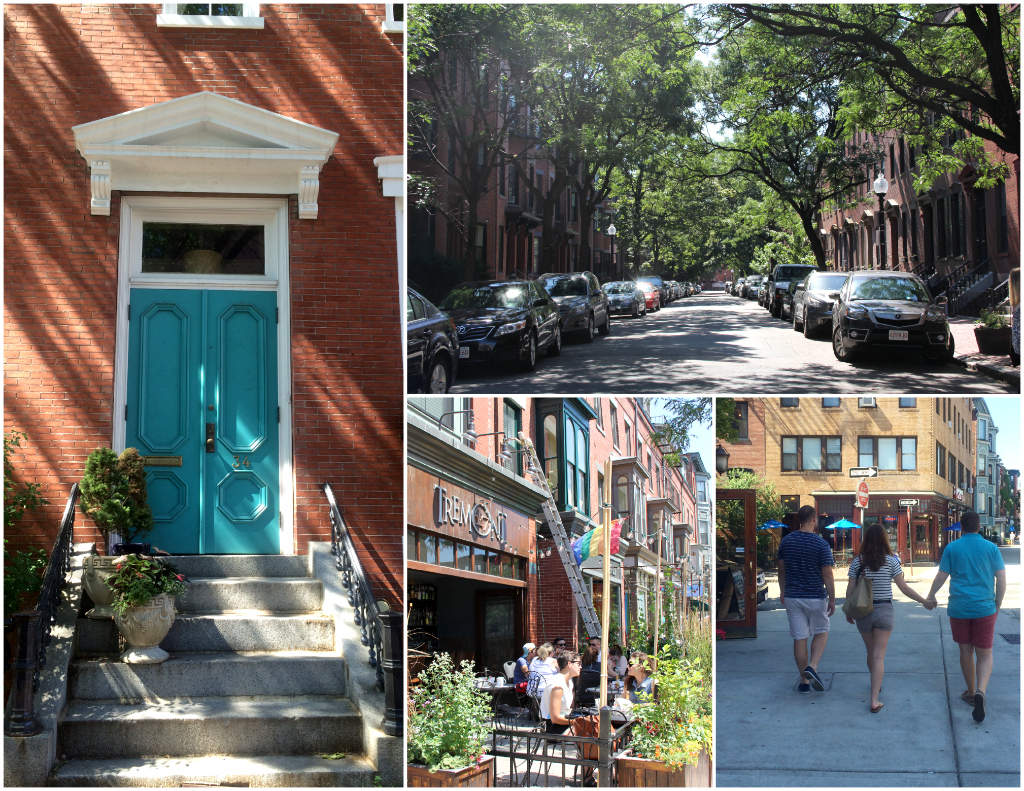 Thanks to our friend and Boston resident, Annie, we learned South End is one of Boston's most popular neighborhoods, known for its younger demographic and vibrant art and restaurant scene. After perusing the options along Tremont Street, we opted for Tremont 647 for a pre-lunch snack and drinks. Among our menu picks: french toast sticks, monkey bread, and a homemade poptart, served up alongside bloody marys, natch. To round out our meal, we took alcoholic freeze pops to go (Pimm's and Raspberry Gimlet flavors). Yeah, you read that right. Alcoholic freeze pops.
Stop 2: Back Bay
From South End we headed north to the neighboring section of Back Bay where we checked out the Boston Public Library, Copley Square, and the Old South Church. Had we not been with the boys, we could have spent afternoon shopping our little hearts out on Newbury Street, but instead we wandered along the residential streets scoping out our favorite Victorian mansions.
We walked north until we hit the Charles River Esplanade and then walked along the water, watching the sailboats, kayakers, and Bostonians enjoying the summer sun. By the time we made it to the Harvard Bridge, we decided to walk across and check out the MIT campus on the Cambridge side.
Stop 3: Harvard Square
When our legs couldn't carry us any further, we hopped in a cab from the MIT campus and headed for Harvard Square for lunch at Harvest. We'll save the full recap of our meal for another time, as a simple paragraph can't describe the deliciousness we encountered there.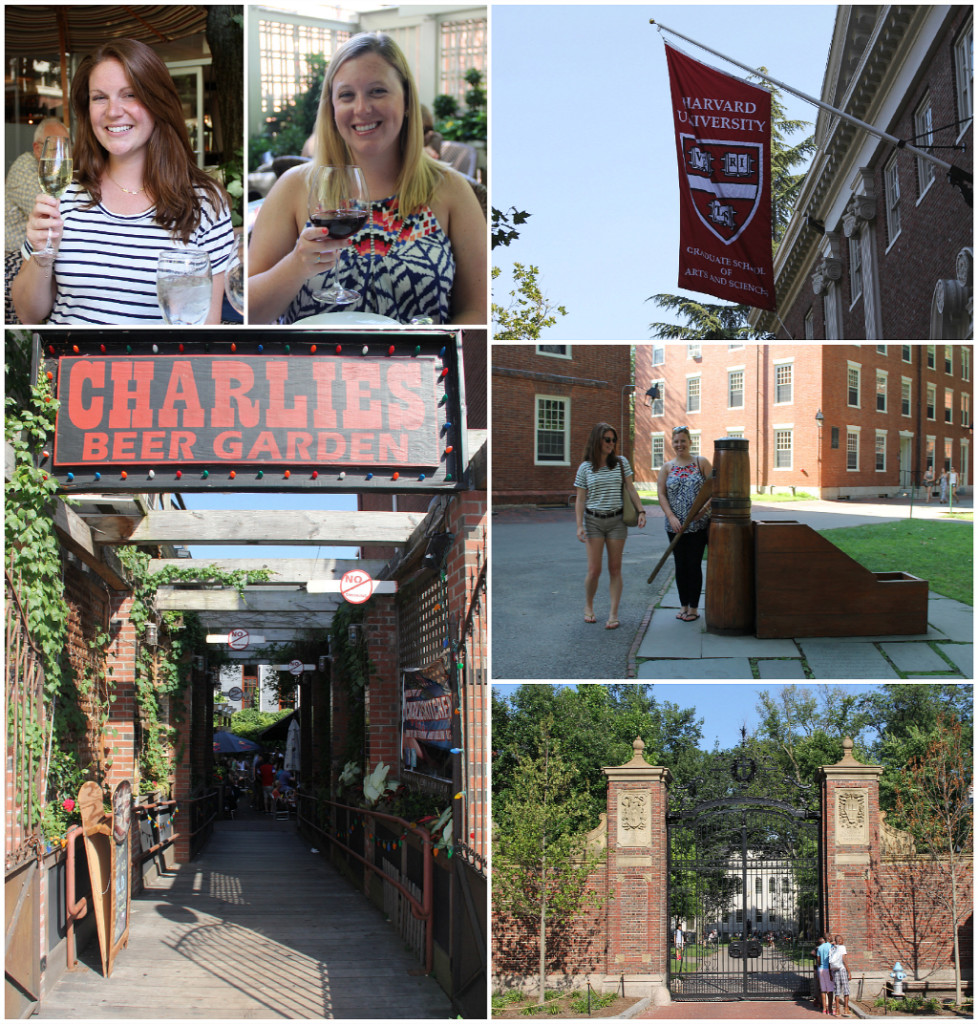 Bellies full, we met Annie for a post-lunch drink (surprised?) in the beer garden at Charlie's Kitchen, where we toasted with varieties of Sam Adams and Harpoon beers. Afterward, we walked off our beer carbs with a stroll through Harvard's campus, posing in front of dorms and soaking up IQ points.
Stop 4: Beacon Hill
We didn't have enough time to do more exploring by foot before dinner, but luckily Annie gave us a quick driving tour of a few more Cambridge and Boston neighborhoods on the way back to our hotel. Catching our attention above all the rest? Beacon Hill.
Only a short walk from our hotel and across Boston Common, the Beacon Hill neighborhood looked exactly like the Boston we had envisioned in our minds: narrow gaslit streets, brick townhomes, and a historic, American feel.
Stop 5: Financial District & Government Center
After a quick stop back at the Nine Zero for afternoon wine and freshening up, we scooted back out the door once more for our grand finale: dinner at Union Oyster House. In a weekend full of amazing meals, it was the perfect cap, and we solemnly swear to return soon with the full rundown of JFK's favorite Beantown dining spot.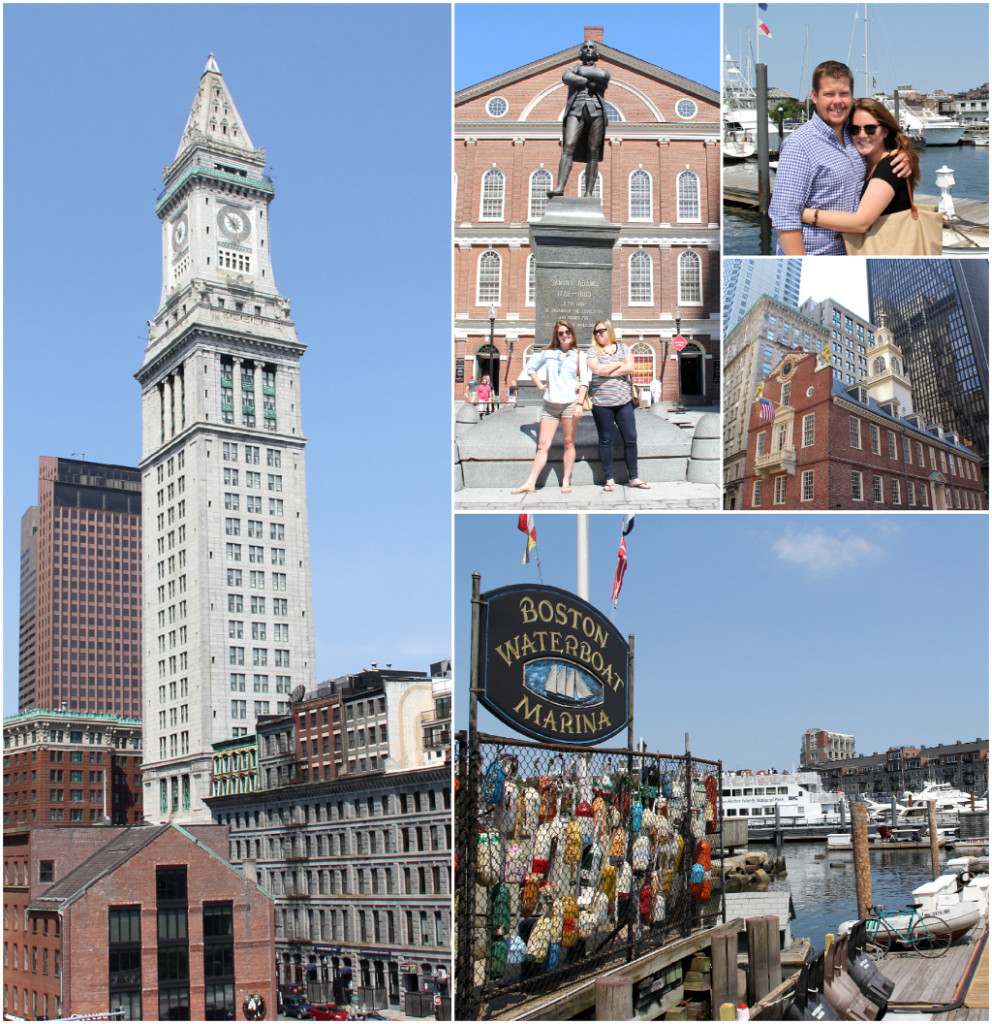 Add in a pre-dinner stroll around Fanueil Hall, a wander through Quincy Market, and a traipse along the Harbor, and you've got yourself one amazing day in Beantown.
We can't wait to report back soon with more details about the most important part of our trip: THE FOOD.
xo!
the romantic & the wino
– Thanks to the Nine Zero for offering us a generous media rate, as well as the Boston Tourism team for partnering with us and arranging the perfect itinerary. All opinions are, as always, our own!