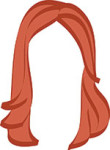 While in the midst of not planning our Parisian weekend, I came across this post about Ô Chateau and immediately sent it along to the hubs. As expected, he replied with a reservation confirmation and a "WOO HOOOOO!"
Like the wino, the hubs and I have had our share of boozy adventures, and we've slowly been able to expand our list of wine/beer likes and dislikes, as well as add a few techniques into the mix. For one, hubs is a huge fan of "letting wine breath." This is unfortunate for me, because I'm a huge fan of asking for another pour. Ô Chateau was a little different than most other wine tastings we've been to, and hands down one of our favorites.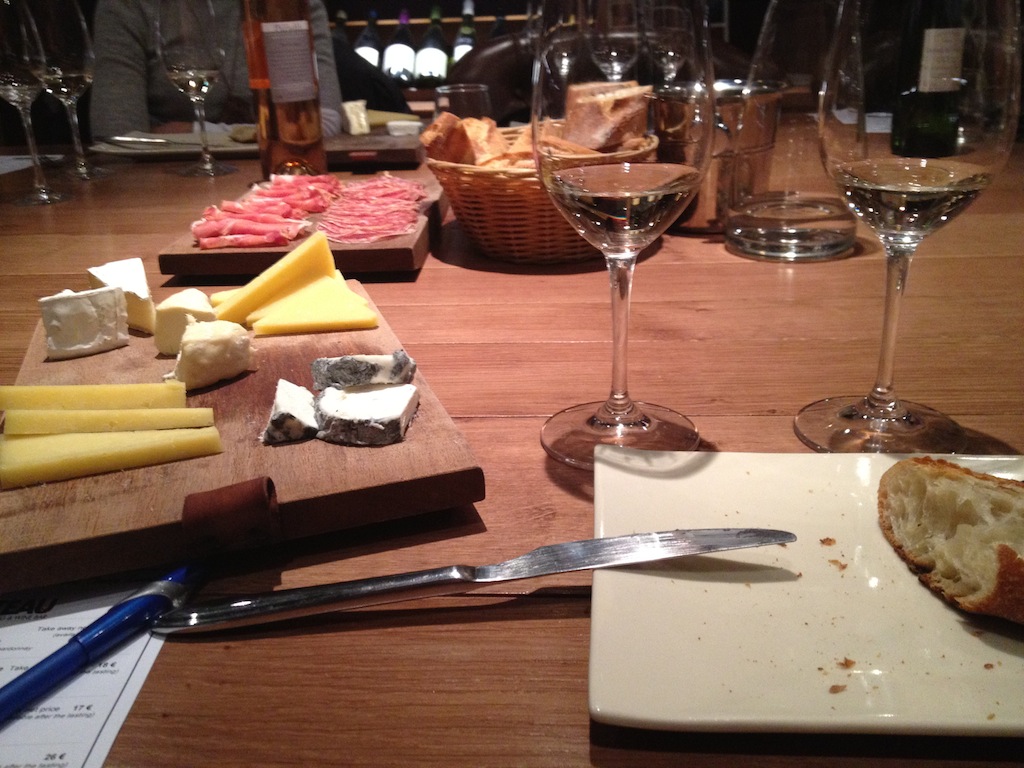 Sneaky iPhone photo, but this was our view for about two hours
The class was small.
You already know we don't love group activities when traveling, but this was different. We were joined by two other couples–one from Edinburgh, one from Chicago–and a woman from Melbourne who was staying in Paris for five weeks on her company's dime,  taking art classes. And hiding from me because I asked too many questions and I think she thought I was going to try and steal her life. We had taken a similar class at Vintage Irving in Union Square a few years ago (now closed, RIP), and while we had a great time…the class was HUGE. Here, everyone was able to chat and ask questions, and it made the class that much more intimate and fun.
The room had ambiance.
Though the original review we read said that they were down in Les Caves, our tasting was held upstairs.  I thought I was going to be disappointed, but the upstairs room was just as cute… as was our sommelier, Remi. If you google other reviews of Ô Chateau, you will find that it's scientific fact that Remi is cute, so hubs can't get mad at me for including this.
We learned important facts.

Global warming is good for wine. It creates a less cold, wet back season, which means better quality wine. Sorry, polar bears. Advances in technology is important too, but, you know. Blah blah blah zzzz.
French girls love Rosé. If you're in the market for a French girl, you should have a bottle on hand–per Remi.
Screw tops are technically better for keeping wine than cork, but because cork is more expensive (and traditional), it's still used.
France has over 150,000 wineries. We also learned how to read French wine labels, and had a mini-lesson on appellations. The French love their appellations, and I now feel fancy when shopping for French wine.
Sediment in red wine isn't necessarily a bad thing, it just means it wasn't heavily processed. I have an exclamation point next to that on my notes because sediment skeeves. me. out. Yes, I took notes. Good blogger.
Cheese naturally enhances the flavor of red wine. If you're offered free cheese at a red wine tasting, it may be trickery to get you to think their crappy wine tastes ok.
The whole hooplah that Beaujolais Nouveau is the wino way to start the new year is a scam! That one we kind of knew because we never actually enjoy Beaujolais Nouveau, but still! A scam! The French don't believe this at all!
We now know that when you swirl your glass, you're not just doing it to look cool. You're doing it to see the "legs" of the wine, and tell how sweet or dry the glass might be. We also won't judge you for holding your glass up to the light, because we understand that you're looking to see the clarity and brightness of the white or the depth of color in the red. In past tastings, this always felt glazed over–like if we were there, we should know what every step of the tasting actually meant. We didn't, and now we do.
Last but DEFINITELY not least: the average bottle of wine in France costs €3.61. Retail. And thus, we are moving to France.
Along with our class, our Australian friend confirmed that the Champagne cruise along the Seine is also well worth it, and if you don't want to spring for a class, the wine bar itself was well-reviewed. It was the perfect way to spend our Saturday afternoon, and warmed us up before our tour of the Catacombs.
Ô Chateau = hit.
xo!
the romantic