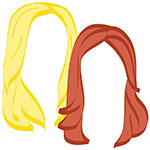 It's been almost two full months of receiving your #LTSwissTips and, after careful consideration and a lot of red wine, we've finally decided on a winner.
Drumroll please…
While in Switzerland, we will:
Braid our hair, Heidi-style, and drink Swiss Miss in front of a snowy mountaintop, courtesy of Ms. Lola from Where in the World is Lola!
Lola's Swiss Tip  has earned her a special gift straight from Switzerland, courtesy of The Lazy Travelers. LUCKY!
Because we got so many phenomenal recommendations (and because there's a chance that we'll drink a few too many bottles of wine and convince each other that any of these suggestions are plausible), we've picked three honorable mentions.
#1. Stay Adventurous suggested opening a Swiss Bank account, which may be hard to pull off for two drunk American girls. Buuut, we may still try. If you don't see tweets/instragrams from us, assume we're in a Swiss prison somewhere and need bailing out.
#2. Both GQ Trippin and  Bespoke Traveler asked us to yodel. We had to pass on this because we're not quite sure how to yodel. Annnd yet, chances are, the more wine we drink, the more we'llTHINK we know how to yodel.
#3. Anita informed us that singer/songwriter James Blunt lives in Verbier, and asked us to track him down and take a photo with him. Though highly unlikely, we do promise to try our best, even if that means screaming his name while drunkenly stumbling through the streets.
Thanks to all that participated! We'll be tweeting, instagramming (@_theromantic & @_thewino), and blogging our adventures, so make sure to follow along beginning this Thursday.
xo!
the romantic & the wino