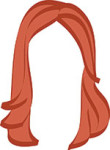 As you may have already realized, we are big on weekend getaways around here. It doesn't matter what season! Give us a long weekend and we're happy as traveling clams. The latest addition to my long list of NYC-friendly destinations? An autumn getaway in Montreal.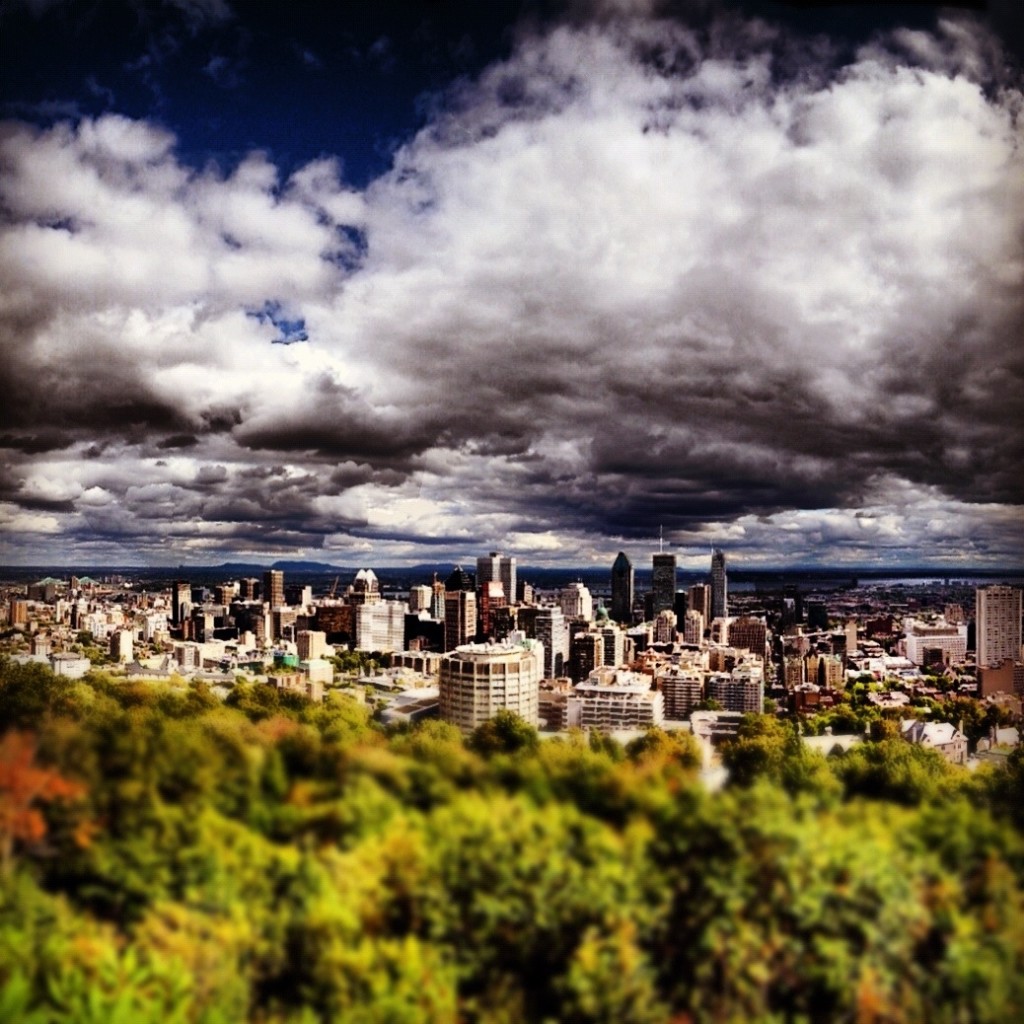 Back in July when I started to eagerly anticipate autumn (normal), the hubs and I decided to book our first fall getaway of the season. Come mid-September, we would fly up to Montreal to celebrate our second anniversary. Sure, it's still fairly warm in New York in mid-September, but those Canucks hunker down for winter on, like, November 1st, right? Wrong.
The weather was decidedly un-fall like. We, of course, packed as though we were spending our weekend in an actual corn maze, so that was a slight issue, but whatever. At the end of it all, one thing was clear: Montreal is, in fact, the perfect autumn weekend away.
Let's discuss.
The Food.
Holy GOD, the food. It was lucky that we walked almost everywhere, because serious carboloading occurred. It's the perfect city to get started on your winter weight! We kicked off with the (LONG) journey to St. Viateur Bagels. Before we get to the good stuff, I am telling you fools here and now: not even wasting my time posting "bagel" photos. We can all agree to disagree, but  this New Yorker is here to tell anyone who enjoys that nonsense: THOSE ARE NOT BAGELS.
Luckily, the poutine at La Banquise turned my life right around.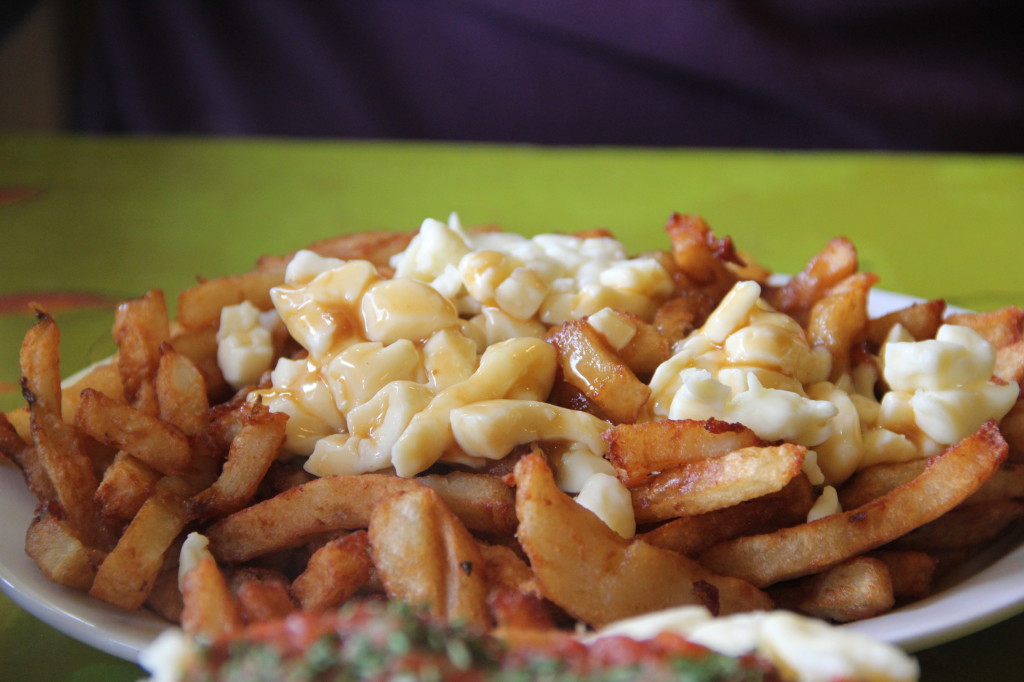 Then there was a pile of smoked meat in front of me at Schwartz's.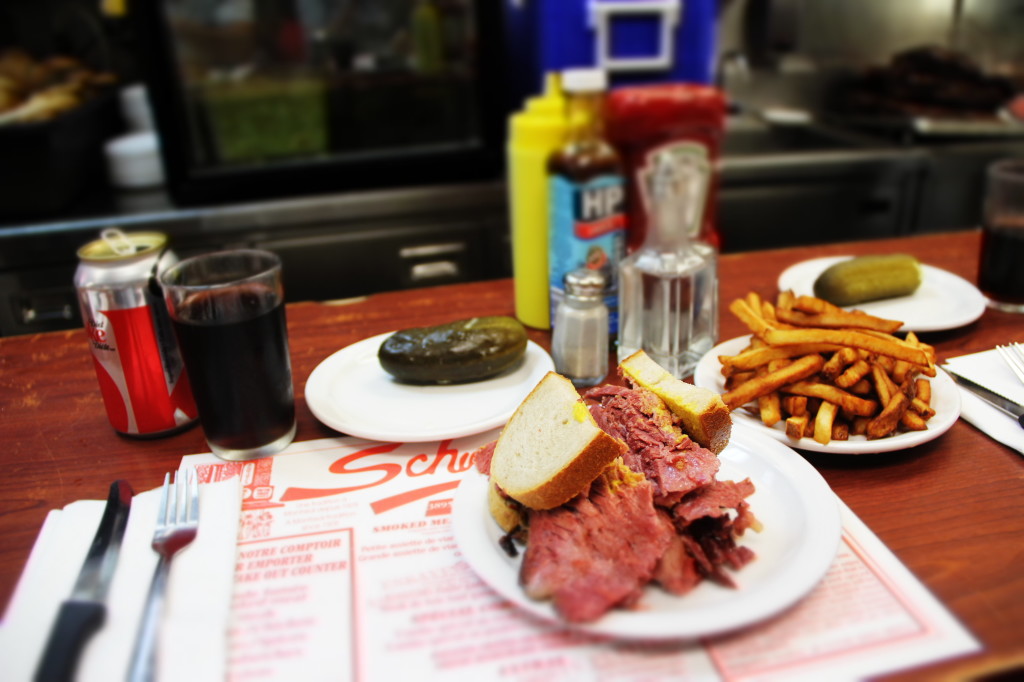 And we closed out day one with the tasting menu at Toqué!. The exclamation point is part of the name, hence the double punctuation. See?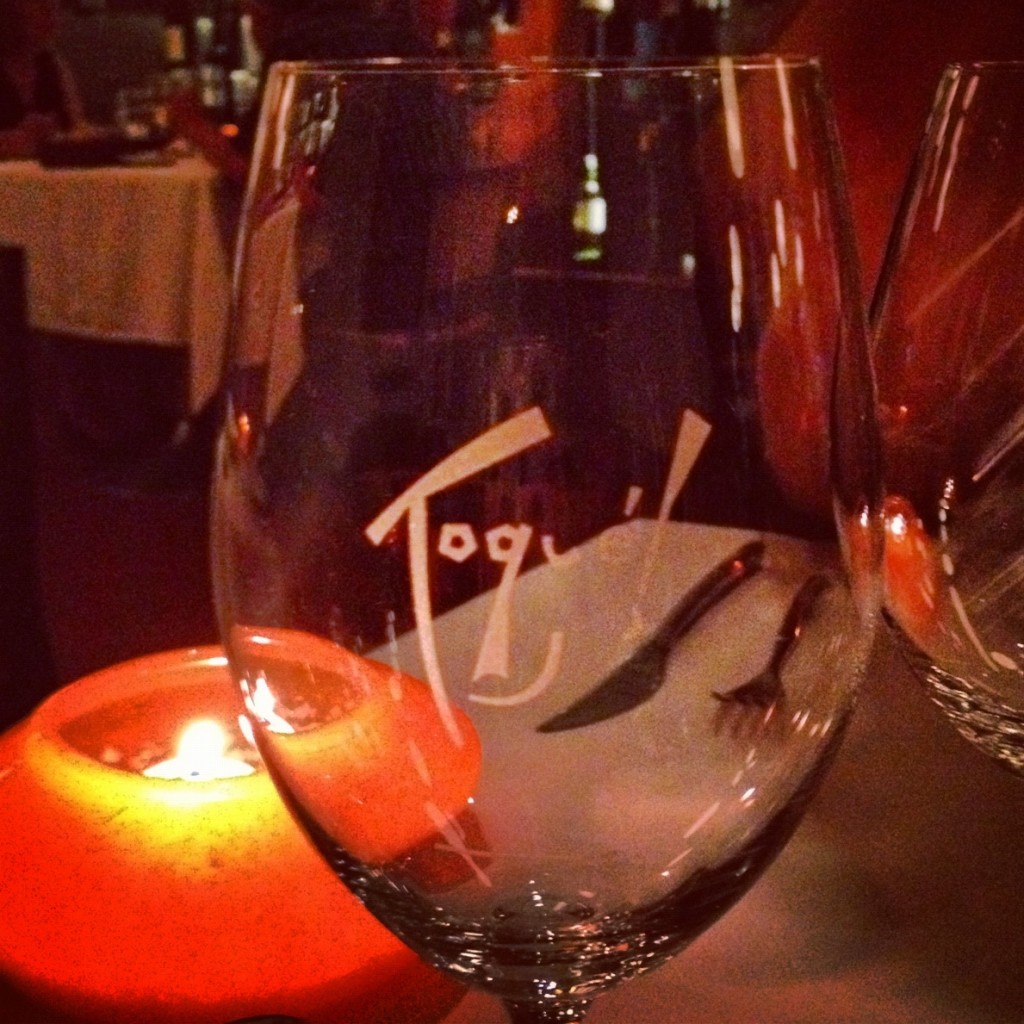 Not pictured: the ridiculously amazing meal on night 2 at Chez l'Epicier No. 311. Was too busy eating to take any photos (and also too busy spying on the poor guy next to us who was stood up by his date) but YUM, YUM, YUM. Go to there.
The window shopping.
The hubs and I aren't huge shoppers when we travel, but on our first morning, we strolled down Boulevard Saint-Laurent and there were TONS of adorable little stores along the way. Vintage shops, clothing boutiques, and stores full of housewares that made me want to pick up and move into a five story house that I could fill with tchotchkes. The best out of all of them?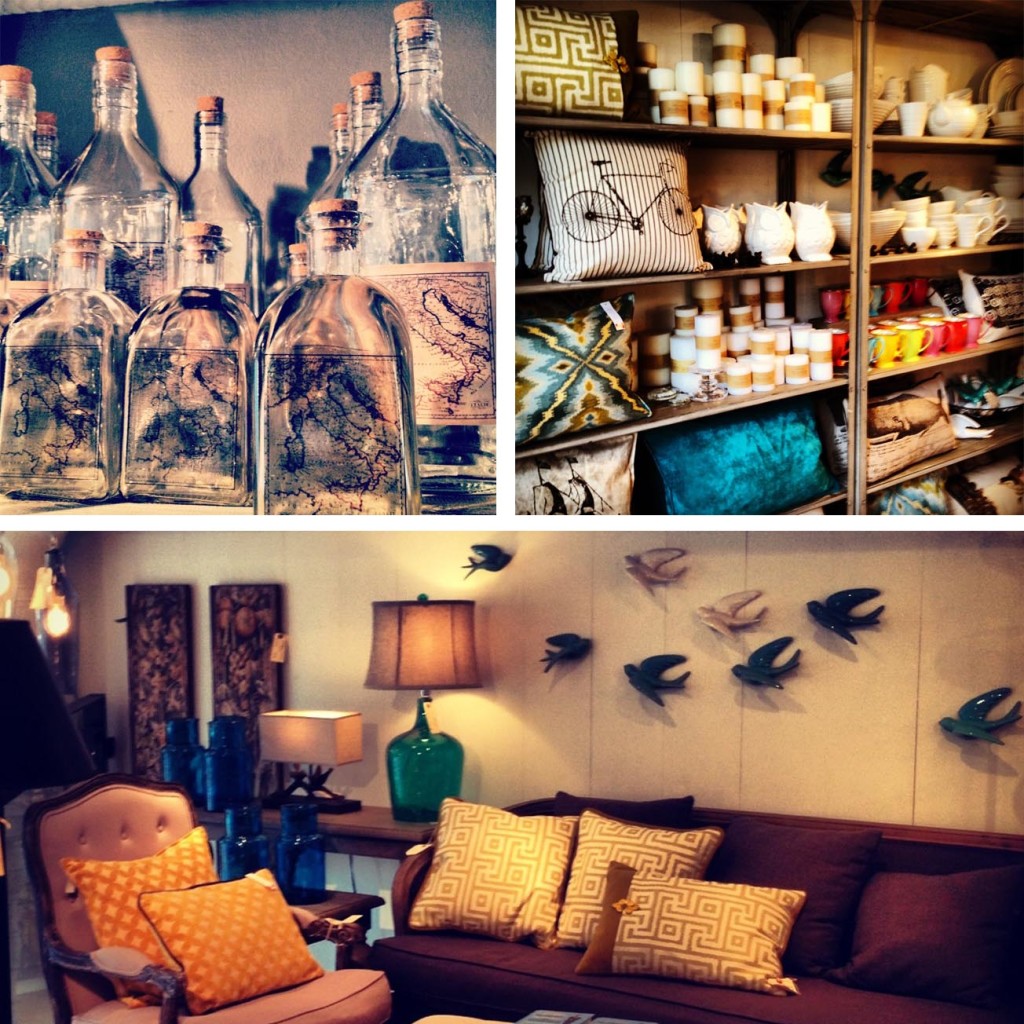 It was like Jonathan Adler moved out of his lofty New York apartment and into a charming French farmhouse and asked my dreams for decor tips. V de V, please oh please start selling things online and ship them all to me?
Vieux Montreal & Vieux-Port de Montreal.
I spent the first day a little confused. From everything I'd heard, Montreal is basically the Paris of Canada–whatever that means. Though we definitely saw the European influence, we were seriously baffled by all the Parisian comparisons.
That is, until we finally made it to Vieux Montreal.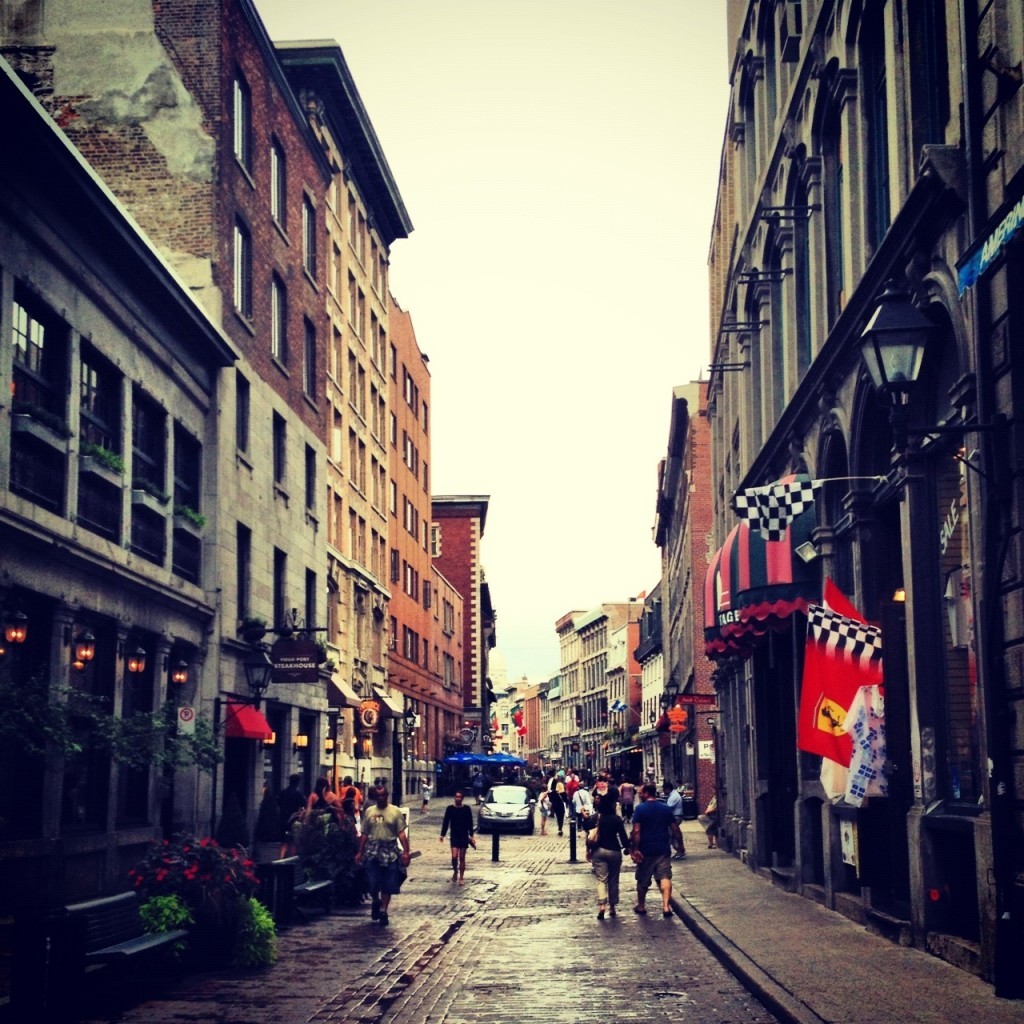 The hubs and I shared a collective, "OOOoooooohhhhhhh…." immediately upon arrival. It was even more Parisian at night: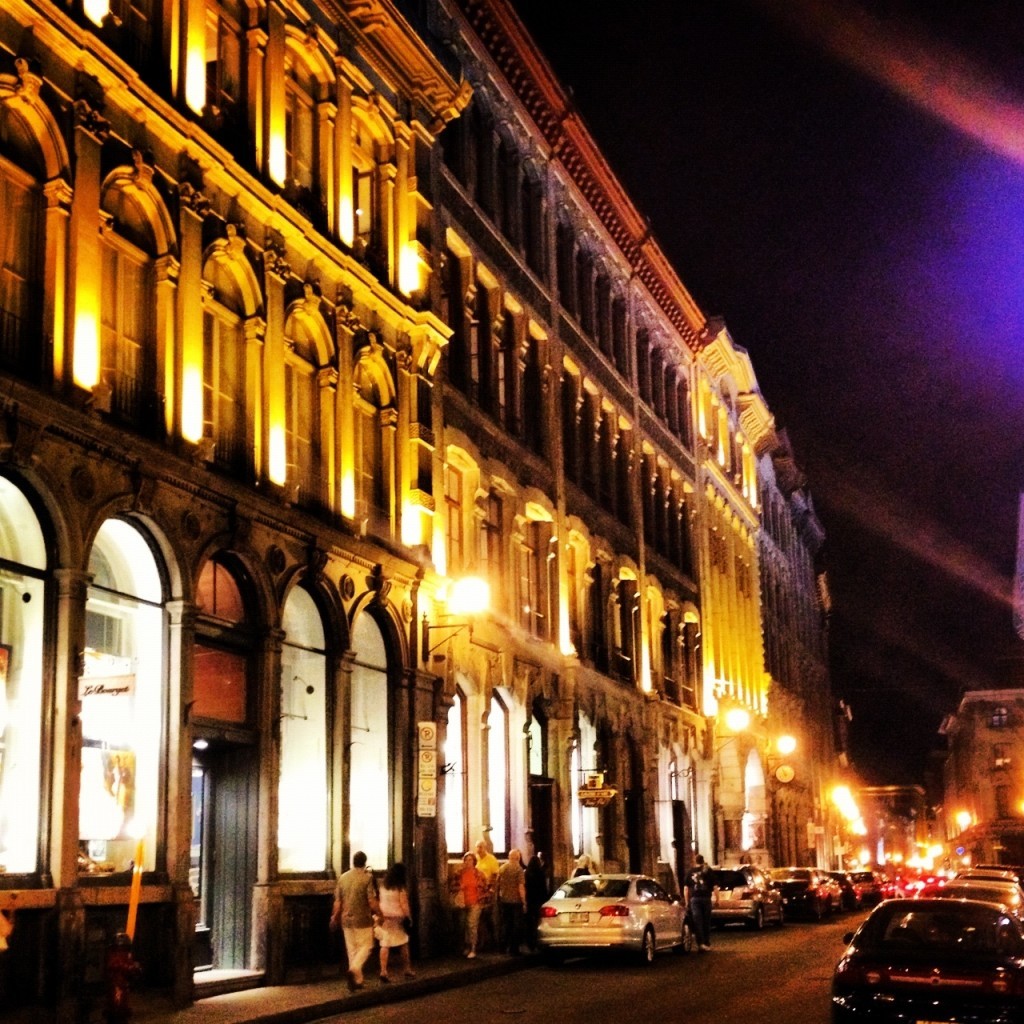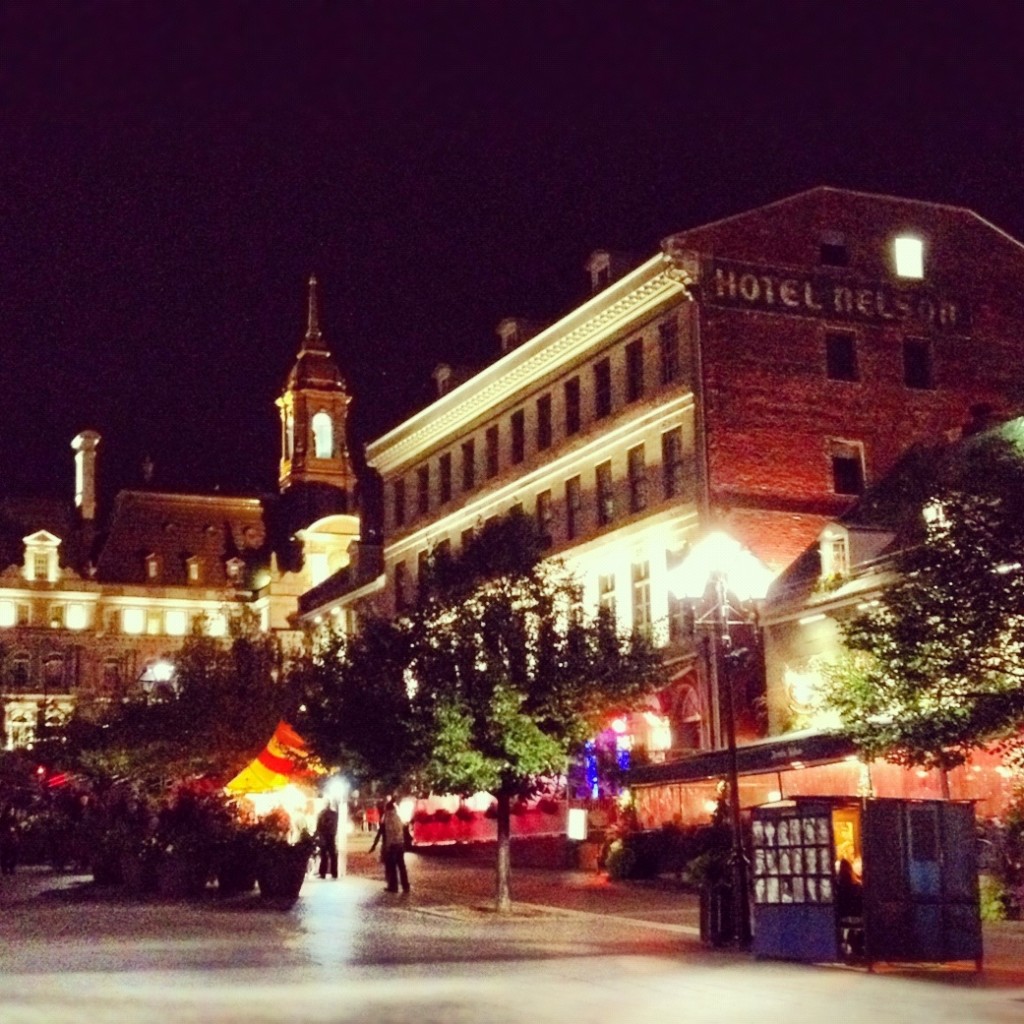 Now imagine that with all changing leaves and crisp autumn air!? I know.
Also happening? The Tall Ships were in town.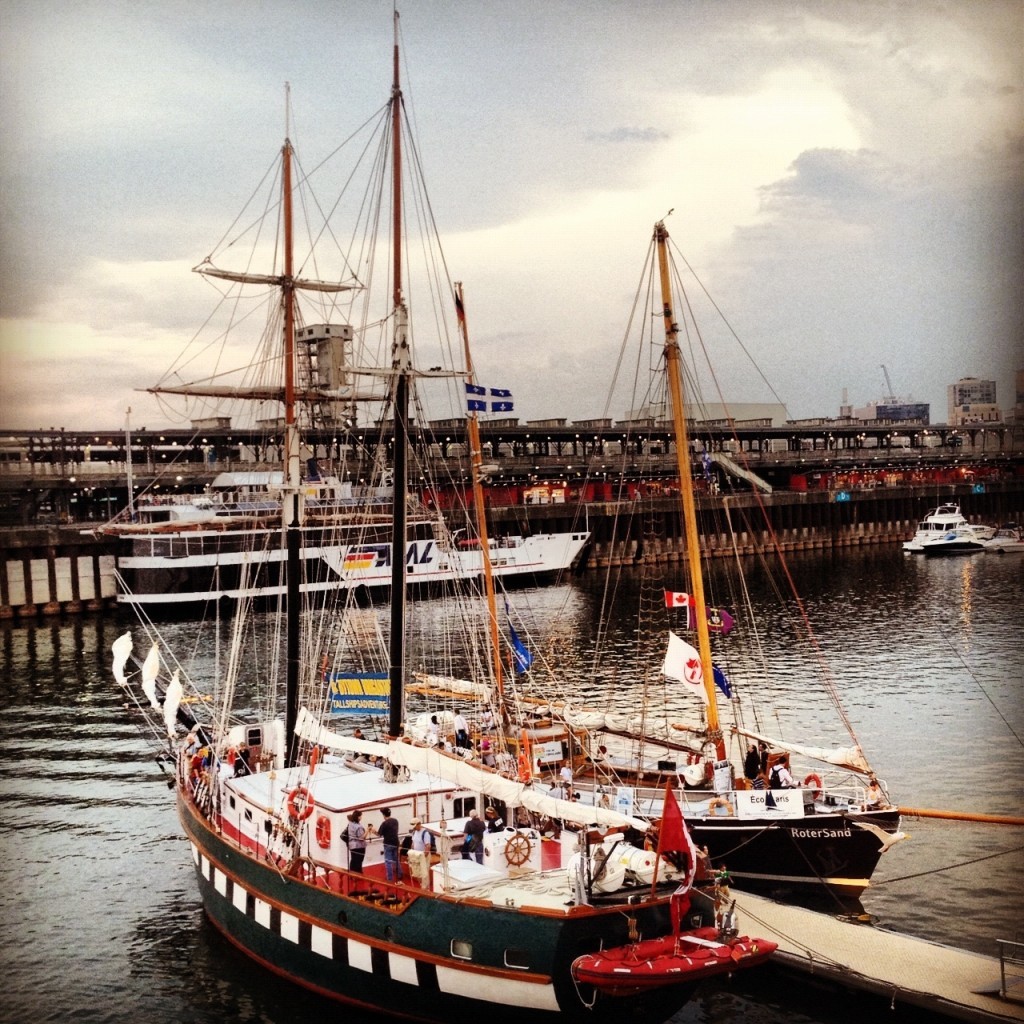 They took it REALLY seriously (and thus, I could not):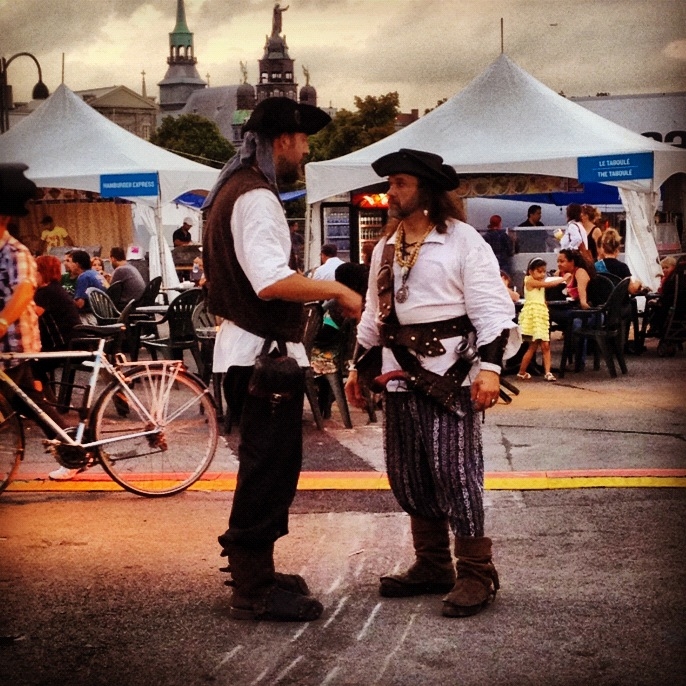 While these lads discussed important things like whiskey and wenches, a French-speaking bluegrass band sang old timey songs onstage, also in full pirate  costume. I KNOW.
The hotel.
Way back at TBEX, I won a $500 gift card to any Hyatt in the world thanks to RoomKey. I never win anything! We're not usually Hyatt people, but we booked ourselves a room at The Hyatt Regency Montreal. Reviews were solid, location was great, it was seemingly perfect.
Lo and behold, we received a very disconcerting email just one week before our trip. Apparently, Hyatt hotel employees were on strike and the hotel would be functioning completely through the management. Though this wouldn't affect everything, it meant no room service (fine), limited restaurant hours (whatever), and limited maid services (catastrophe).
Naturally, we called the hotel to ask how we can make sure this didn't negatively impact our weekend. This was the result: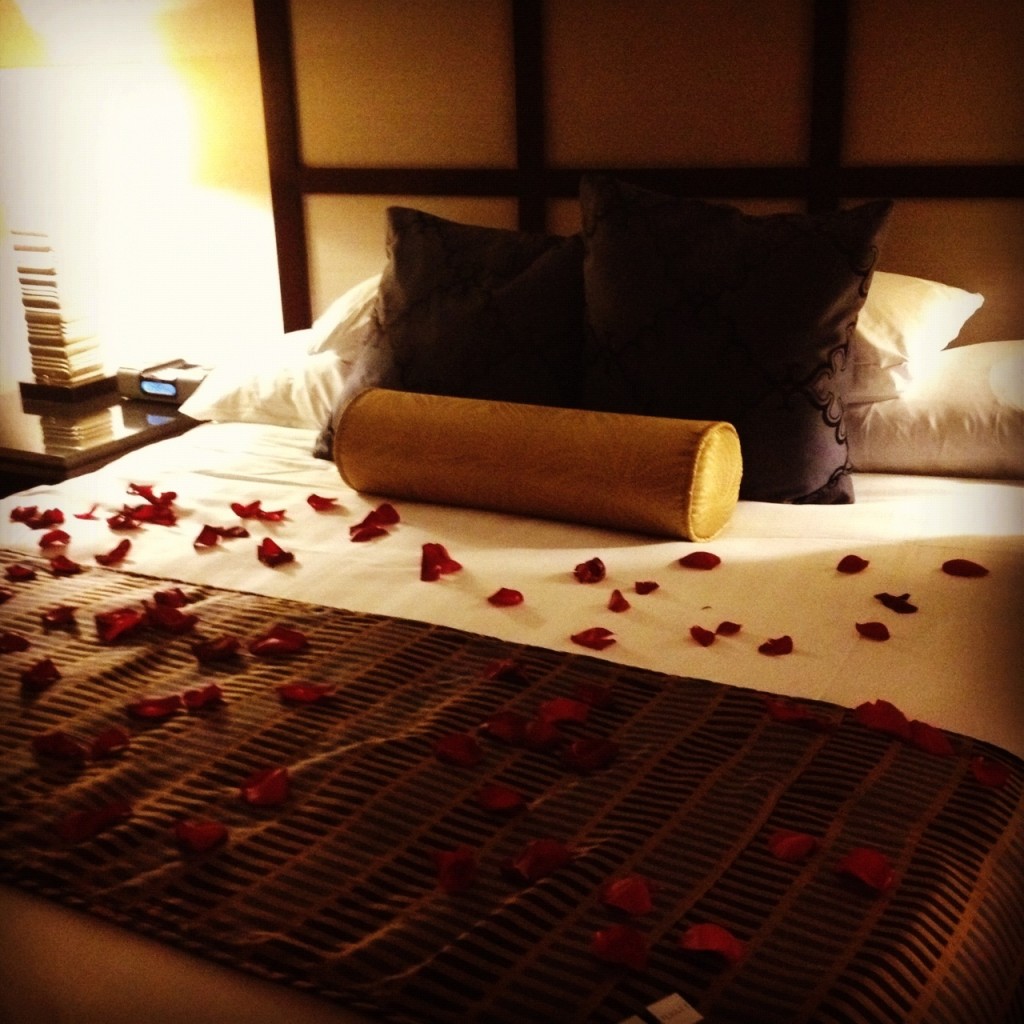 Yeeaaah… I'm aware I'm "the romantic" and all, but no thanks, Hyatt. Luckily, this was also included: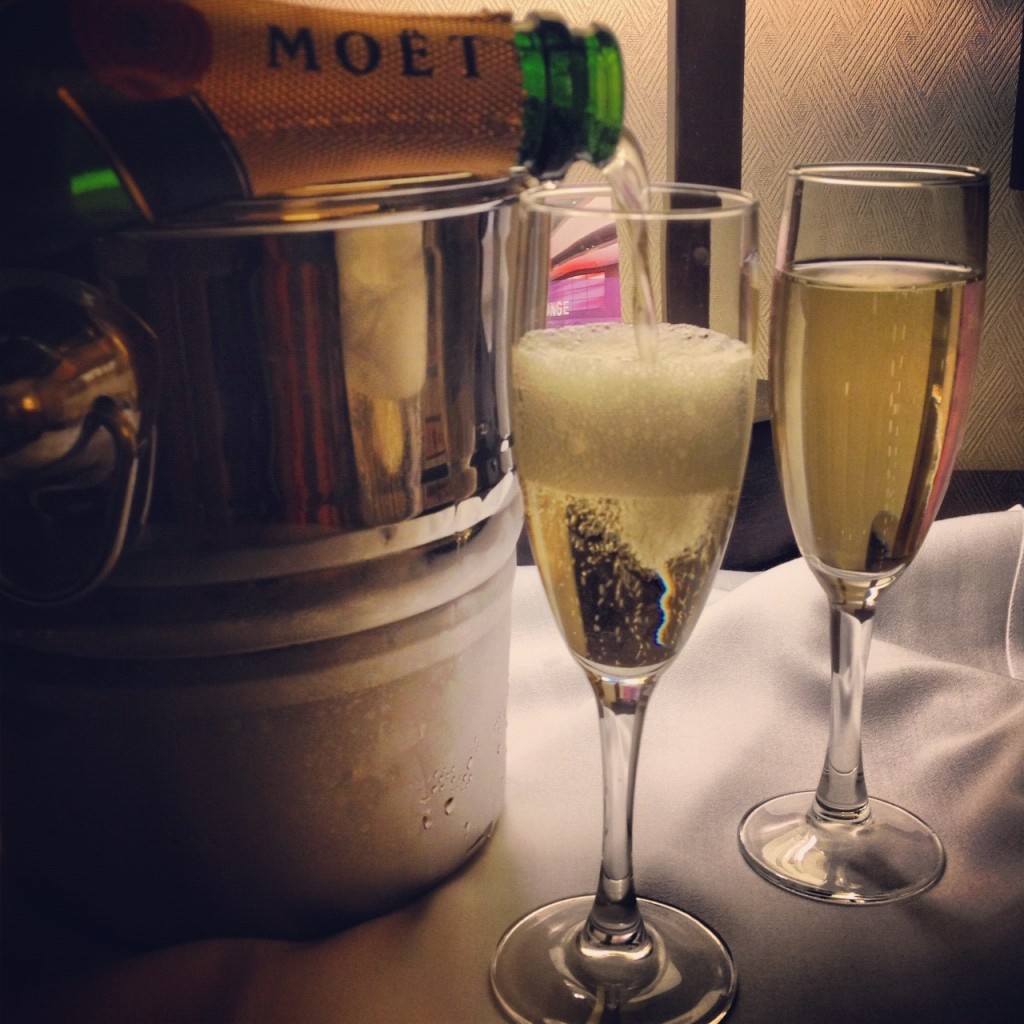 AND this: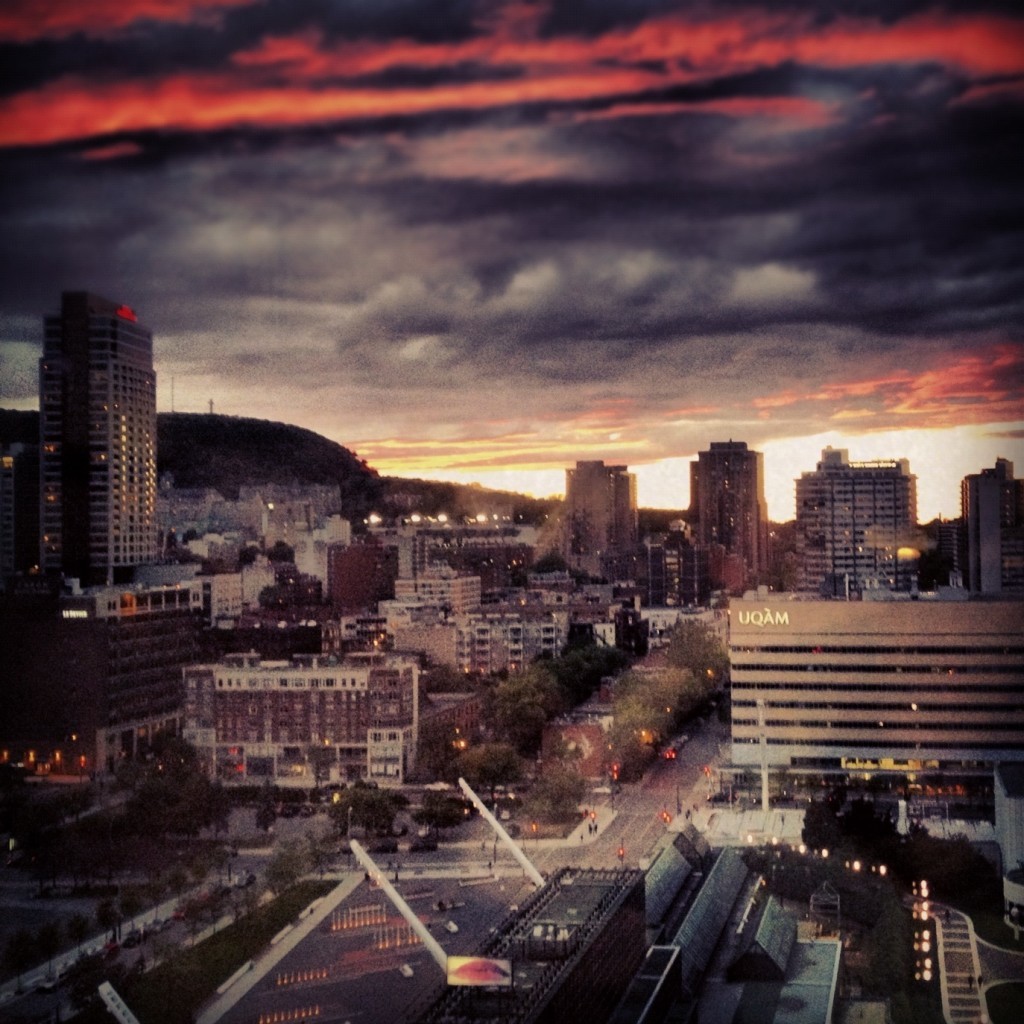 As we all know, a higher floor = better view = #1 way to this girl's heart.
I must say: the management team handled things incredibly well. We genuinely didn't notice a difference (except for all the sweet extras…and the rose petals), and when we learned that a wedding was happening at the hotel that weekend, we realized that they had much bigger priorities to handle. Hopefully the bride felt taken care of as well, because I can't imagine the stress that she must have felt. (Especially because we saw her hubs-to-be and his groomsmen trying to put together the ceremony arch… girlfriend was not marrying Mr. Problem Solver).
Obviously, the strike ended the day we left, but I'm still glad we were at the Hyatt. Vieux Montreal was my favorite part of the city without a doubt, but as first timers, the location of the Hyatt allowed for easier walks to other major sites in the city (i.e. Schwartz's) and was really close to the extremely easy-to-use metro system.
Other stops we made along the way?
Mont Royal
Montreal Tower & Parc Olympique (tres bizarre!)
Île Sainte-Hélène
I know this is our pretty much our mantra, but honestly? I could have done without most of the "attractions." The hubs and I explored most neighborhoods on foot, and we loved strolling through the different neighborhoods and eating, eating, eating.
Also, their "Go" sign features a seriously saucy little pedestrian to lead the way: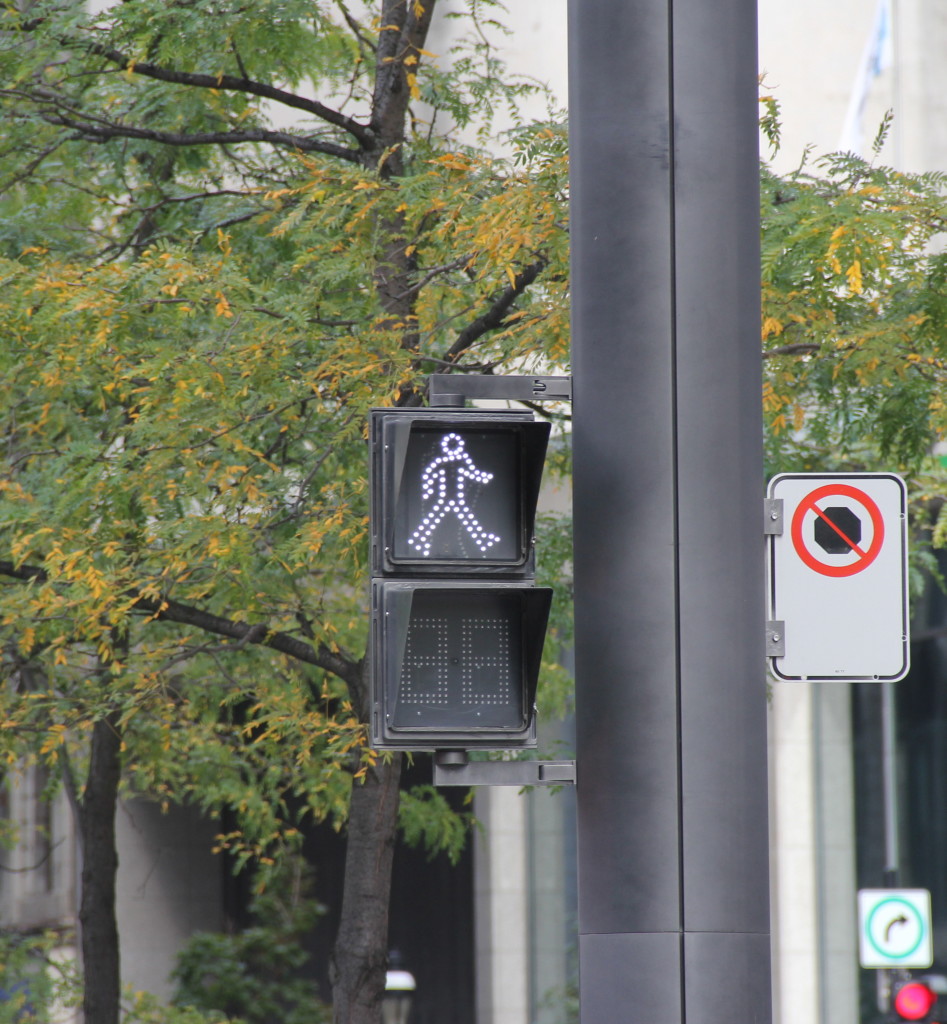 In such a pedestrian-friendly city, I was reminded of why, in past years, we've always traveled in October. When the weather is cool and crisp, it makes exploring anywhere on foot just that much better.
Added bonus? Meat sweats from Schwartz's are a little more bearable in colder temps.
xo!
the romantic