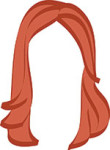 True story: if the hubs and I didn't move just south of Paris, Barcelona was a very close second.
I had mixed feelings about this possibility for a few reasons, and most of them were, unsurprisingly, food-based. Living off of baguettes & brie & pain au chocolat for a year? Oui, oui, eeetttt oui. But a year full of tapas? I mean, it's very non-specific. I could never quite envision myself leading a life filled with sangria and tapas… because, well, for one, I had never been to Spain, and two: tapas can mean anything as long it's bite-sized, right? Plus, I'm not really into ham—err, jamon—so it all just didn't seem destined to be. Clearly, it wasn't.
Shortly after arriving in France, however, we had a five-day break in early October. Whispers of Barcelona were passed along, and despite visions of jamon doing the flamenco in my head, I was intrigued. I was still slightly curious about the woulda-coulda-shouldas of it all, and so, on a whim, our flights to Barcelona were booked.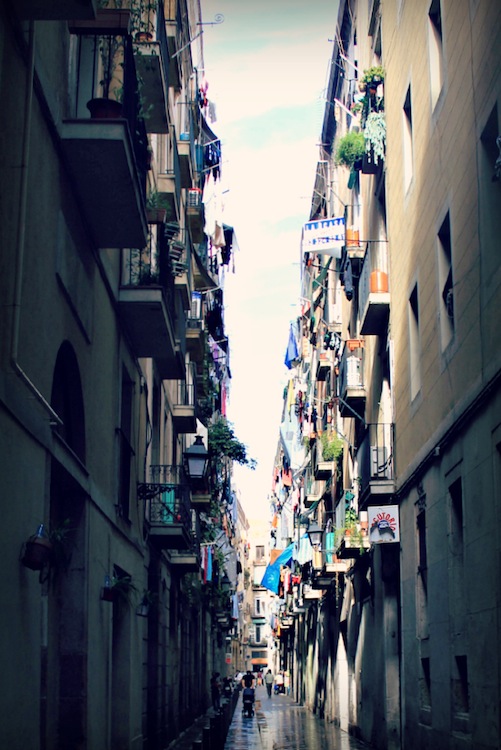 Our long weekend in the REAL city that never sleeps (at least not during normal hours) made me realize two things:
Tapas are freaking delicious, but paella is where it's AT.
I seriously underestimated Spanish cuisine.

I have a few places to thank for my newfound foodie love, so naturally, I must share them.
Two months of living in Europe had already turned me into a market fiend, so I was pretty eager to get to La Boqueria on Las Ramblas and make our rounds. We headed to the famous market immediately after waking on our first morning. Ok, ok, like mid-morning. FINE, it was early afternoon.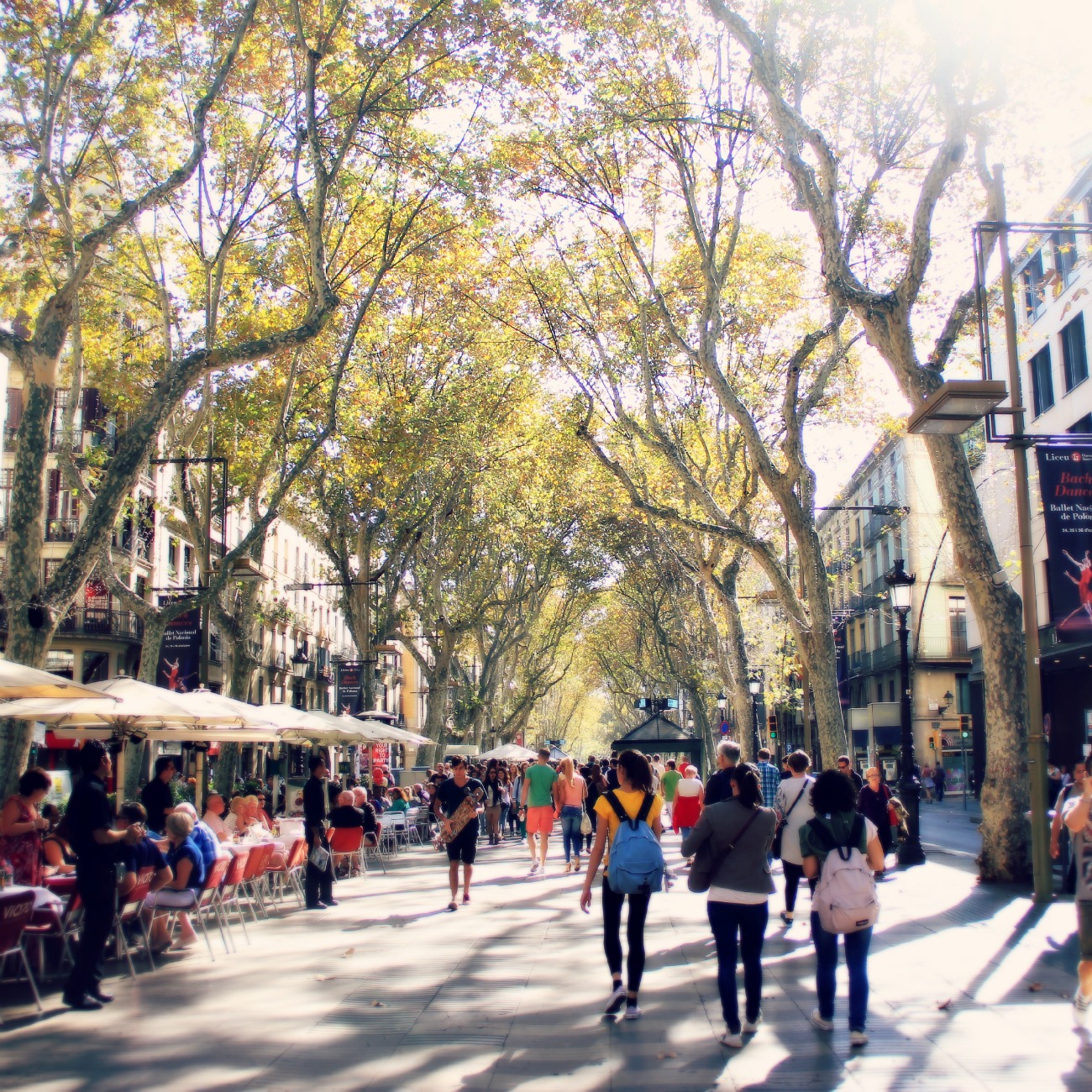 We were on a major quest for café con leche and churros—ideally dipped in chocolate. We saw them almost immediately upon entering La Boqueria, and I found heaven.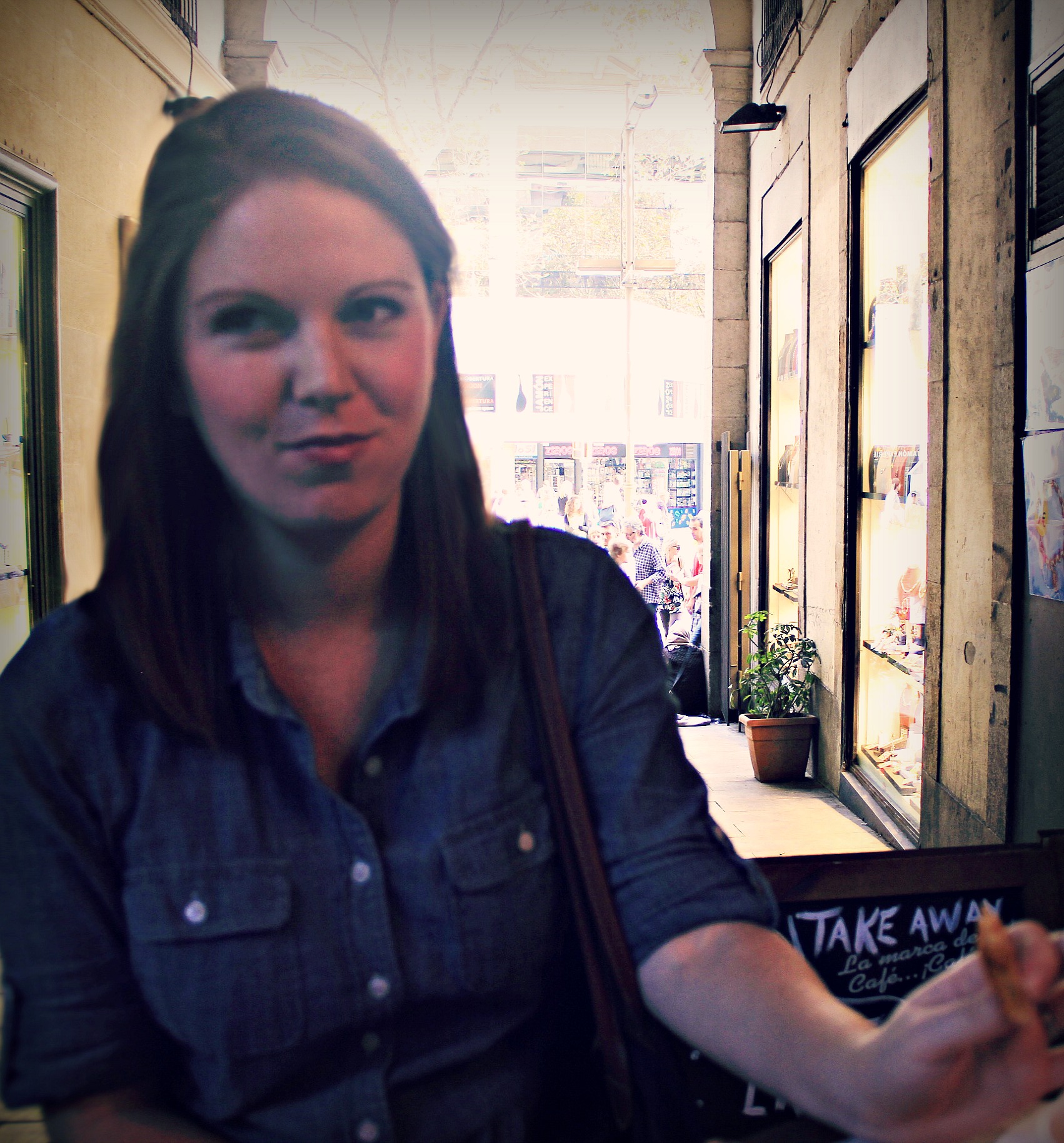 My mouth was full from my very first bite, but I was already plotting my next degustation decision.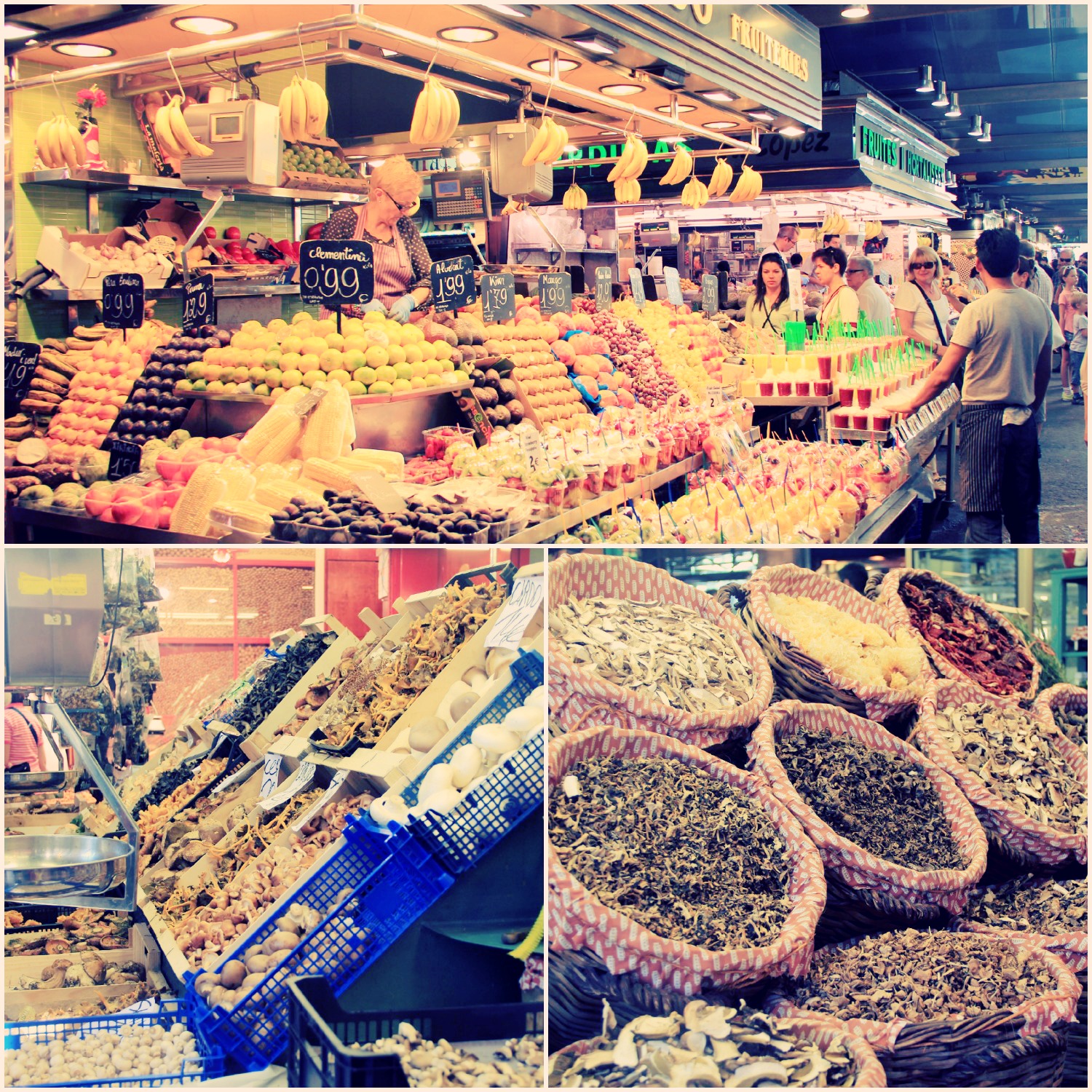 In case you're wondering, that next decision came in the form of  Rostisseria Ramon, where we had some sort of garlic/potato concoction that left us unable to talk in close proximity to anyone aside from each other. Worth it.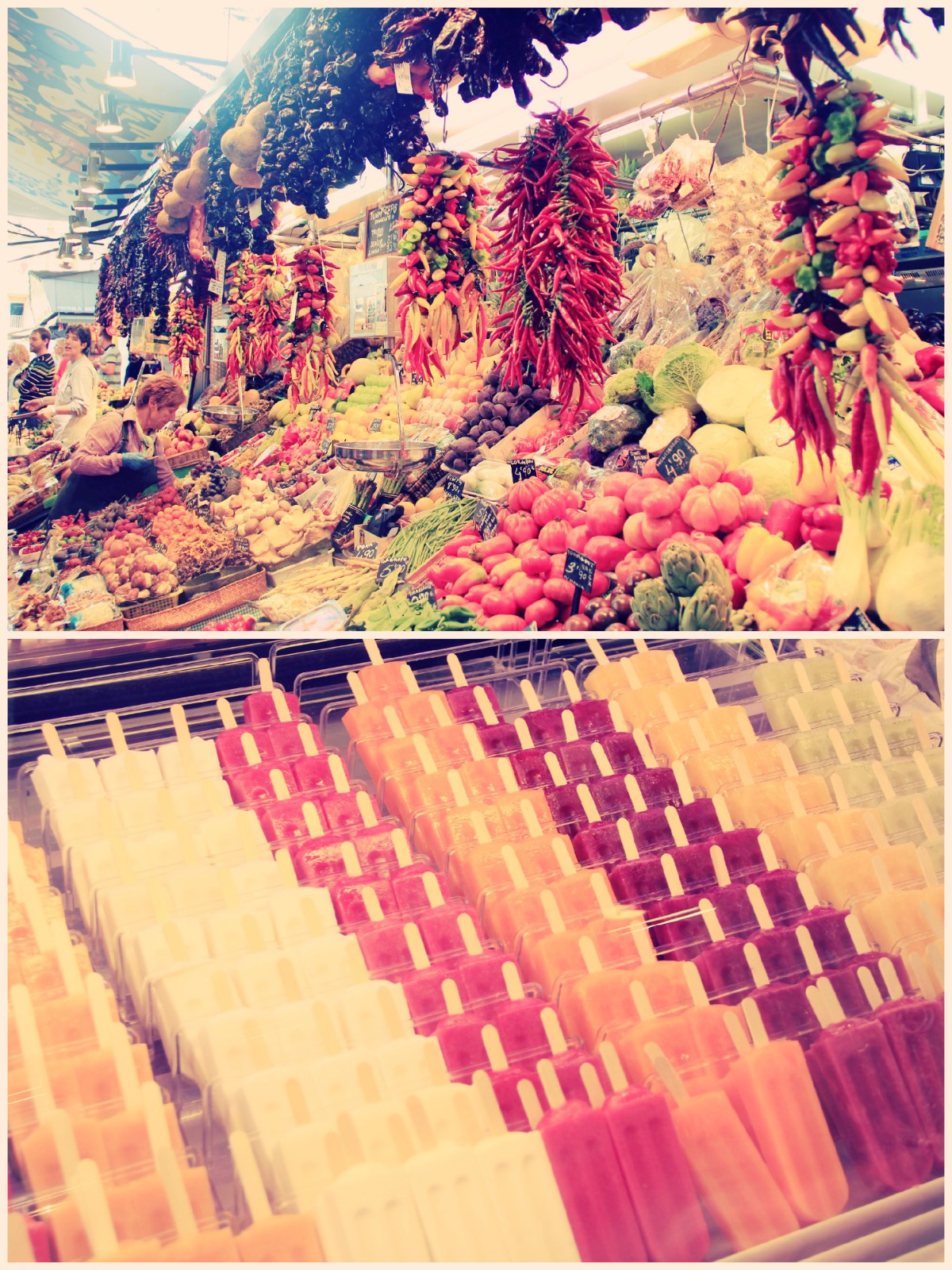 To cool off our mouths, we naturally opted for sangria-flavored popsicles because HEAVEN.
A few days later, we returned for baby squids at Bar Central: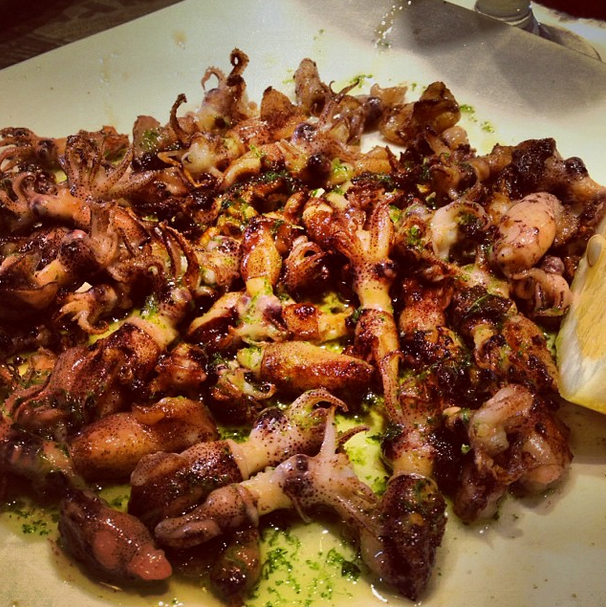 Photo courtesy of the hubs, who gets AWFULLY testy when I don't credit his Instagram. They were surprisingly delicious (if you ignored the eyeballs.)
I loved that La Boqueria was the perfect mix of locals shopping, tourists eating, and just enough culture shock—namely in the form of squid eyes, pig feet, and lots of tongues. While Las Ramblas wasn't my favorite, braving the tourist storm to get here was well worth it.
Naturally, I needed to know how to make all of this delicious food… minus the baby squids, plus some paella. Cue Cook & Taste Barcelona.
Though they do offer a market tour before each class, we opted out. The rest of our class assured us that we had missed EVERYTHING, so we immediately regretted this (even if our cava-induced headaches from the night before begged to differ.)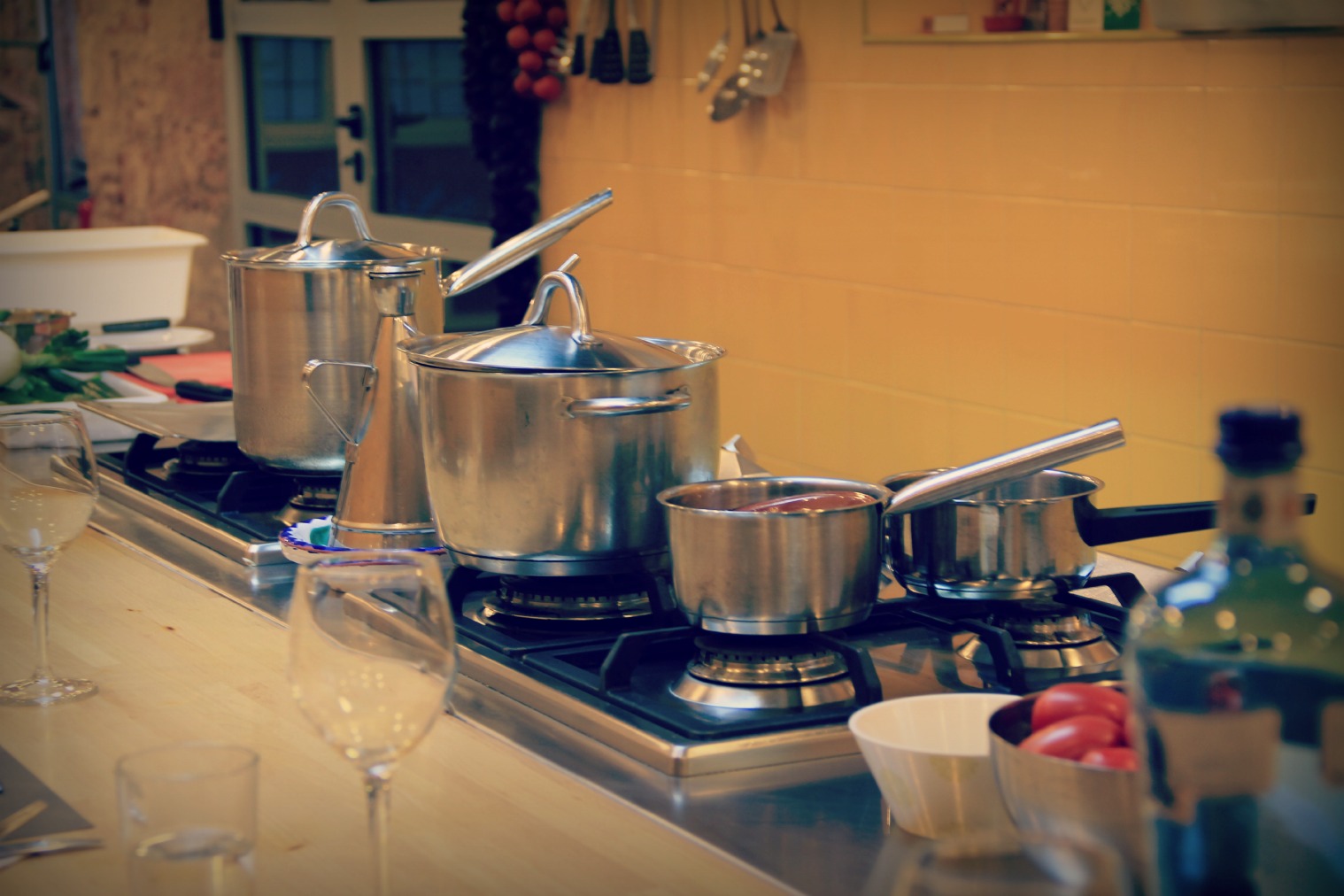 The hubs and I are no strangers to cooking classes during our travels—something that started on our honeymoon in Tuscany. After also taking classes in Vietnam and Thailand, we've become pretty good judges of what we like and dislike when it comes to cooking with a crew. Though different than past experiences, Cook & Taste officially ranks as one of our favorites.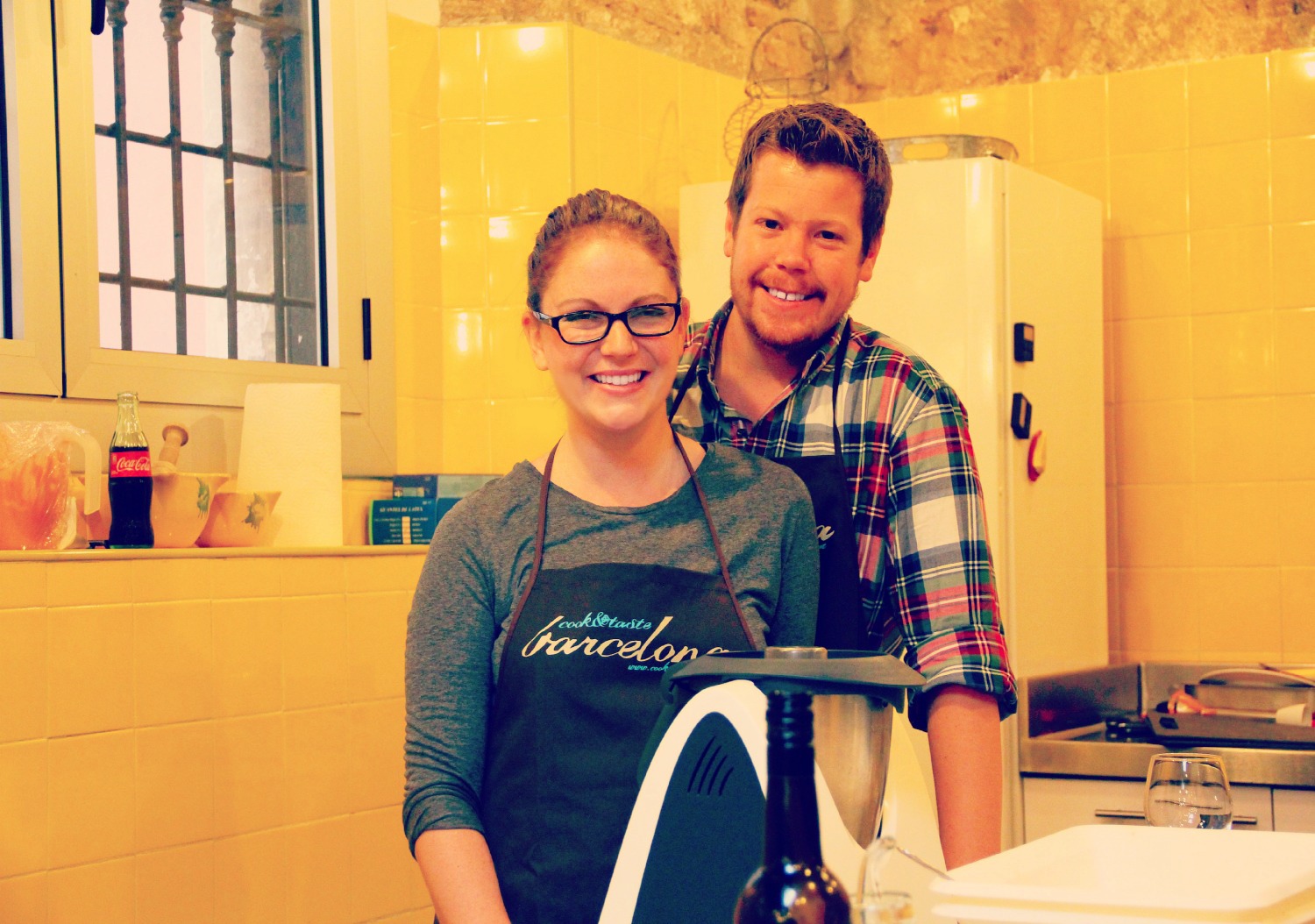 Rather than have our own individual stations, we were joined by about 10 other travelers, and we all crowded around one central stovetop. Together, we prepped, shared jobs, poured wine, and listened to our chef, Maria.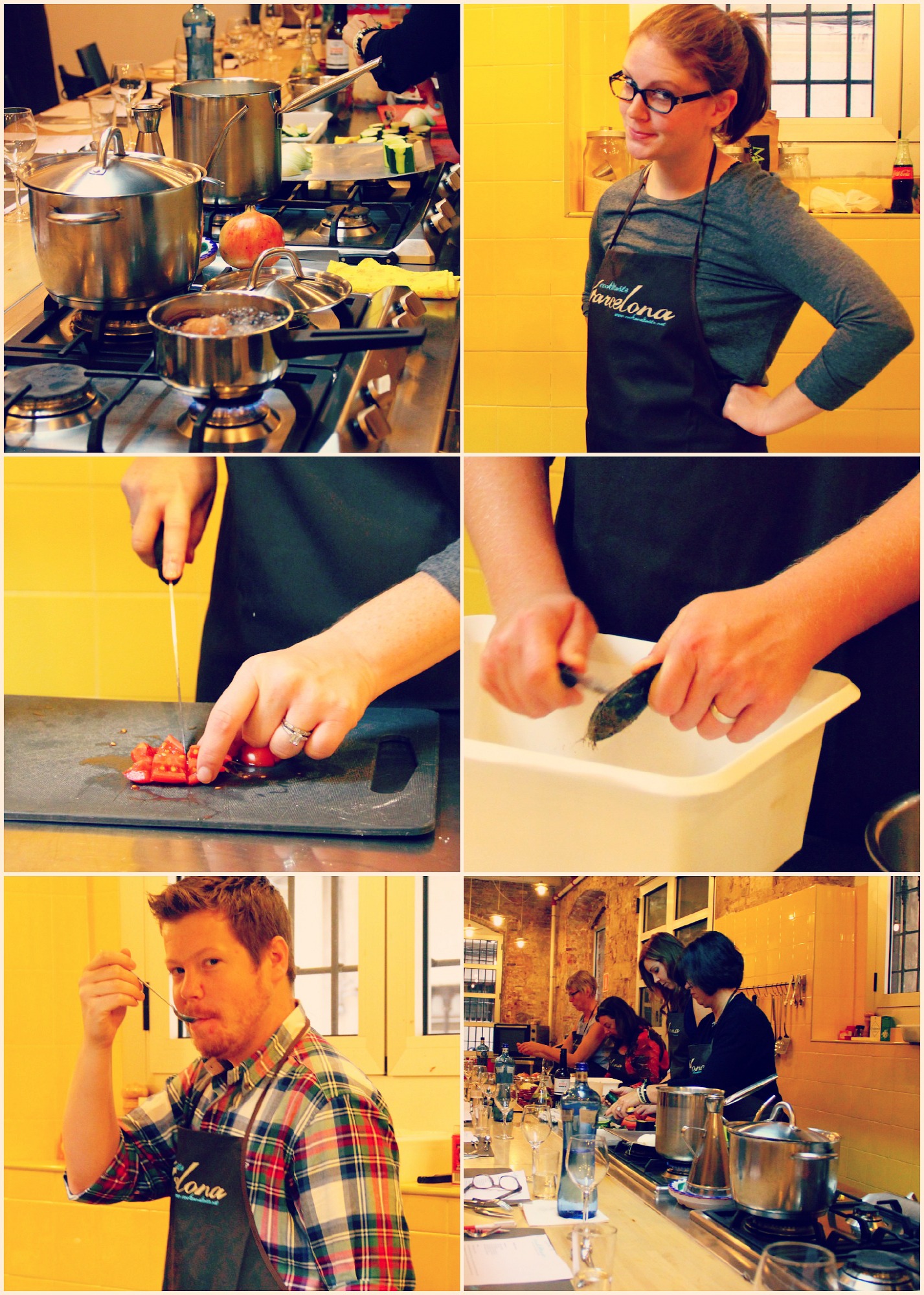 The entire experience felt much more authentic than standing at our own sterile stations, making our individual meals. Though that might be a better way of learning so that you can take home every bit of advice and recreate a dish in your own kitchen, this was far more intimate. It felt like we were invited into a friend's home instead of a cooking school.
I also realized early on in the class that there is no way in hell I'll ever have the patience to recreate paella in my own kitchen.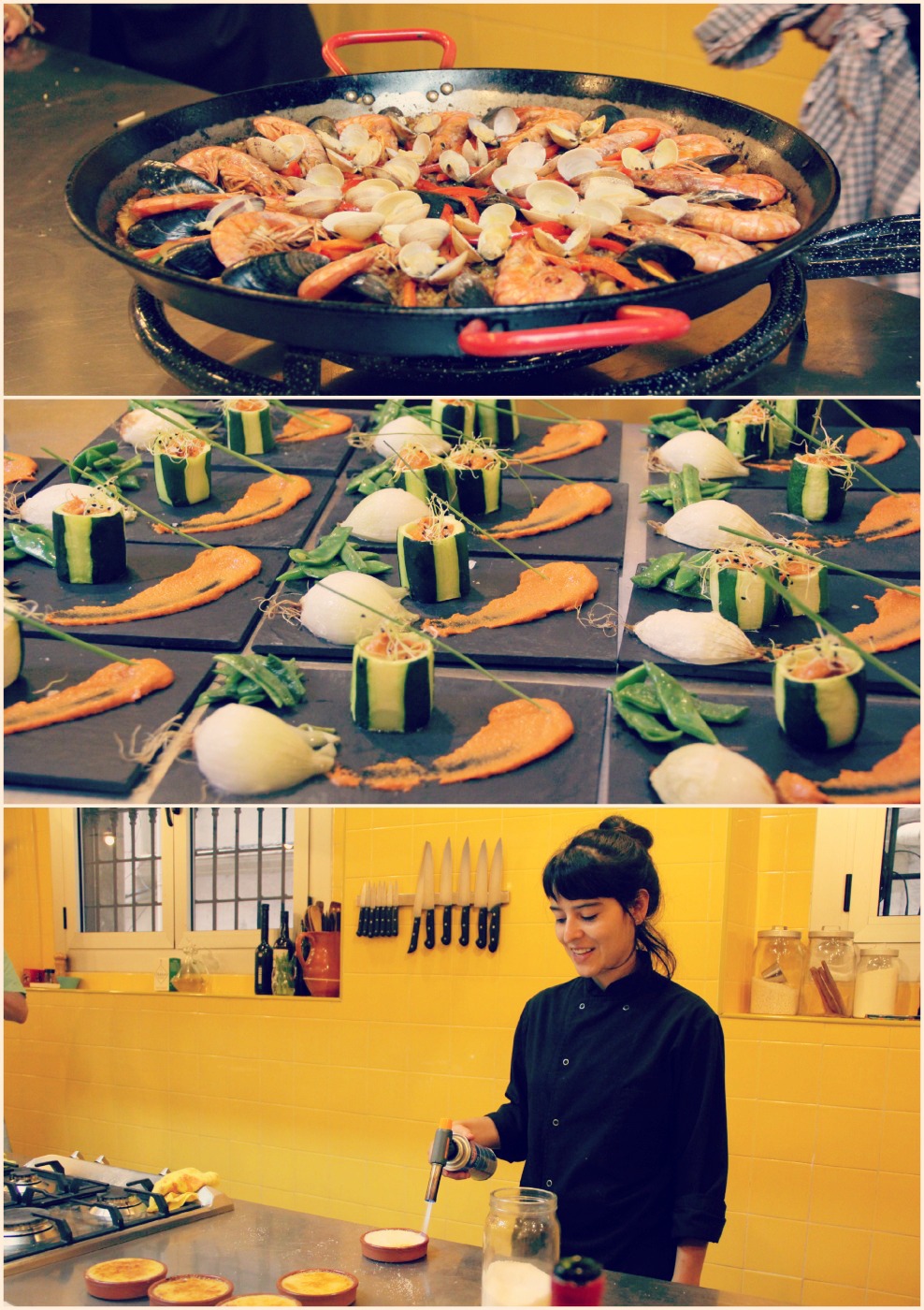 And I can't really envision a life where the hubs will let me have my own baby blowtorch, either.
Half day group classes at Cook & Taste start at 65€ per person, with an additional fee if you join the market tour… which, per everyone and their mother, you must, must, must!
Late Night Tapas Binges
After the hubs and I checked into our AirBnb apartment on our first night (which was perfectly located right on Ronda Sant Pau), we needed food—and stat. A quick google search confirmed that Blai Tonight, right around the corner on Carrer de Blai, was the place to go.
We sidled up to the outdoor bar, ordered two pints of Moritz on tap, and then made our first round, picking up whichever tapas options looked most appealing. As we ate each one, we plopped our used toothpicks into a little cup. At the end, a waiter counted them up and charged us per toothpick! CUTEST.
Also: DELICIOUS…EST.  Also, they were €1 each.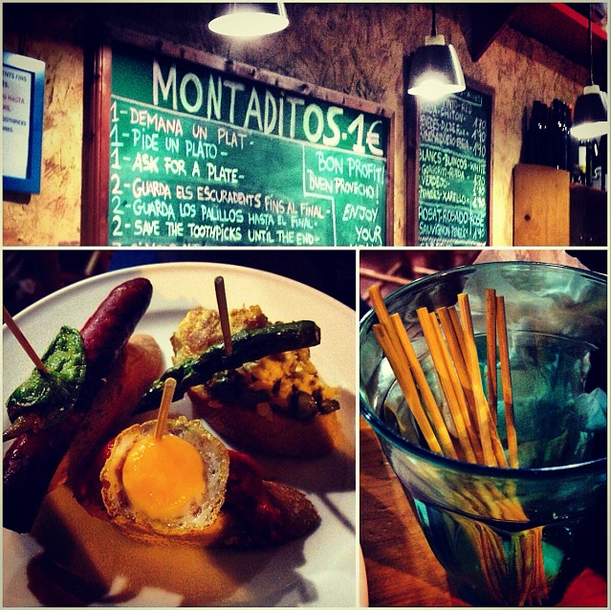 On a different night, we met up with friends at Quimet y Quimet, which is widely regarded as one of the best tapas places in all the land. (Or, you know, at least just in Barca, which is basically the same thing.) I don't have any pictures of this because it was complete and total madness. There's no way to really avoid that aspect of Quimet because they don't take reservations… you just gotta go and use your muscles.
And that, my friends, is a little peek into this first timer's favorites from Barcelona! Oh, and the hubs liked the jamon: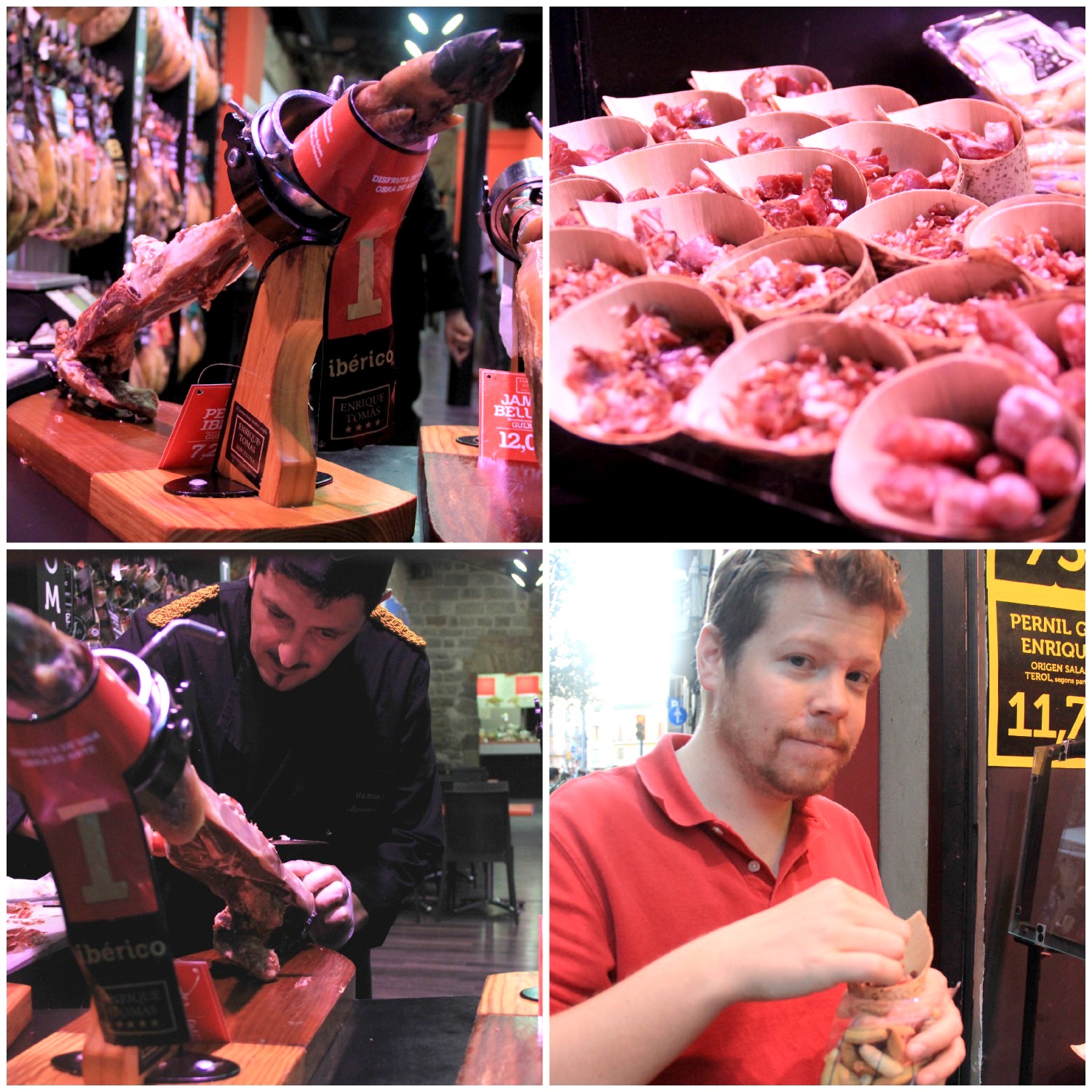 xo!
the romantic
– Thank you to Cook & Taste for inviting us to join Maria for a half day of foodie fun. All opinions are my own (and they may change dramatically if I ever tackle paella on my own…).