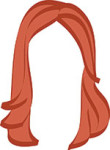 We made it! We took our 8 week old on a plane, flew to another country, spent a week on the French Riviera, and here we are: back on the other side. Older, wiser, and a little more confident as parents. I obviously have plenty to share about the logistics of our first trip as a family of three. But first! I must sing the praises of the Hôtel Barrière Le Majestic.
No, seriously. This place might just be our most favorite hotel… ever.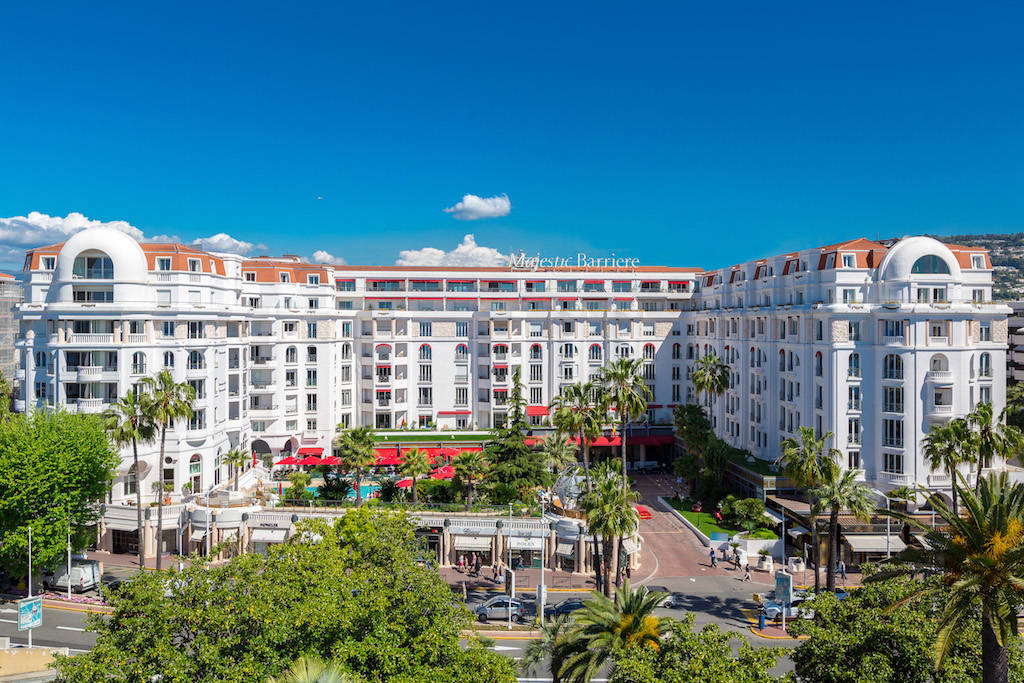 Her parents may not have been on their game. We may or may not have left (way) later than we had hoped/planned. But Margot was a dream from the start of our travel day until the moment we touched down in Nice. She slept the entire flight, and I learned that snuggling a baby is the most ideal way to fly.
Naturally, it all came crashing down when we arrived at the Enterprise desk to pick up our rental car. I won't go into detail, but 3 hours later, we drove away with a car from Avis and a refund from Enterprise. There was a note on the receipt saying, "We gave them bad customer service and they hate us." He was not wrong.
Unfortunately, Margot's good mood went away with ours. She proceeded to scream bloody murder from the airport all the way to the hotel. There, we lost the keys IN the car upon arrival. By the grace of one very patient valet and the most efficient front desk team I've ever met, our check-in moved as quickly as humanly possible. When the porter opened the door to our massive, beautiful room and welcomed us home with a flourish, I almost burst into tears with relief. We collapsed onto the bed, ordered room service, and decided we were never leaving.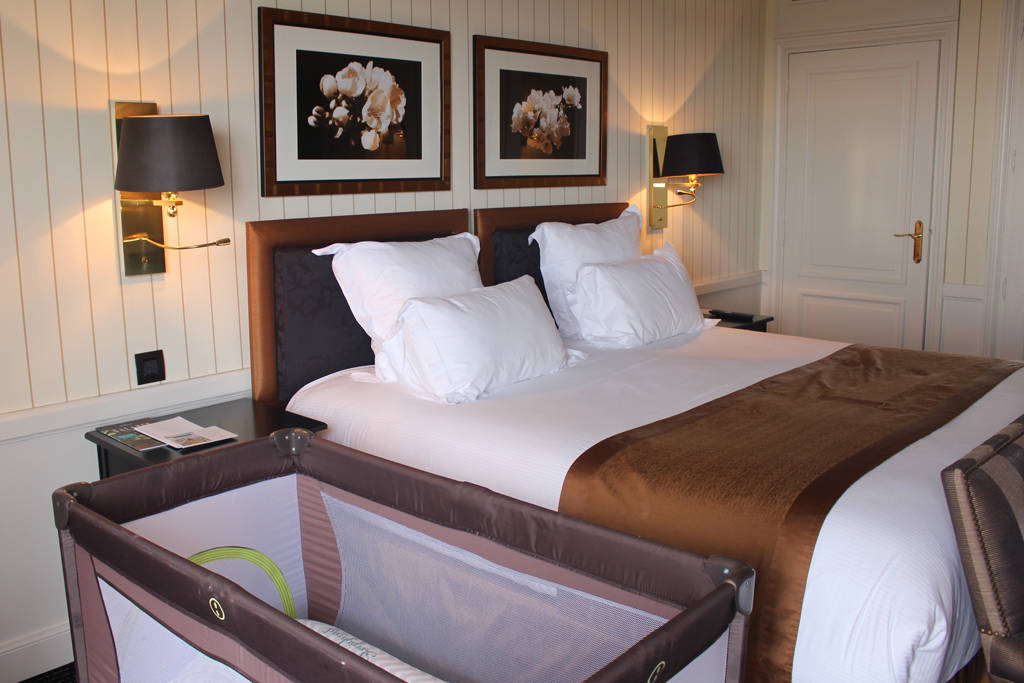 (photo taken the next day because we arrived well after sunset, whomp whomp)
As promised, our family-friendly booking included a cot for Margot, a baby tub and a changing mat, all with Jacadi-branded accents. I mean, how cute is this changing mat cover?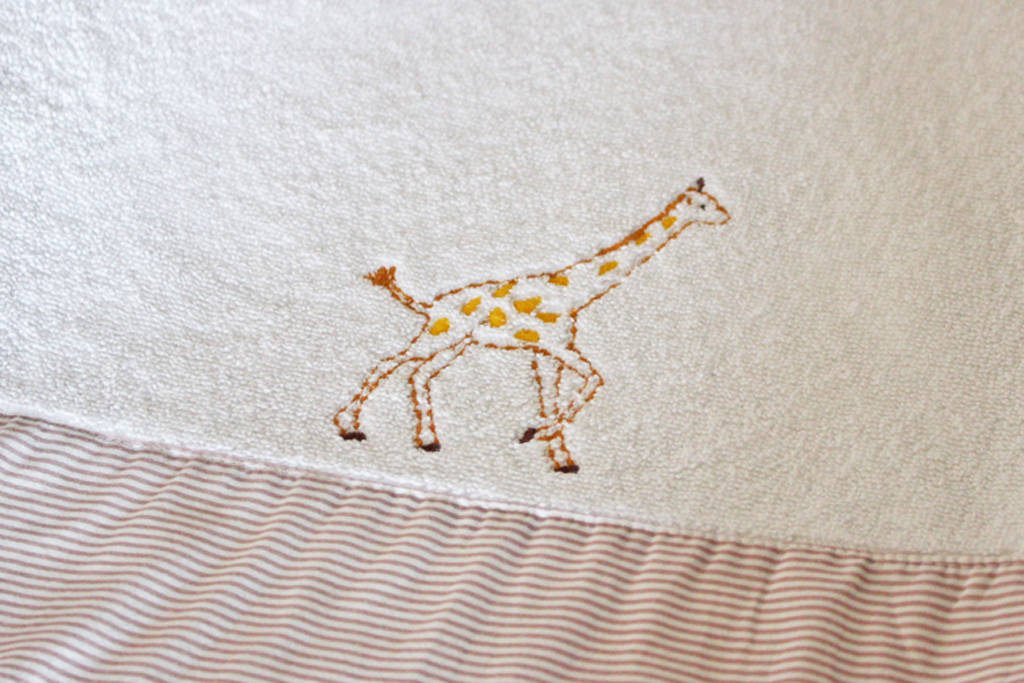 On the second day, we came back to the room to find a little gift set of organic baby bath products. Plus bath toys! And fresh flowers and artisanal aged balsamic vinegar for mom and dad, because these people knew their audience:
Naturally, we forced the bath toys on Margot regularly throughout the weekend. Sorry gf, that is what happens when you can't escape us.
We realized pretty quickly that, much like at home, we could realistically only do one big outing per day, and thanks to Le Majestic's stellar location, we fell into a routine pretty quickly. For the next three days, we started every morning with breakfast in our room as we looked out at the Promenade de la Croisette.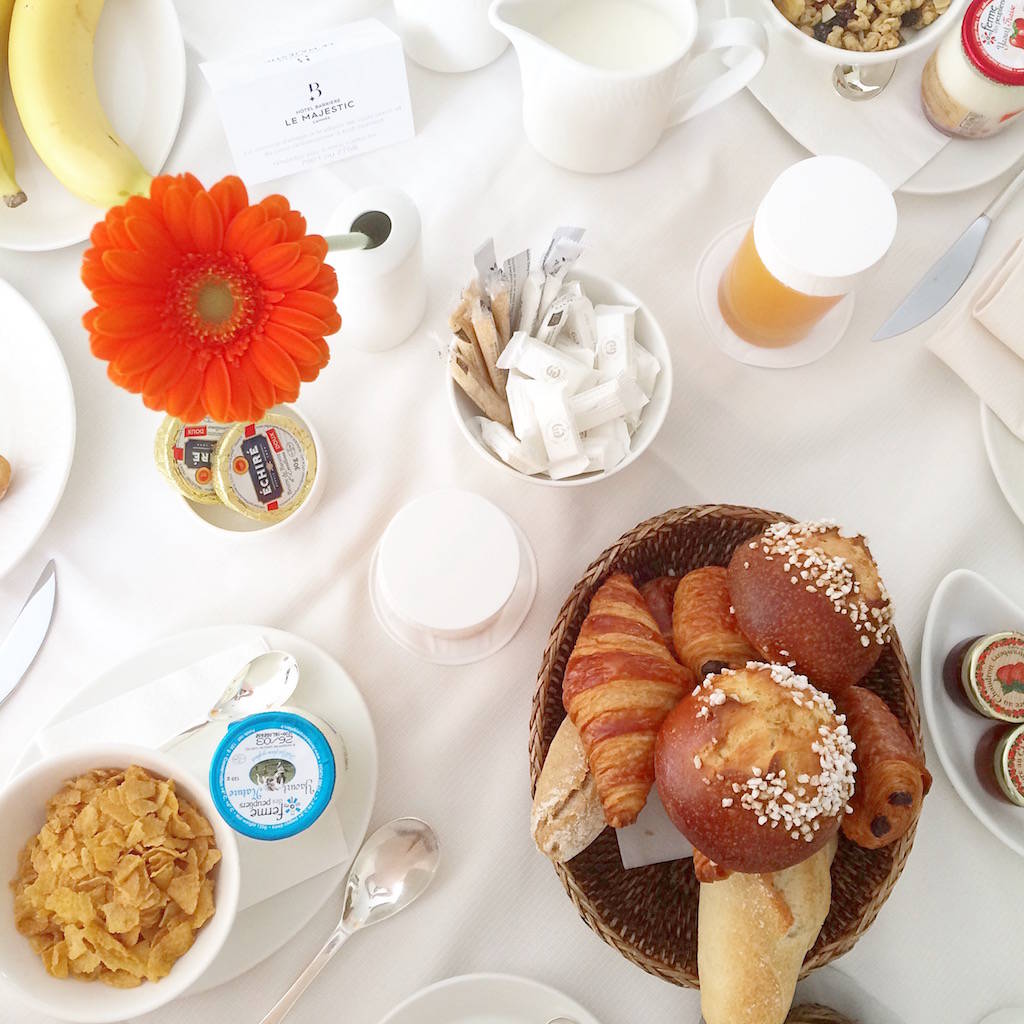 [ photo via instagram ]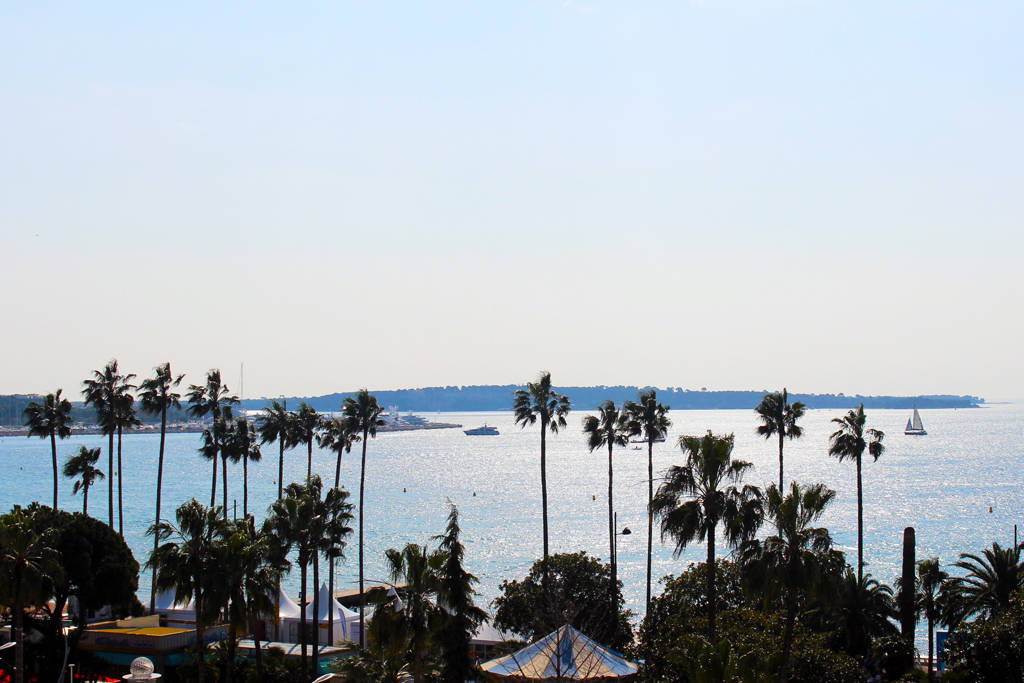 After breakfast, we made our way out for a nice long walk, followed by lunch somewhere on the beach, and always within walking distance. It's not physically possible to be in a better location than this hotel, and we took full advantage.
After lunch — which we always stretched as long as humanly possible — it was back to the hotel for an afternoon nap, followed by another little evening walk. Then, it was evening bathtime with her new tub, toys and toiletries, before official bedtime! Keeping her as close to her home routine as possible was key. I think it kept everyone's sanity in check once we returned home, too.
By day 2, lazy baby was definitely living that Riviera lifestyle.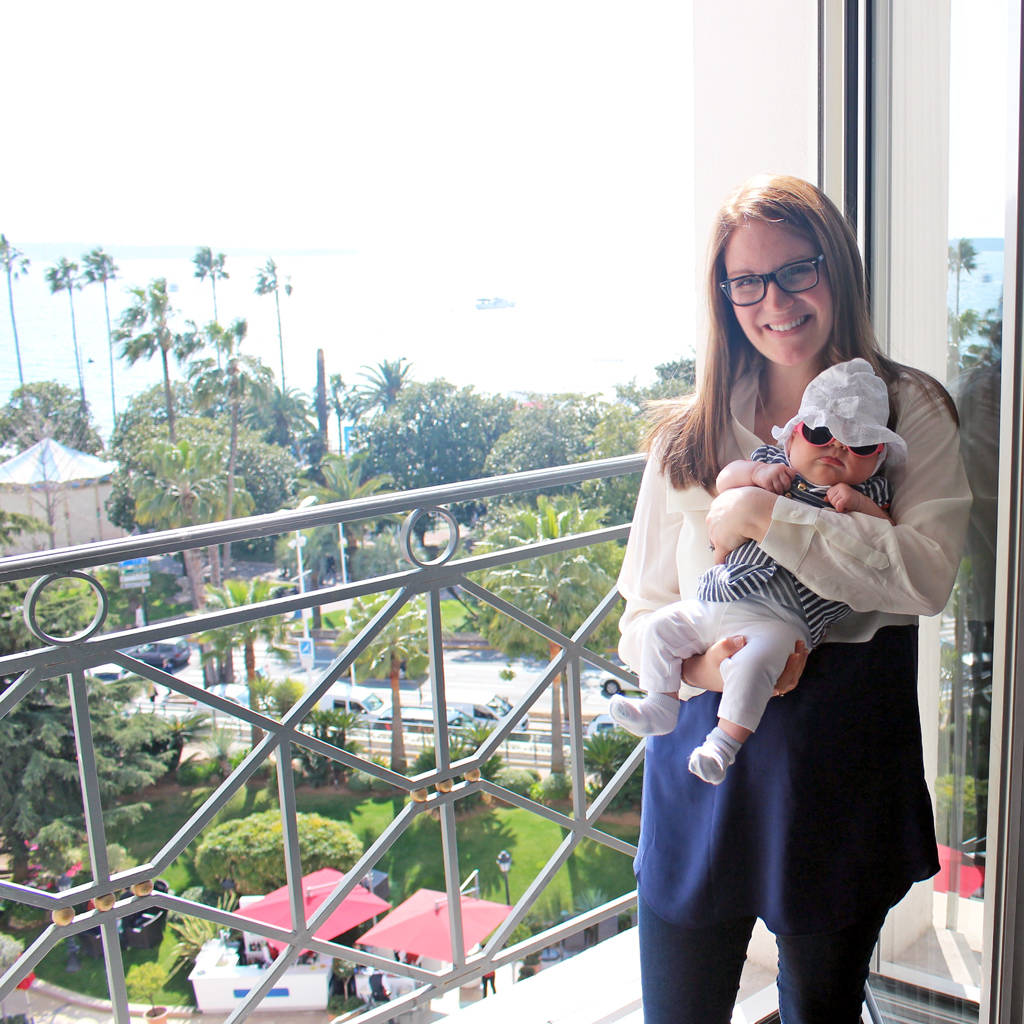 She looks thrilled, non?
Also by day 2, we realized that our evenings were not going to involve glasses of rosé and leisurely dinners in any of the neighboring villages. Luckily, we were more than happy to relax in our room, and we even alternated nap duty with a nip down to the spa for late afternoon massages. That might have been the best hour of my life, and I think I fell asleep on the massage table. I won't apologize.
Pre-trip, I did wonder if we might be better off in an apartment or villa rental. There, we could make our own dinners and have a bit more space. But honestly? This was so, SO much better. Being able to have food at the push of a button and walk out the front door into the heart of Cannes made everyone's lives easier. Our intro to traveling avec la lazybaby was much more relaxed as a result. I think there are destinations where our own rental will be preferable, but when a hotel is as baby-friendly as Le Majestic? It's a no-brainer.
My best bit of advice? Download some movies for mom & dad before you travel. Margot's sleep schedule was definitely thrown off. Even with our best intentions, it took longer than normal to get her down. Though we had dreams of getting her to sleep in her pram and going out for dinner (or at least a drink!), we quickly realized there was high, high probability that we'd end up ruining someone else's time with a crying baby.
Instead, we let her snooze in her own bed while we ordered room service and watched a movie. This, the one glass of champagne I allowed myself each night, and the 11 PM bedtime, is more proof. Parenting changes you whether you want it to or not. But somehow, we don't seem to mind one bit.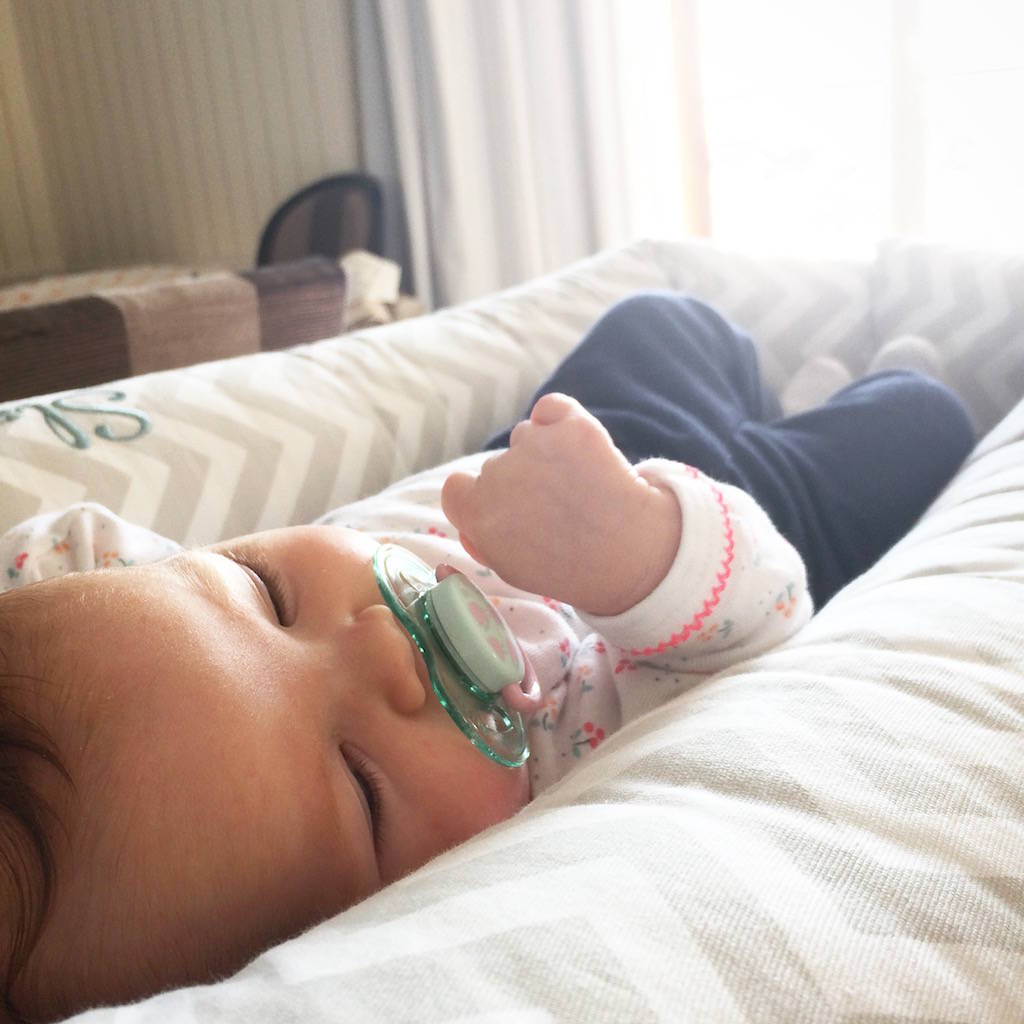 Despite the evidence, we did explore a bit more of the Riviera than this post implies. Stay tuned for a photo tour of a nearby seafront château. Plus, details from our lunch in Eze, and a complete rundown of what we packed. That was, by far, the most daunting part of traveling with a third (non-furry) family member.
xo!
the romantic
– Thank you to Atout France and the Hôtel Barrière Le Majestic Cannes for partnering with me on this stay, and providing complimentary accommodations. All opinions are my own. And probably lazy baby's too, but she can't talk yet, so we're just going to assume she loved it.