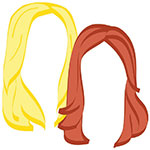 Though hibernation seems to be in our blood, we're here to say: not this year. Getting older and wiser (and infinitely more beautiful and charming and interesting) means we're prepared to fight. We will beat the inevitable bout of cabin fever! Normally, you can't pay us to venture our of our apartments, let alone our borough. Brooklyn? What's Brooklyn??
But we are here to tell you this. NOT THIS YEAR, MOTHER NATURE. You can't win, New York City winter! The Lazy Travelers will prevail, no matter how hard your frigid winds blow!
Clearly, now that the holidays are behind us, we've reached the point in winter when it becomes increasingly more difficult to leave our warm apartments and venture out in the cold to do… well, anything. We think most people are probably guilty of doing the same thing, unless you live someplace beautifully warm and sunny year round. In that case: aren't you just sooo lucky?
As a preemptive measure, we recently booked a post-holiday walking tour of the historic beer district in Brooklyn with Urban Oyster. Yes, you read that correctly. A walking tour, OUTSIDE, in January… in an outer borough! Look at us, succeeding so early in the year. Urban Oyster offers a variety of eating and drinking tours throughout New York City, but we opted for the "Brewed in Brooklyn" tour. Yes, mainly with the goal of getting ourselves up and out of Manhattan.
Our first stop: Brooklyn Brewery, where the wino swears she will get married and celebrate any other life milestone from here on out–from baby showers to retirements. Here, we got to go behind the scenes and see where the brewery actually makes many of its signature beers. Afterwards, we got to sample eight of their current brews.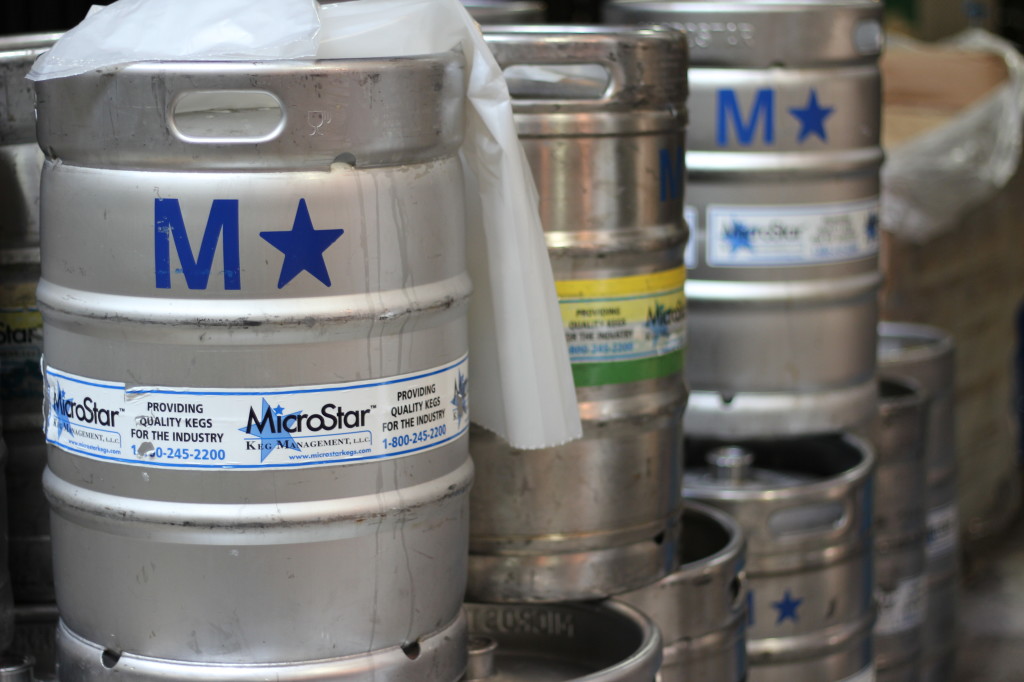 Unlike the bigger beer brands, you won't see any Brooklyn-branded kegs. They rent all of theirs from a company called MicroStar (or M Star) to help keep the distribution process a little more straightforward. That's right, focus on making the beer, boys.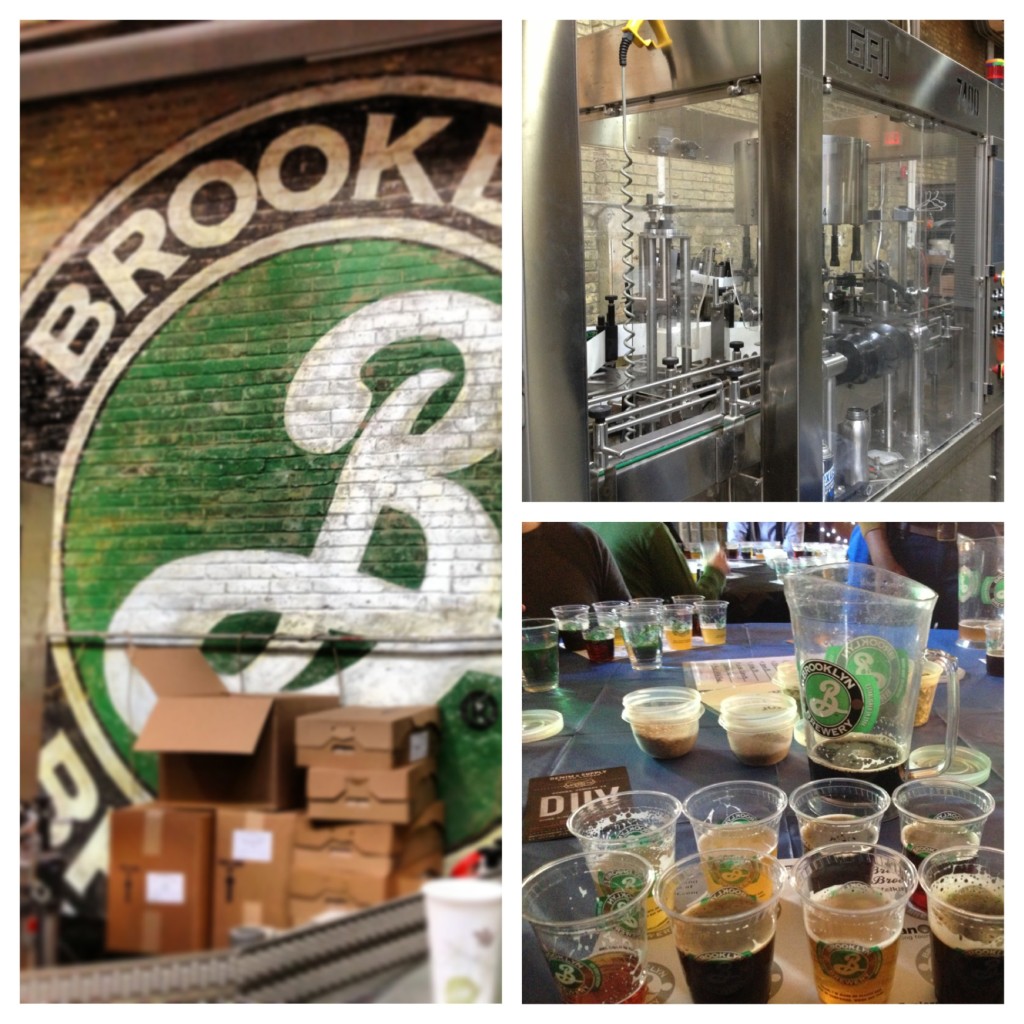 Clockwise from left to right:
Behind the scenes at the Brooklyn Brewery, Bottling Machine where BB bottles its 750mL specialty releases, BB tasting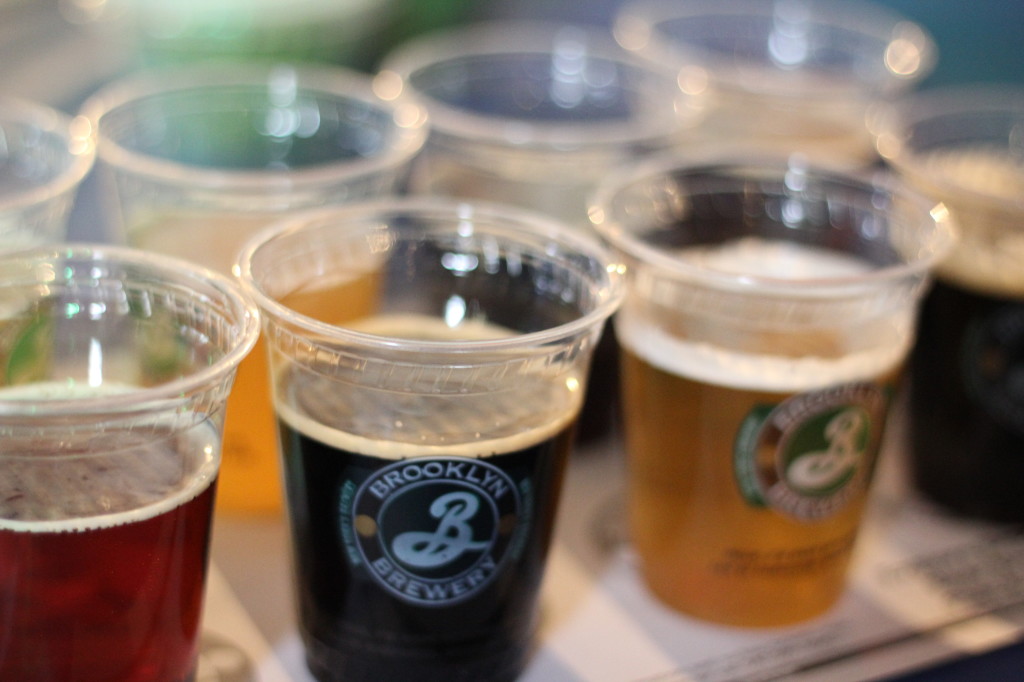 Yes, just one more close-up on the beer… because, why not?
We will say this: if you opt for the Brewed in Brooklyn tour (and spoiler alert: you should), get your beer fill at the Brewery. They offer more than enough. Cars then picked us up and drove us to our next stop in East Williamsburg, where we learned that this tour was far more educational than our usual beer-focused escapades.
We're certainly not saying we didn't appreciate the history of Brooklyn's most famous brewers. We just assumed there would be more beer drinking. Instead, we took a break from imbibing to learn the history of Meserole Street, where many of Brooklyn's historic breweries once stood. Once referred to as Brewers' Row, Meserole Street was home to 11 different breweries (with 48 in total throughout Brooklyn), many of which were not able to survive through prohibition. After a quick walk through the neighborhood (and a lot of "these apartments look SO BIG!!" from our little crew), we settled down at Danny's Pizzeria. Here, we enjoyed another pint with three different slices of their signature pies.
After lunch, we strolled to Most Holy Trinity and St. Mary's Church, an intricate and gorgeous European-style cathedral where many of the brewers once worshiped. The church was beautifully decorated for the holidays, and we got to hear the stories behind their rows of stained glass windows. Warning: a ghost supposedly haunts their bell tower.

Inside Most Holy Trinity and St. Mary's Church
Our last stop was the super-hipster Williamsburg bar, Barcade. This spot boasts an impressive list of craft beers and a wall full of vintage arcade games. Basically, it is a little too cool for the likes of us Upper East Siders, but we made do.

Barcade in Williamsburg, Brooklyn
We must say, we're pretty proud of Urban Oyster for giving us a reason to change out of our pajamas and leave our apartments. We learned so much more about Brooklyn than we expected when we set out for the tour. We particularly appreciated the added historical element, as well as our adorable guide, Laura. Our only genuine complaint is that there wasn't enough actual beer tasting after the initial Brooklyn Brewery flight… but considering your sources, are you surprised?
If you're interested in joining Urban Oyster for a tour, be sure to check out all your options on their website! Walking tours range from $50-$75, and feel free to let them know that The Lazy Travelers sent you.
Next on tap (…see what we did there?): The New York Times Travel Show this weekend with some of our favorite fellow travel bloggers, including Stay Adventurous, The World Wanderer, Leah Travels, and Where in the World is Lola. We're pretty much dominating you, January.
xo!
the romantic & the wino
Please note: We were guests of Urban Oyster, but our opinions are, as always, 100% our own.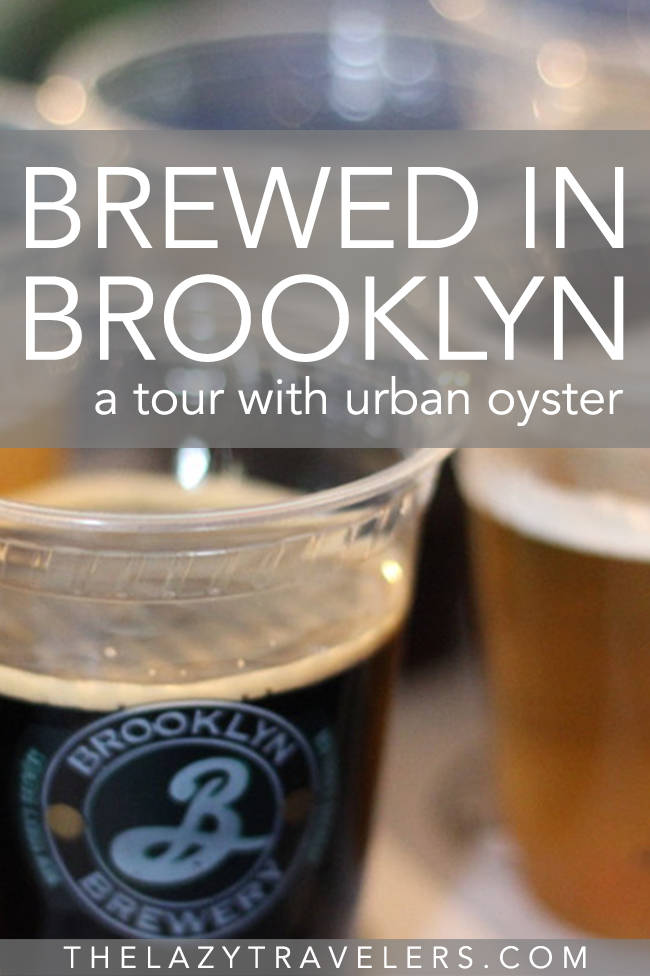 Save
Save