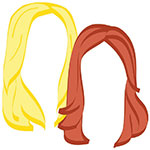 Though a spacious loft in Soho or the West Village will always top our dream list of places to live in Manhattan, an apartment in New York's Gramercy that comes complete with a key to the private Gramercy Park is a close second.
It's hard not to peer through the fence as you walk by, picturing a different life. One where you leave your front door every morning, key in hand (which, we've never seen, but we picture to be very ornate and made of heavy antique brass), and settle down on a bench in front of the fountain, reading The New York Times.
In fact, our dreams of accessing the garden are so real that we almost used our HotelTonight credit to book room at The Gramercy Park Hotel. Seriously, just so we could have access for 24 hours. Alas, this didn't come together… but we did find a few other gems in one of our favorite Manhattan neighborhoods:
Gramercy
We spent a total of three nights in Gramercy. The first was overlooking Park Avenue from our suite at The Hotel Giraffe, and later in our alcove studio courtesy of MySuites. But more on both in a minute… first we need to sell you on what else this neighborhood just south of Murray Hill and east of Flatiron has going for it.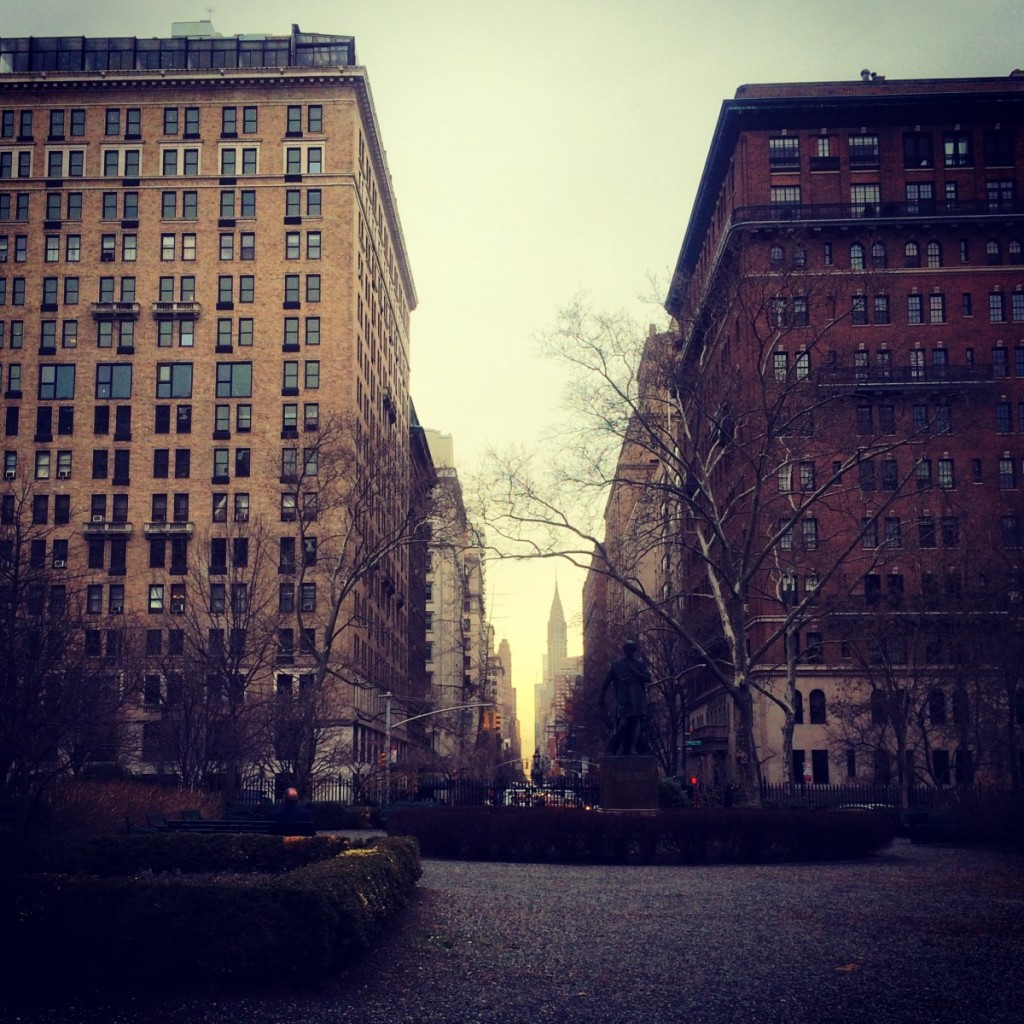 Where to Eat
Defonte's, 261 Third Avenue at E 21st St // Back in the not-so-good old days, Defonte's was a lunch order favorite. This Brooklyn transplant is comfort food at its finest, and everything you want when you need to eat your feelings. Yes, it's true. On days when either one of us… or, fine, both of us… required a good cryfest in the office bathroom, we ordered from Defonte's. But! You don't have to sprinkle your chicken parm with tears to enjoy it. We've had it on good days, too, and it's still just as delicious. It is neither for ladies watching their weight nor for anyone faint of heart. We mean that literally: these sandwiches were designed to clog your arteries. Get the Italian Stallion and a side order of the meatballs and thank us later.
ABC Kitchen, 35 E 18th St // As an extension of the neighboring ABC Carpet & Home, it's no surprise that this restaurant is impeccably decorated. Once you stop drooling over the table settings and trying to spot the pricetags on the light fixtures (but stop trying, you can't afford them), you'll realize that the food is just as amazing. Reservations most definitely required.
Hillstone, 378 Park Ave S // Ok, so this is technically chain… and you can probably guess how we feel about most chains. But with Sushi Samba across the street and Rosa Mexicana around the corner, we're allowed one, right? Order up some spinach dip, grilled artichokes and a veggie burger. You'll stop feeling like you're in an upscale Applebee's. Pinky promise.
Where to Drink
Old Town Bar, 45 E 18th St // STORY TIME. Many moons ago, the day after we drank three bottles of wine and decided "we should start a BLOG!" we left work at a relatively respectable time (like, 7 PM) and decided to head to happy hour. Hair of the dog and all that. We nestled in at a small table at the front of Old Town Bar, and we now credit this as the official birthplace of The Lazy Travelers. The prices aren't great, but the ambiance is cozy and as one of the oldest bars in New York (circa 1892!), it's worth a visit. Plus, it is clearly near & dear to our hearts.
Pete's Tavern, 129 E 18th St // Another oldie but goodie! No, seriously, Pete's is even older than the Old Town Bar. It was established in 1864 and comes with the bragging rights of being an O. Henry fave back in the day. It's dark and moody inside, but with terrace seating if the weather is working in your favor.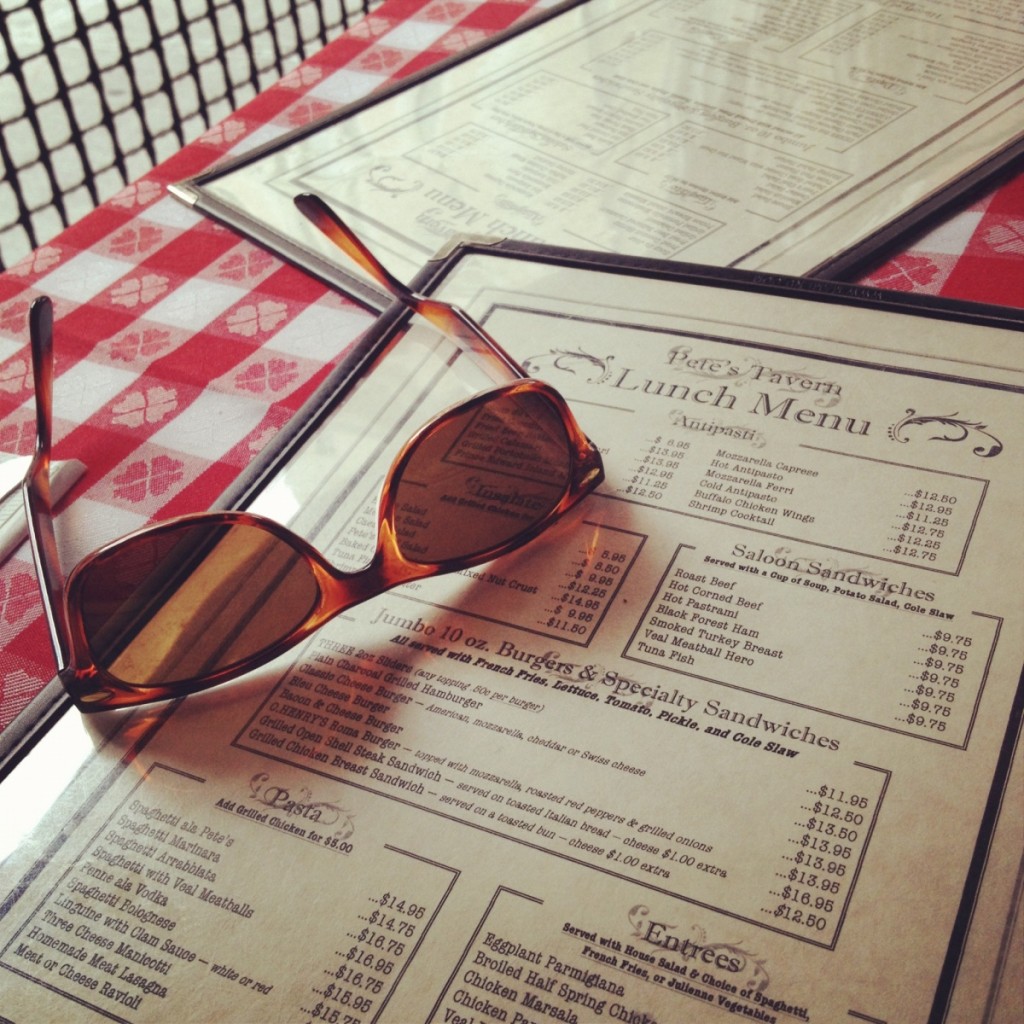 Where to Sleep
Hotel Giraffe, 365 Park Ave S // We met up at the Hotel Giraffe after separate but equally long days. We kicked back in the lobby enjoying yet another LHC complimentary wine & cheese reception and seriously wondering why every hotel isn't doing this. It was the perfect introduction to our home for the night. Because we were exhausted, we decided to order in and relax in our huge suite over looking Park Avenue.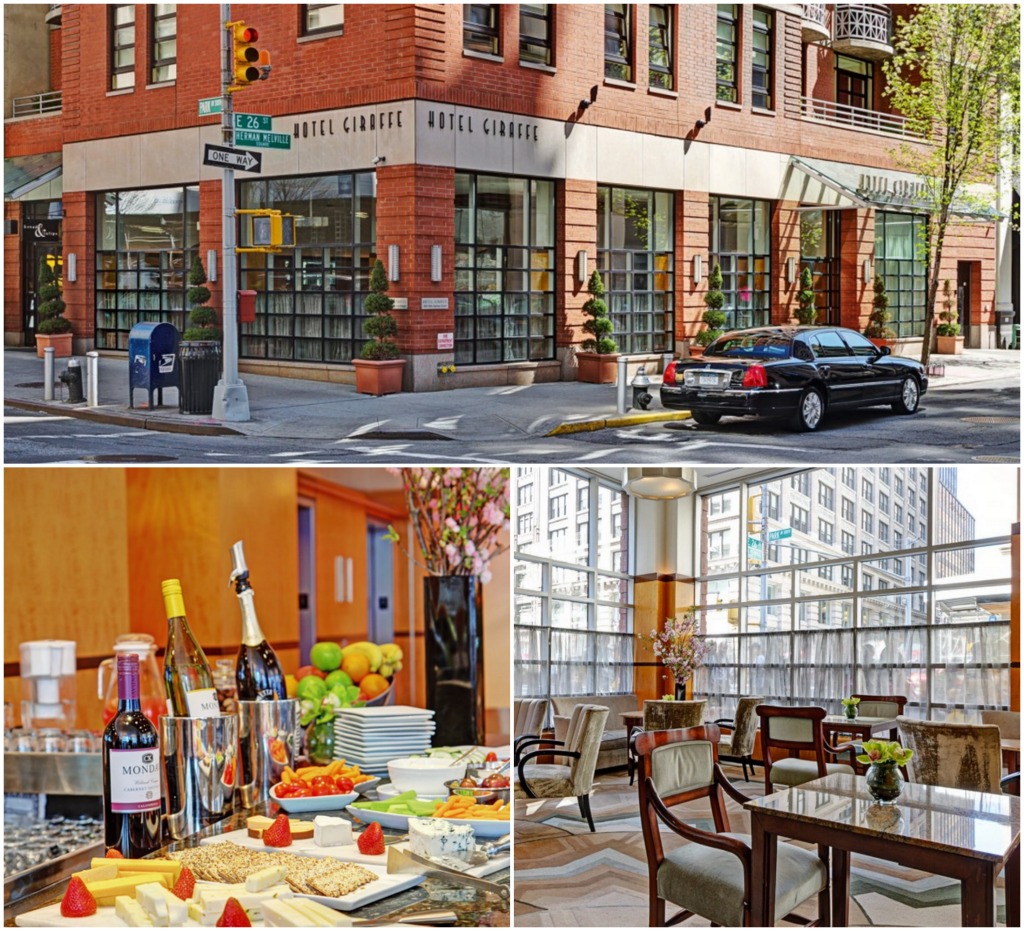 Photos via the Hotel Giraffe
When we say "huge suite," we're not even using New York hyperbole. The room itself was larger than our Upper East Side apartments, which both elated and depressed us. Luckily, we forgot all about it by the time we opened up the double doors. We stood on the Juliet balcony, watching the city hustle and bustle around below us.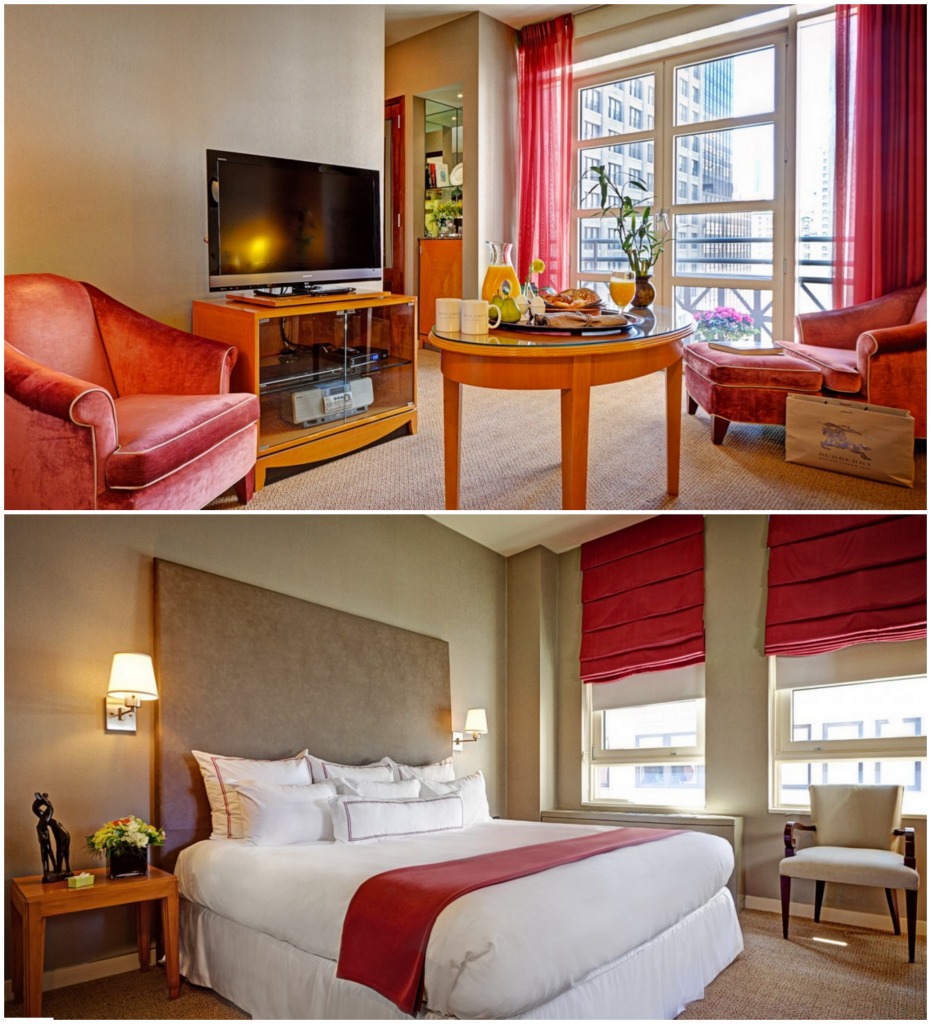 Photos via the Hotel Giraffe
The next morning, we went down to the lobby for our complimentary breakfast and to grab a cup of coffee. The hotel was packed and seating was limited, but no matter: coffee on the balcony would do just fine.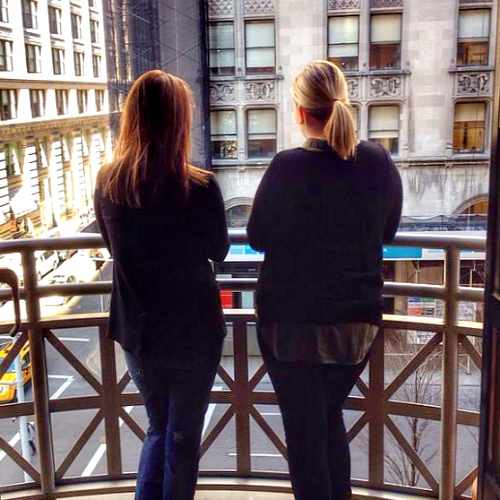 MySuites, The Butter Suite // We originally came across the MySuites brand through our go-to favorite, FlipKey. As we clicked through the apartments, we loved each one more than the last. Their photos show that they're all perfectly decorated by a local design firm. Plus, their amazing locations are a huge selling point.
Our stay at the Butter Suite, however, was the silver lining after a series of unfortunate events. First, we thought we were staying in an apartment in Chelsea. As such, we made most of our mental plans across town. Then, a few days before our confirmed stay, we received an e-mail. One of the other MySuites properties had flooded! This caused total mayhem for the poor company as they tried to juggle their guests. We ended up getting bumped from our original location, and were in limbo for a few days while they sorted things out. Finally, we received a new confirmation that we'd be at The Butter Suite. We were under the impression that this was also in Chelsea (in the same building as our original apartment, in fact), but we were very mistaken. And we were very confused when we received a confirmed address in Gramercy.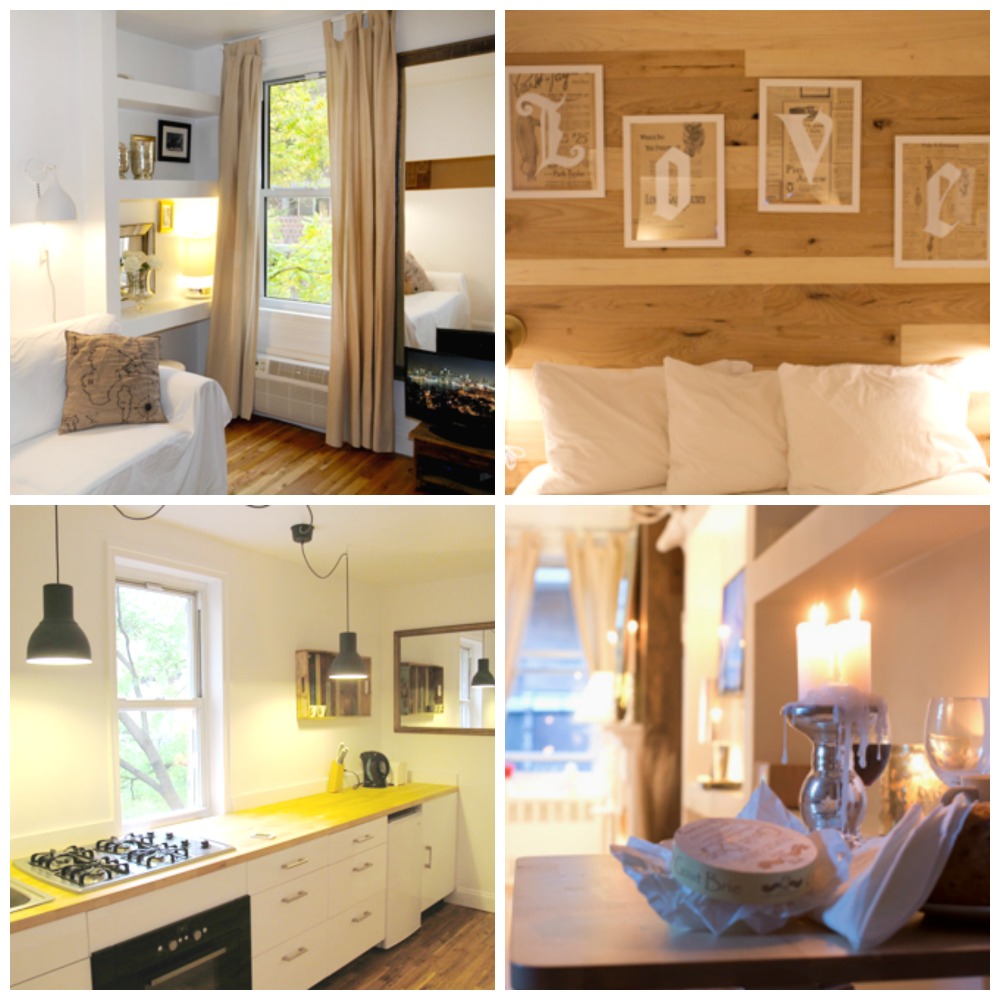 Photos via MySuites
All's well that ends well, and the apartment itself was perfectly adorable. The MySuites team was friendly and effective in getting things sorted for us. Though it should be mentioned that we did lose one night in the apartment due to the flooding, and that was where HotelTonight really came in handy. But that's a different story for a different neighborhood. Meanwhile, back in Gramercy, we took in the decor of our cute little alcove studio and wished we had the fortitude to live with mostly all-white decor.
Where to Brunch
Friend of a Farmer, 77 Irving Place // You already know where we stand on the spectrum of country mouse > town mouse, but every once in awhile, we like to be reminded of our roots. As soon as you walk into Friend of a Farmer, it's hard not to imagine that you walked right out of Manhattan and into a Pennsylvanian farmhouse. In all the best ways, of course. If we're being perfectly honest, it has been awhile since we've both brunched here. It is possible it's climbed over to the other side of New York's restaurant bell curve and is now soooo uncool. But! We give places points for cuteness because we are shallow, and this place gets all the points.
Ess-A-Bagel, 351 1st Ave at 21st St // Ok, so you're not going to get the real New York brunch experience here, but you are going to get a REAL New York experience. Ess-a is home to our most favorite bagels in the world. Though, they are a rarity… and as they should be. They're huge. It's likely your everything bagel with cream cheese will fill you up for most of the day. But we promise you this: it will be worth it.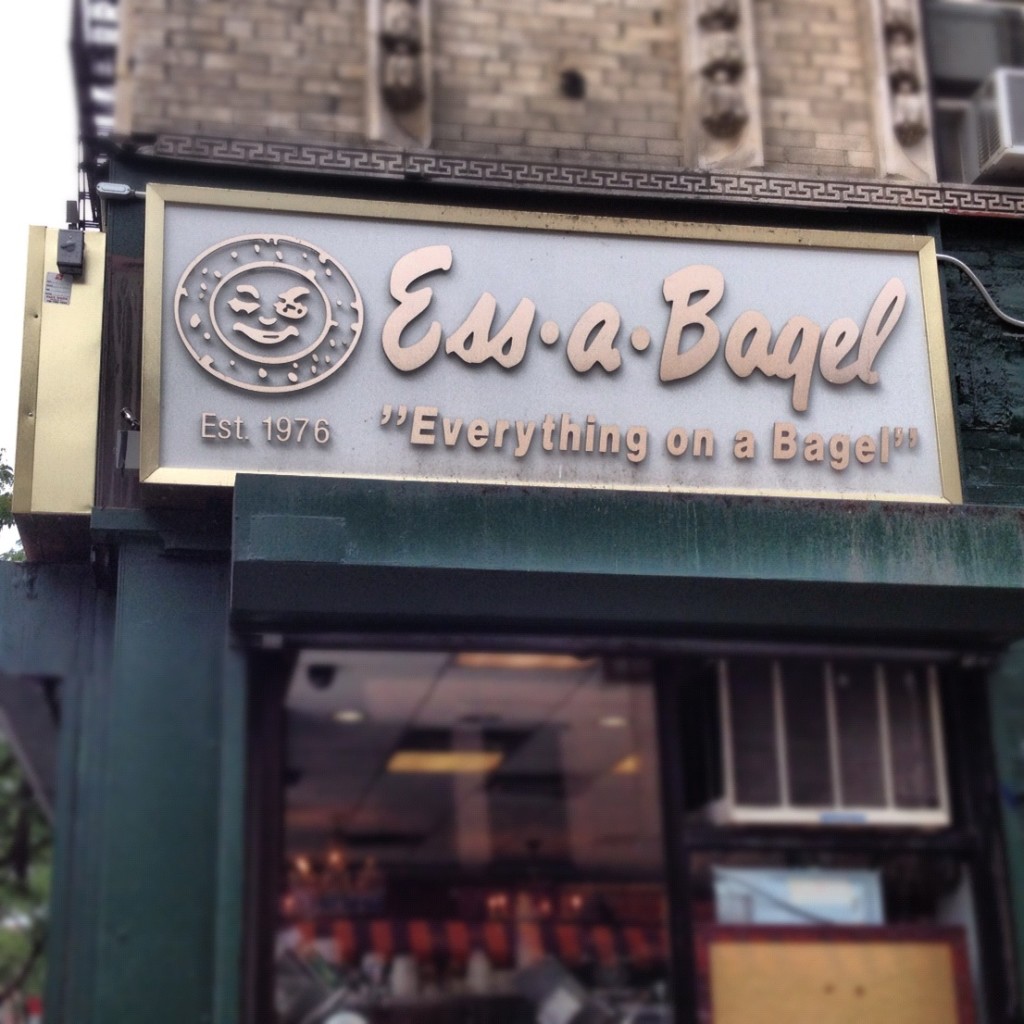 What to See
Madison Square Park, Madison Ave between 23rd & 26th Streets // Gramercy probably technically ends right at Madison Avenue, but we're counting it anyway. There's almost always some interesting sort of public art display in the works. The dog run is one of our favorites because all the bulldogs in New York City seem to live in this neighborhood. Also: Shake Shack! Though that is most definitely in the Flatiron section of Madison Square Park, it's ok. We won't tell.
Union Square Greenmarket, Union Square East & E 17th St // Like the aforementioned Madison Square Park, this gem also sits right on the line between being Gramercy and, well, Union Square. But most of the Greenmarket is at the top of the square, so we think it counts. Stroll the stalls and sample jams, jellies, and freshly baked bread from local farmers who made the drive in to help urbanites practice the farm-to-table that they preach. Hours are Monday, Wednesday, Friday, and Saturday from 8 AM to 6 PM. If it's a nice day, it's the perfect place to kill some time and wonder if it would be that crazy to buy a bouquet of flowers for your hotel room.

Do you have any Gramercy faves? We'll even let you branch out and list your favorites in Flatiron, if you're so inclined. They really do pretty much run together…
xo!
the romantic & the wino
– Thank you to The Library Hotel Collection, FlipKey, and MySuites for graciously hosting us during #LTnyc. All opinions are, as always, our own.
Save