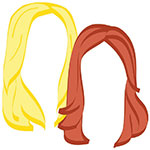 It wasn't too long into our New York lives before we admitted to ourselves that when it comes to street cred, we have none.
While most of our peers longed to live downtown or across the bridge in Williamsburg, we were almost immediately content on the quieter Upper East Side. Sure, we had to deal with the occasional pity nod when we revealed our cross streets, but honestly? Rent was just cheaper in our 'hood of choice, and sometimes a sacrifice must be made.
Unfortunately, as our cool points diminished drastically over time, so, too, did our ability to blend in with the hipster kids. This is why, when we stepped out of our cab onto Allen St. during #LTnyc, we immediately looked at each other and said, "I feel very, very out of place."
So, while you won't see us sporting crop tops and overalls anytime soon (and really, you're welcome), we do have a few LES favorites that always made the shlep downtown well worth our while.
Where to live it up
Sixty LES, 190 Allen St // Though the LES was on our short list of places to visit during #LTnyc, it wasn't really a priority. Instead, dreams of the West Side were dancing in our heads — brownstones and cobblestones, sidewalk brunches in expensive sundresses… it was all very Carrie Bradshaw (and very unlikely, seeing as it was freaking March, after all.) We planned to use HotelTonight on Friday night, and we spent most of Thursday excitedly checking the options — knowing that more than half the fun is that they change on the reg.
Waking up on Friday morning was akin to waking up and wondering what was under the Christmas tree. For a Friday, there were tons of amazing options — so much so, that we were almost overwhelmed. Until, that is, we scrolled to the very bottom, where a certain "high roller" was ready and waiting for us.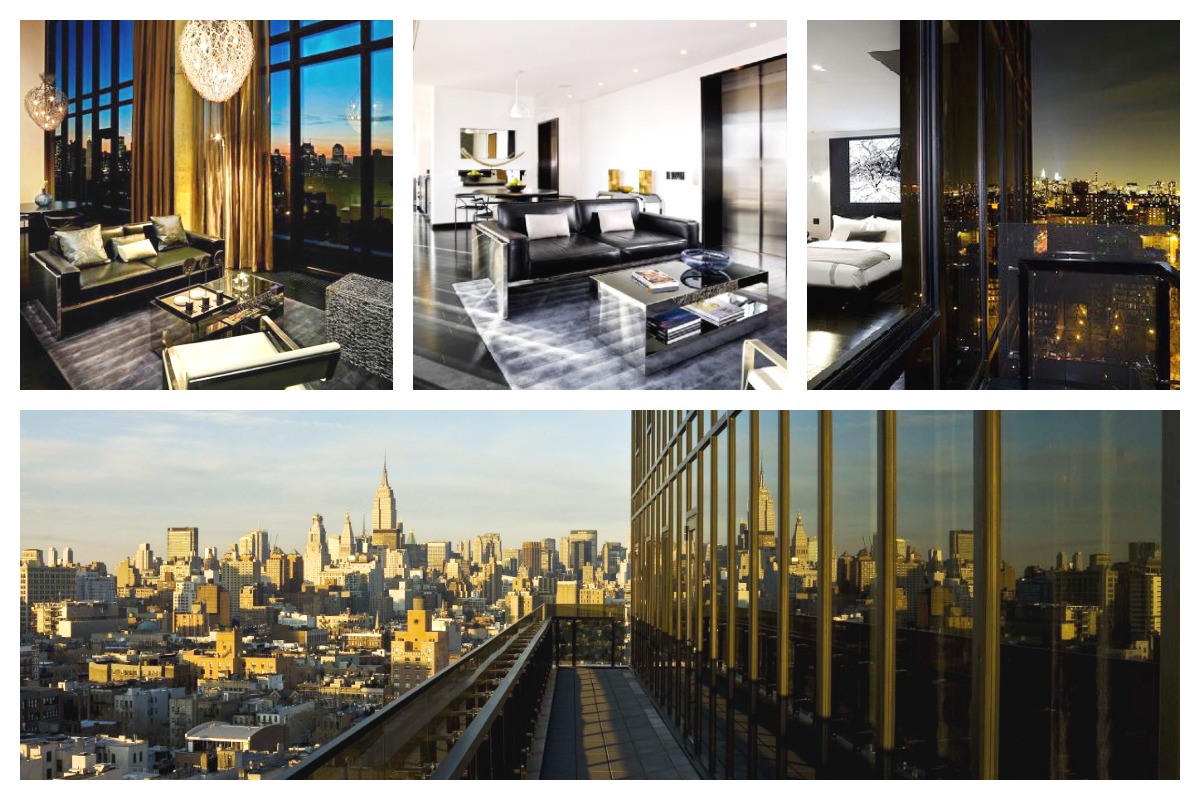 Photos via Sixty LES
Oh, hello lover. That's right, the Sixty LES penthouse was calling our names. We didn't want to wait too long to book — the hotels come and go VERY quickly, especially on a Friday — and so, just like that, we were booked for a night overlooking Manhattan.
Just as we suspected, it was absurdly amazing. 1,200 square feet, two bedrooms, two bathrooms, a fireplace, a wraparound balcony with THIS view?:

The real kicker, though? Thanks to HotelTonight, it cost us a little over $800. We just picked a random Friday in September to compare, and it'll run you $2,869. Talk about a STEAL. Our biggest life regret is that no one had enough time to take a bubble bath. Trust us, we all could have fit in that baby.
(Just talk about an awkward conversation the next morning, you know?)
Where to nosh on some not-so-lite bites
Mile End Deli, 53 Bond St // Apparently, this is technically in NoHo, and doesn't that just tell you everything you need to know about downtown? But anyway, Mile End is everything you never knew you needed in this world. Well, unless you're Canadian. Then it's probably everything you're missing while in New York. We're talking about POUTINE, guys. Cha, yea. Plus their smoked meat sandwiches are stupid delicious, breakfast is amazing… we're drooling just thinking about it. You can't go wrong.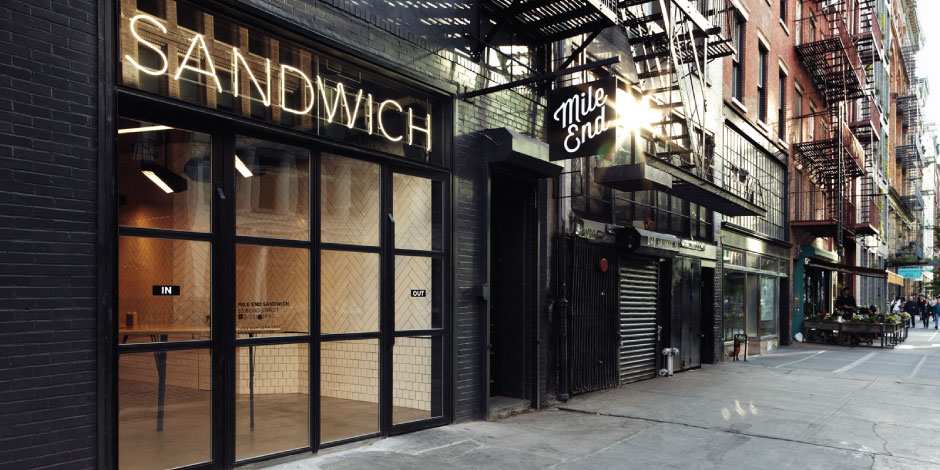 Photo via Mile End
It does get crazy crowded and there's not much in the way of seating, so slap those smiles on and stick your elbows out. It's worth it all for french fries with cheese curds & gravy.
The Stanton Social, 99 Stanton St // There is no better place to take large group, because the entire point of this place is to eat sociably — and yes, on Stanton Street. It's all right there in the name, silly. It's perfect for brunch or dinner, but the most important thing here is that you order the French onion soup dumplings. If you don't, let us know!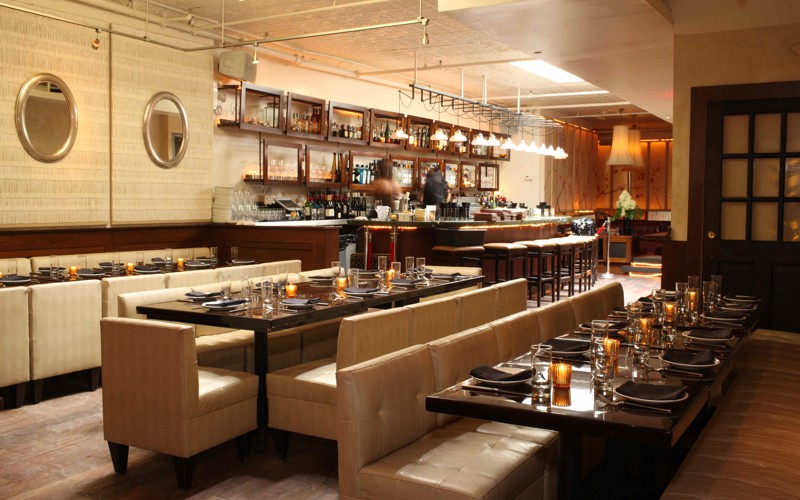 Photo via Stanton Social
SO WE CAN BLACKLIST YOU FROM OUR LIVES. Tough love, guys. It's for your own good.
Where to eat your heart out
Lure Fish Bar, 142 Mercer Street // This is an LES celeb favorite, though we have yet to catch a Beyoncé sighting because life is just unfair. The decor is a very obvious nod to the luxury yachts of our dreams, and it's impossible to sit through an entire meal without trying to come up with a Lure Fish Bar / Laurence Fishburne / Lurence Fishbarn joke. If you have any thoughts, do let us know.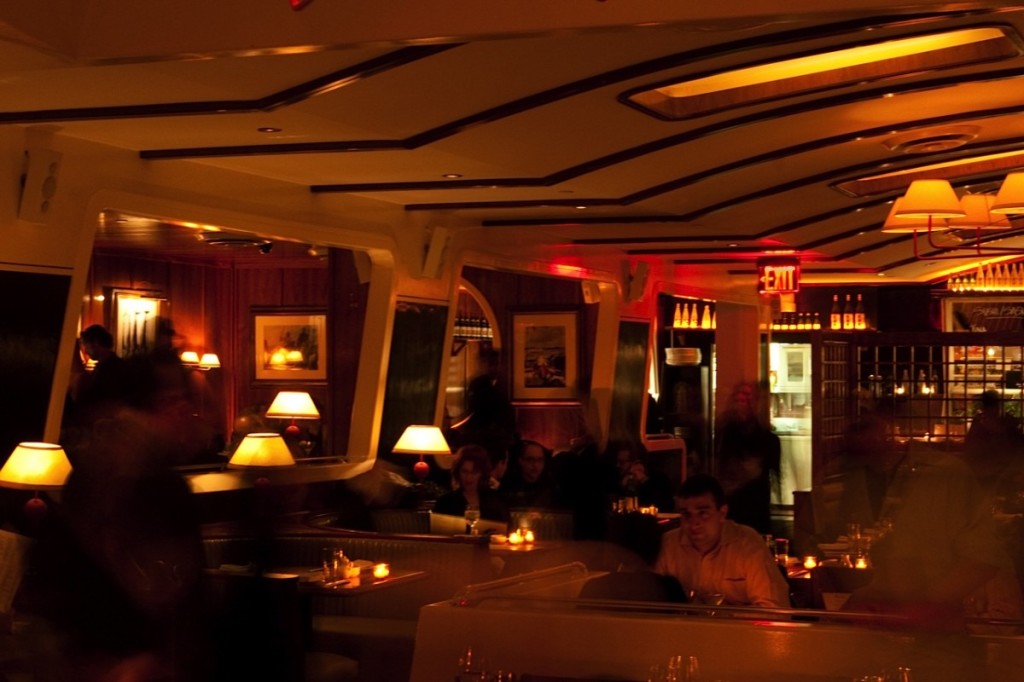 Photo via Lure Fish Bar
The Fat Radish, 17 Orchard St // This place would be one of our LES favs even if the wino DIDN'T sit next to Connie Britton (TAMMY TAYLOR, Y'ALL) the last time she dined here. Buuut, she did sit next to her, so that makes this our fav times two. The Fat Radish perfectly emulates the LES coolness that it's known for. But, good news! It doesn't come with the matching price tag. The rustic menu focuses on simple and seasonal ingredients  prepared in unique and new ways and for a price that doesn't break the bank.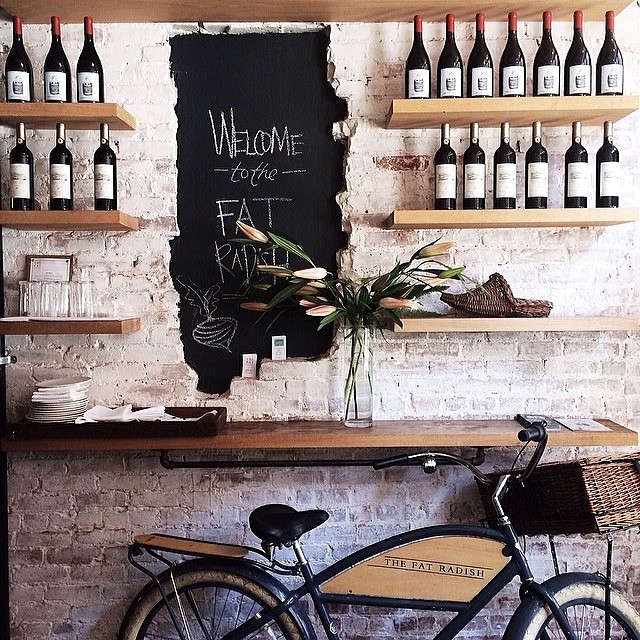 Photo via The Fat Radish
Some of our menu favorites include the Grilled Cheese & Pickles, the Kale Caesar, and the Duck Fat Fries (duh). Come hungry. And also probably come dressed up because you never know when you'll sit next to Tammy Taylor.
Where to booze it up
McSorley's Old Ale House, 15 E 7th St // You're inching a little close to Astor Place to REALLY be the LES, but it is what it is. This is a New York institution and if you're a newbie in the neighborhood, it's worth a stop. As it's been kickin' since 1854, McSorley's claims to be NYC's oldest continuously operated saloon, and the dust hiding in every nook and cranny aids and abets this claim.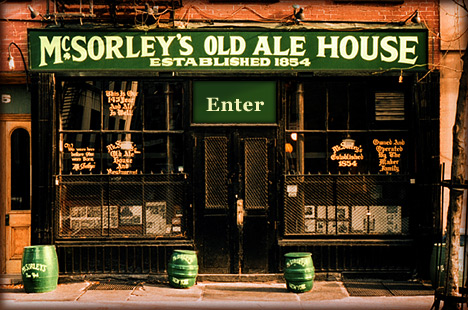 Photo via McSorley's Old Ale House
You feel like you stepped back in time as soon as you walk through the doorway, and it's more confusing than not that more people don't have thick Irish accents as they swig their ale and lager.
Spitzer's Corner, 101 Rivington St // The wino's fiance wouldn't let us live it down if we put together a full neighborhood roundup without recommending at least one place to go for craft beer. Have no fear, beer lovers! We've got you covered.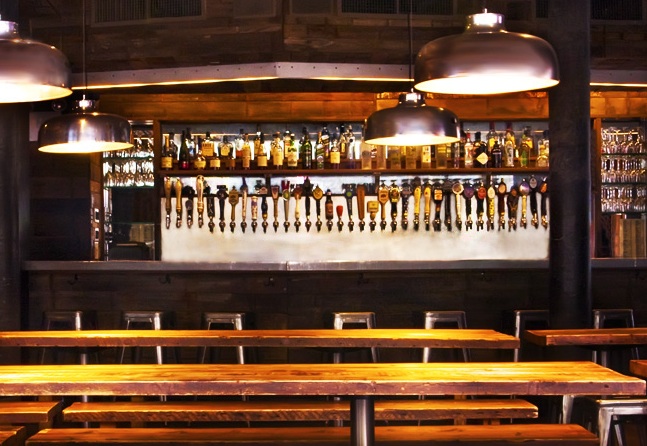 Photo via Spitzer's 
With over 40 beers on tap (!!) in addition to a bottle list, wines by the glass and a full liquor bar, Spitzer's Corner has something for everyone. With an open floor plan and large wooden tables, Spitzer's is perfect for big groups (plus, the more people you bring, the more types of beer you get to taste, right?). While you're there, order up a side of Truffle Mac & Cheese. And then order another.
You know, as we put this together, it kind of hit us: the LES is our splurge 'hood! Maybe next time we need to do some local polling and pull together the secret hipster hot spots?
Or maybe we just keep on high-rollin'. It does seem to suit us pretty well.
xo!
the romantic & the wino
– As a reminder, we partnered with HotelTonight for this particular stay. Even so, we've used them before and since our penthouse experience, and can tell you that we've only had amazing experiences. If you'd like to test them out for yourself, plug in our LAZY25 code for $25 toward your very first stay!