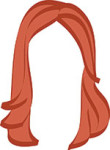 Though we loved Melbourne with all our little hearts, we started to feel like a roadtrip out of town wouldn't be a bad use of time. The cafes and bars were draining our wallets, and a little fresh air was starting to sound good. Enter: a mini roadtrip to Phillip Island.
(God, what did camping in New Zealand DO to us city folk?!)
And so it was decided: near the end of our time in Melbourne, we hopped in our cute little Europcar day rental, and made our way toward the island.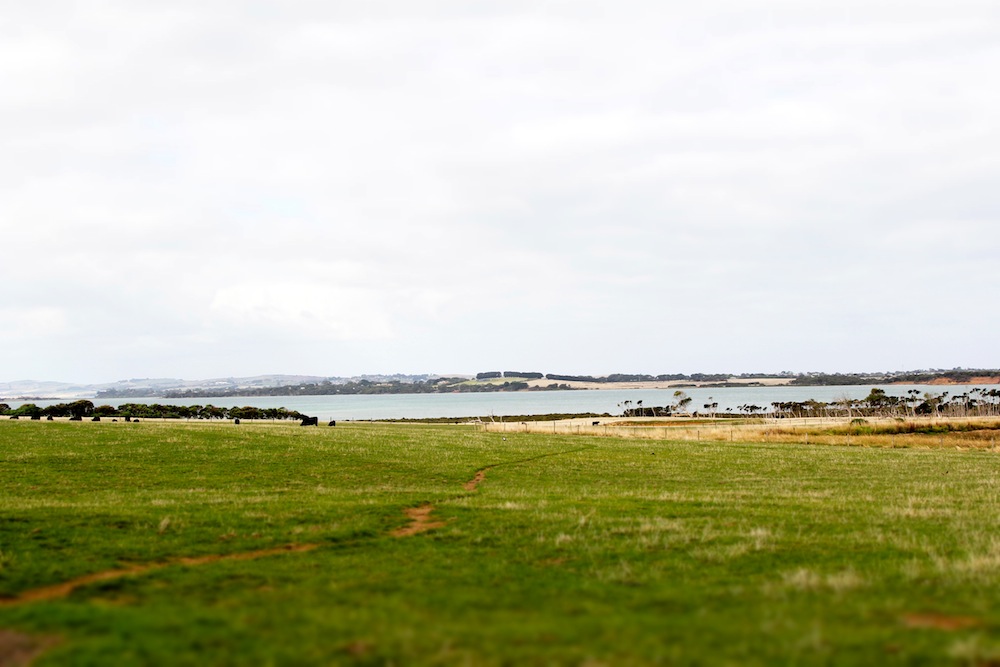 Turns out, this was an amazing idea because Phillip Island is just as pretty as everyone said it would be.
One of the perks of Phillip Island is that it's not even a full two hours away from Melbourne. Lucky for us, we arrived around 1:30 PM, per everyone's advice. This meant we didn't have to wake up at the break of dawn to enjoy a day by the sea. We were expecting it to be like NYC! You know, where it's at least three hours of hell to get to any sort of pleasant coastline. I could immediately see why so many locals have beach houses here in the summer.
If you're a tourist or it's the off season, the biggest draw for most is the daily Penguin Parade. The Koala Conservation Centre and Churchill Island tying for a close second. As we had yet to see any koalas, I was pretty much ready to take off running as soon as we parked our Europcar, but we needed to pick up our tickets and blaaah de blah, details. I practiced my patience, and we made our way to the entrance the Churchill Island Heritage Farm. Here, we had to pick up our 3 Parks Pass. This covers the farm, the koalas, and the evening penguin EXTRAVAGANZAAAAAA.
First Stop: Churchill Island Heritage Farm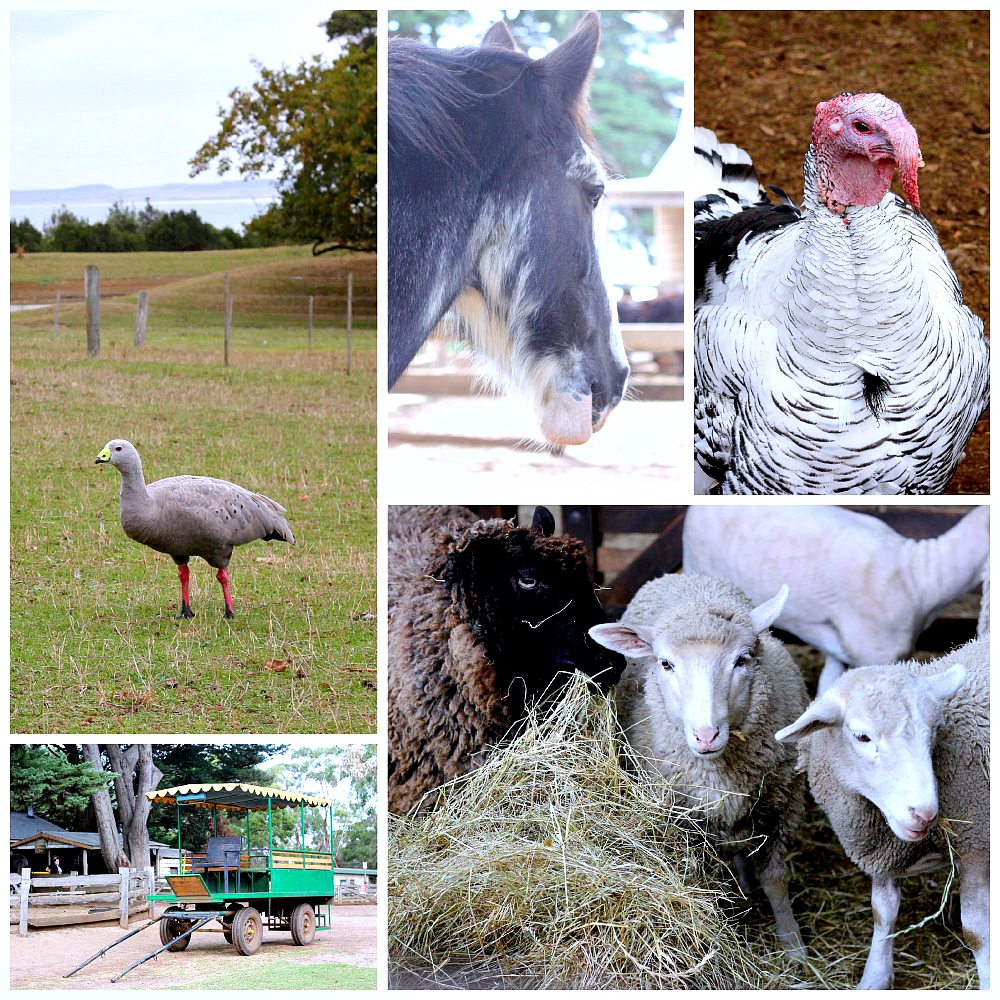 We were advised to arrive for the farm activities in the afternoon, and explore the island from there. We could tell right away that Churchill Island Heritage Farm was definitely more family friendly. There were TONS of kids running around, a petting zoo, a ride on some sort of rickshaw? We were also reminded that turkeys are hideous AND introduced to really weird birds with neon beaks. It was all completely adorable if you have a family, but a little less enticing for two twenty somethings. We did a quick loop and then casually strolled to our car and drove toward the koalas.
…What? No one was screaming, "DON'T WORRY KOALAS, I AM COMING FOR YOU!!!!!!" Definitely not me…
Second Stop: Koala Conservation Centre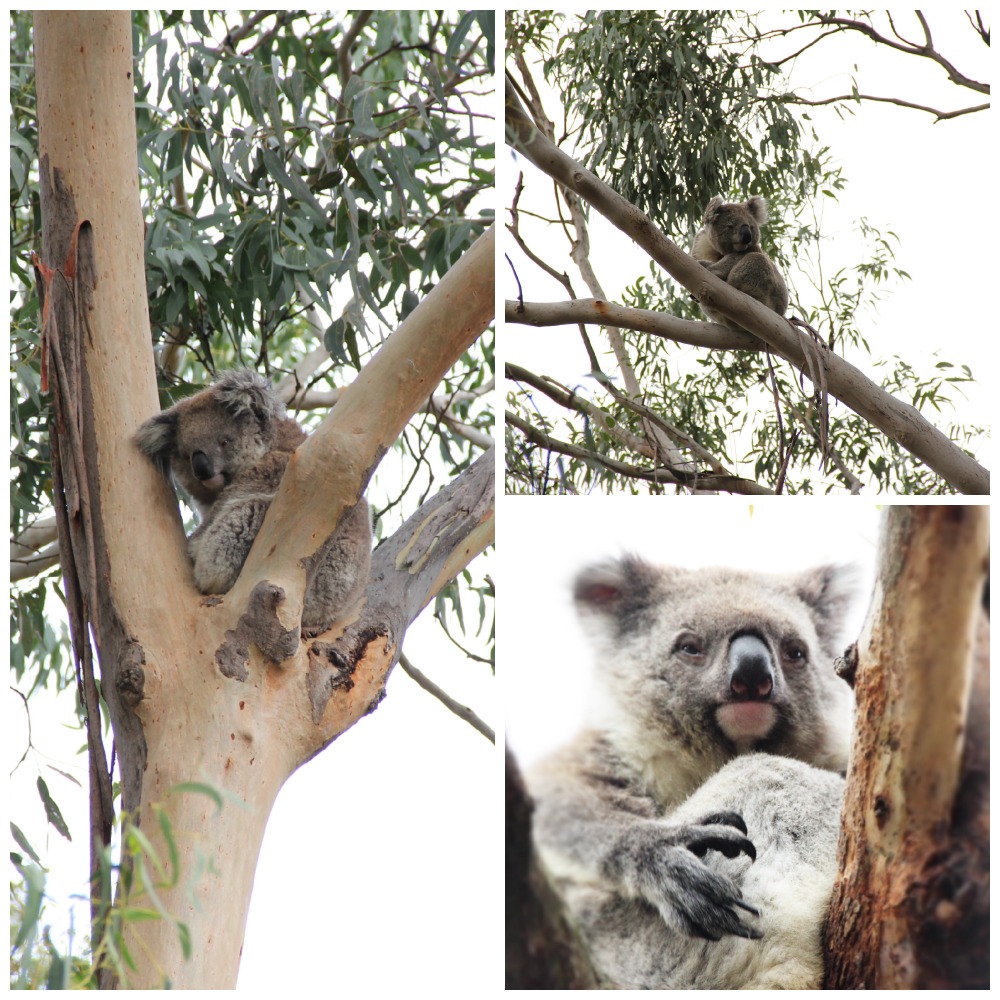 I mean. Just scroll look at the pictures again. This was everything I dreamed of and MORE. This is not a zoo at all. The koalas live in the trees throughout the conservation centre. They have total control, and get as close to guests as they please. Everyone is encouraged to be as quiet as possible as they walk through. Plus, there are strict rules not to touch or feed any of the koalas.
My lens wasn't even zoomed in for the majority of my photos. Seriously, that one guy was, like, a foot away from my face. Scratching his butt, chomping leaves. Standard koala afternoon.
I also learned that koalas are the official mascot of the Lazy Travelers: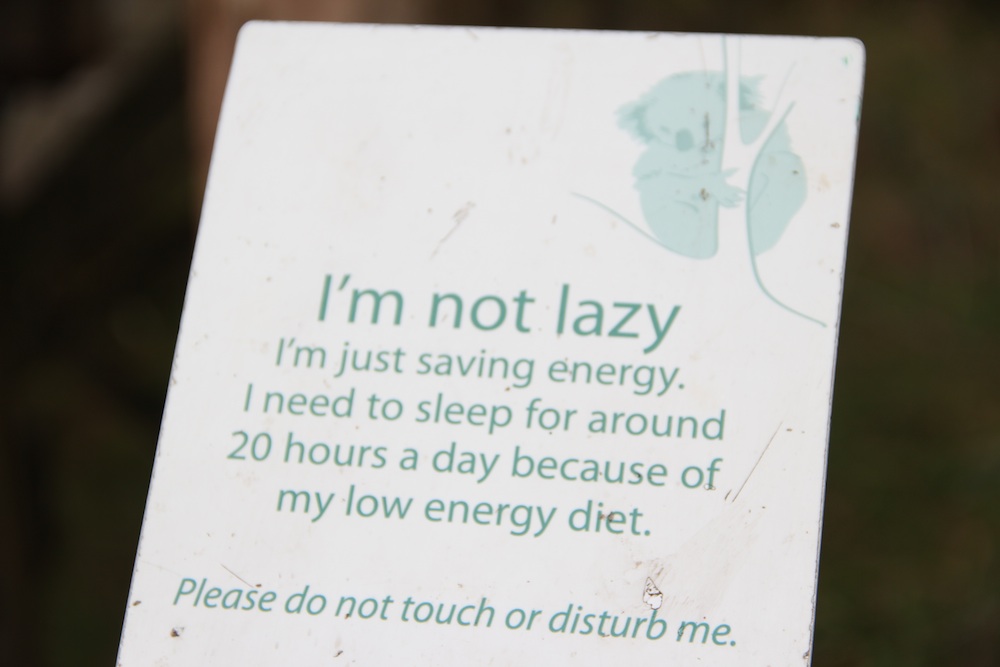 Wine is a low energy diet, right? Also, seriously, please do not touch or disturb us.
Third Stop: Wine Tastings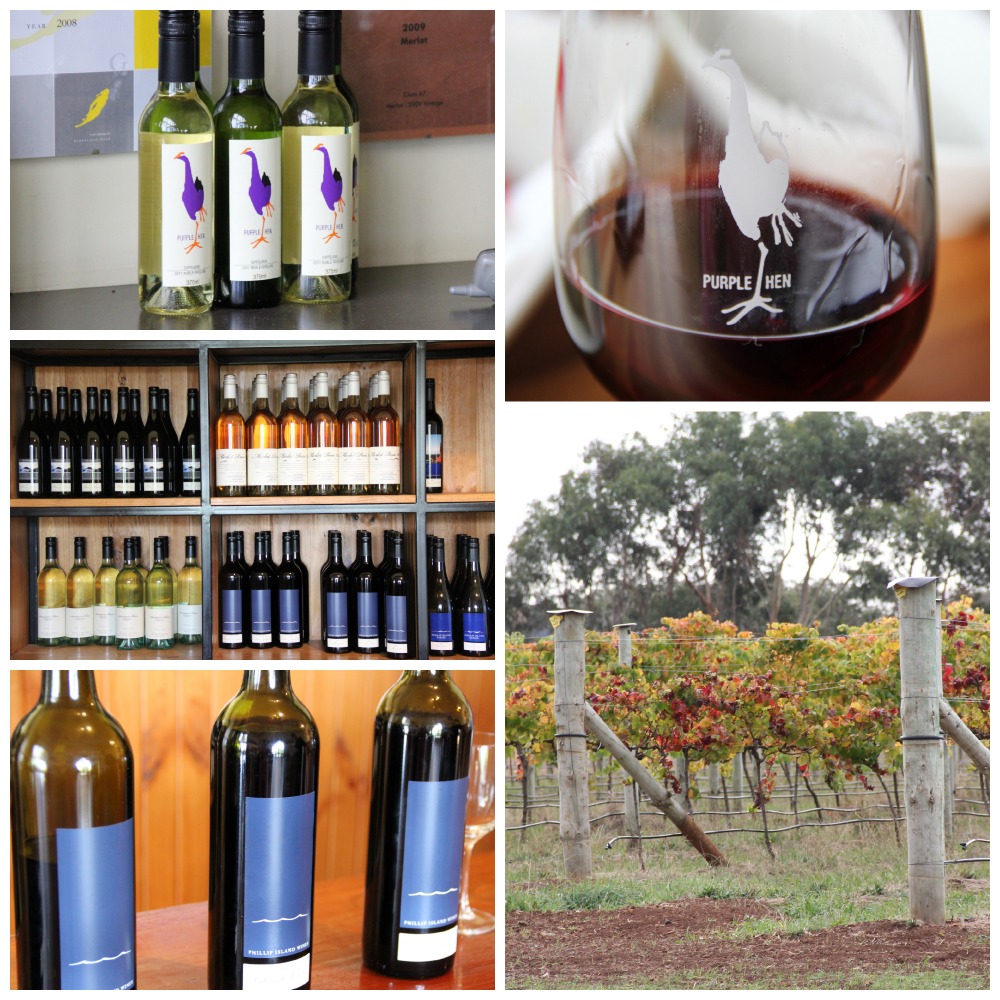 To be honest, I really didn't even need any wine. I was drunk off koala. But we had plenty of time to kill before the Penguin Parade, and we knew there were a few vineyards hiding on the island. We tried Purple Hen Vineyard & Phillip Island Winery, both of which were pretty mellow. We preferred both the wines and the vibe at Phillip Island, though bonus points to Purple Hen for having a really cute pooch wandering around the grounds. This was definitely a nice way to relax before we made our way to the other end of the island for some penguin viewing.
Fourth Stop: The Sights
After we tried a few wines, we hopped back in the car and made our way to the other end of the island. Here's where I note that we split a tasting at each vineyard, which was one of my favorite things about both Australia and New Zealand wineries. It helps prolong the experience, you save money on tasting fees, and everyone's perfectly good to drive once it's over.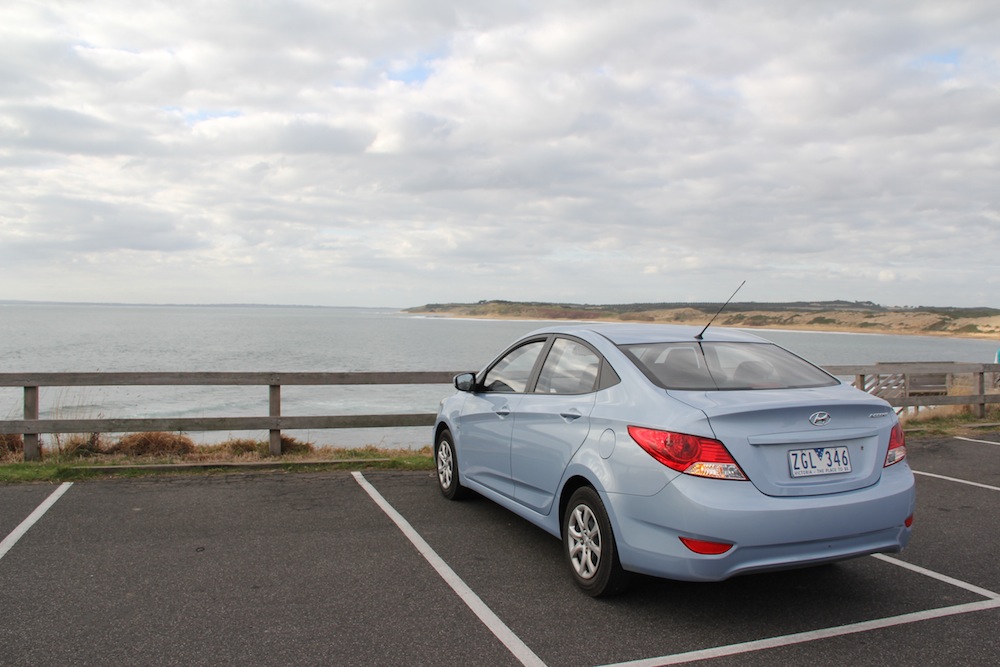 Our little Europcar, taking in the scenery.
This part of the day ended up being my second favorite–koalas obviously win top prize–because we got to really see the beauty of Phillip Island.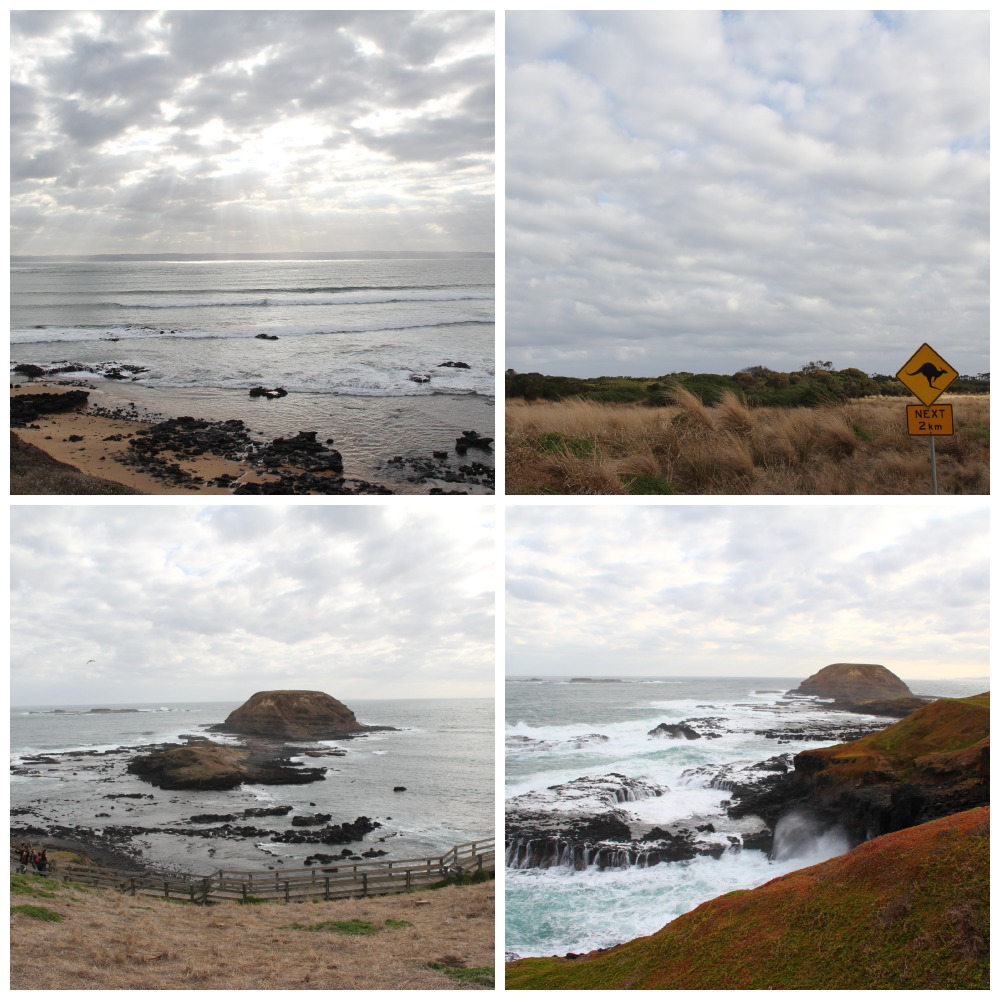 Fifth Stop: The Penguin Parade
Eventually, we found ourselves at the end of the island, joining throngs of people in preparation for the Penguin Parade.
Sooo.. WTF is the Penguin Parade, you ask?
WELL, I recommend you click on the link above for the full explanation and to learn more about Phillip Island's penguin conservation efforts. But basically, every night, penguins waddle in from the ocean after a long day of playing, swimming, and fishing and head home. They tuck their little penguin babies in, and snooze away with all of their buddies who collectively make up one of the largest penguin colonies in Australia. To be honest, I started to fear that it would be underwhelming, but as soon as the penguins started rolling in, I was smitten.
As we all sat quietly on the beach, we watched as groups of penguins would float in on the waves, hit the sand, and then huddle together and waddle toward the coastline. Photos aren't allowed (for completely legitimate reasons: flashes would only confuse the penguins and throw them off as they try to get home for the night), but Phillip Island was nice enough to offer me the below images to share some of the magic with you: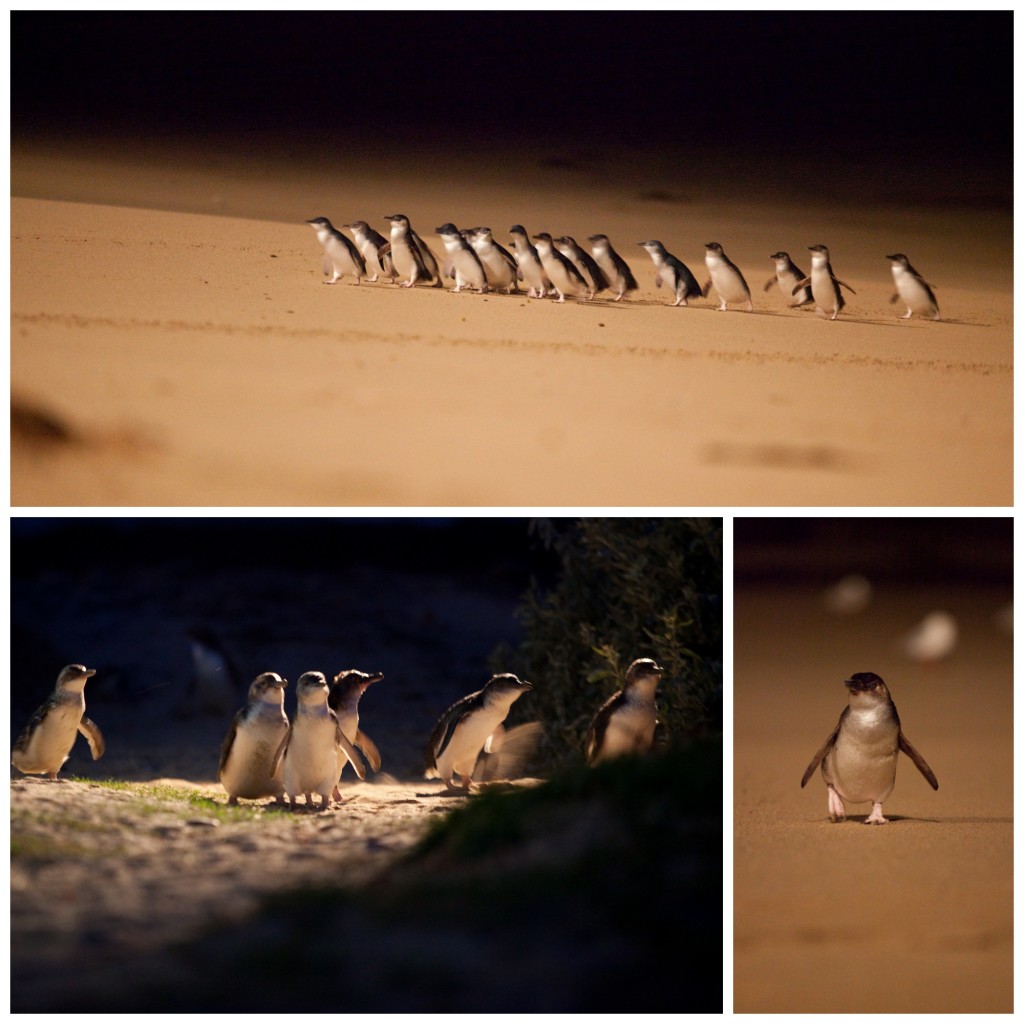 We left Phillip Island completely satisfied with our daytrip decisions. Should you find yourself with some extra time in Melbourne (which is difficult, I know), I can't recommend this enough–especially if you're traveling with kids or it's the summer. It was too cold for us to make use of the beaches, but I'm positive that also would have been time well spent.
Also note that the Penguin Parade starts at different times depending on the month. The website can direct you on where and when to go, but it is important to pay attention to the timing and arrive at least 45 minutes early to nab a good seat.
More importantly: send my love to all the koalas.
xo!
the romantic
– Huge thanks to both Europcar and the Phillip Island Tourism Board for making our excursion possible. All opinions are my own–and seriously, who is ever going to say anything bad about little koalas and penguins?!