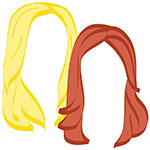 When an ocean suddenly separates you from your best friend, you don't ask questions. You pick a week, book a flight, and meet up on the Emerald Isle for a vacation full of absurdity. Bonus points if that week includes one of your birthdays AND St. Paddy's Day.
Toyota is currently running a sweepstakes that caused immediate flashbacks to this particular trip. There's no question that we experienced a lifetime's worth of unexpected adventures (…and misadventures) during our self-planned road trip across Ireland and around the Slea Head Loop on the Dingle Peninsula.
Should you plan your own trek across the homeland of our ancestors, we, as always, have a few pointers.
Always stop for castles.
When you're driving across a country as beautiful as Ireland, it's not your typical "no stops til we reach our destination!" sort of road trip. There are three things you should always stop for: a pint, sheep, and castles. On our way from Dublin to Dingle, we stopped to enjoy bagels outside Ballaghmore Castle. Though we didn't get to explore the interior, we sat outside, eating breakfast and using our pitstop as a serious photo op. AKA perfection.
Bring along a responsible co-pilot.
For Americans, driving on the opposite side of the road in a foreign country can be a terror in and of itself. This terror magnifies tenfold when the one passenger who holds a valid driver's license decides she wants to be the one sitting in the backseat snapping photographs and enjoying the scenery. We recommend bringing along at least one reliable, even-tempered friend, who can sit upfront alongside of you and calm you down when you veer too close to the road's edge or when a stray sheep runs out in front of your car.
Don't discriminate.
Our intention was to drive straight through from Dublin to Dingle, but naturally, our lack of knowledge concerning traffic circles lead us to more than a few wrong turns. Thankfully, this meant we added some unforeseen destinations to our itinerary, including Inch Strand, and later, the beautiful town of Killarney. When it comes to choosing road trip  destinations, don't be picky. Every Irish town is as beautiful as the next.
 It's ok if you park like an idiot.
Chances are, you won't bother anyone in the Irish countryside. Plus, you'll get closer to the spectacular views.
This is a sponsored conversation written on behalf of Toyota, but never fear: the opinions and text are all our own. See here for official Sweepstakes Rules. Seriously, you should enter! Tell us about your unexpected adventure below for a chance to win a Tom Tom GO LIVE. 
xo!
the romantic & the wino