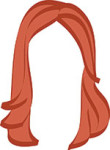 If you'll recall, our very last week of our five month RTW was off to a stellar start, thanks to two very fulfilling days of rotten shark-eating and black death-imbibing in Reykjavik. But alas, it was time to move on!
One huge perk of staying at Bus Hostel, as I mentioned, is that SADcars is conveniently located in the lobby. This meant that once it was time to pick up our car, we literally just rolled downstairs, waved, and our SADcar was ready and waiting for us.
In case you're wondering if SADcars are, in fact, sad cars? Well, yes. Yes, they are. The name of the company originally came from the three owners—Siggi, Alli and Danni—who used the first letter of each name to form SAD. Reason number two, however, is that the cars are all older and a little beat up…which explains why they're super reasonably priced.
Despite looking a little rough around the edges, the cars are still fully capable of getting where you need to go (unless you need to go off-roading, because then you need to do your research, mon frère). We did have a slight issue with the first car they brought us, because our car charger wouldn't work in the cigarette lighter majiggy. Normally this isn't a big deal, but we were also testing out Trawire's MiFi rental service, which allows you to take WiFi with you wherever you go during your roadtrip (black magic!). We explained the sitch to SADcars, who immediately switched out our car to one with a working portal, and we were good to go.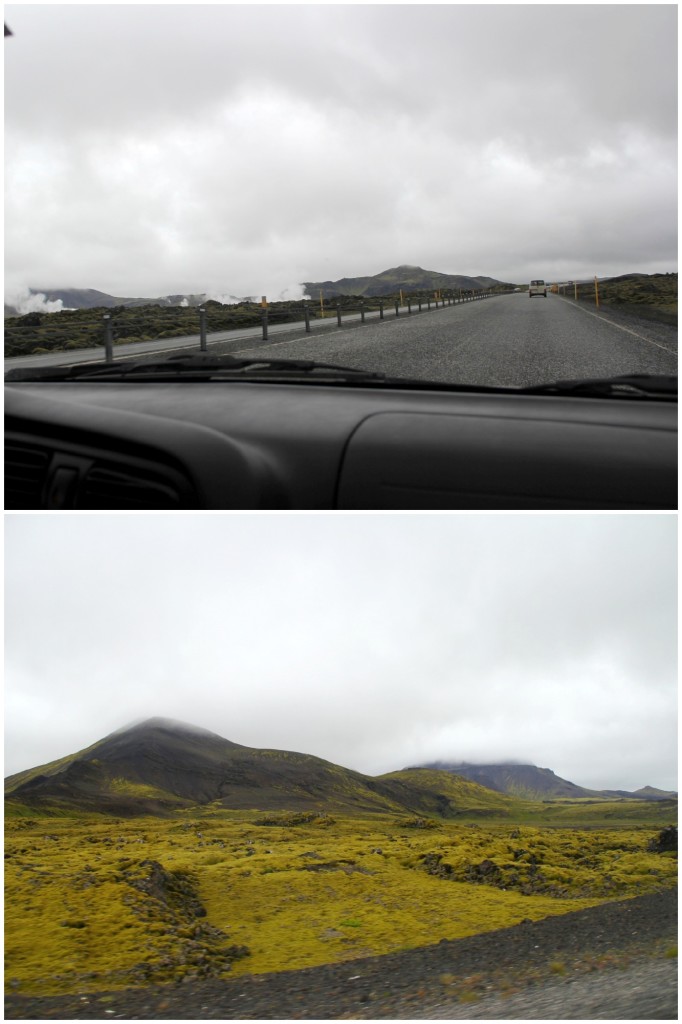 Iceland, you are on a different planet.
I'd love to do each stop justice with just words, but it's not even worth it. This, my friends, is where this post turns into a bit of a photo essay. And by a bit, I mean there is a seriously serious amount of photos about to come your way… consider this a warning.
So, shall we?
Stop 1: Eyrarbakki (Overnight)
With the exception of our Hotel Edda in Laugarvatn (more on this to come), we stayed in all AirBnb rentals around the Ring Road. Our first, in Eyrarbakki, was perfection. It was a tiny little cottage, just down the street from these guys: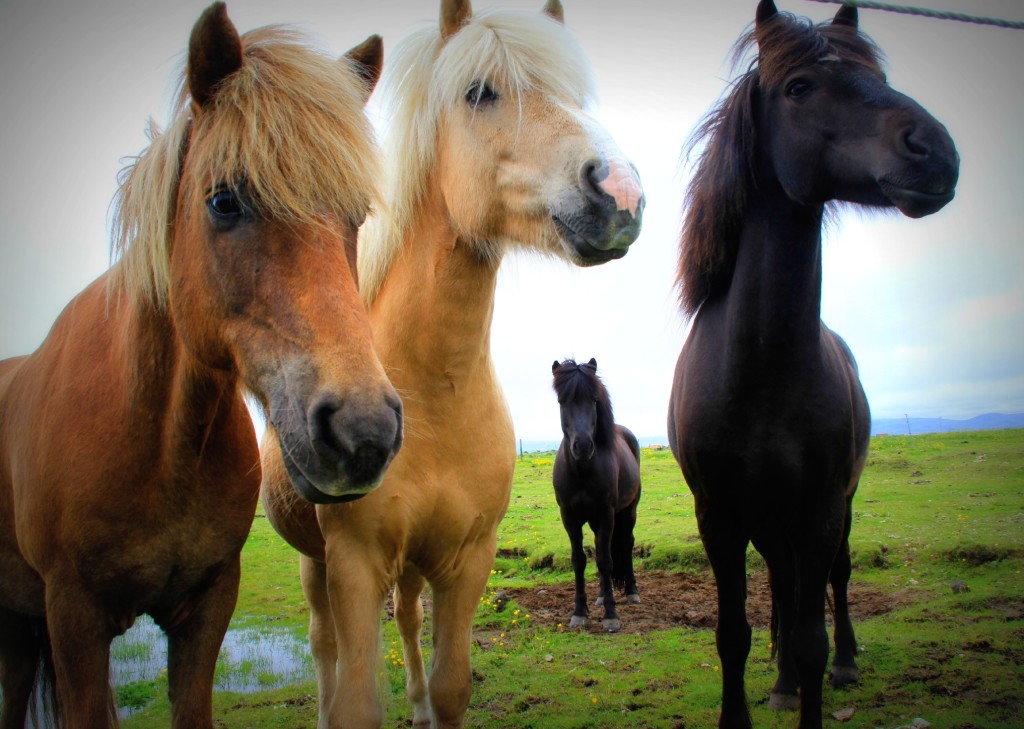 If there's one thing you can say about Viking horses, it's that they really know how to rock that mane.
Stop 2: Seljalandsfoss & Skógafoss
Go ahead, try and say those babies out loud. (It's ok, I don't know either.) Seljalandsfoss was a massive waterfall–it was so loud and it was drizzling just enough to make my face crinkle up in complete dissatisfaction. We ran almost the entire way from the car to the waterfall, and then, like little hobbits, ran into the cave BEHIND Seljalandsfoss and looked out into Iceland. And it was magical.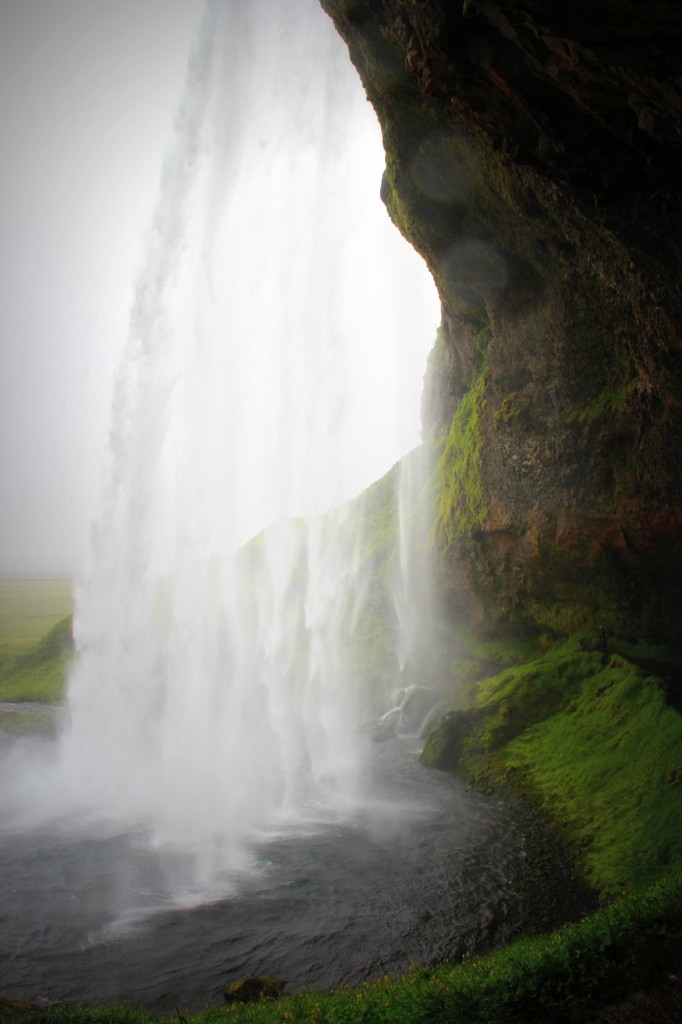 As we made our way to Skógafoss, I started to think that maybe we were in a dream. I mean, there was a light mist surrounding us, with sheep grazing on the hillsides…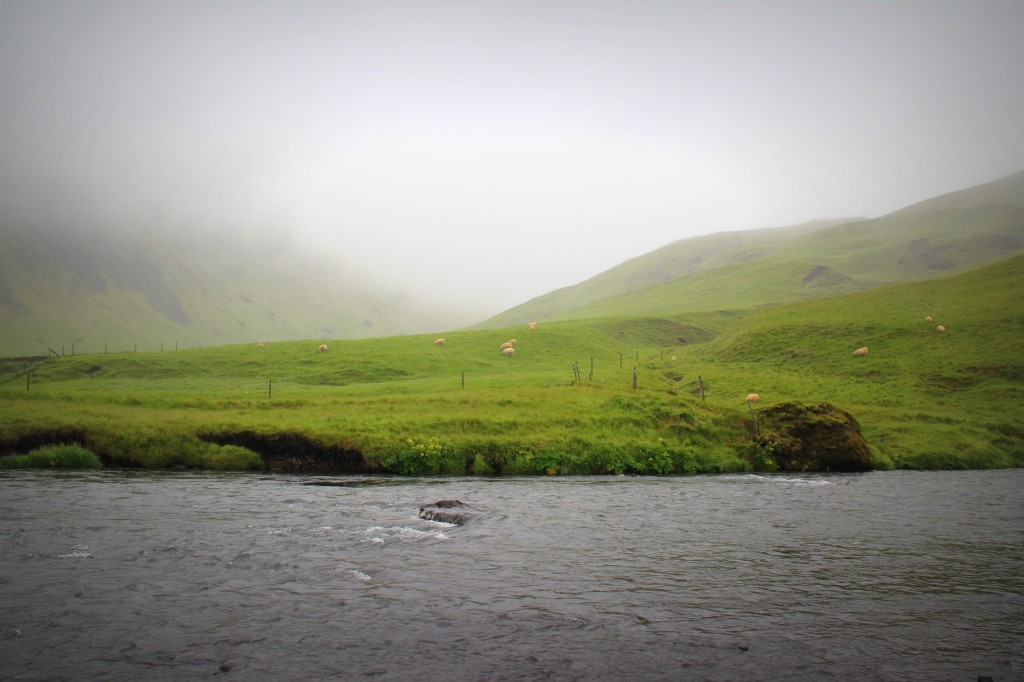 AND TINY LITTLE ELF HOUSES, BUILT INTO THE MOUNTAINSIDE: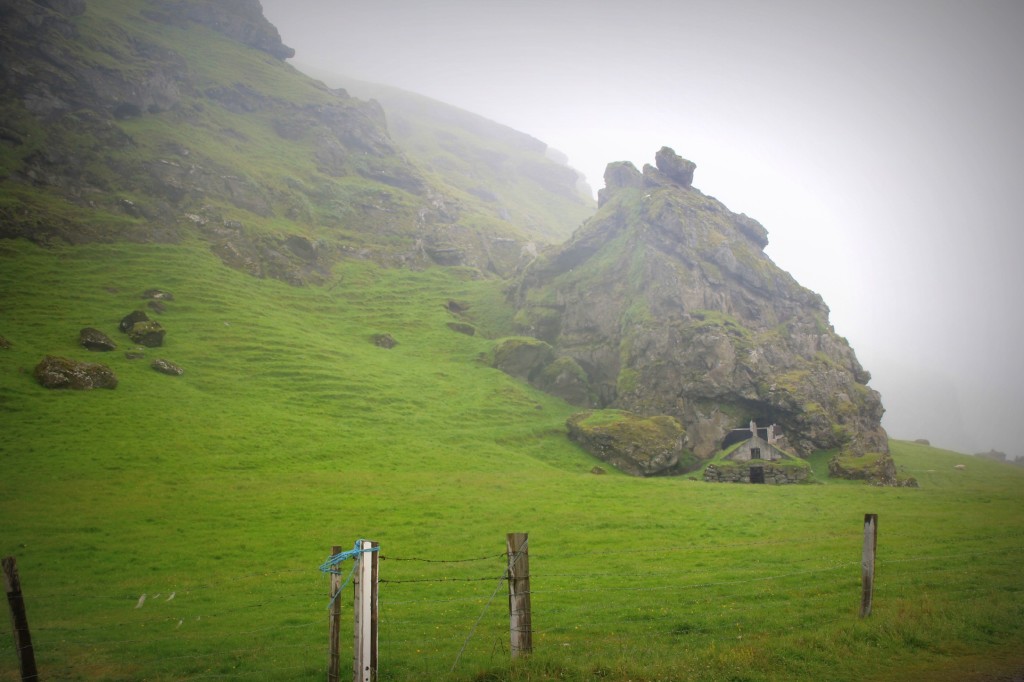 Dreamscape.
By the time we got to Skógafoss, I was barely even functioning.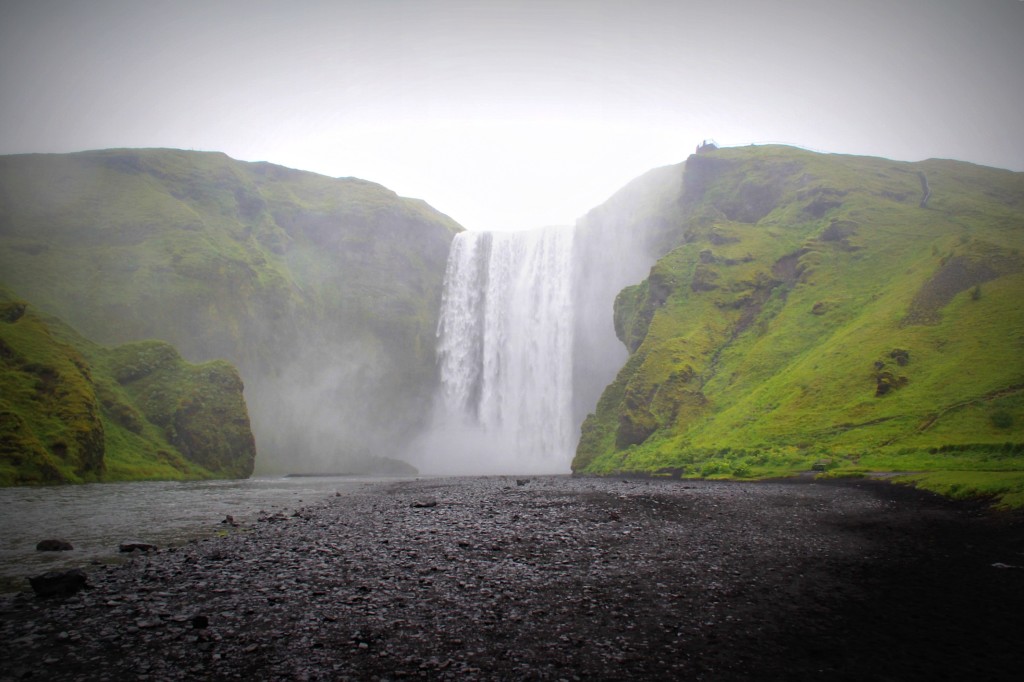 And it was about to get even better.
Stop 3: Dyrhólaey 
This was the moment I had been waiting for. This was the moment of the puffin.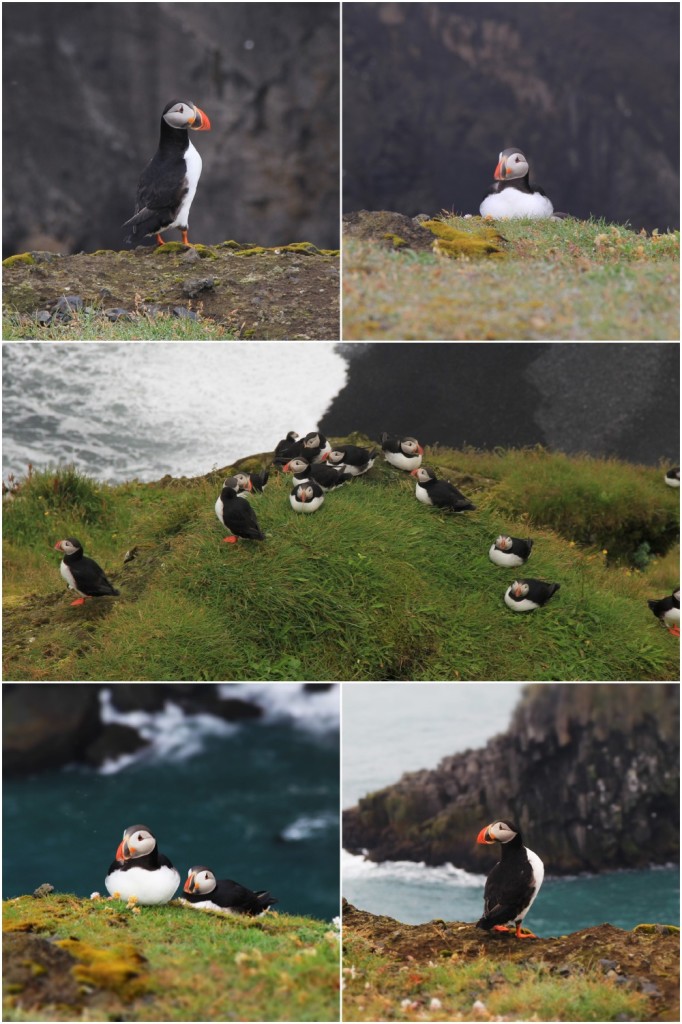 I was going to say, "don't you just want to eat 'em?!" but that would be in poor form because some people do eat them 🙁
We did not.
This is also proof that the weather changes insanely fast in Iceland: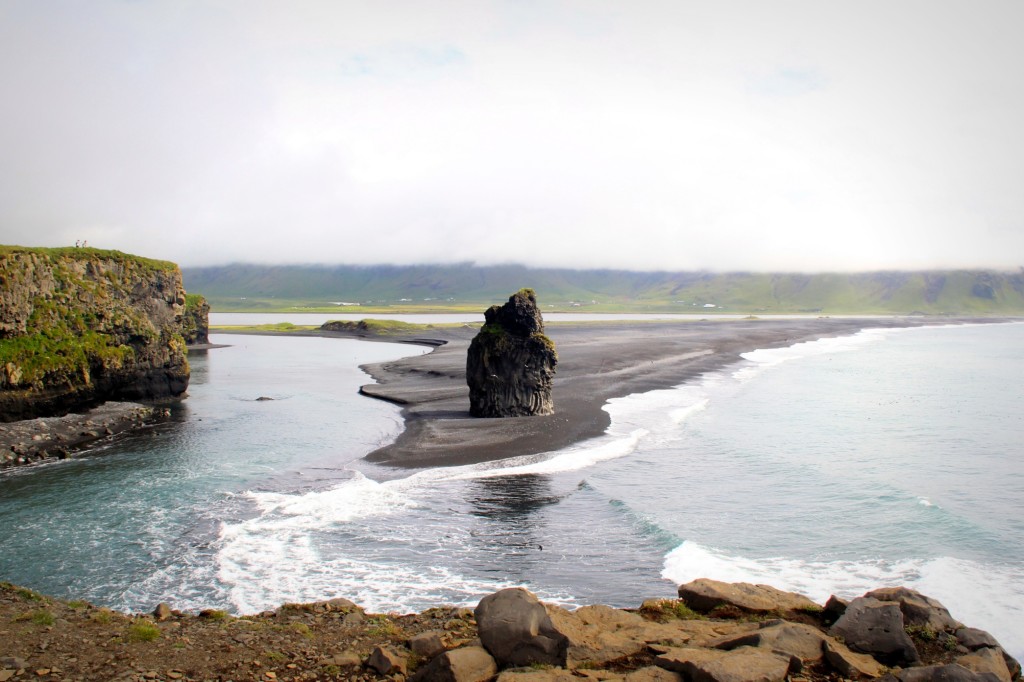 Stop 4: Jökulsárlón Glacier Bay
In case you missed my Frifotos round-up, more photos can be seen here, but Jökulsárlón is absolutely something you need to see for yourself. Go forth!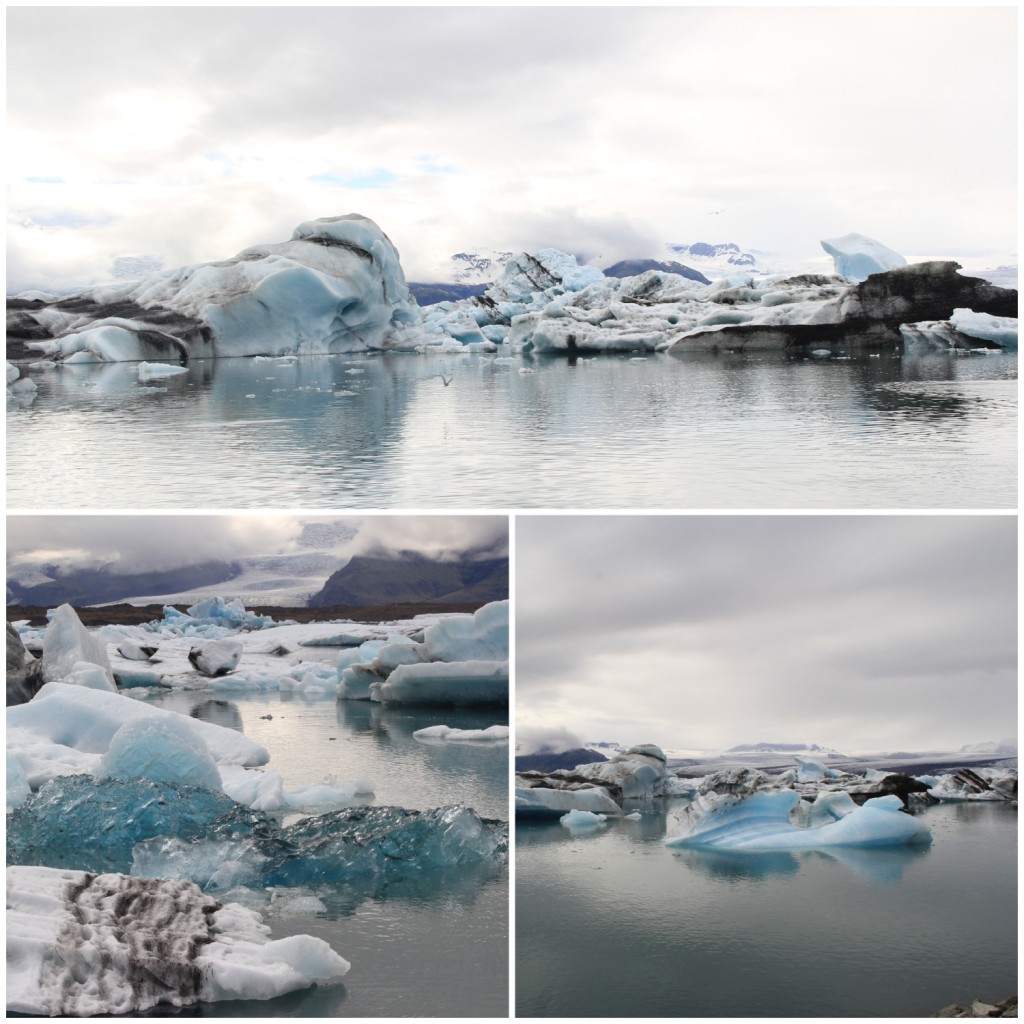 Stop 5: Höfn
Cha, yeah, something else you need to see for yourself? The lobster food options in Höfn. Holy Mother of God.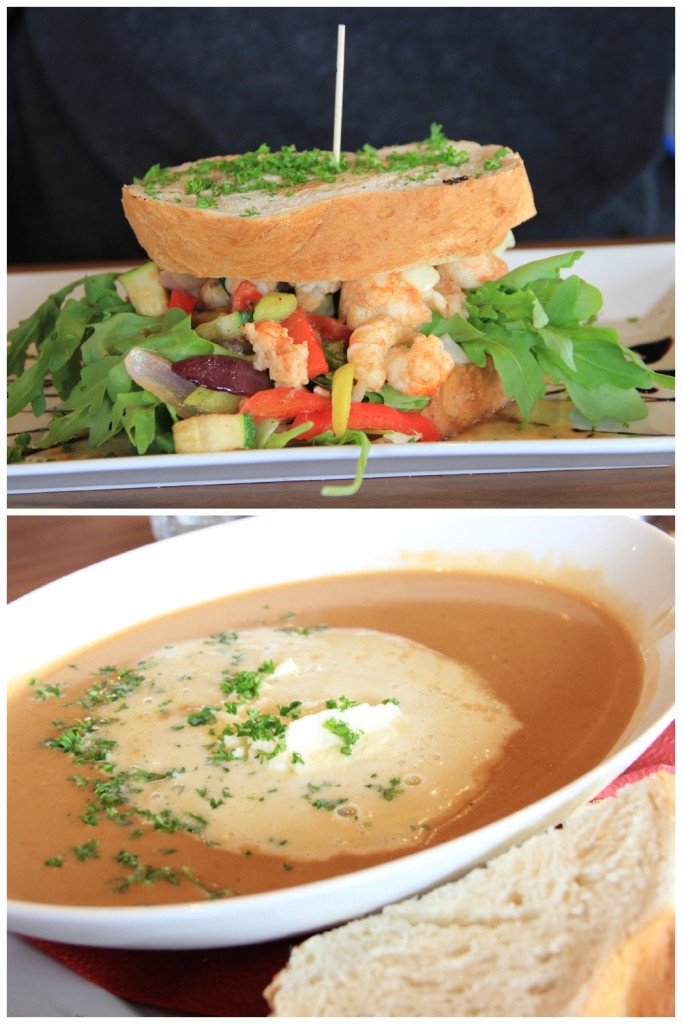 The drive from Höfn to our next stop was unreal, and we were pretty thankful that the sun was back out to make an appearance: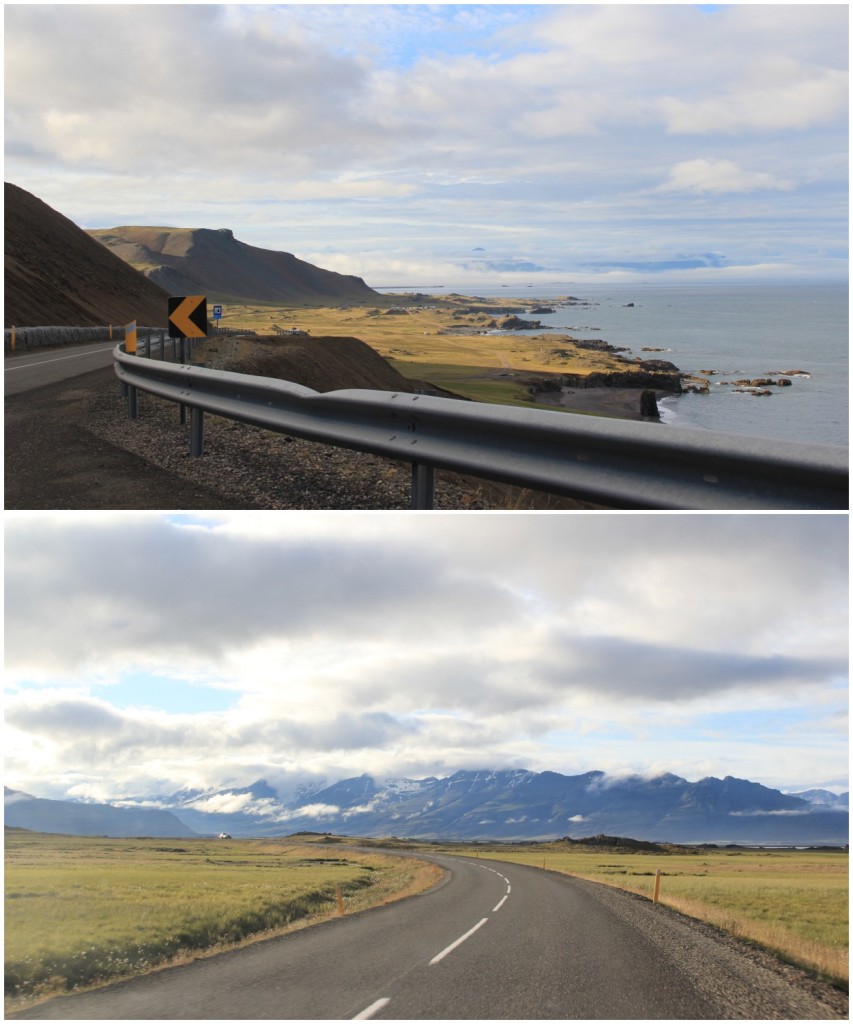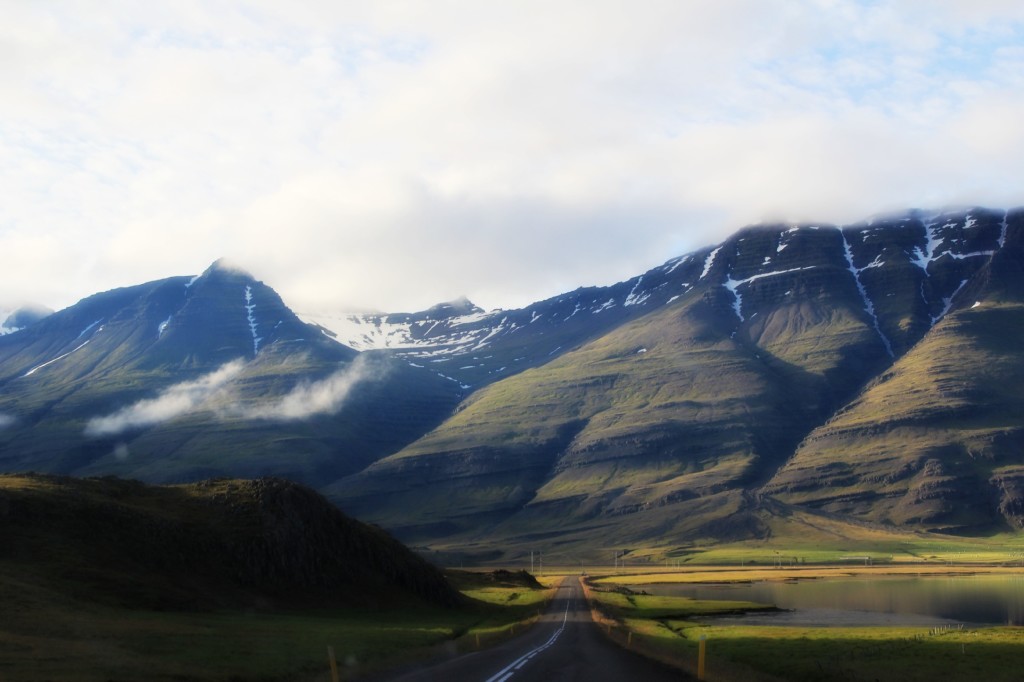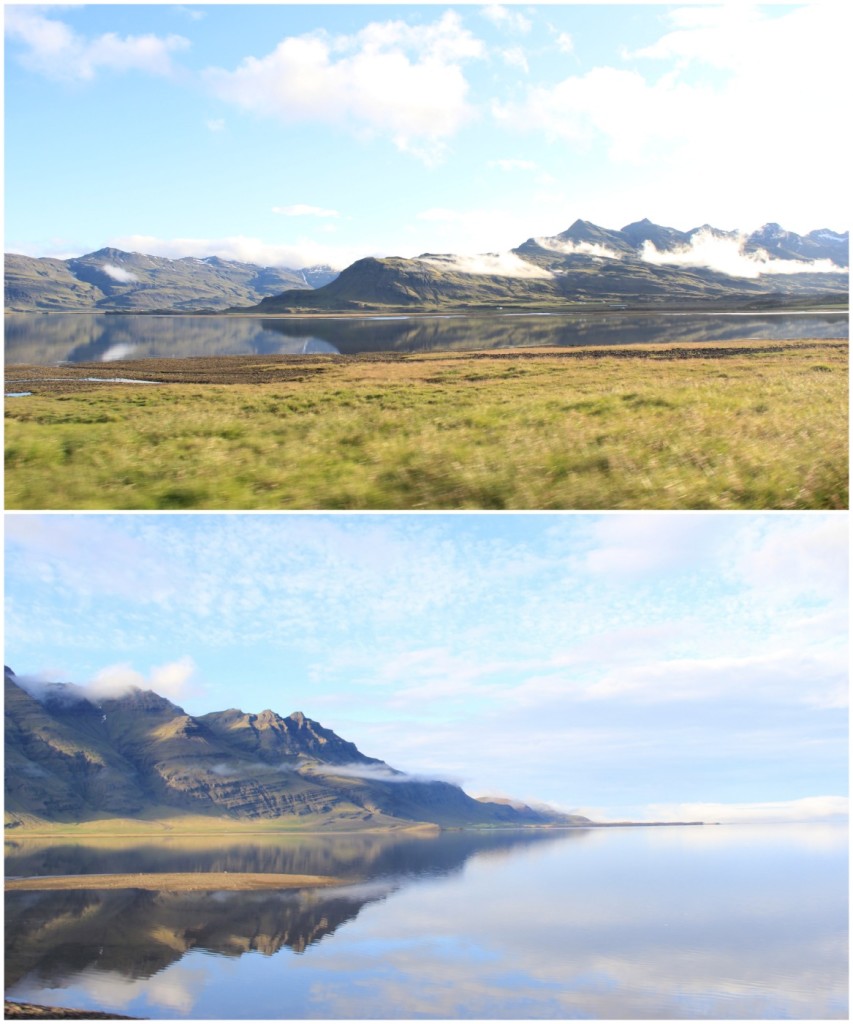 …Until all of a sudden, we went around one turn and were literally IN A CLOUD: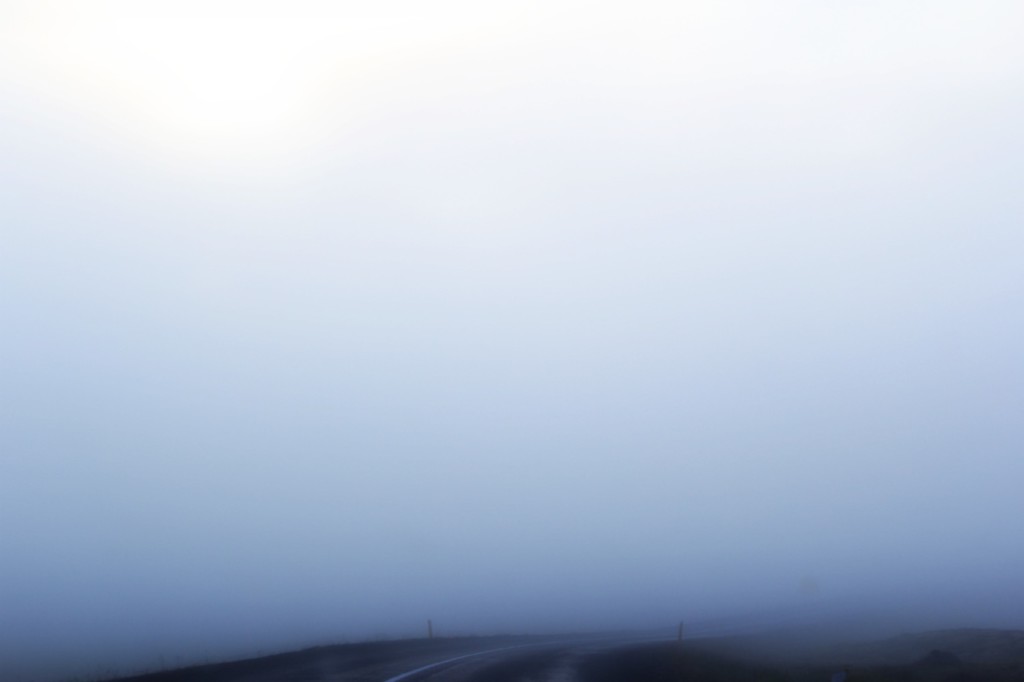 It was touch and go for a bit, there, but we kept driving up the mountain until we were in the sun again. When I looked back behind us, I saw this: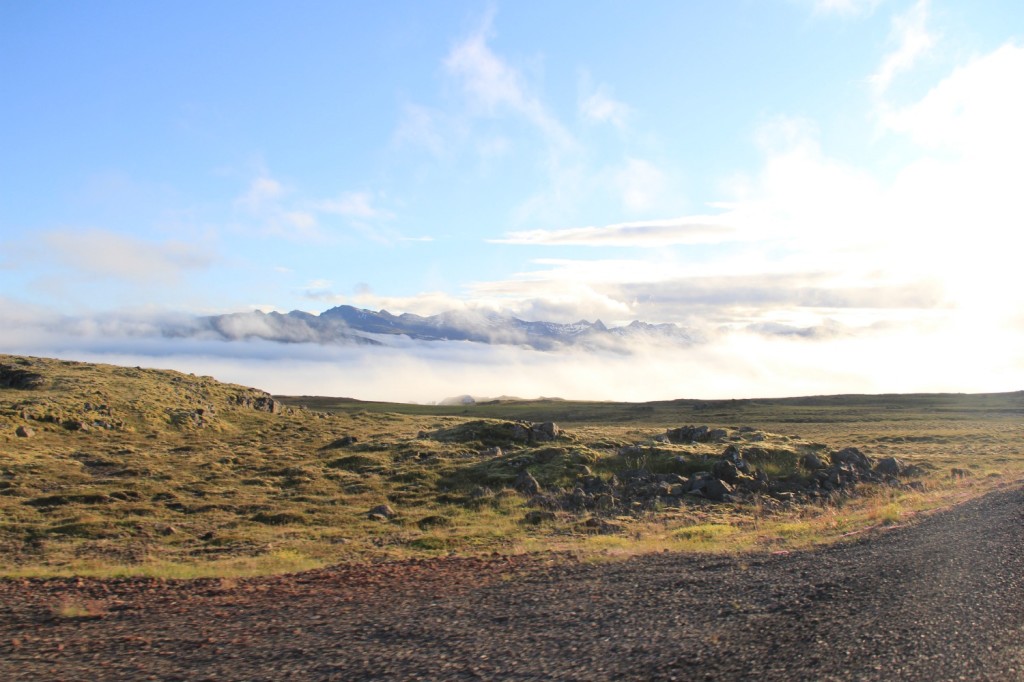 Seriously bizarre, seriously beautiful. It was like this for most of the ride, with some sort of smoke monster doing a dance around our car.
Stop 6: Reyðarfjörður (Overnight)
We made it to Reyðarfjörður around 10:30 PM, with the sun still shining.  This particular AirBnb experience was straight out of a Stephen King novel, and luckily, our only negative AirBnb encounter of the trip. To be honest, it wasn't even negative so much as it was weird. The place was filthy, the couple had no social boundaries, and there were fist shaped holes in a few of the walls and doors.
Just as we had convinced our hosts we really must get some rest (after he asked the hubs for the third time if he'd like to go fishing… at 11 PM at night), we heard this terrible screeching noise. The wife was standing awkwardly in our bedroom door, and the husband was yelling "I NEED TO SHOW YOU SOMETHING!!!"
 The screeching continued until he was back in our room, with this: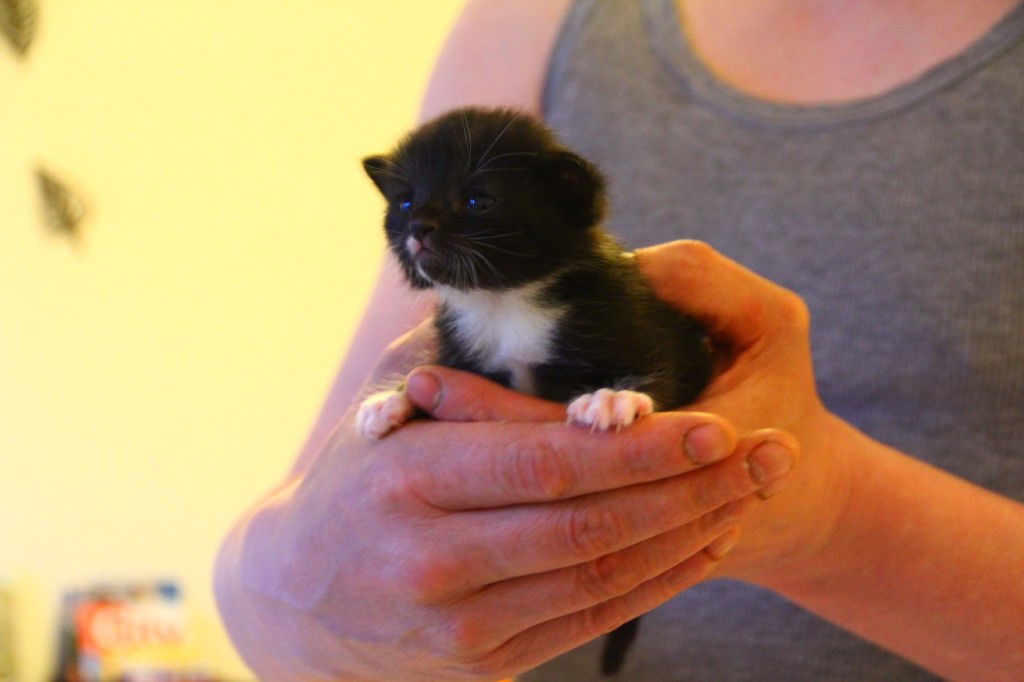 This little guy was three days old and NOT happy about having been ripped from his mama to be shoved in the faces of two nervous strangers, let me tell you what. He looks calm here, but I assure you: it was between screams that I snapped this photo (and mainly because I had no idea what else to do.)
We left very, very early the next morning.
Stop 7: Hverarönd Geothermal Area, Mývatn, and Dettifoss Waterfall
Our next day was a series of stops that just continued to convince us we were on another planet, and Hverarönd was on a planet that smelled terrible…like sulfur and burnt hair. But! It looks pretty awesome, right? Mars!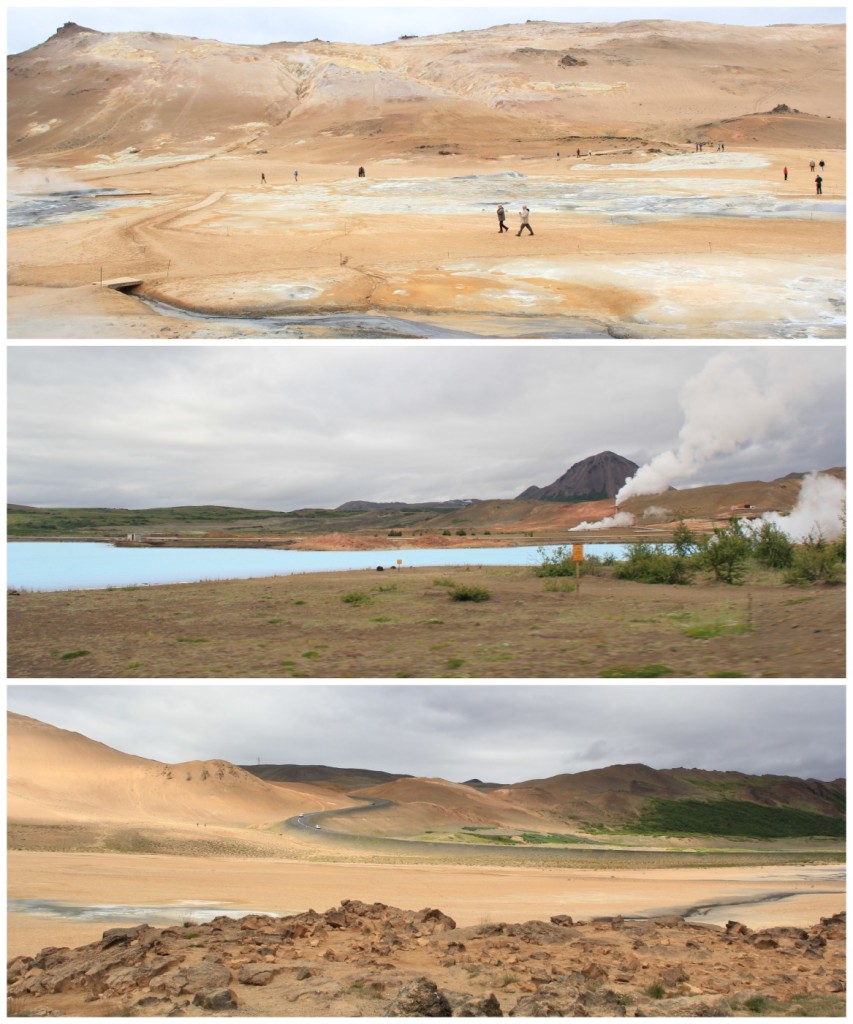 Stop 8: Akureyri (Overnight)
Luckily, our next AirBnb totally made up for the sociopaths from the night before. We stayed on a gorgeous farm in Akureyri, saw an amazing midnight sunset (that never really fully set), and woke up to a brand new baby Viking horse, who was born while we were sleeping.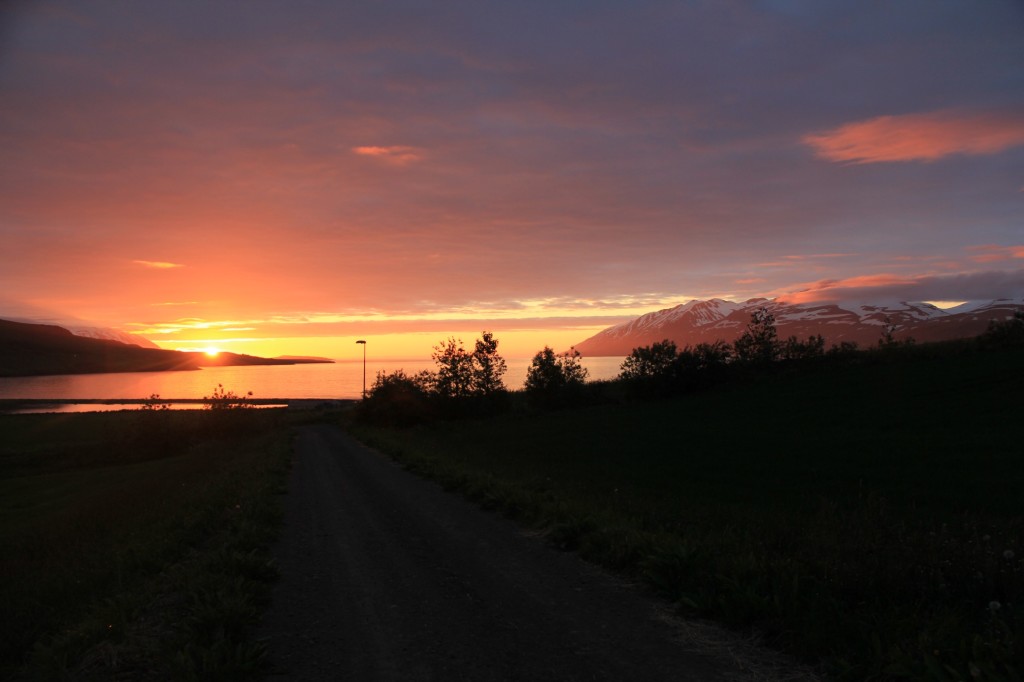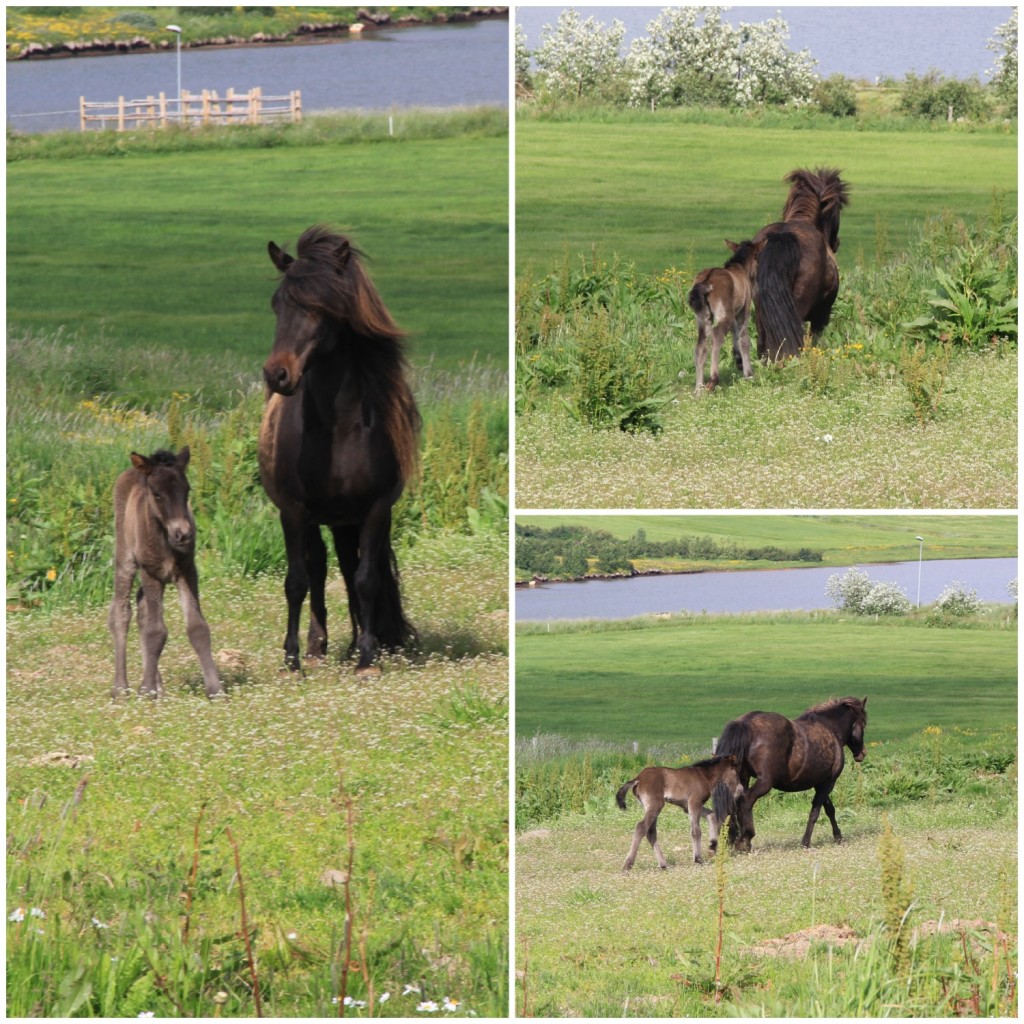 This might have been the hardest to leave, but Laugarvatn and a reunion with Inga was calling!
(Which only came together thanks to our Trawire connection. WiFi was rough in Iceland, and since we were without a SIM card, we would have been extremely cut off from the world otherwise.)
 Stop 9: Laugarvatn
Though the Blue Lagoon gets all the glory, Inga recommended we meet up with her and Liz from Young Adventuress for an afternoon of relaxing at Laugarvatn Fontana, which was amazing. It wasn't nearly as crowded as I'd heard the Blue Lagoon to be, and we were able to kick back with cocktails in hand. After we'd successfully wrinkled ourselves, Siggi, the owner, grabbed a shovel and told us to follow him outside into the rain.
Because I hadn't died in Reyðarfjörður, I assumed it wasn't my time. My gut instinct was correct—he just wanted to treat us to the traditional rúgbrauð, or Icelandic rye bread, experience.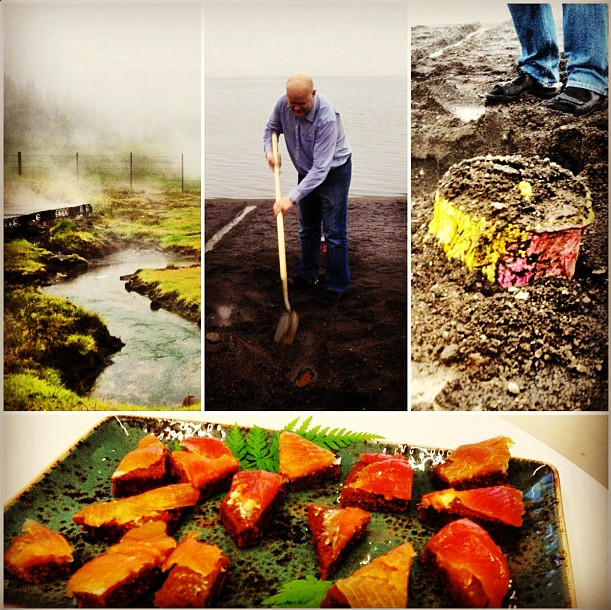 Each night, dough is placed inside a container which is then buried in the ground. The heat from the thermal springs naturally bakes the bread, which comes out like a super condensed, thick rye bread. Siggi topped it with smoked salmon and (I think?) tuna, and we all kind of zoned out as we snacked. Eventually, we walked back across the lawn to turn in for a night at the Hotel Edda.
You can read more about our experience here, courtesy of Inga.
We woke up early the next morning to meet the girls for breakfast before they headed off on the rest of their Iceland Challenge, which was sad for us because our own Viking adventure was coming to and end.
 Stop 10: The Great Geysir & the Blue Lagoon
Ok, so these stops were kind of a bust. We were phoning it in at this point, I'll admit. It was raining, it was cold, and the people standing around the Geysir were not our people. They were tour group people. By the time we got to the Blue Lagoon we decided to just head to Reykjavik and call it a night. Drinks at the Slippbarinn were climbing the list of priorities, you know.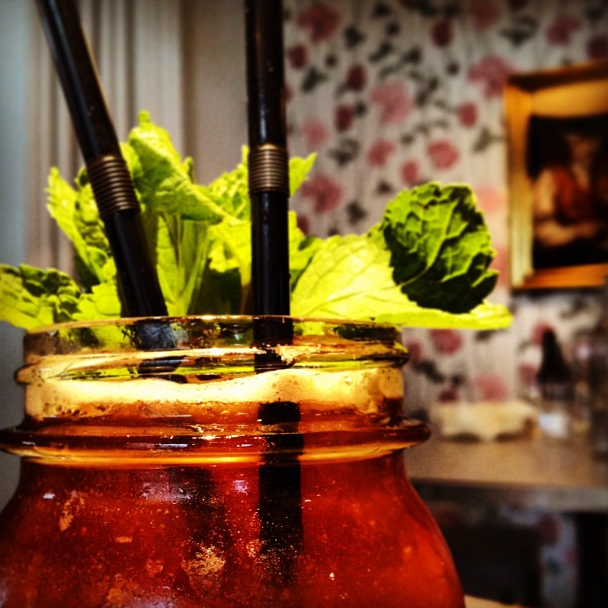 And with that, it was the end. The end! Le fin! I'm kind of sad? I've loved reliving our RTW over these past few months, and knowing that this is my last official post feels right, but very final.
I'm sure a few photo essays will pop up here and there, and there is a lot of video footage that could maybe turn into something… but for now? Le fin, it is. Thanks for following along. It's safe to say these five months were some of the very best I've yet to experience, and I'm pretty glad I've had a place to share my stories, photos, and tips.
BUT NOW. We need to talk Barcelona and Amsterdam and #LTFrancais and also I got finger surgery in France which was just? It's worth talking about.
xo!
the romantic
– Thank you once again to Inga at Tiny Iceland for giving us some amazing tips for making the most out of our time in Iceland. If you're headed there, please be sure to check out her site! Also, though Bus Hostel, SADCars, Trawire, Laugarvatn Fontana and Hotel Edda all invited us to experience these parts of Iceland as their guests, the opinions expressed above are, as always, my own.