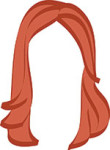 As we counted down to our ten day tour of Hawaii, I was surprised by how little I concerned myself with what we'd be eating. Usually, this is my #1 travel priority, but for some reason, I brushed Hawaii's culinary options off from the start.
To be honest, I just figured it'd be a lot of expensive seafood and familiar "high-end" chain restaurants that two backpackers would never be able to afford. In Waikiki, that was pretty much spot on. However, one thing I didn't expect? The plethora of budget-friendly food trucks and roadside stands with seriously delish offerings.
Giovanni's Shrimp Truck, North Shore, Oahu 
When you ask around the North Shore for recommendations on where to eat, shrimp trucks are usually at the top of the list—especially for lunch. Apparently, these trucks have popped up over the years and you get a plate of garlic shrimp and two scoops of rice. We later learned that this is a Hawaiian standard and referred to by shrimp trucks and cafes alike as a "plate lunch." We did our research and decided that if we were going to try a shrimp truck, we were going to try THE shrimp truck.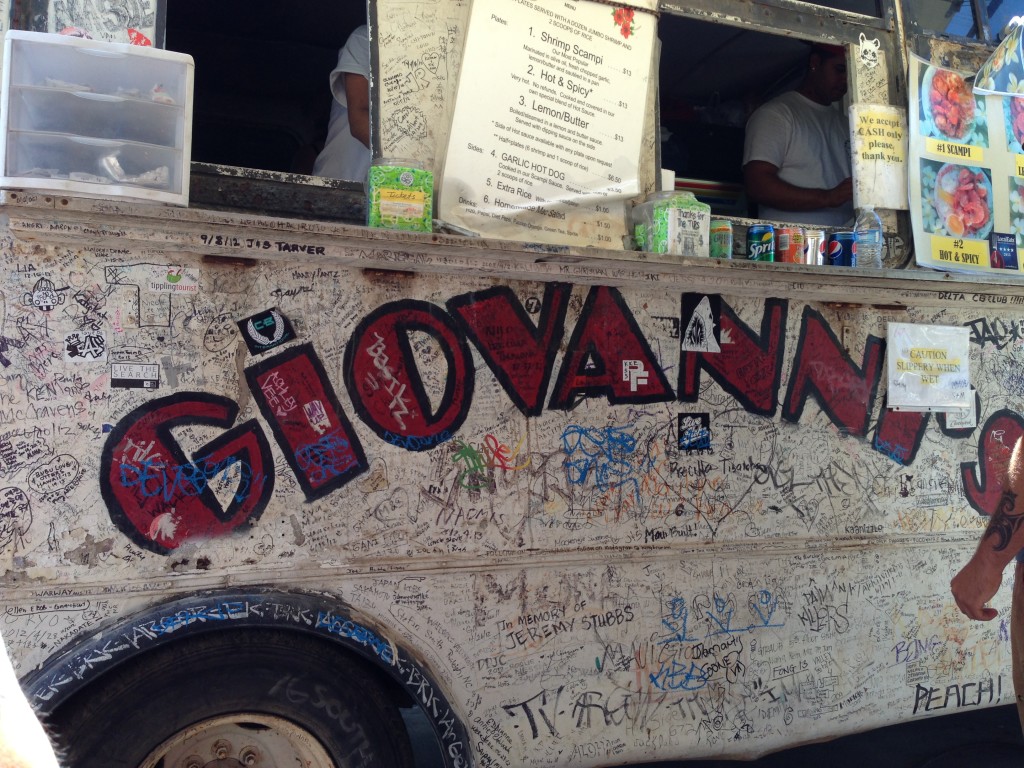 Giovanni's is, apparently, the very first shrimp truck to ever exist in all the land… or at least on the island of Oahu. Once this little mobile establishment took off, billions popped up all over the place—but most people will insist that Giovanni's is still the best.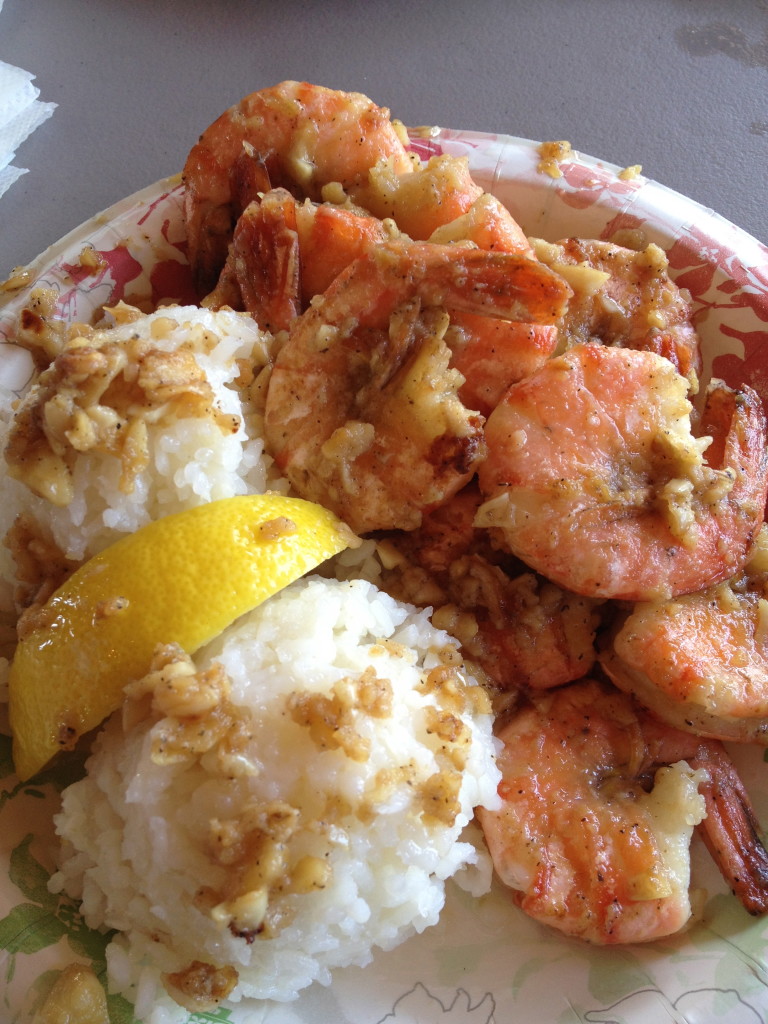 We didn't try any other shrimp trucks, but we can't imagine anything being better than this: garlic shrimp with garlic on top of garlic stuffed with garlic. Limited smooching after this lunch.
Kono's Big Wave Cafe, Haleiwa, Oahu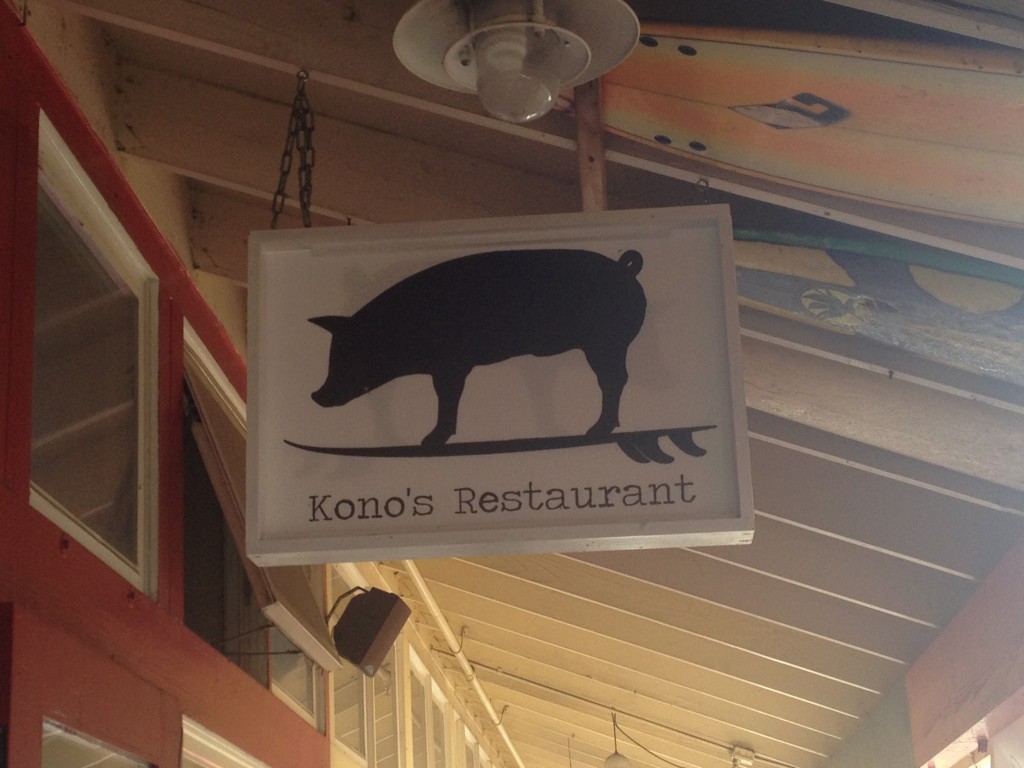 About four years ago, I read way too much about the US farming industry and decided I wanted to seriously cut back on my meat intake. As it's a complicated and divisive issue, I don't feel the need to get into it here, but I made a few simple changes to my diet, including the elimination of pork.
At first, it was super easy. I'm not a huge fan of bacon (blasphemy, I know), and I never really cooked pork at home. However, it was when we were traveling that I faced a new dilemma. I didn't want to miss out on cultural experiences, and I wasn't looking to go completely veggie. I soon decided that, if we were visiting a country where pork was a main food focus, I wouldn't give up the chance to experience something important to the local culture.
Kono's was my time to try Kalua pig.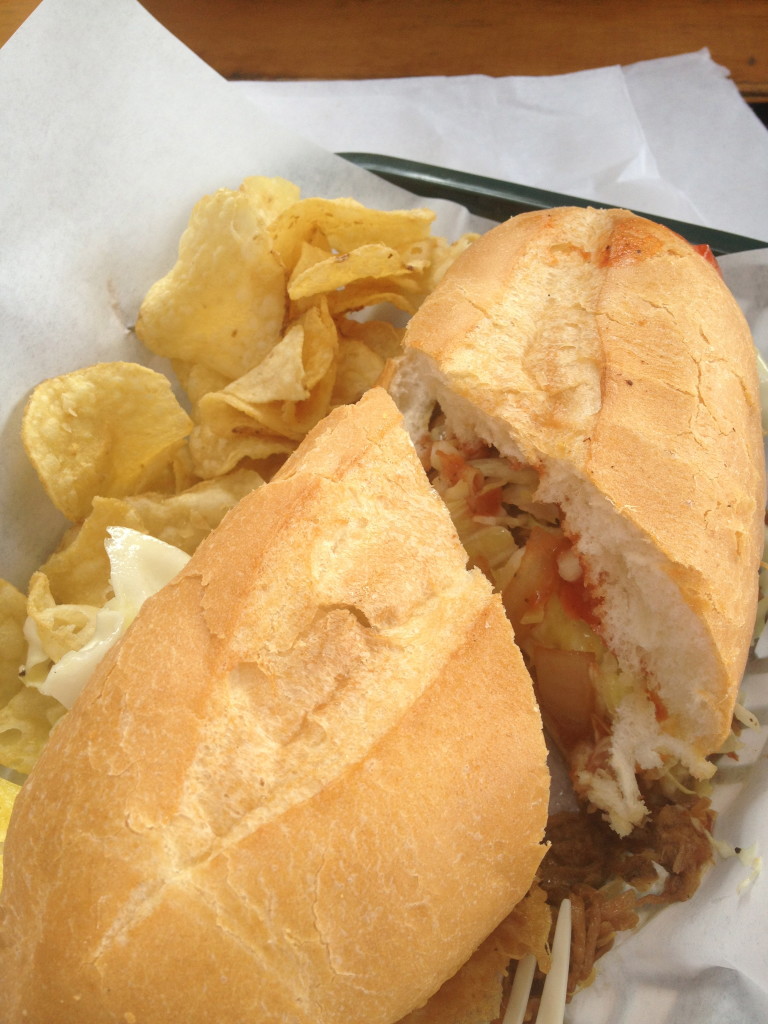 Like all of our meals, the hubs and I split the Old Fashioned BBQ Pork Sandwich. It was sooo good. The sauce, the slaw, the bread. Everything. This was the only pork we ate while in Hawaii, and even though my tum was a little confused, I'm pretty ok with breaking my pig-free streak for this (if not still feeling just a little guilty).
Ahi Poke, Everywhere
If you eat one thing and only one thing in all of Hawaii, eat poke (pronounced poke-ey). You can get it at all over the place, but we were told time and again that the little markets around the islands were the #1 place for poke.
POKE #1: Kahuru Superette, North Shore, Oahu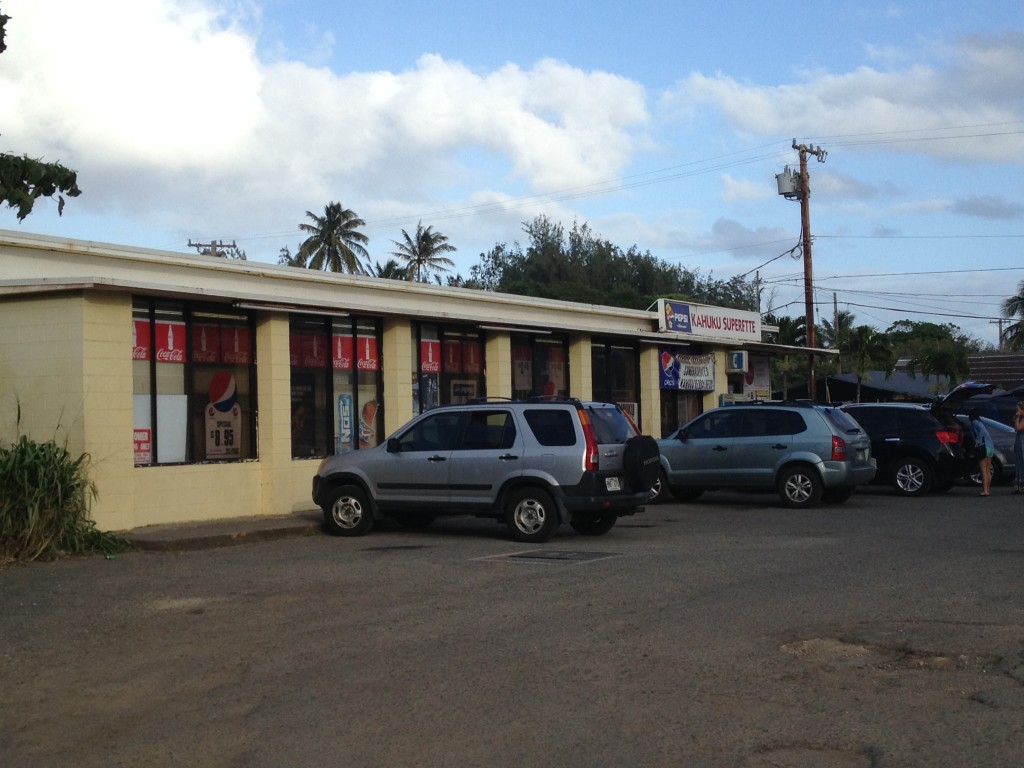 Our first poke experience took us to Kahuru Superette in Oahu. If I had gone into this place elsewhere, I would have laughed, turned right around, and walked back out the door. It wasn't particularly… clean. Flies buzzed around, all the groceries looked a little dusty, and the fear of food poisoning lurked around every corner. However, reviews and locals said this was the best, so we put away our reservations and gave it a try.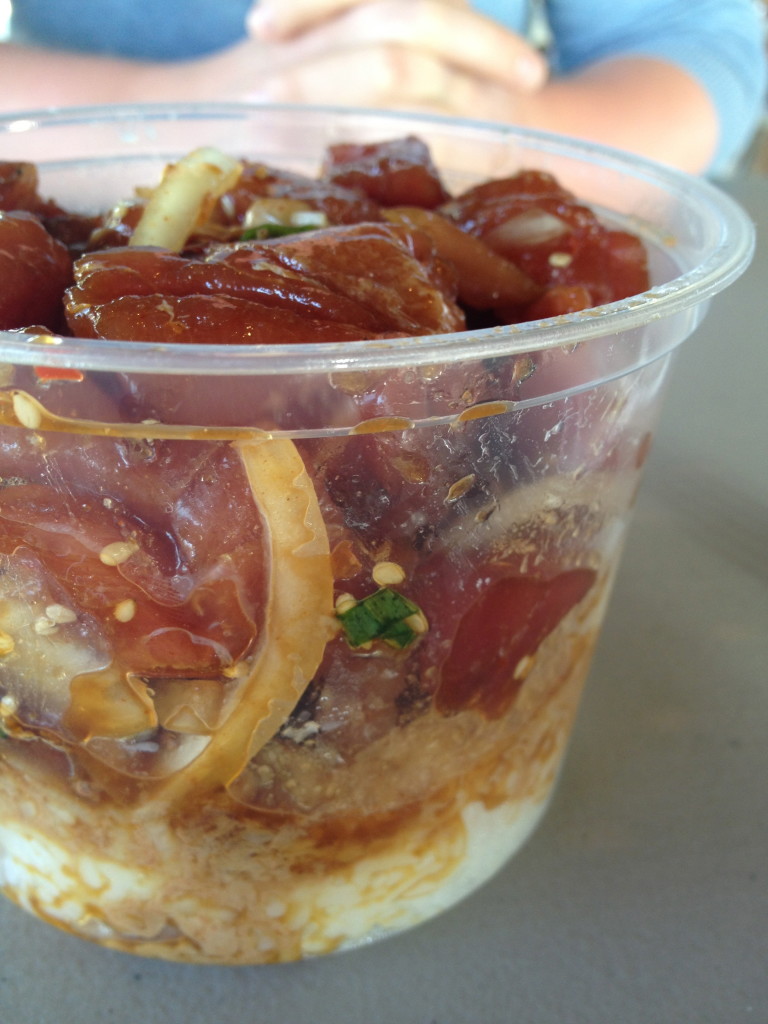 The Shoyu Poke was the owner's recommendation—as handwritten everywhere on neon orange signs—so we went with that. The hubs was a bigger fan than me, but by no fault of the poke. I'm just not that into soy sauce in large quantities. The tuna itself was top notch and I loved the addition of scallions, sesame seeds, and warm white rice.
POKE #2: Pono Market, Kapaa, Kauai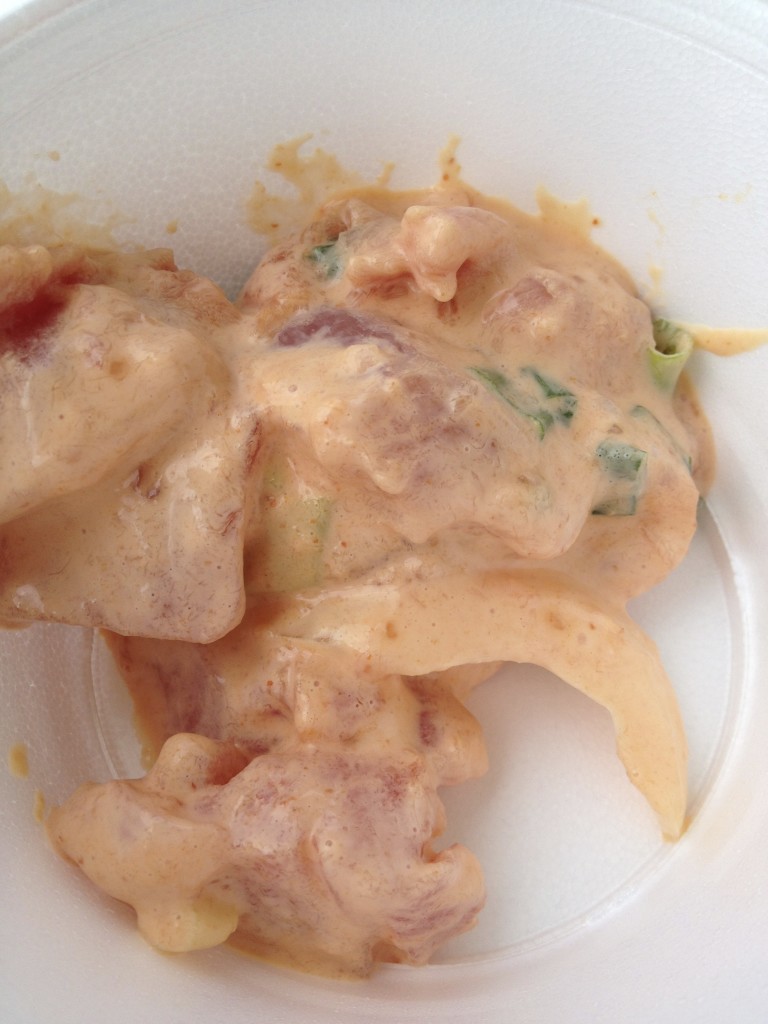 The hubs was against this one from the beginning because he was worried it was mayo-based, and he has a fear of mayo. Wimp. Personally, I thought that was about one bajillion times better than the shoyu, and only wished that I had asked for rice as well. The sauce also reminded me less of mayo and more of what you find in spicy tuna rolls (which we also got from Pono, SO GOOD). Still, the hubs is a texture eater and he decided the shoyu was more up his alley.
Though I expected to declare one island the poke winner, these were each so different and the hubs and I both liked them for different reasons, so I just can't! Man, is diplomacy a sign of growing up?
If you noticed that Oahu is better represented here, you would be correct. Our room in Kauai had its own little kitchenette area. This meant a lot of super low-budget meals at home, which was surprisingly nice. One notable was huli huli chicken from the local grocery store, but it wasn't much different from the roasted chickens you see at stores on the mainland.
Next up: the sweets to our savories.
xo!
the romantic