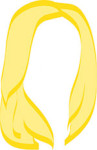 One of the best perks of my "real life" job is that I occasionally get to travel, and more often than not, to cities that I love. Back in February, when the east coast cold had me feeling blue, I was happy to escape to Los Angeles for a long weekend, even though I would be working for the majority of my trip. With work events on both Friday and Saturday, I didn't have too much down-time to enjoy LA, but when traveling for work, I always try to squeeze in at least one or two moments of "me" time to explore the area or enjoy a nice meal.
Coincidentally, one of my best friends, Michelle, was also in LA for work that weekend, so we decided to stay together in the same hotel to maximize the fun between work obligations. We were staying at the Viceroy in Santa Monica because of Michelle's work, but I had my eye on a West Hollywood restaurant, Salt's Cure, that kept coming up over and over in my search for "LA's Best Brunches." So, on Saturday morning, we hopped in my rental car and headed about 25 minutes east to West Hollywood to see if this brunch was all it was hyped up to be.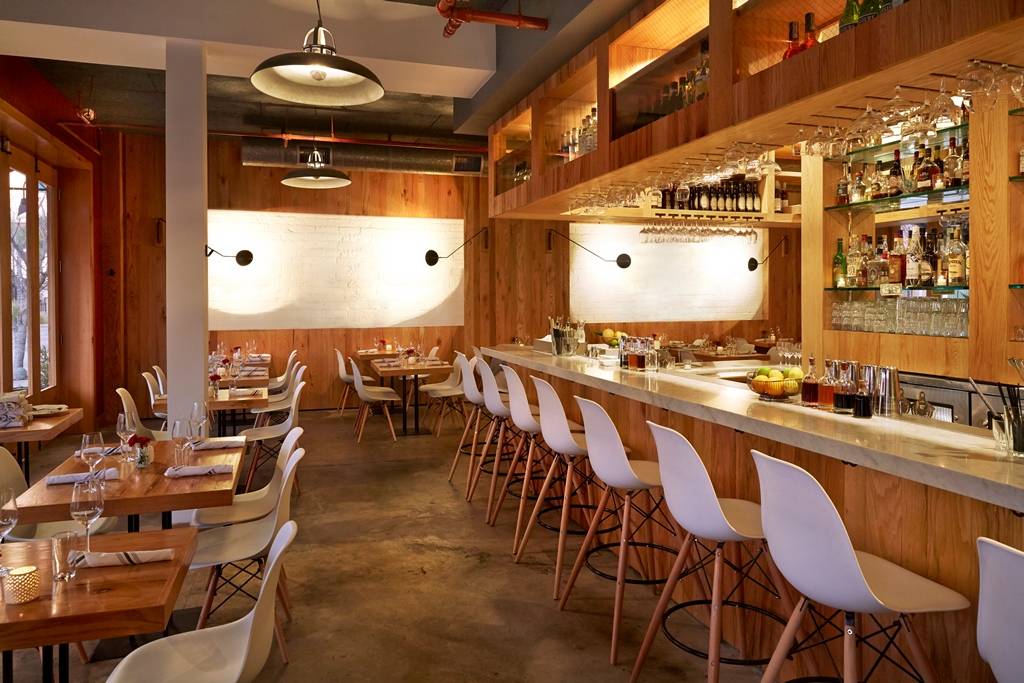 Photo via Salt's Cure
Salt's Cure is in the heart of West Hollywood, the trendy, artistic neighborhood known for The Sunset Strip and its eclectic and stylish hotels. From the sidewalk in front of the restaurant, you can catch a glimpse of the celebrity hotspot, Chateau Marmont, and in fact we spotted a celeb family during our meal (but classy girls don't name drop, thank you very much!). However, the entire vibe of Salt's Cure is so laid back and casual that you forget the very good chances of a celebrity sitting down next you. Everyone is there not be seen, but to eat delicious and California-grown ingredients, and that's right up this lazy girl's alley.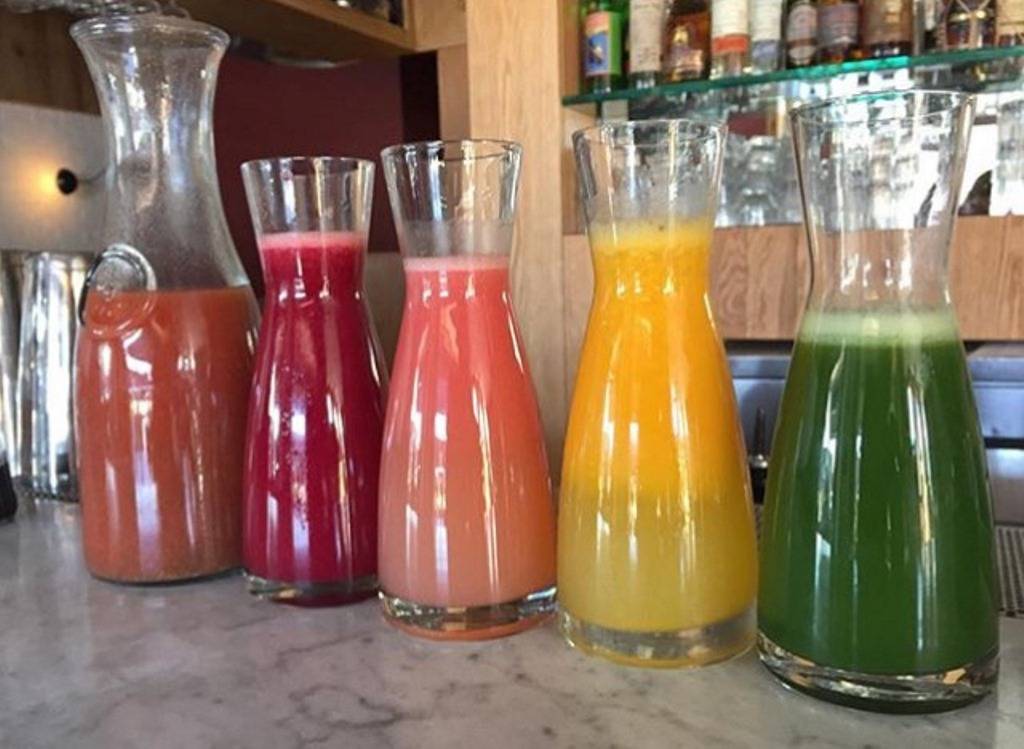 Mimosa options (be still, my heart). Photo via Salt's Cure
Because we were driving nearly two hours down to Orange County after brunch for my work event, I very, very sadly was unable to order my favorite brunch staple: alcohol. Rest assured, Michelle stepped up to the plate and very dutifully ordered a Bloody Mary so I could live vicariously through her. Her verdict? Fresh, subtly spicy, and alcoholic. The perfect combination.
We started our meal with an order of the Pretzel Bread, which, like everything on the menu, is made in-house with locally-sourced ingredients. The Salt's Cure chefs pride themselves on offering menu items that support the local community, so much in fact that they say "if it's not within six hours of the restaurant, it's not on the plate." We can get behind that kind of philosophy.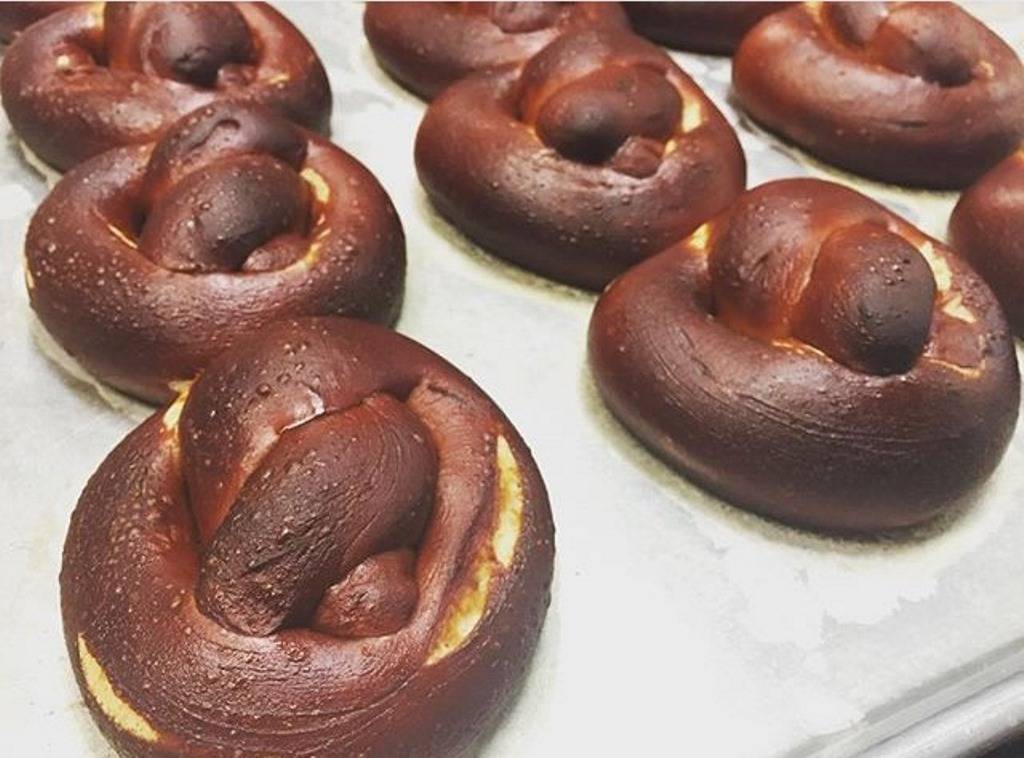 Photo via Salt's Cure
We had asked our server at the beginning of the meal what we had to try, and among a few other suggestions, like the butchered in-house pork chop, she was adamant that we try one of Salt's Cure's most popular dishes. Enter the Oatmeal Griddle Cakes, which have forever changed my life and henceforth no brunches will ever be the same again. Served up simply, without any garnish or touch of flare except for a generous dollop of cinnamon butter, the Oatmeal Griddle Cakes were by far the standout dish of our brunch and perhaps all brunches anywhere. The expression "melt in your mouth" has never rang so true. If you don't believe me, do yourself a favor and fly to LA, head to West Hollywood, and order it yourself, and don't be surprised if you find yourself ordering seconds and thirds and NO JUDGEMENTS, maybe fourths.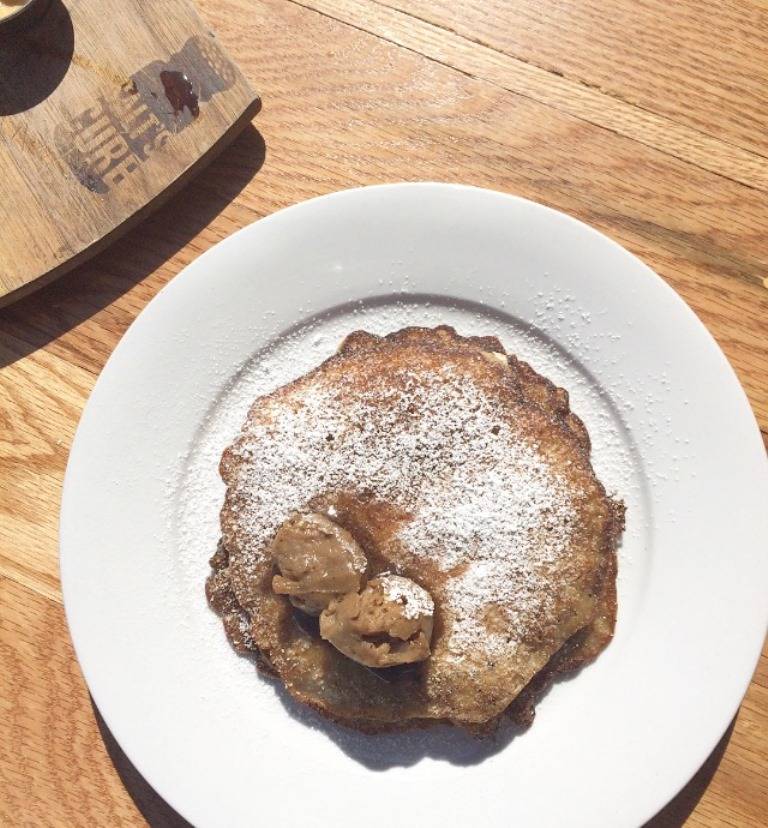 God's gift to brunch-goers everywhere: Oatmeal Griddle Cakes
Though we could have happily stuffed ourselves with countless orders of the griddle cakes, we decided it was only fair to test a few more menu items. Up next: the Braised Green & Cheese Quiche and the Chicory Salad, topped with goat cheese, bacon, radish, and milk curd. We couldn't order two main dishes without a side, natch, so we got a plate of the Roasted Potatoes too. It was evident in both the quiche and the salad that Salt's Cure truly lets the ingredients in their dishes speak for themselves, whether its fresh farm eggs, crisp greens, or tangy house-made cheese.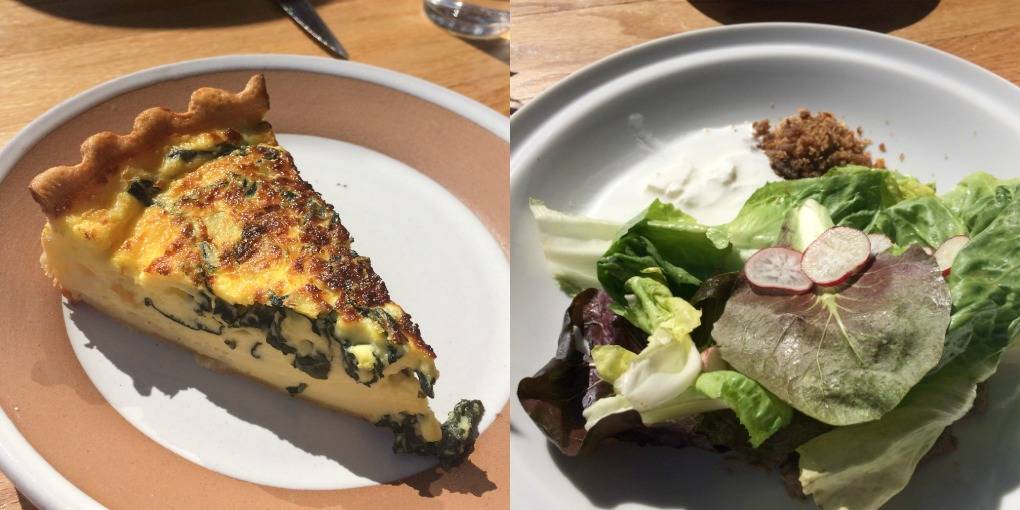 After sharing five dishes, we were absolutely filled to the brim, though if someone FORCED me to eat more Oatmeal Griddle Cakes, I guess I could have…
So did Salt's Cure live up to the "best brunches" hype? A big, fat, California-loving YES. Because the food at Salt's Cure is so dependent on local ingredients, its menu changes super frequently. My point? Get thee to Salt's Cure tout de suite so you don't miss out on any of the great dishes we tried. And, we'll be returning next time we're in town to see if anything can compare to those griddle cakes, fo sho.
xo!
the wino
We were guests of Salt's Cure during our brunch. All opinions are my own.