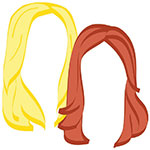 Just when you thought you've read all there is to know about our summer getaway to Boston, we saved the best for last. It's as if the itinerary planning gods knew that on our last night of #LTeastcoast, we needed something so incredibly… East Coast.
The Union Oyster House is America's oldest restaurant. You read that correctly. The restaurant has been a Boston institution since the pre-Revolutionary days, and began serving up its signature seafood-focused menu in 1826. It's been continually operating ever since and has welcomed more famous people than you can comfortably cram into one picture (they tried). Most notably, of course, is Boston's own John F. Kennedy, whose preferred booth is marked with a commemorative plaque.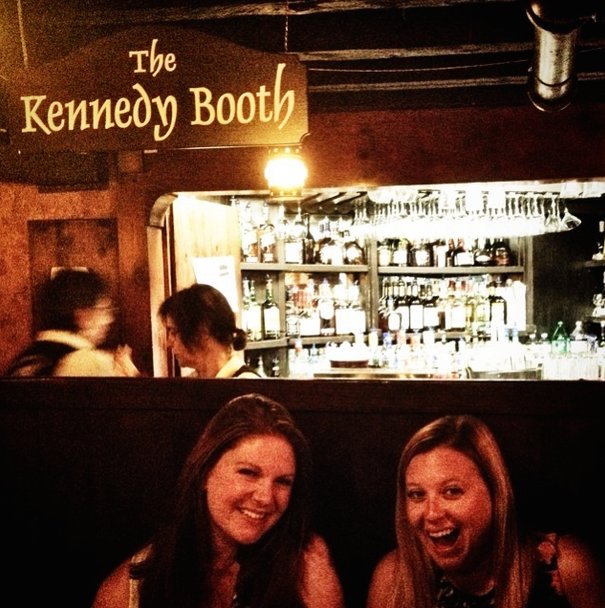 And listen, while that's all well and good, here's where the really important fact comes in. Are you ready?
The very first toothpick to be used in the United States was used at the Union Oyster House. YEP. Thanks to a dude from Maine, Charles Foster, these restaurant necessities were first imported to the US from South America. To guarantee they would take off, Mr. Foster hired a handful of Harvard boys to request a post-meal pick each time they dined at the Union Oyster House.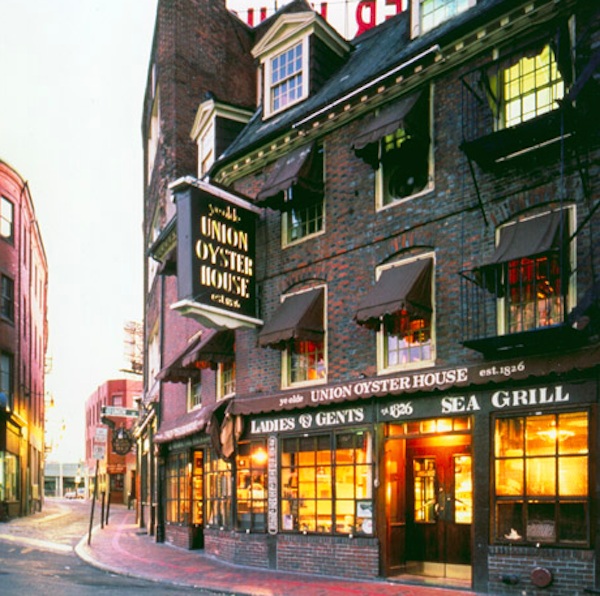 Photo courtesy of Union Oyster House
Clearly, when a city boasts a historical landmark such as this, no trip to Boston would have been complete without a visit. For our final night in Beantown, rather than sob into our bowls of chowdaaa, we would enjoy a meal spent in one of these booths, picking at lobster and soaking in all the New England goodness we could possibly manage. And how, exactly, did we manage, you ask?
Deliciously, mais oui!
We started with the oysters (because, chello) and clam chowder for everyone, which, we decided, was the very best of the trip — and that's a big honor when you're in official chowder territory, you know. From there, we moved onto what can best be described as a crapton of seafood. There was a sautéed seafood medley over linguine for the romantic, and pan seared shrimp & scallops over rice for the hubs. The wino opted for lobster scampi because she's decadent like that, while her other half, a traditionalist, ordered Ye Olde Seafood Platter. Actually, we should have asked more questions about that one, because did they have deep fryers in ye olden times?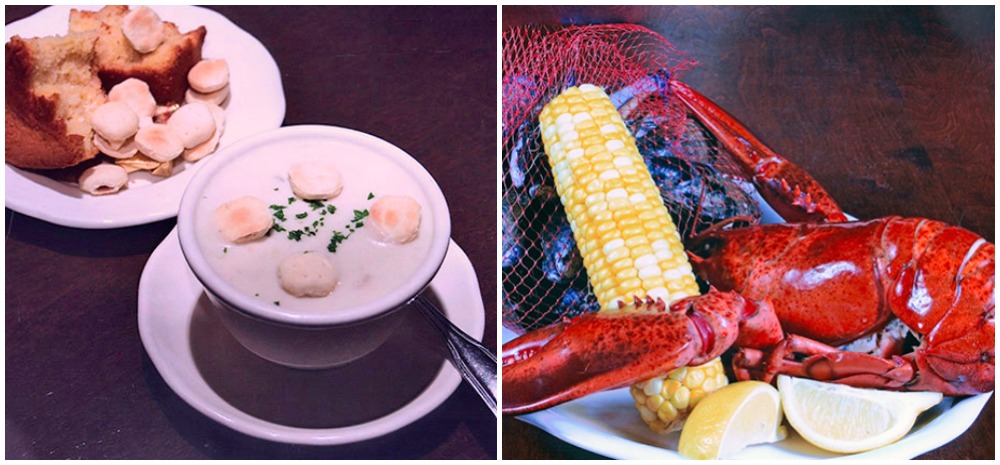 Photos courtesy of Union Oyster House
We wrapped up our meal with one order of Hot Indian Pudding and another of the Warm Apple Crisp. All of it, naturally, paired with wine for the ladies and pints for the misters — true Camelot style, what can we say. By the end of the meal, we each sat back in our booth, buttons popping as we considered never, ever moving again.
Fortunately, they had us on our feet again, and it really was for the best. It turned out, exploring the restaurant in its entirety was the perfect way to work off just a few of the calories. Following the general manager, we found ourselves climbing secret staircases and peering into a few of their private dining rooms, winding around corridors and ending up in huge rooms you would never have guessed were hidden inside if you just strolled on past the Union Oyster House. It turns out, they can accommodate groups as small as 20 or as large as 250 — and on a Saturday night in June, a constant rotation of locals and tourists churned through the front doors.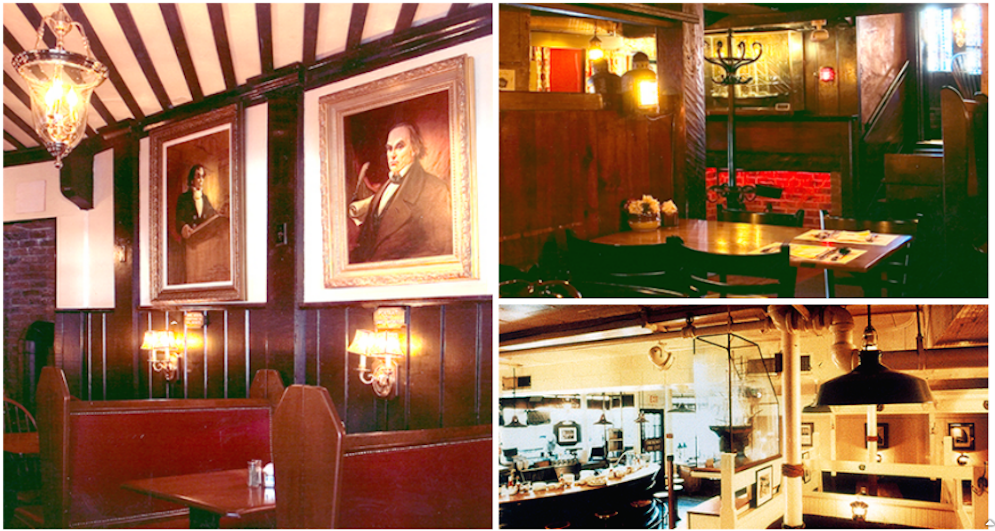 Photos courtesy of Union Oyster House
In case you have the very irrational fear that there's not enough seafood in Boston to feed all these human lobster traps, there is — because, as we learned, it's not improbable that they can offer you a 10-pound behemoth to cure your craving. Obviously, we requested to hold him, as well as steal him and set him free.
"Sure, but we'll just catch him again. No lobster who crawls into that bay makes it out alive."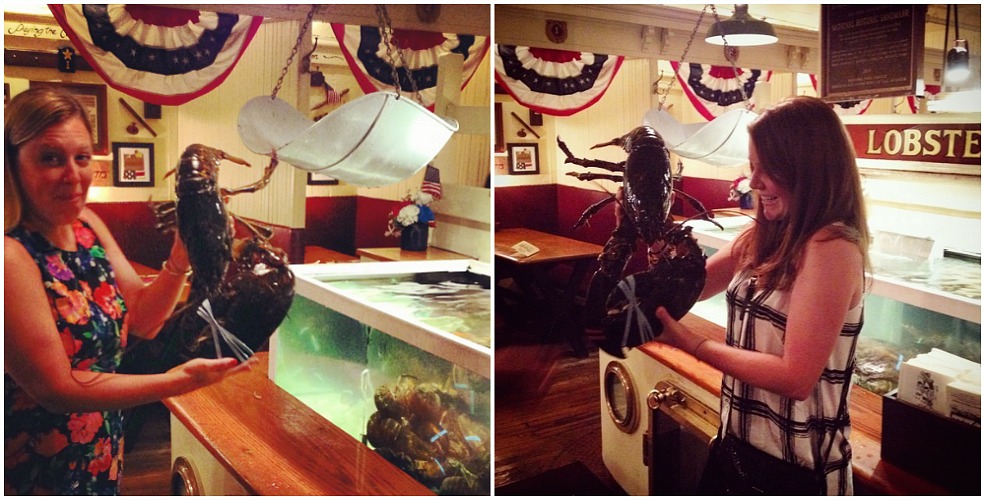 After we said goodbye to our doomed friend, we thanked the staff for their extremely warm and friendly service, grabbed a few toothpicks, and made our way back to our hotel where we were fully prepared to fall into a major seafood coma.
xo!
the romantic & the wino
– As guests of the Union Oyster House, we were treated to our meal in exchange for our review. All opinions are our own, as they always are, but all historical facts are pulled from their official website… because it would be a really weird trick for us to make up the fact that toothpicks were first used in America at this restaurant.