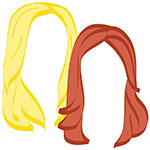 Now that the countdown is on until the romantic says au revoir to New York (and the wino is teetering on severe depression), we've been trying to cram in all the Big Apple fun we can manage. One thing the romantic will miss most about New York? The food. We know where to get the best bagel, the best slice of pizza, the cheapest Pad Thai, and the Chinese that comes with free wine (that's a real thing). Though foodie adventures are sure to abound around the world, there's just something about a city that offers freshly baked cookies delivered right to your door, you know?
Having already conquered New York's beer world earlier this winter, we braved the cold for yet again for another walking tour. This time, we turned our attention to Foods of New York to help the romantic pay respects to the city's best eats one last time.
As two lazy Upper East Siders, we find it incredibly inconvenient to go anywhere to eat downtown (where the streets don't even follow a grid system–can you imagine?!). So, when choosing from one of the five tours that Foods of New York offers, we went with the neighborhood that gets the least amount of our love: Greenwich Village.
When people talk about the Village, it's really more a state of mind than an actual neighborhood. Like many New Yorkers, we pride ourselves on knowing the streets that divide Noho from Soho and the East Village from the West. However, we've always been a bit confused when people talk about Greenwich Village. Namely: when discussing with the hubs, all three of us had completely different ideas of where, exactly, it's located.
It turns out, Greenwich Village was the name historically given to the region below 14th St to Houston, stretching all the way from the Hudson to the East River. Our tour focused on the quiet tree-lined streets of the West Village, which is one of the most expensive and coveted neighborhoods in the city. Though we'd always attributed its fame to the cute cobblestones and fancy brownstones we'll never afford, Foods of New York showed us that it's the food we should have been lusting after all these years.
Also, fun fact courtesy of our tour guide, Cindy: when the street signs are brown instead of green, it means you've entered a historically preserved neighborhood. (Nerd points go to the romantic for audibly reacting to this fact. MAYBE she just wondered that for years and years and now it all makes sense, OK?)
Annnyway. Let's discuss the highlights.
New York pizza > anyone else's pizza.
New York pizza really IS the best pizza, and we can finally tell you Chicagoans where to take your weird deep dish. New York's water, which comes from the hills of Westchester county, is the secret behind why pizzas and bagels just taste better here than anywhere else in the world. Seriously! Cindy said it, so it must be true. Science.
Though we all know our pizza is generally the best, you can ask 100 New Yorkers where they recommend for the best slice in town, and you'll never get the same answer twice. Foods of New York took us to Joe's Pizza, a Greenwich Village staple. Key distinction? Instead of sauce, Joe's uses San Marzano tomatos (perfecto), and their pies always come fresh from the oven, rather than sitting behind plexiglass and reheated to order.
O&Co. will make you question your entire life.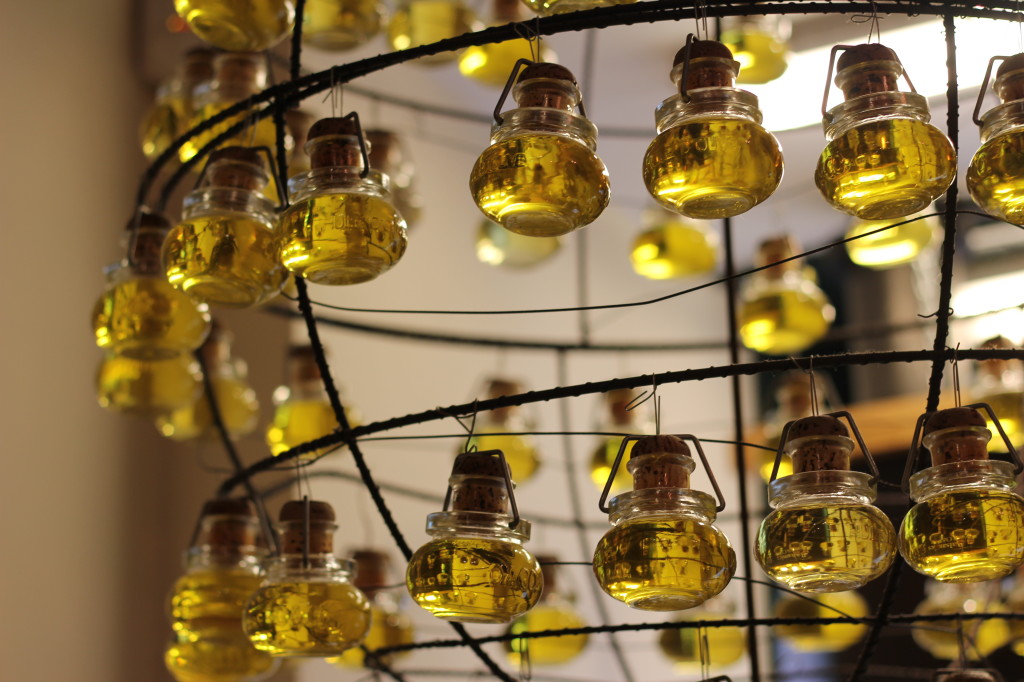 We don't want to brag or anything, but for two 20-something New Yorkers, we know our way around a kitchen–and, most of the time, our recipes include a pretty large helping of olive oil. This is why, when our group crammed into the adorably quaint O & Co. for a quick tasting, we soon found all our dreams shattered. As our host passed around a tray of toasted baguette coated with their limited edition Basil Olive Oil and sea salt, he told us all about how the good ole U-S-of-A has few–if any–regulations on olive oil production. Many of the big-name brands that we're used to seeing in stores actually aren't even olive oil at all… and most are so hyped up on preservatives that we consume them way after their recommended shelf life.
Gross, right?
Thus, our bottle of Bertolli will never be viewed the same way again and we are ruined for olive oil forever. (But like, also, should you place an order online, move the Parmigiano Reggiano con Tartufo spread to the very tippy top of your shopping cart. YA WELCOME).
Authentic New York/Italian goodness is true comfort food.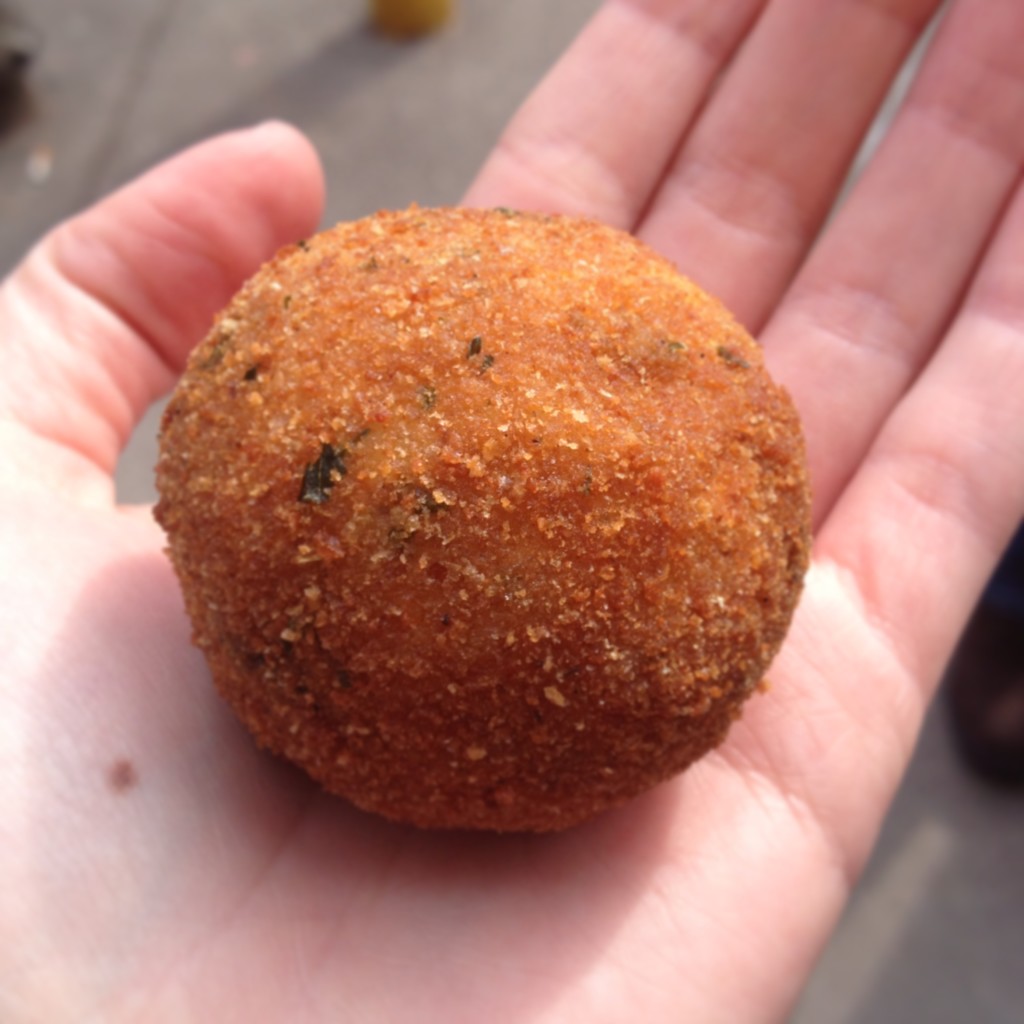 Another favorite stop of the tour: Faicco's, one of the oldest Italian specialty stores in the city. Located right on the heart of Bleeker, Faicco's is known for its pork products and Italian delicacies. We got to try their famous arancini (read: FRIED CHEESY DELICIOUNESS, see above) and a pork sausage and cheese… thing that we can't remember the name of but can attest to its yumminess. Though we didn't get a chance to try any of their sandwiches, we hear they offer some of the best in the city. And we believe it.
We could go on and on about every stop we made, but honestly? It would never live up to taking the tour yourself. Other highlights included Milk & Cookies Bakery (to die), Centro Vinoteca (where we had already dined once with G&Q!), and Murray's Cheese (yes, please). The historical highlights were all an added bonus.
All in all, we're slowly learning that the walking tours we've always kind of judged are actually an amazing way to learn more about a city.
…so, like, does this mean we have to apologize to all the tourists we've scoffed at as they meander down the street looking completely in awe?
xo!
the romantic & the wino
P.S. Have you heard? We were nominated for a 2013 Bloggie Award for Best Travel Weblog!! We'd pretty much be the happiest ladies ever if we won, so if you like what you read around here, show us some love.
P.P.S. Yes, Foods of New York was kind enough to host of for this tour, but that doesn't mean we'd lie to you. They really just know deliciousness, and we'd return to every stop on the tour for more eats!