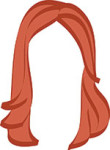 Back when the hubs and I realized that going home for the holidays wasn't in the cards, I developed a coping mechanism:
I'd close my eyes and picture us strolling through European Christmas markets, vin chaud in hand. There was snow, there was merriment. Wherever we spent our holiday season, it would be joyful and by GOD, it would be Dickensian.
So, we went to Marrakech!
Cha, I know. But Morocco has been at the top of our list for such a long time, and though I had never equated it with a winter escape, something about turning this whole thing on its head and going in December, just before Christmas, felt right. And also, airfare was rull cheap. Ok, so, fine, the main reason is that airfare was rull cheap.
But! As it turns out, going in the off-season totally worked to our advantage.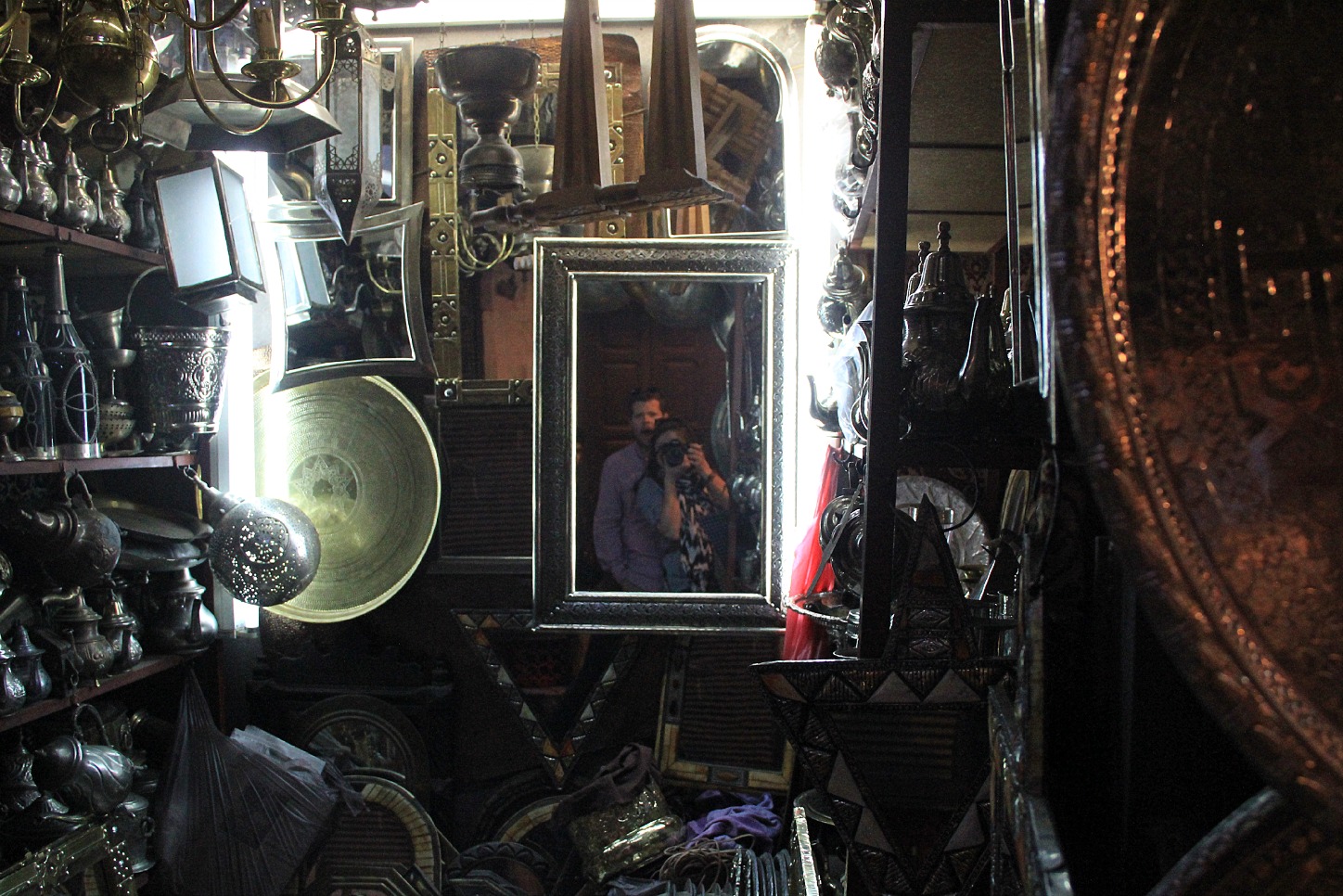 Where to stay // Thanks to some leftover SPG points, we scored two nights at the Le Meridien N'Fis for $0. The resort is outside the medina and located a little bit away from the heart of the city, but that's not necessarily a bad thing in Marrakech. We walked to the medina on our first day and while doable, it wasn't really enjoyable. We opted for taxis from that point forward, which cost $2-3 USD per ride. Grabbing a cab was an overwhelming experience in itself, but more on that later.
We didn't realize that we were heading to Marrakech during a huge FIFA match involving Brazil, so this meant that both our early morning flight and our hotel were full of overzealous Brazilians. It added an extra layer of excitement to the general vibe, but also divided the staff's attention up a bit. The concierge, in particular, seemed totally overwhelmed, but everyone was mostly cheerful and the property itself is beautiful.
I did feel an affinity for the local Raja Casablanca fans after spotting this football lover trying to dress a donkey in the team flag. Note the pure joy on the face of his friend, and the pure confusion on the face of the donkey's owner:
[click to enlarge for your viewing pleasure]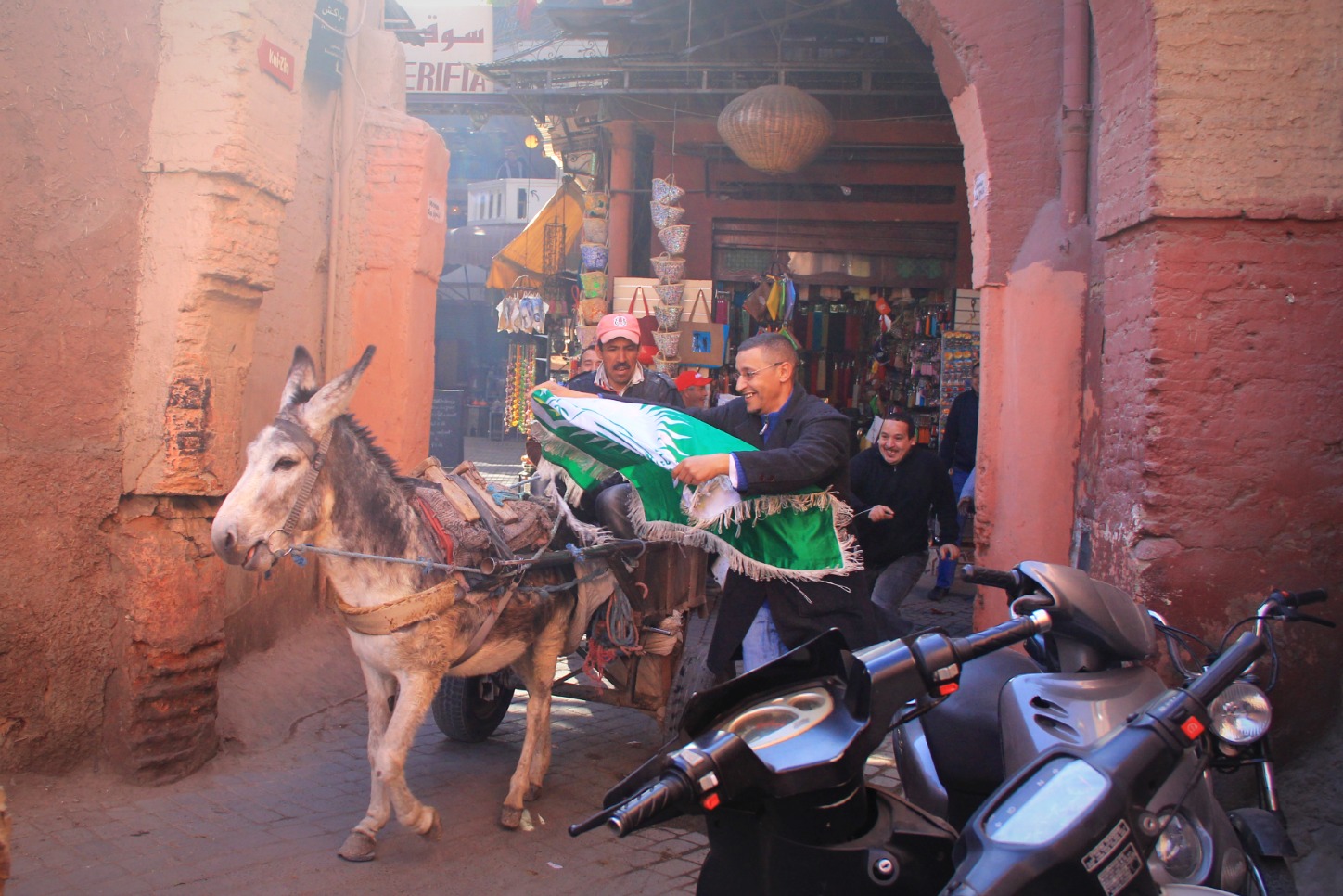 On our last night in Marrakech, we stayed at a traditional riad inside the medina. The hubs had used Hotels.com while in London a few months prior, which got us to our tenth resi and earned us one free night. This trip was basically one giant lesson in why rewards programs are awesome. Through Hotels.com, we found Riad Monceau—and it was perfection. It was tucked down a little side street off of the hustle and bustle of Jemaa el-Fnaa, and finding it each time we returned felt like pure magic.
The main lesson here? Split your time between a riad and a resort—especially if you're there in the summer. We were missing about twelve degrees to warrant a dip in the pool, but it didn't keep the sun loungers from looking inviting. The Riad, on the other hand, was a far more traditional Moroccan experience that offered insight into local hospitality and made us feel like we were transported to a different time and place entirely.
Basically, I can't pick a favorite, so you shouldn't either.
Where to unwind // I'm not usually judgey about what others deem important in their own travels, but if you skip the traditional hammam experience in Morocco, you are doing everything wrong.
I'm joking—but it really is worth experiencing if you've never had a hammam before. Up until this point, I had not.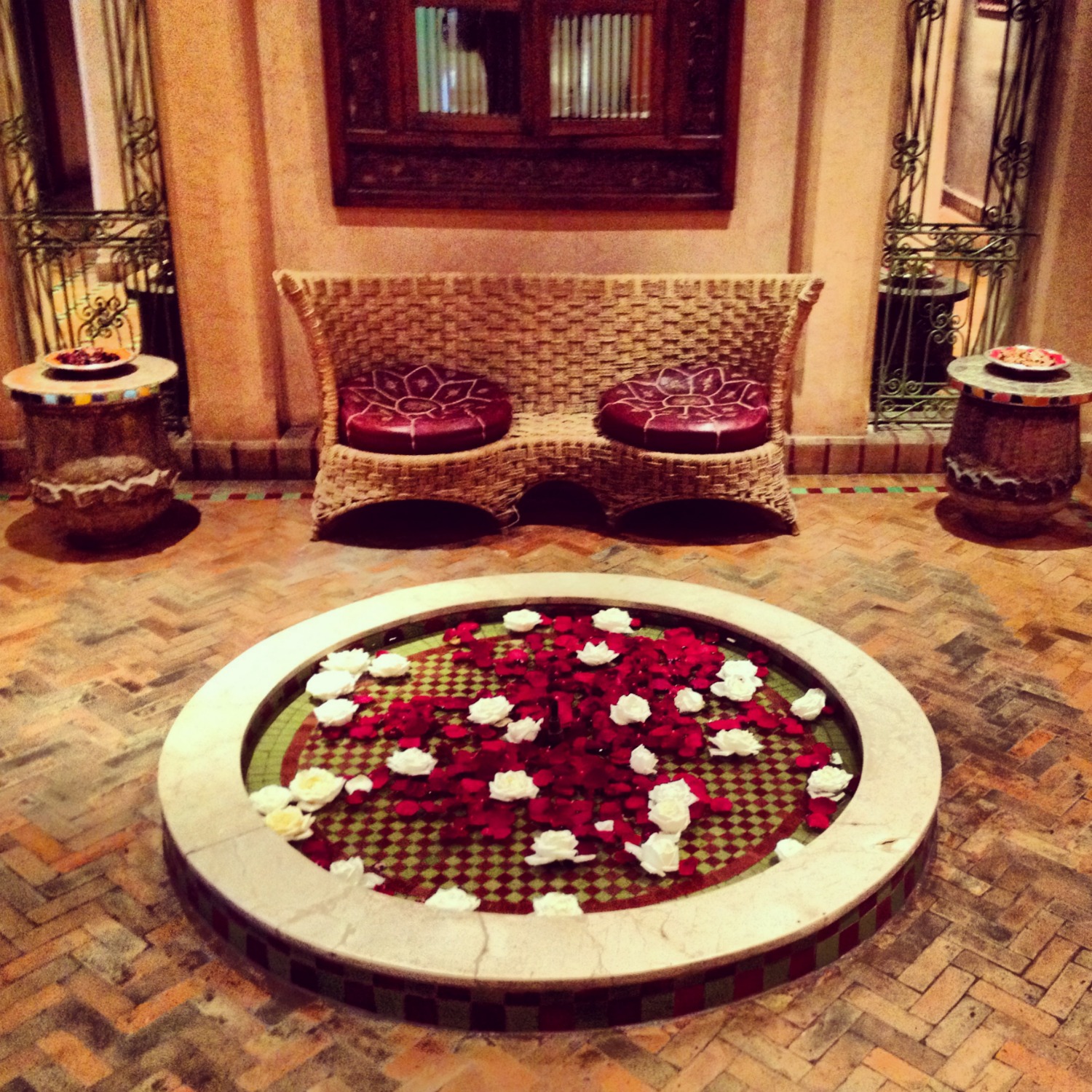 We did ours on our first day, at Le Meridien's in-house spa. It was, quite possibly, the best thing in the world after a crampy four-hour flight.
If you're unsure of what a hammam entails, this is how ours went:
Briefly shower without soap.

Sit in a steam room until you're pretty sure you're going to either pass out or die.

Briefly shower again, this time with soap

—

for use on your body only (no face).

Lay on a marble slab while a woman uses a scrub, a loofa, and the strength of Hercules to aggressively rub your skin until JUST before it breaks.

Moisturize!
This was then followed by an amazing 30-minute massage, and resulted in jellylike limbs and the smoothest, softest skin I've ever had in my entire life. Also, the masseuse told me she sloughed off about two kilos of dead skin, so. Let this be a lesson to exfoliate?
How to grab a cab // Never an issue at the resort, but when left to our own defenses? Mess.
We quickly learned that once you make eye contact with a cabbie, they assume a binding contract has been made. If you then realize that their cab is an unmarked vehicle and try to hail an actual cab, they become EXTREMELY territorial and tell the other cabbies not to steal their business. We had one situation outside of Jemaa el-Fnaa where a legit cabbie locked his doors so that we couldn't get in, while guys swarmed us, trying to get us into some unmarked car. You're still at risk for crappy business practices once you're in the cab, too…even if it is marked. We had one driver change the price four times between pick-up and drop-off, and another who refused to drive up the driveaway at Le Meridien, instead just dropping us off on the street and pulling away.
The most important thing to remember is this: it's not personal. Remain firm, calm and friendly. Just like in the souk, negotiating every aspect of the cab ride is a game. It's a strange experience, but we really never felt unsafe—just occasionally frustrated.
Where to escape // On our second morning, we made our way to Jardin Majorelle, which has been famously owned by Yves Saint Laurent since 1980 and is where his ashes were scattered after his death in 2008. By chance, we were informed just before our visit that there were two free passes to the Jardin in our room at the Le Meridien. We had missed them, so it was a nice surprise—and something to look out for because this wasn't noted when we checked in.
We walked along the path, snapping pictures and looking for glimpses of bright blue and yellow hidden among the cacti. It was serene, calming, and a nice break from the mayhem that the rest of the city is constantly dishing out.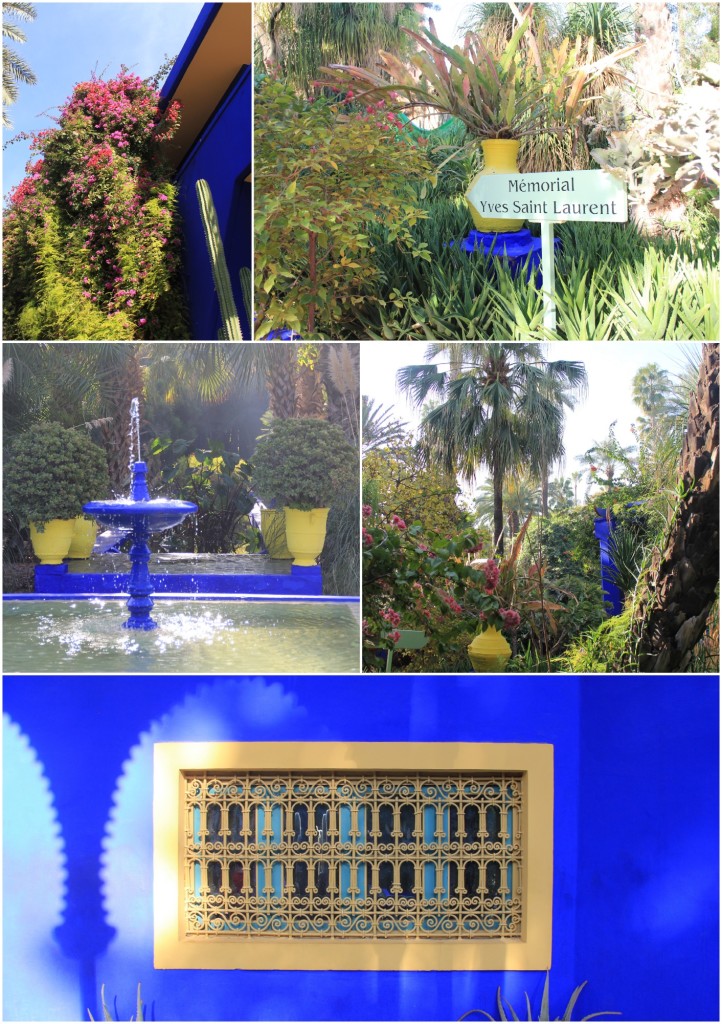 Where to eat // This is probably one of the most overwhelming aspects of Marrakech, so preliminary research is definitely recommended…and you know how much we love research. (Hint: we don't.)
Though we picked a random café for lunch on our first day, it was clear that this was not the way to operate. Through a mix of strategic Googling and the always useful panicked tweet, we discovered—and loved—the below:
Fresh Orange Juice – Any stall in the middle of Jemaa el-Fnaa, especially during the day while the sun is at its peak.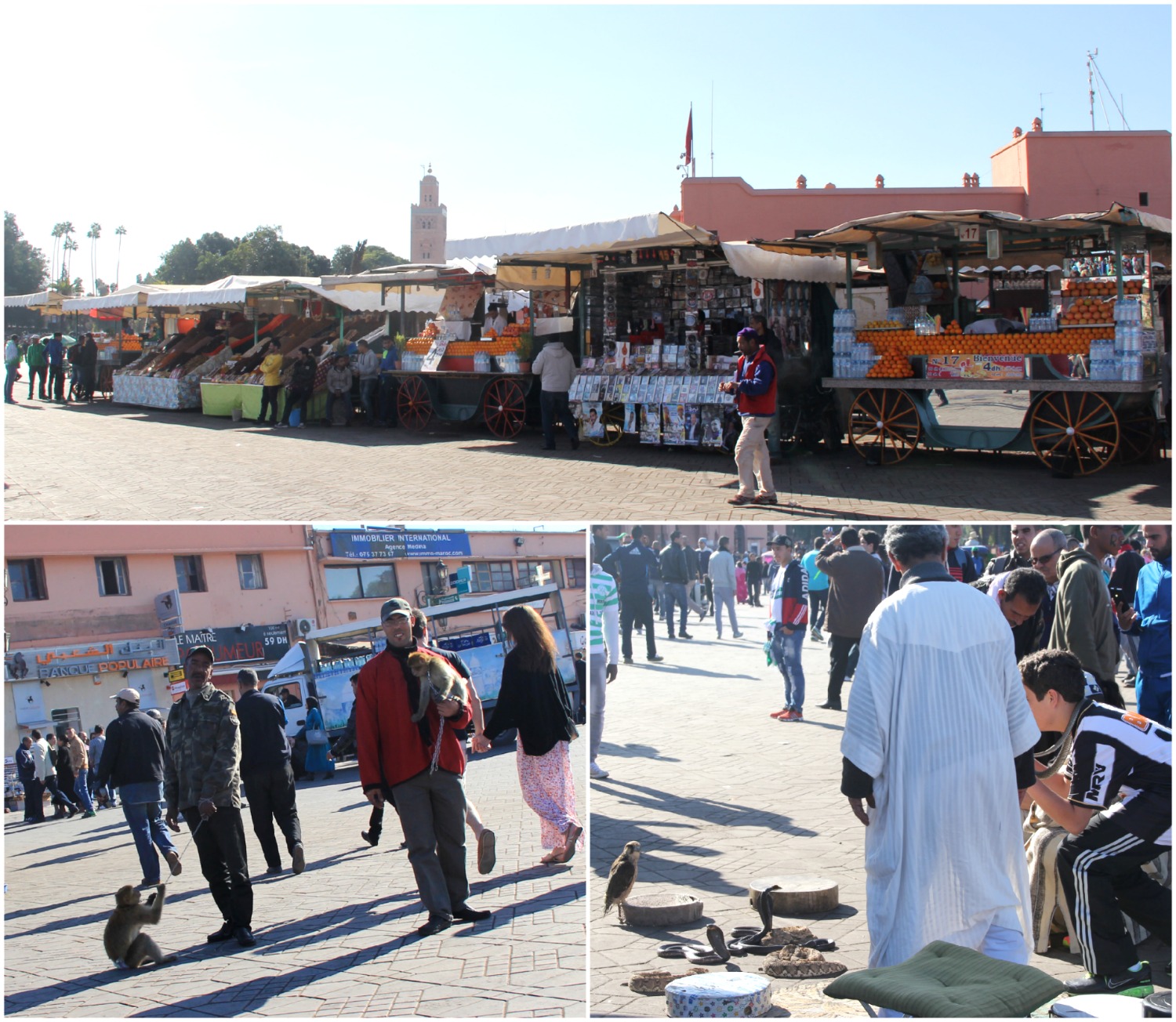 Do note that the animal tourism happening just in front of the juice stalls is difficult to watch. The monkeys were particularly heartbreaking, and the hubs got chased around by that man on the bottom right and a snake. That wasn't actually hard to see, that was hard to hear. The hubs can be surprisingly shrill.
Anyway, I don't like pulpy juice (tastes like brains), but this was something else entirely. The flavor was both sweeter and tangier than normal orange juice, and I've been craving it ever since.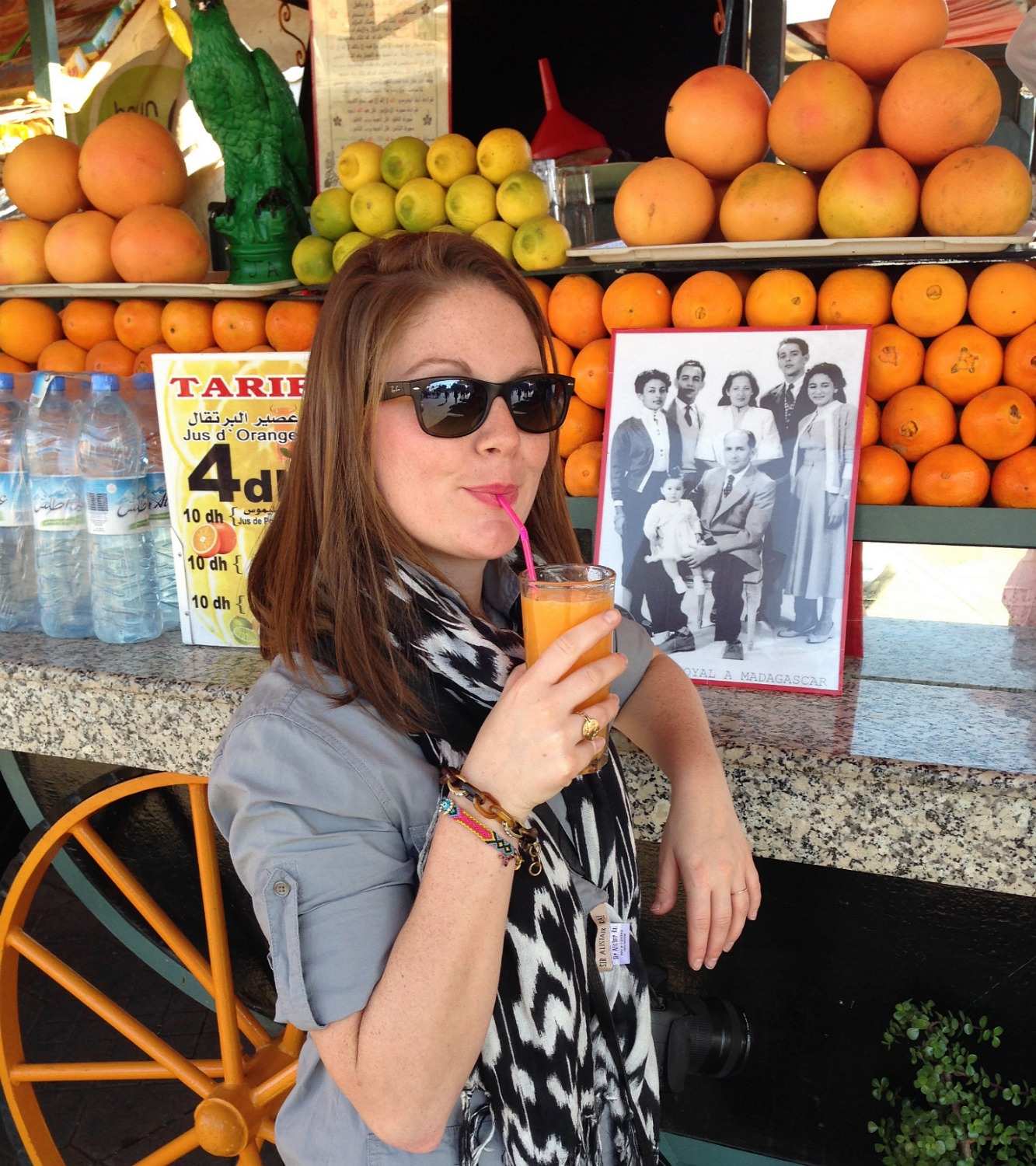 That family photo in the background could have been dramatically improved if everyone was holding a fresh juice, no?
Stall 32: Chez Hassan – Dinner in Jemaa el-Fna is overwhelming at best, and a crowd-hater's biggest nightmare at worst.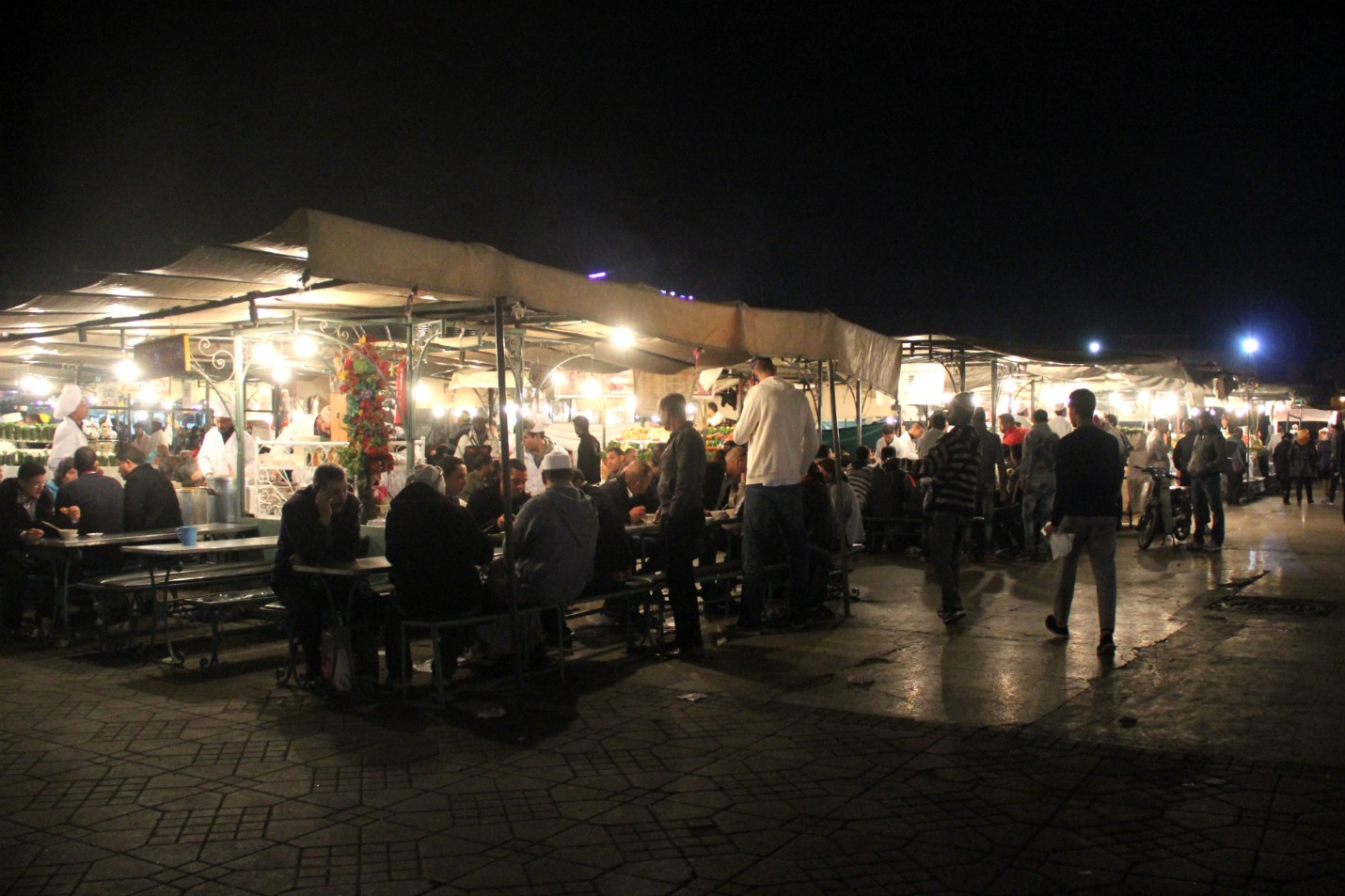 Luckily, we heard raves about Stall 32 before we made our way to the nightly street food extravaganza, and this made our job easier. As you walk through the market, vendors cheer (and jeer) at you, block your path, and will even grab your arms in an attempt to lead you toward their stands. As you're pulled in one direction, a competitor will block the way and tell you "come to my stall, we won't touch you! No touching!"
Picking a stall under duress was not my idea of fun, as I am easily convinced by marketing ploys. If it were up to me, we would have eaten at the stall of the guy who promised me no diarrhea for two years, because I found him charming.
However, if you do want to be adventurous and just pick one at random, a few tips:
Follow the locals and look for the crowded stalls. This is probably better advice if you're there in the off-season when some of the stands are totally empty, but note which ones are drawing major crowds.
Don't get upset. Again, haggling is not personal. I didn't like strange men grabbing my arms and leading me to a plate of mystery meat, but I was a dollar sign and nothing more. A polite smile paired with a firm "no" went a long way, and they almost always immediately backed off.
After dinner, pick any stall with a giant copper kettle and try the cinnamon tea and spiced cake. Neither flavor was up my alley, but it's a thing.
Watch out for the men fishing for bottles of soda because what?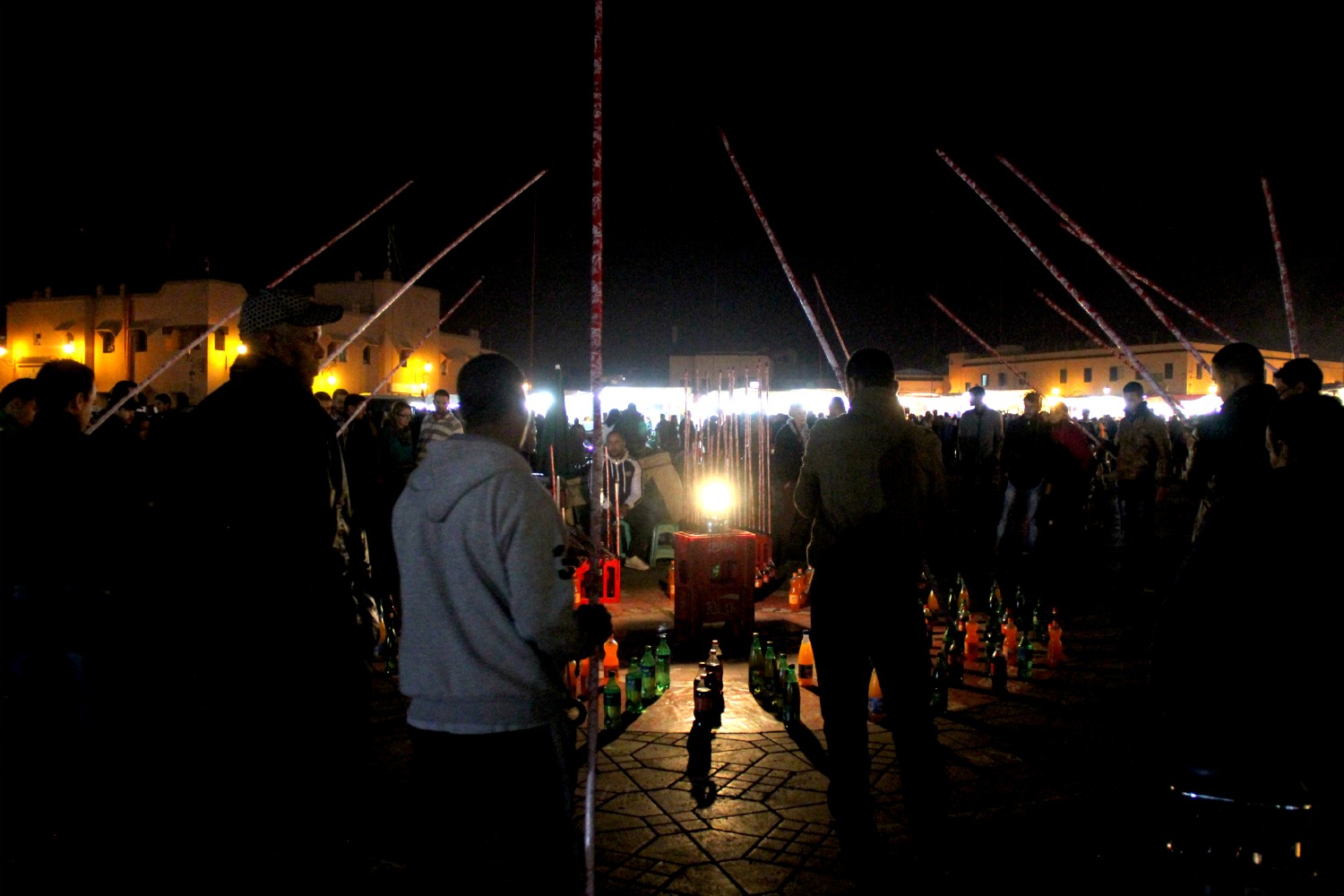 If you do go to Stall 32, get the lamb sausage and load up on the bruschetta-like dip and bread: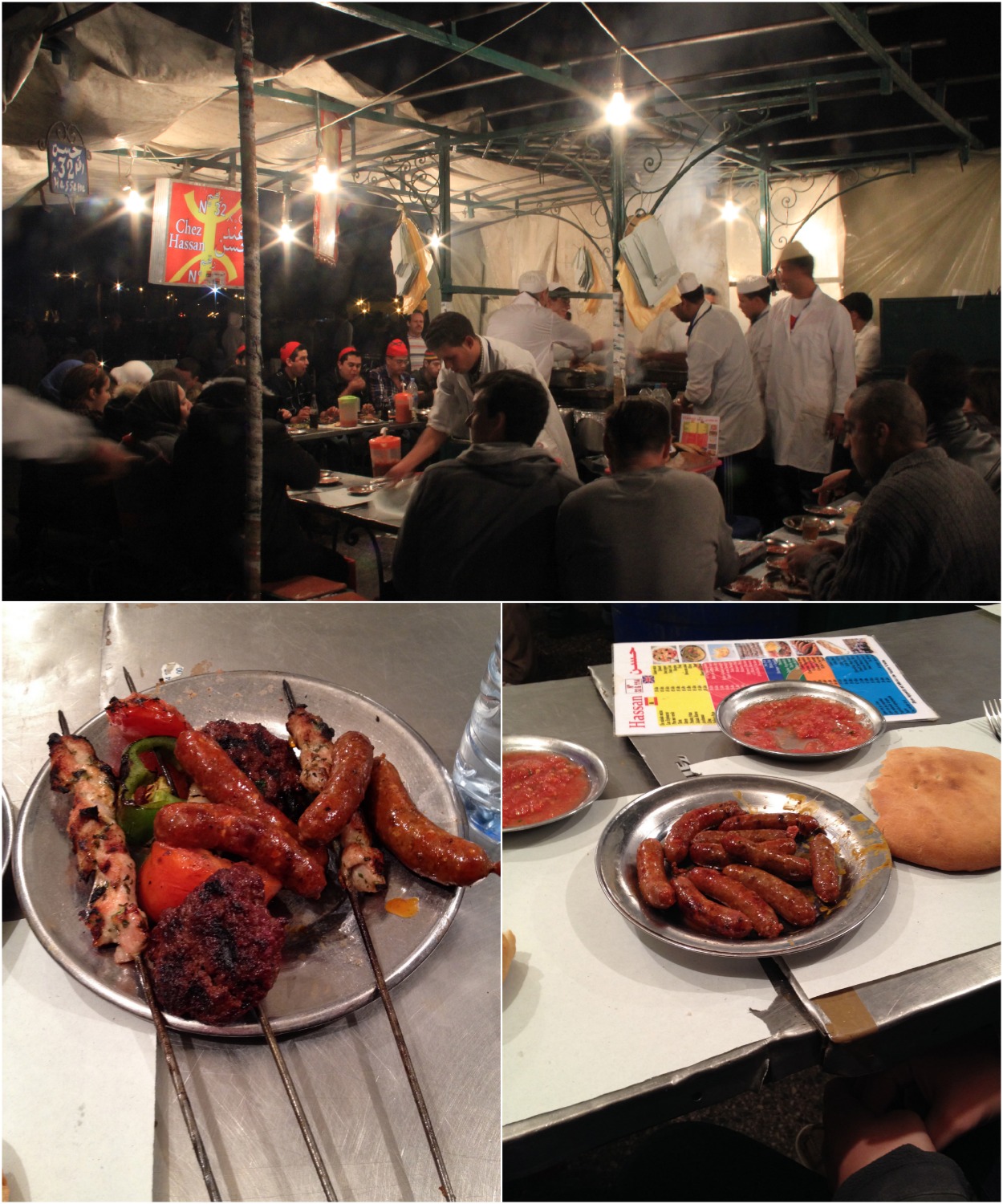 They were to die for, and things I would never in a million years have imagined I'd like. You can get the sausages either kebab style or in a pita-like sandwich, and I don't even know which one I liked more… because we obviously tried both. The hubs also liked the kefta (meatballs) and was meh on the chicken; I didn't like either and preferred the grilled veggies and spiced olives.
Terrasse des épices – This was our mid-day stop in the souks and is located just off the spice market (épices is French for spices). It was nice to climb up to the roof, away from the sensory overload down below. We enjoyed lunch and Moroccan mint tea under the sun. PLUS, hats.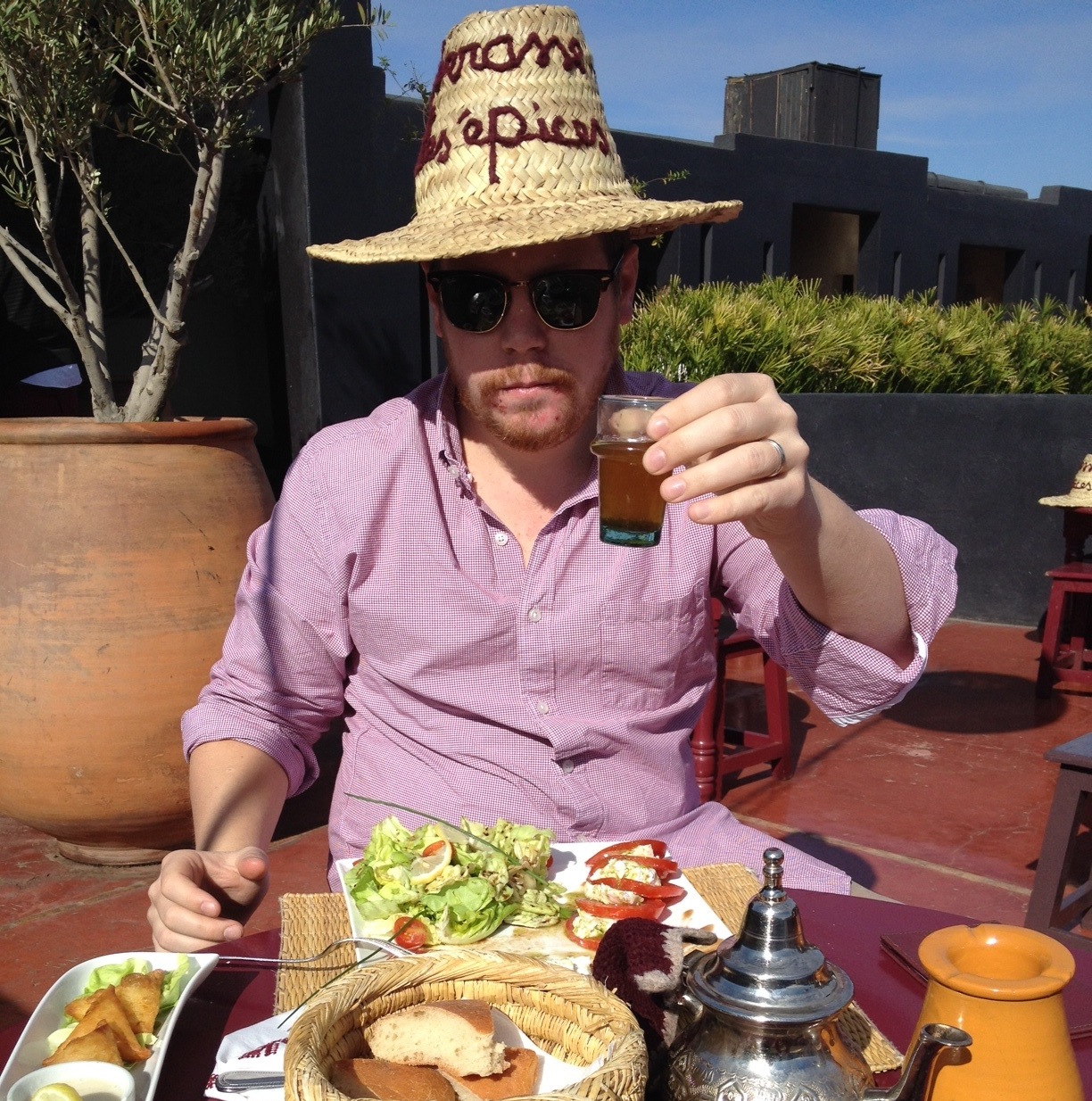 Dar Cherifa – This was definitely my favorite restaurant in Marrakech, mostly because it was so beautiful. It's a literary café in a restored house from the 15th century, and is dedicated to promoting Moroccan history and culture. There were racks of magazines, shelves of books, and cozy couches lining the walls. I had my final bowl of kefta tajine here (my new favorite Moroccan food, FYI), and it was our last glimpse of Marrakech before heading to the airport.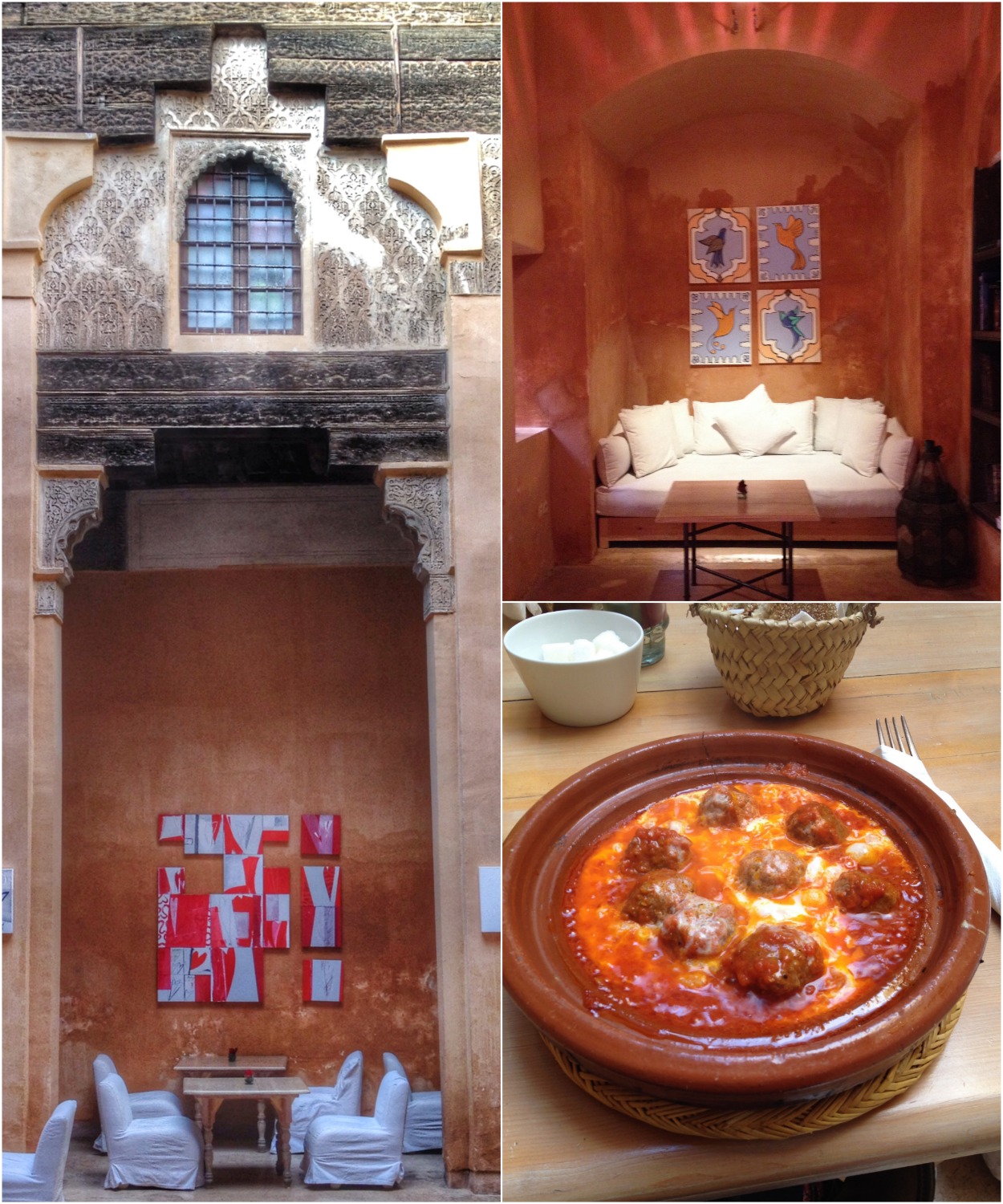 Where to bring the extra memory card // Inside the medina, and, more specifically, the souk. I don't even have words for what it's like to walk through the souk, so I'm going to let my photos do the talking, here. It was amazing and magical and really does feel like it's out of some sort of fairytale. Aladdin is the obvious comparison, I know, but even that doesn't  really do it justice.
…but don't think I didn't hum a really sweet Arabian Nights/One Jump medley.
Anyway, my favorite day in Marrakech was spent weaving our way between vendors, taking in the sights and sounds.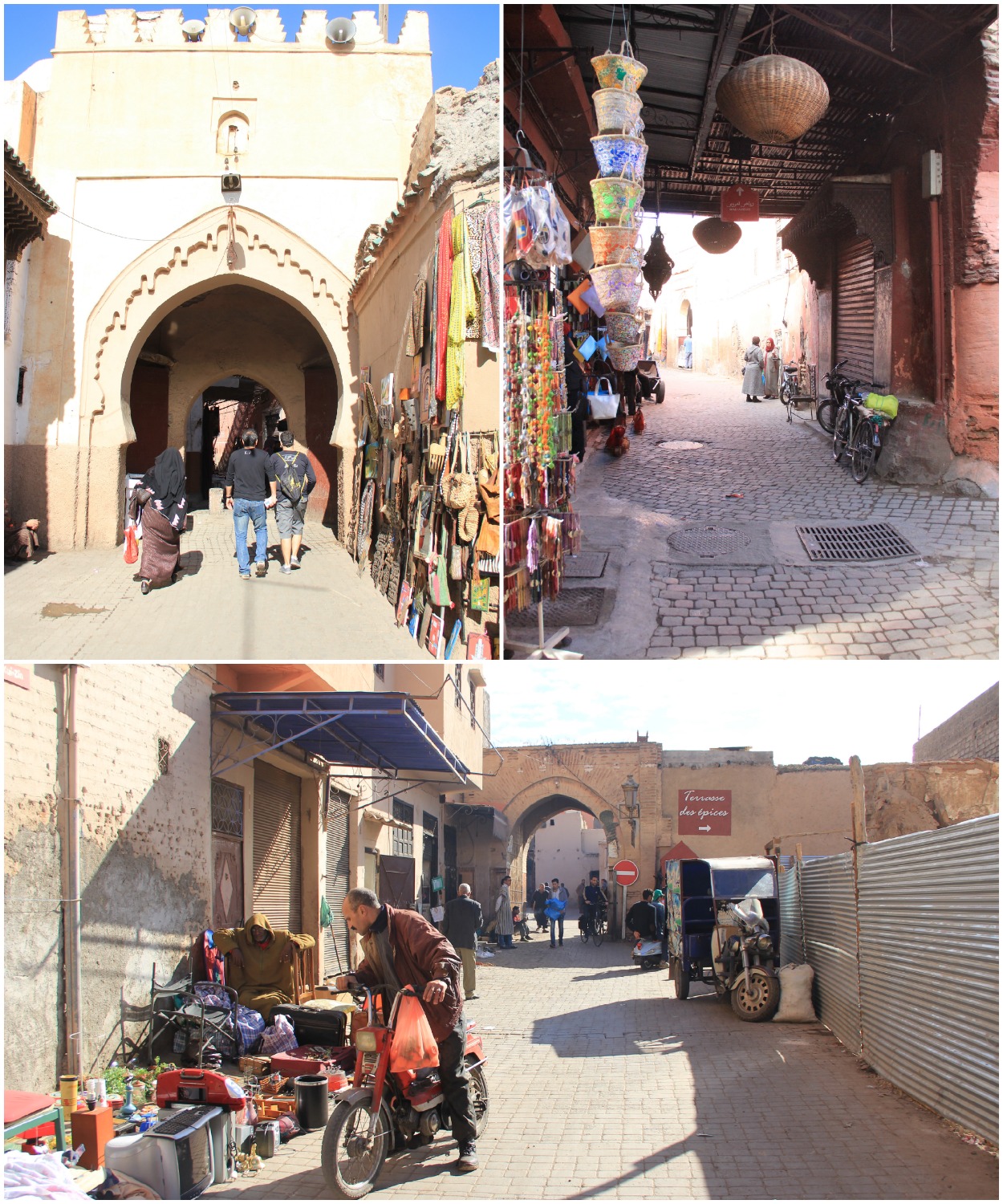 I didn't end up buying anything, so no tips on haggling from me. It was just so overwhelming! When we do go back, I already have plans for a Moroccan rug investment. But I probably need a more permanent living situation for that, right? Details.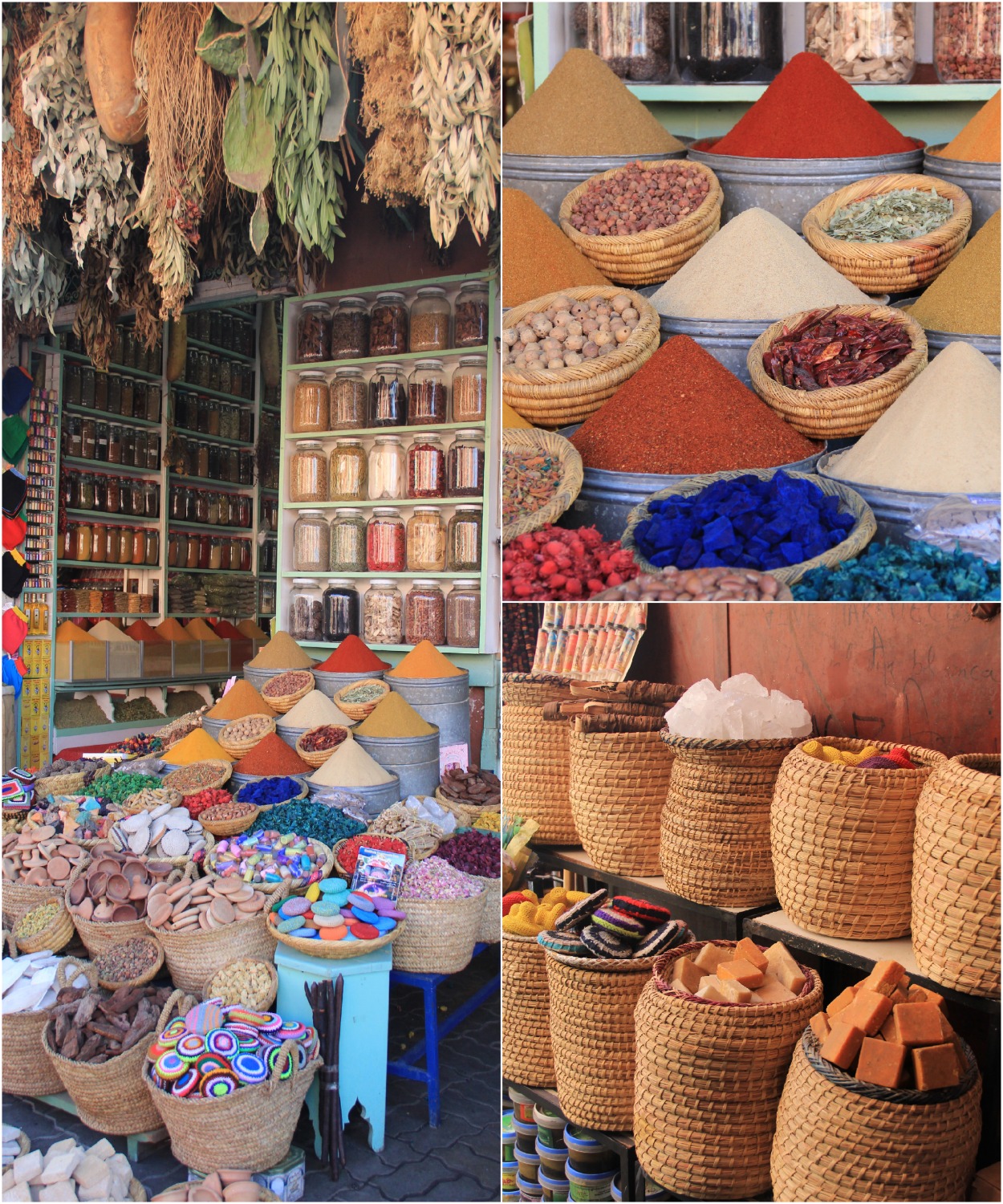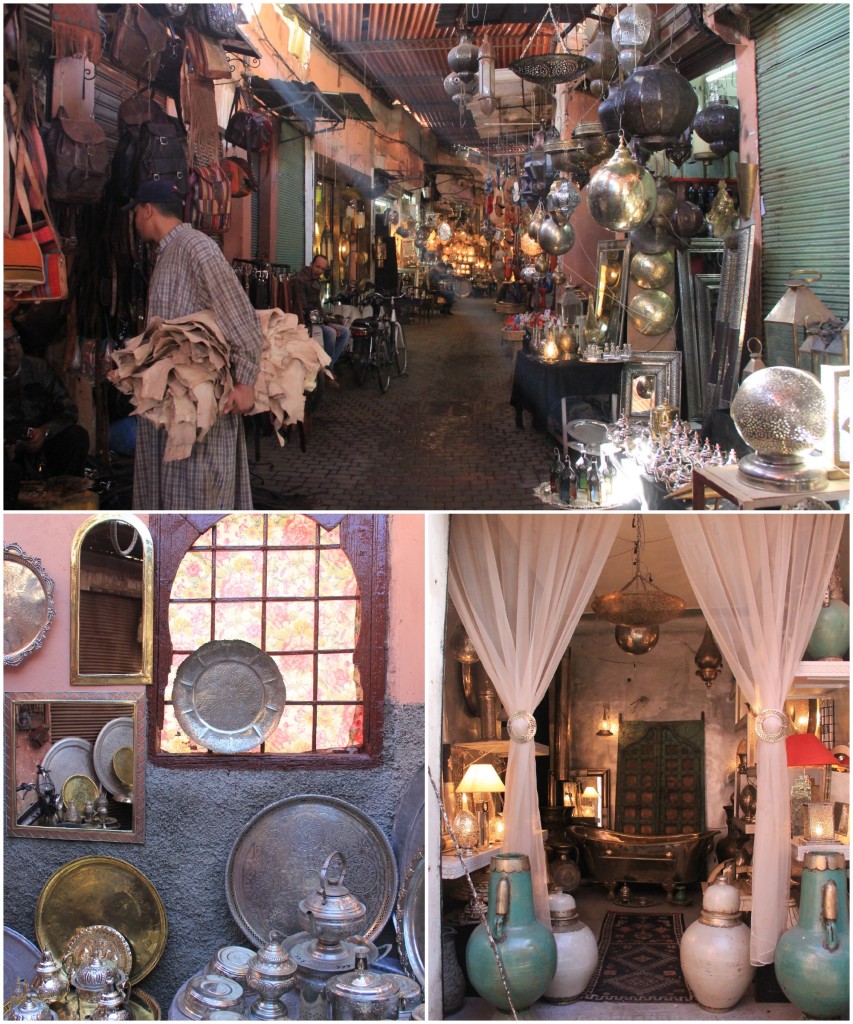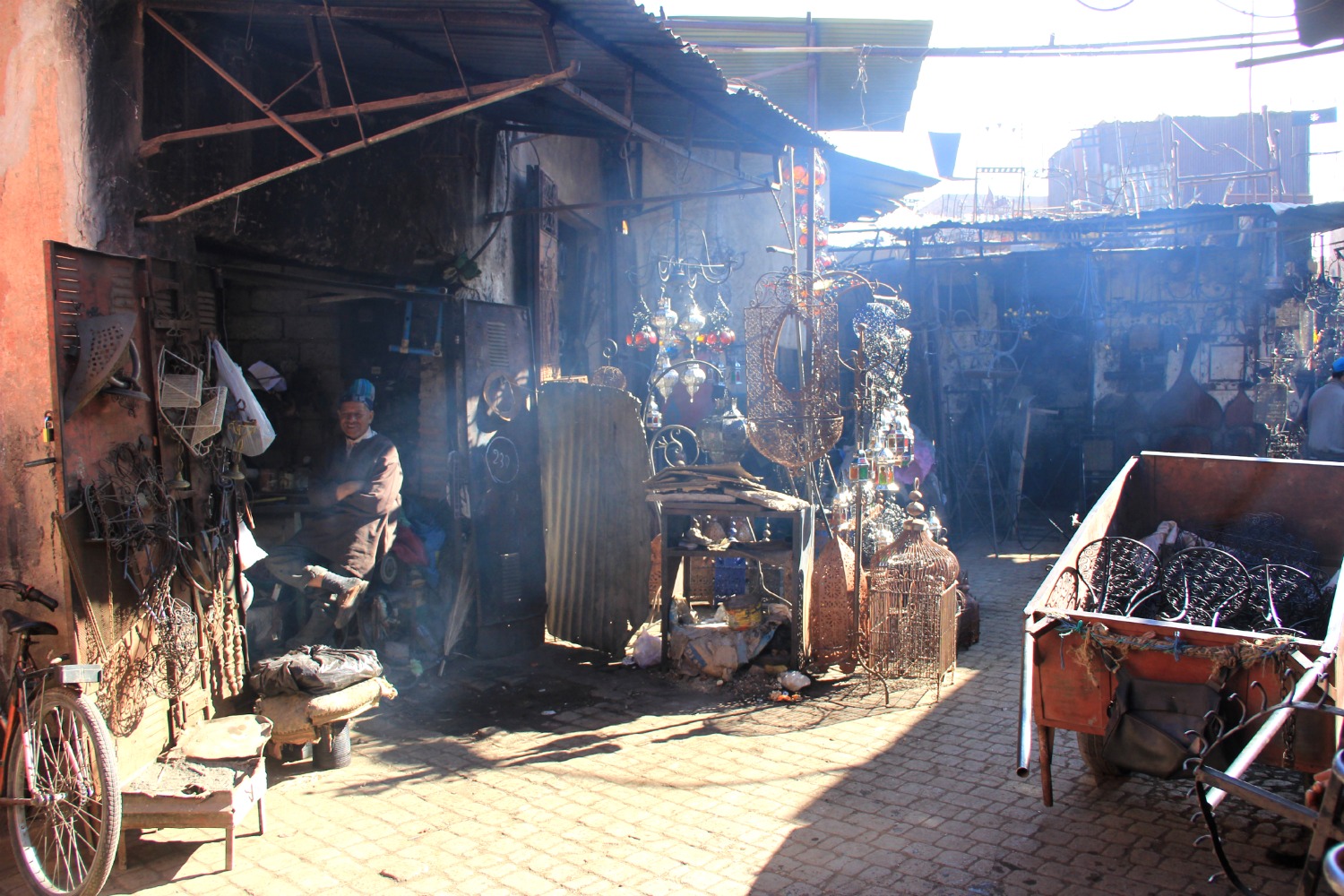 Who to cuddle // The feral cats. No, I'm kidding, do not cuddle them, they don't give a damn about you. They were the types of cats that are for looking only. But do thank them! They're all over the city and the #1 reason that rodents don't thrive in a city full of street food. The locals were pretty nice to them from what we saw, and that was a relief after the whole monkeys-in-diapers-on-chains situation.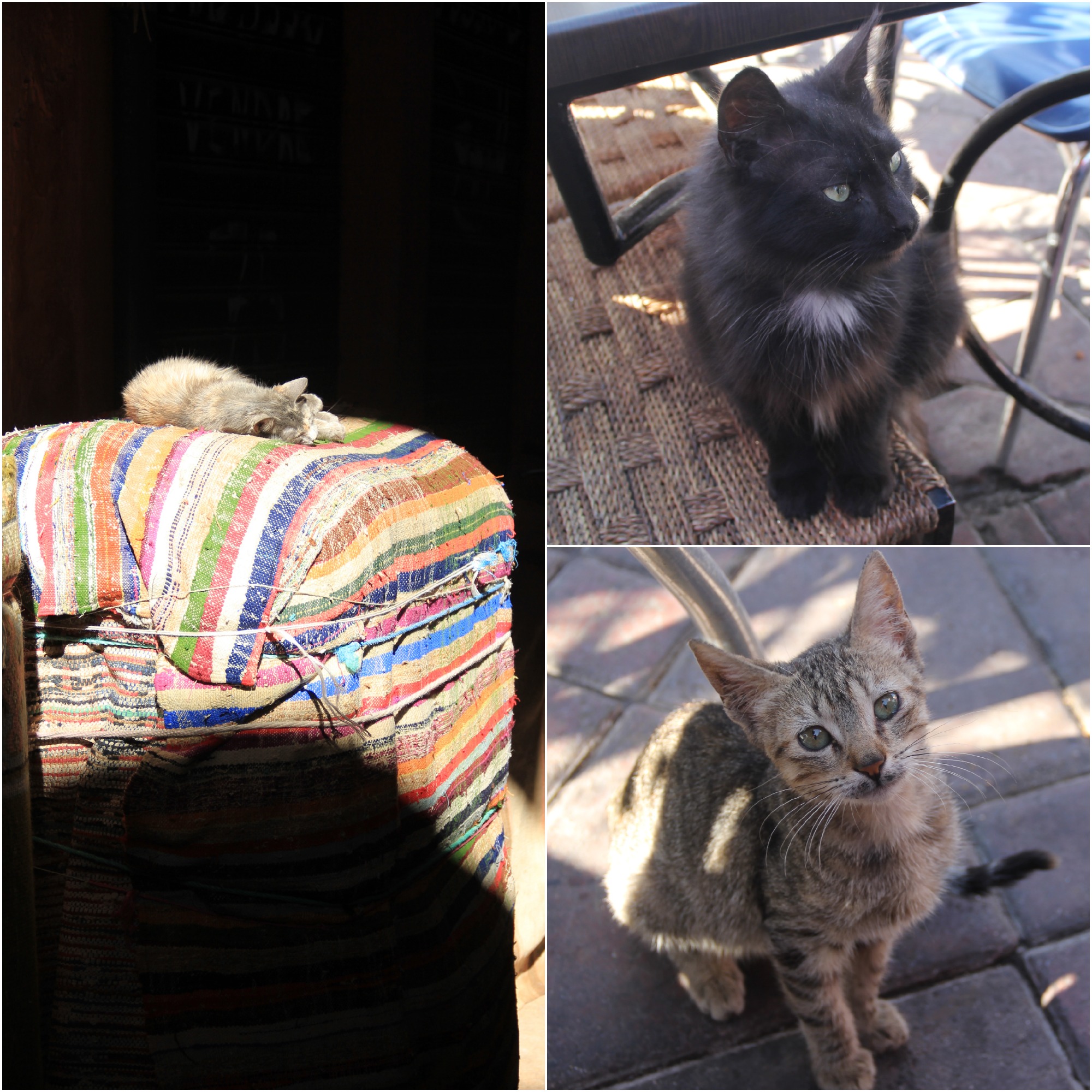 So, number one reason to return? We didn't see the dentist in the main square. Marrakech, I'll be back for you.
And don't worry: we weren't done with Morocco just yet! We still had Atlas Mountains to scale and camels to mount. Stay tuned.
xo,
the romantic
– Please note that while we paid for our room at the Le Meridien in hard-earned Starpoints, our spa experience was c/o the hotel, for which my winter skin is VERY thankful. All opinions are my own.