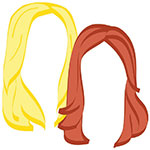 We started this blog a little over three years ago now, and there's no question: our lives have changed dramatically during this time. We've changed cities, we've changed jobs, we've changed cities again. We've changed our hair, we've changed direction, we've gotten overwhelmed, and we've gotten back on track. The romantic abandoned ship and became an expat, and the wino fell in love, got engaged, and gets married in 5 days.
That is crazytown, and in all the best ways.
Luckily for us, the wino's other half swooped in and fit right into our little co-dependent relationship. The hubs may have lost his sisterwife, but he's probably not even that sad about it (we loved sleeping three people to an alcove studio, but can see how it's not for everyone). So, naturally, when all of these big changes happen, you celebrate them! And what better way to celebrate the wino's pending nuptials than with a dude day at the footy and a bedecked four-girl parade around the romantic's new home city?
May we present to you…
London Style: How to Have a Hen & Stag
Instead of bachelor & bachelorette parties, the Brits, adorable as they are, have stag & hen parties. We were going to direct you to the Wikipedia page in hopes that it would explain why stags and hens are involved in the first place, but the UK section doesn't at all explain this, and actually takes a dark, dark turn towards sex trafficking of vulnerable women.
The good news is neither the wino's hen nor Sean's stag involved these things, so rest assured? But it DID involve costumes! The night after friendsgiving and before the official celebration, we somehow found ourselves up drinking wine until 4 AM. We don't know who we think we are, but this hasn't happened, since… don't even know, college? Naturally, somewhere around the 3:30 AM mark, the surprise unraveled and a lot of screaming and laughing happened: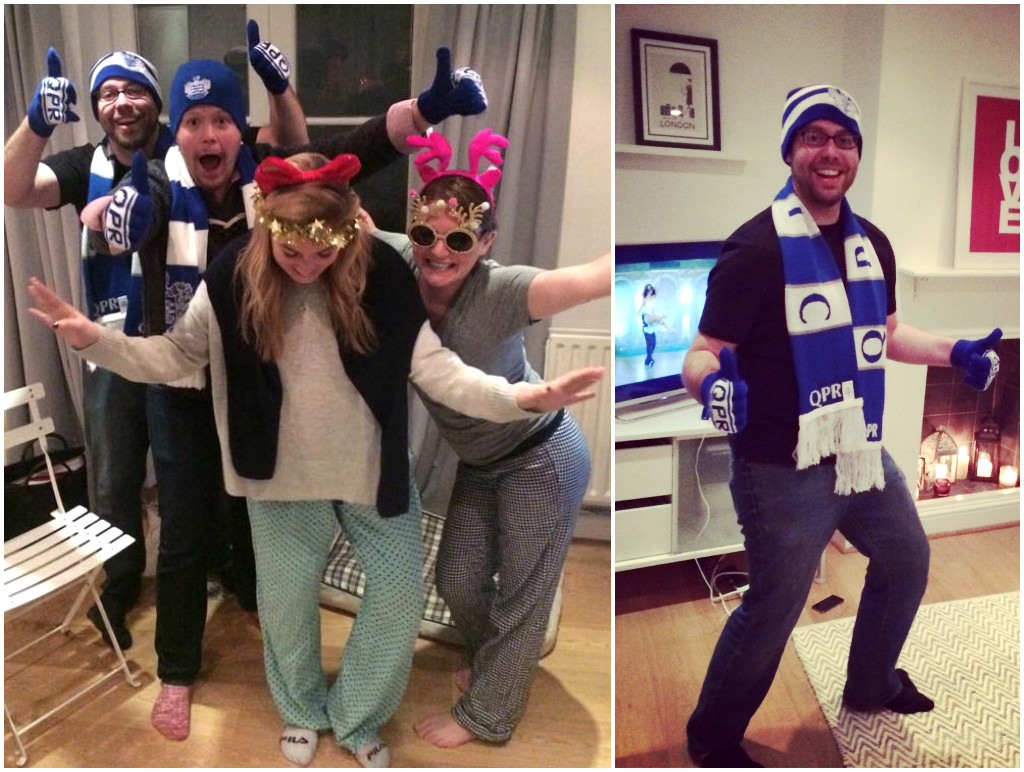 IT'S YOUR HEN & STAG PARTY!
While Jeff (there are soon to be two hubses around here, so we're transitioning into real names) would surprise Sean with tickets to a Queens Park Rangers football match — the second worst team in the league, or something — the girls would hop around London with a few of their own surprises in store.
The Hen!
Step 1 // Pampering
First thing's first: any and all bridal activities require the bride-to-be and her friends to look and feel their best. So, our first stop was in Soho to get our hair blown out.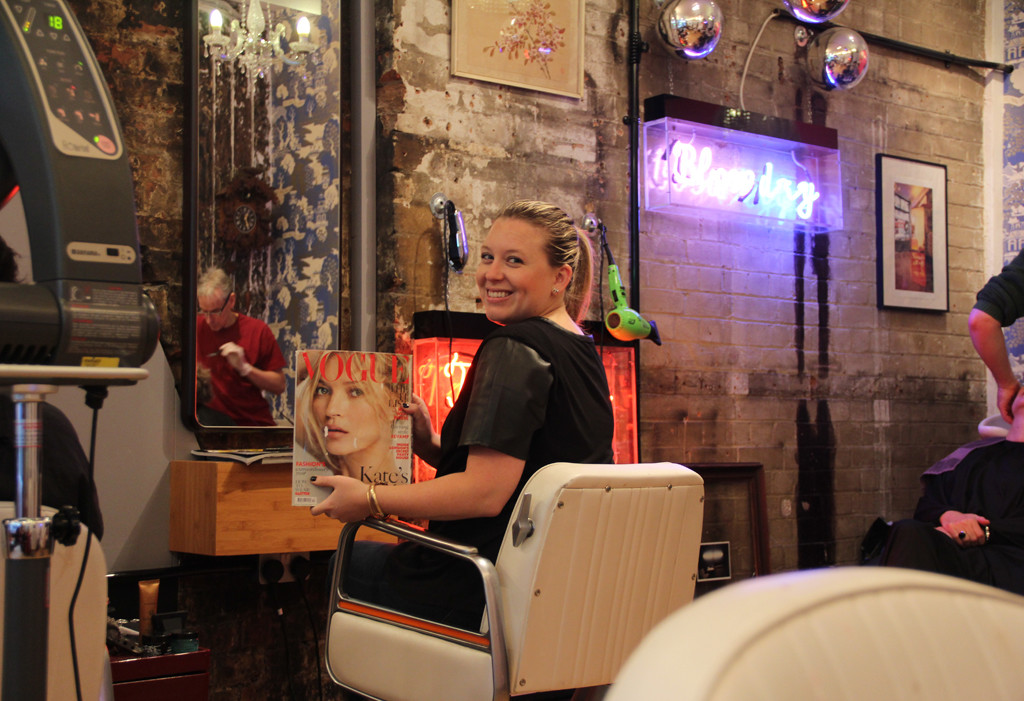 It's a good idea to manage your expectations, so we all settled for looking like Kate by the end.
Though it's never too early to start drinking on hen day, scheduling a non-alcoholic activity first thing in the morning ended up being a blessing in disguise thanks to our 4:00am bed time the night before. An hour in the salon was just what the doctor ordered, including a cold rinse and aromatic hair products that worked wonders on our hangovers.
Travelers tip: blow outs are also a phenomenal way to keep your hair looking its best with very little effort throughout your trip AND if you choose a salon in an unfamiliar neighborhood, you can pack in a bit of sightseeing!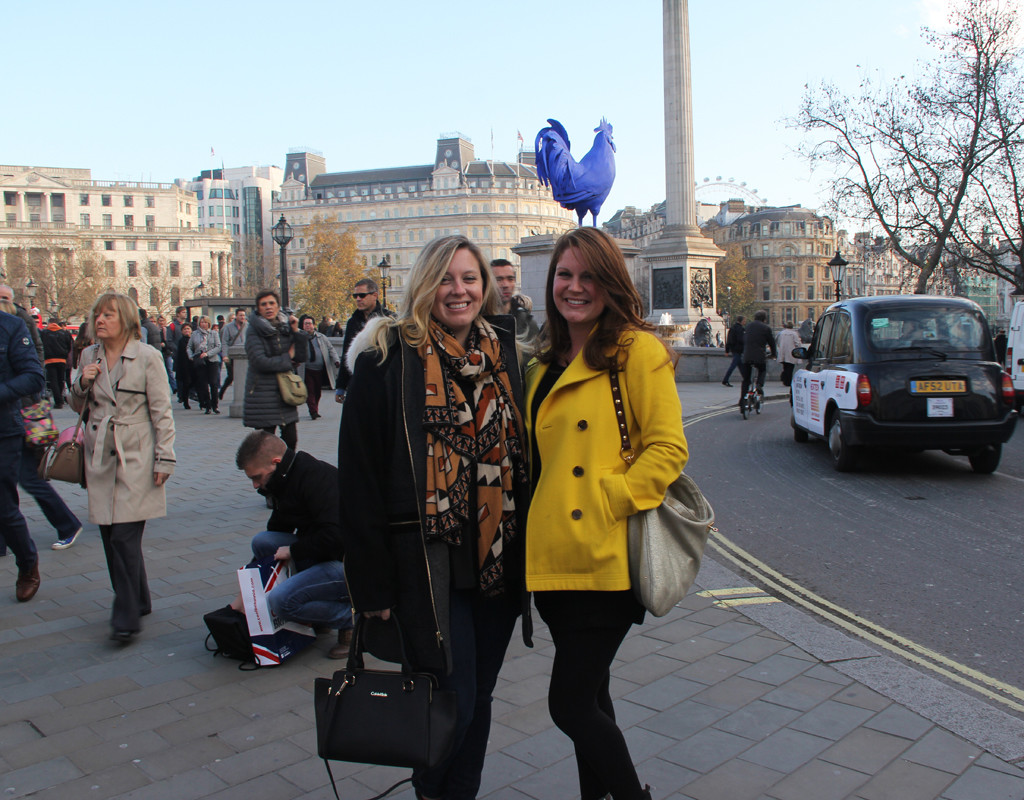 (You know, in hindsight, the blue cock should have appeared atop the wino's head.)
Step 2 // Champagne & cheese
With our hair freshly curled, it was off to imbibe our first drink of the day, and nothing says hen party quite like a bottle of bubbly. As we mentioned earlier last week, we chose Gordon's Wine Bar for its history and ambiance (and also cheese) and quickly settled in under a heat lamp outside on the patio.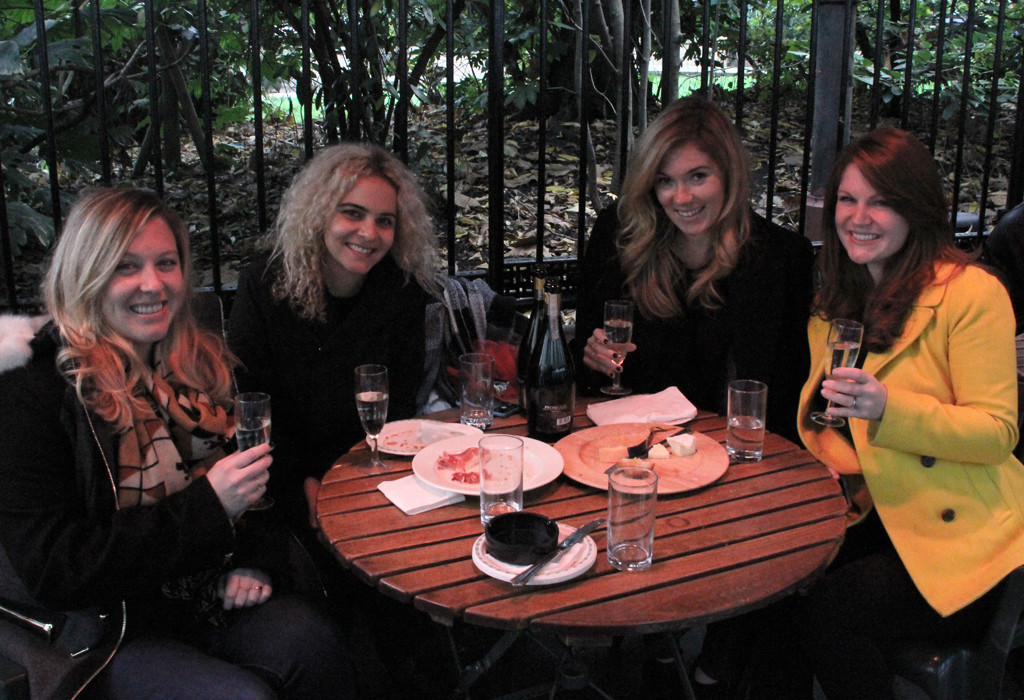 Here, an old friend of the wino's joined us for a hen party surprise and we sipped prosecco, nibbled on cheese, and read aloud from a book of 1800's sex tips that came in the wino's hen party goodie bag.
Step 3 // Class it up
For many, hen parties go hand in hand with shenanigans, but we wanted to be sure to dedicate at least part of the afternoon acting like the ladies we truly are (or at least hope to be).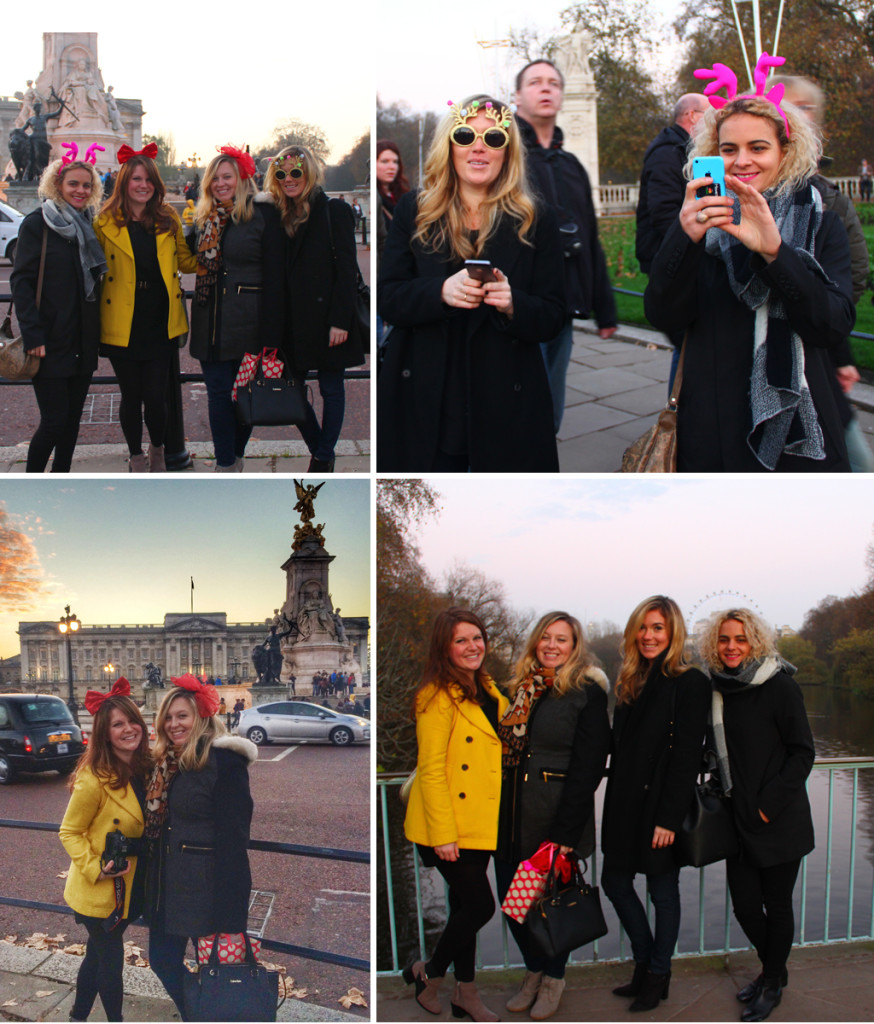 So, after a stroll past Buckingham palace, stopping to take pictures while sporting more of the contents from the hen party goodie bag, we made our way to the Conrad London St. James for high tea. Though tea just haaaappened to also include unlimited champagne, we spent two hours sipping earl grey and feeling like royalty.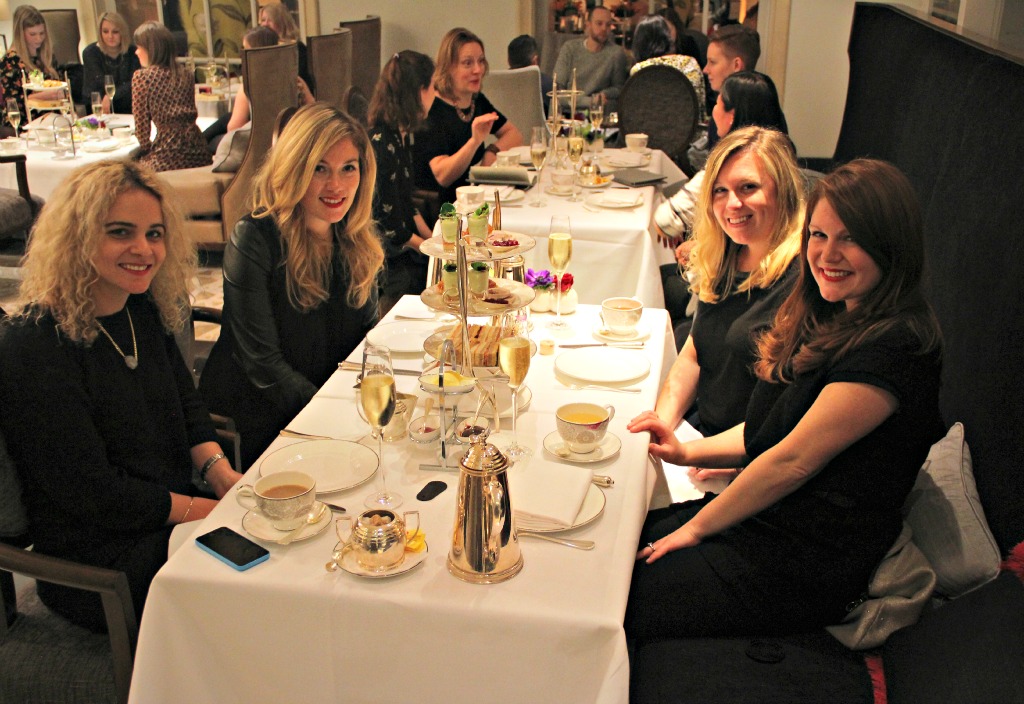 And, the spacious hotel restroom allowed us to freshen up and reapply our lipstick before heading out for the next portion of the evening.
Step 4 // Loads of pints
At some point, all hen parties make the inevitable transition from a somewhat calm girls-night-out to drunken debauchery. In typical lazy travelers' fashion, we popped into the first pub that seemed appealing (meaning, the one directly next to the Conrad London St. James), and ordered the first of many rounds of pints. Here, we re-donned our hen party headpieces and drank pints until we were giddy on all the bridal energy (jet lag may have also played a role in this).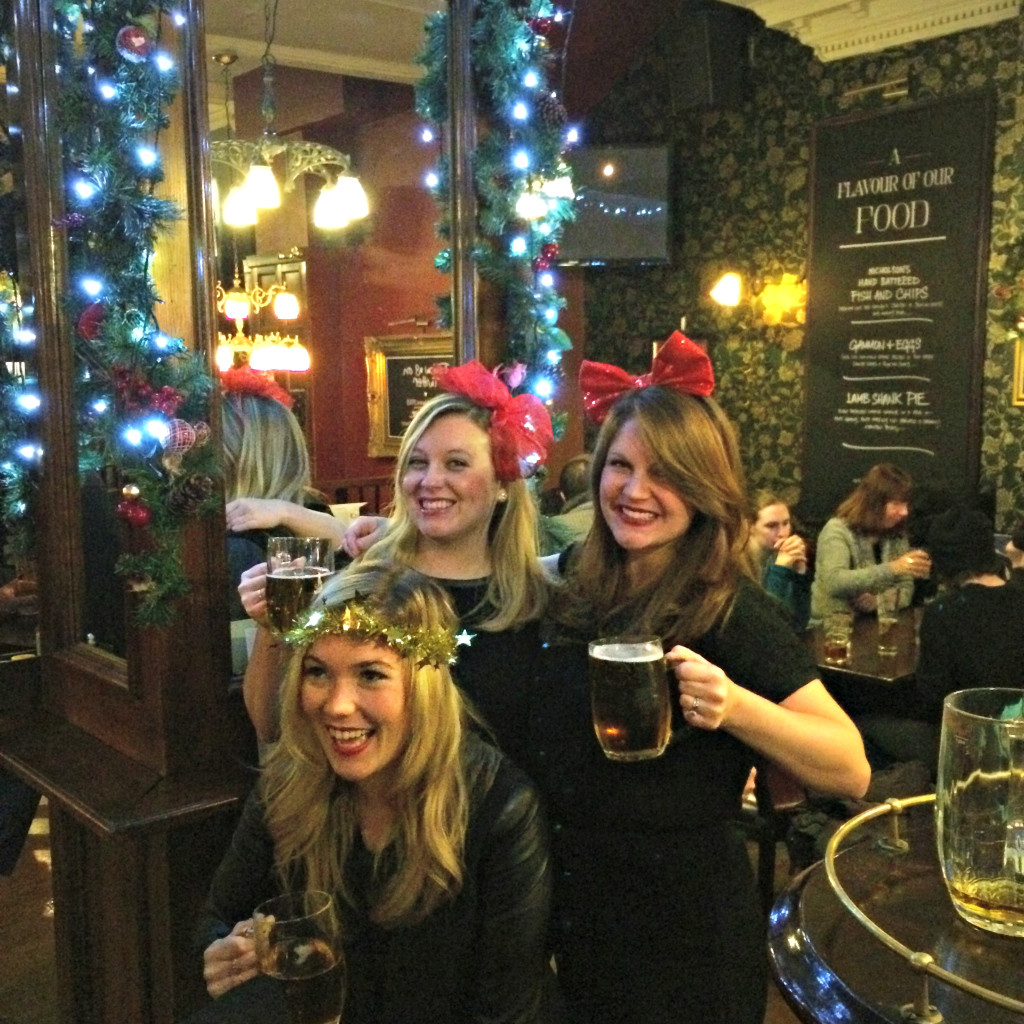 The Stag!
Step 1 // A traditional English breakfast
While we pampered our hangovers away, the boys went the old-fashioned route: consuming all the fried food and carbohydrates they could handle. For a true London experience, Jeff took Sean to The Duke of Wellington, where they ordered a traditional English breakfast, fish and chips, and morning pints…which Sean immediately threw back up. The first and most important lesson we learned in planning hen and stag parties was that it's better for everyone if you do not stay up drinking until 4:00am the night before.
Step 2 // Pub hopping
Jeff took a page out of the lazy travelers' book and planned an afternoon of pub hopping in Shepherd's Bush before the big match. They started at The Sprinbok Pub, only a few blocks away from the stadium and a well-known local QPR-fan hangout. Because it was matchday, only people wearing the QPR blue and white were admitted into the pub. Luckily for Sean, Jeff surprised Sean with a stag party swag bag of his own, complete with a QPR scarf, hat, and pair of gloves.
Step 3 // Football (or similar man activity!)
In the US, there's football, and in the UK, there's…well, football. Though Sean doesn't know much about British footy (or soccer, as we yanks say), an afternoon at the match is the perfect daytime stag activity. Decked out in their new blue and white gear, the boys sat almost ON THE FIELD (seriously, see below), and helped cheer on the locals for a QPR victory.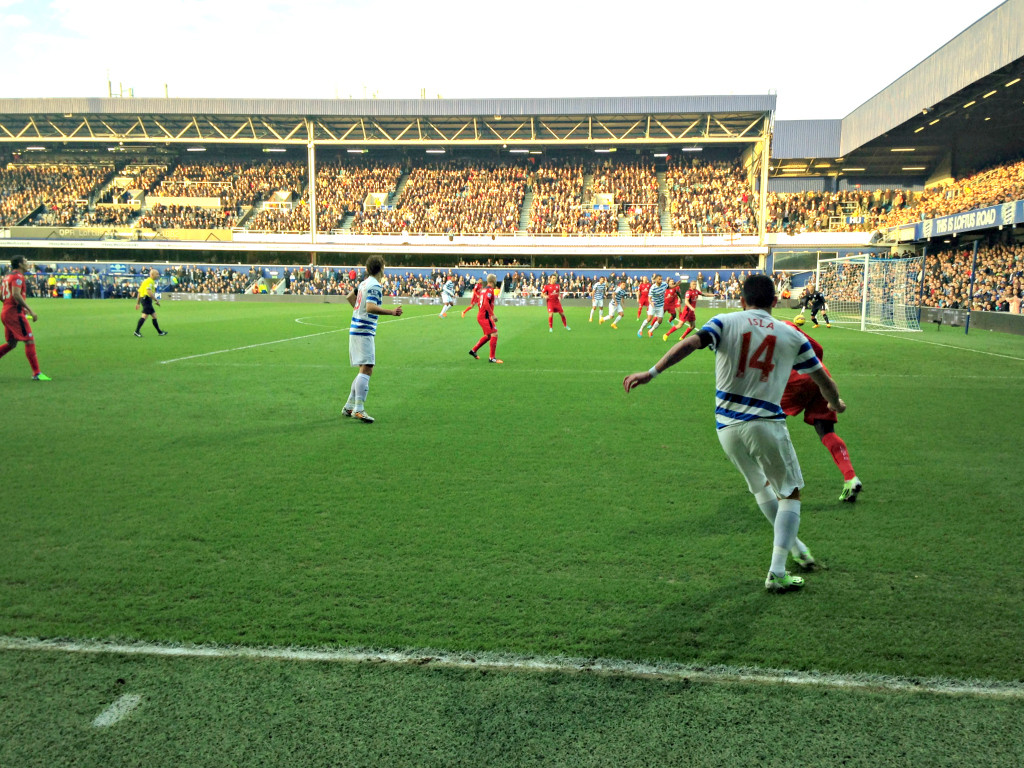 Step 4 // More pubs, natch!
After an afternoon of sports and pints, what's left to do but continue to drink all the beer in London? Though we don't think it's too typical for stag and hen parties to intermingle, we all ended up at the same pub towards the end of the night for the culmination of our celebration.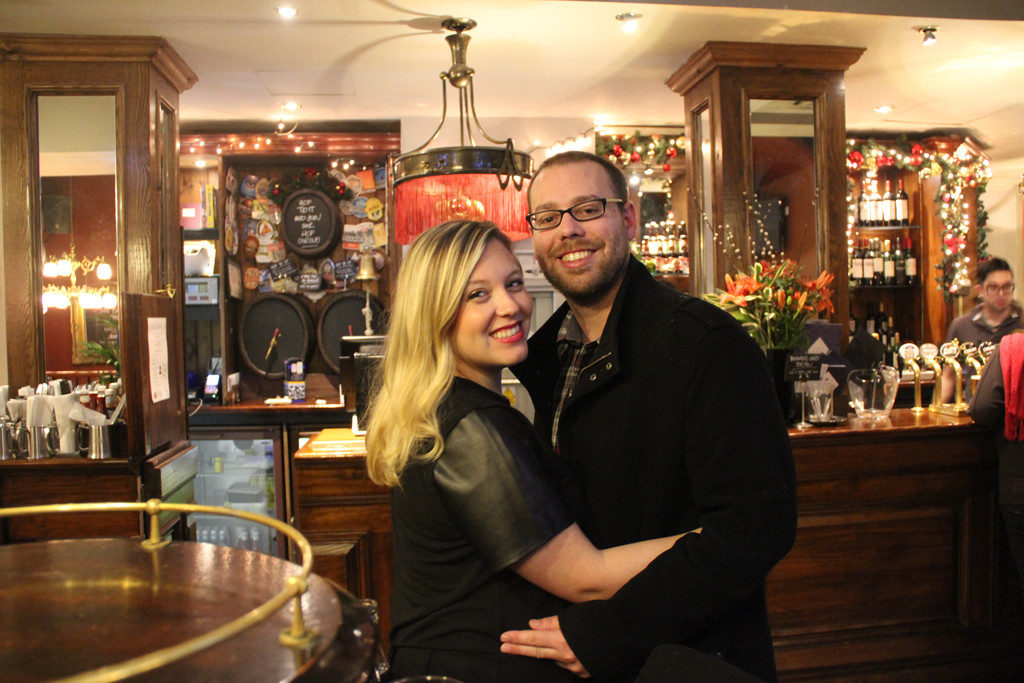 For a bunch of Americans, we're quite proud of our first official stag and hen celebrations.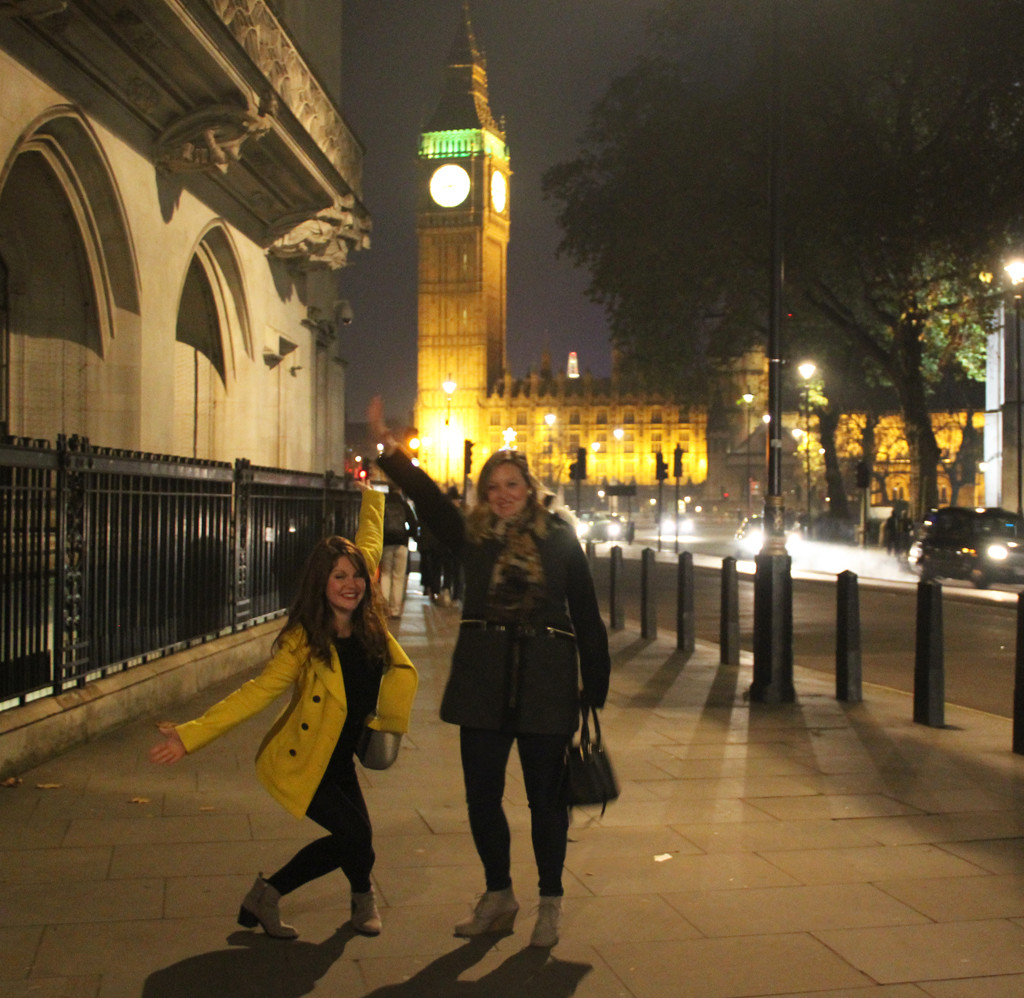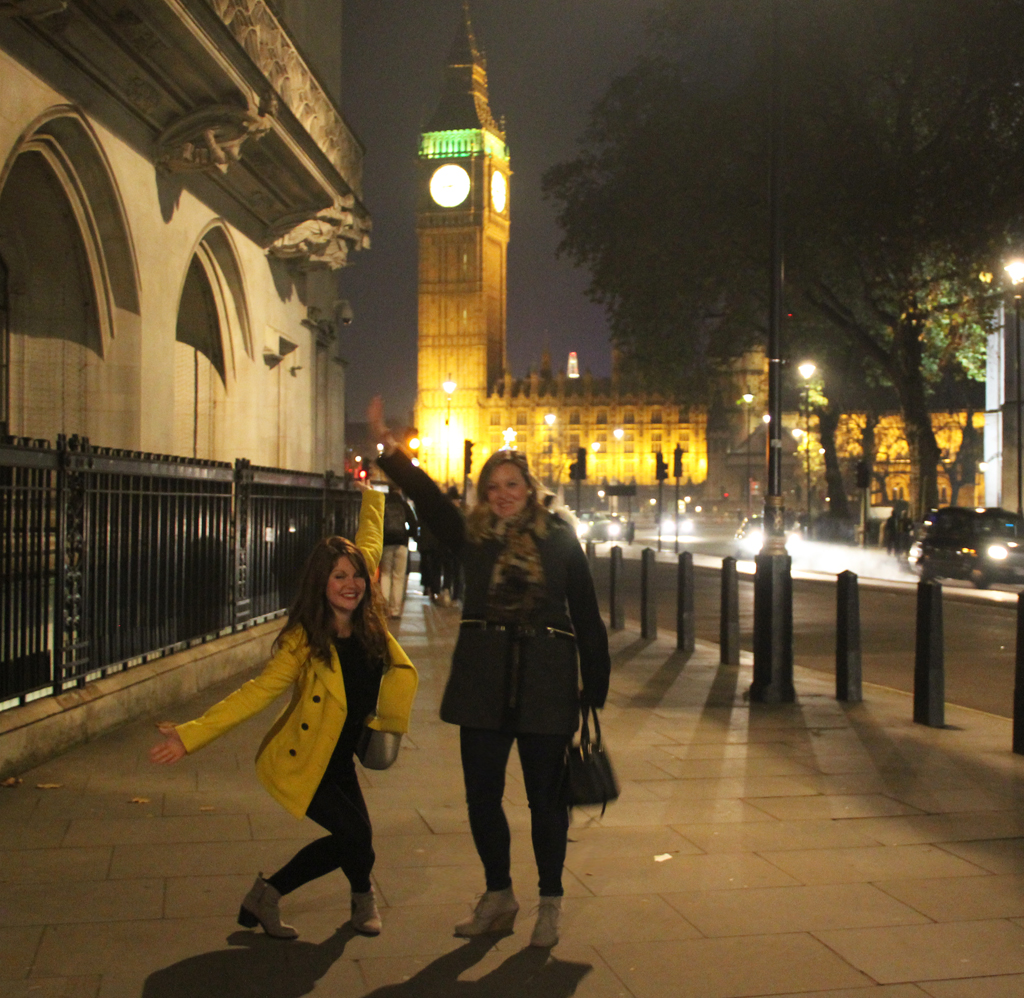 We kept it super classy, as you can see.
To all the Brits out there, where have you gone for hen and stag parties? What are your favorites and what did we miss?
xo!
the romantic & the wino