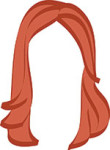 Because we wanted to spend the majority of our time in Fiji in the Yasawas, we sadly said goodbye to Taupo and John after our short visit at Danny's Village Homestay, and made our way back toward Nadi. Stop #2 in Fiji: First Landing Beach Resort in Lautoka.
Another friendly TTF driver, Rishi, came and picked us up in the afternoon. As we had again booked a shuttle, he made a second stop at a nearby resort to pick up a group of Australians heading to the airport—one of whom was a little boy about eight years old. The roads in Fiji can be pretty bumpy, so it wasn't surprising when the little boy said his tum hurt. It WAS surprising when he threw up all over the seat in front of him about thirty minutes into the two hour ride. Apparently, Fiji was going to be full of rough travel days.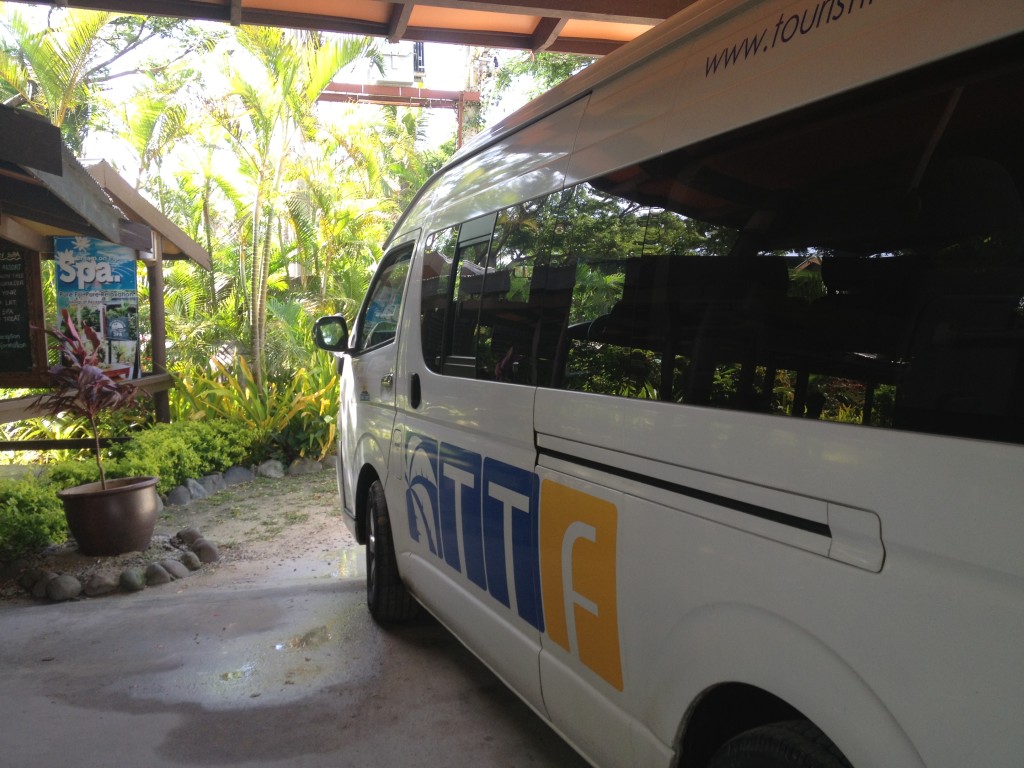 Photo Credit: C'est moi!
In keeping with the Fijian way, Rishni stayed in good spirits, despite the fact that the parents barely mumbled goodbye, let alone tipped the man. I'm aware that tipping isn't customary in Fiji, but rules are meant to be broken, people. Especially when bile is involved.
With the stench of whatever that kid had for breakfast still burning our noses, we bid Rishni adieu (very sympathetically since he still had to stay in the shuttle…) and made our way into First Landing.
"Bula! Welcome home!"
We had originally decided to stay at First Landing because of its convenient distance from both the port at Denarau and the airport in Nadi, but as soon as we stepped into the resort, we were transported. Despite the fact that it's only 15-20 minutes from "the city," Nadi, we felt completely removed from anything else… though I guess Fiji has a way of making that happen.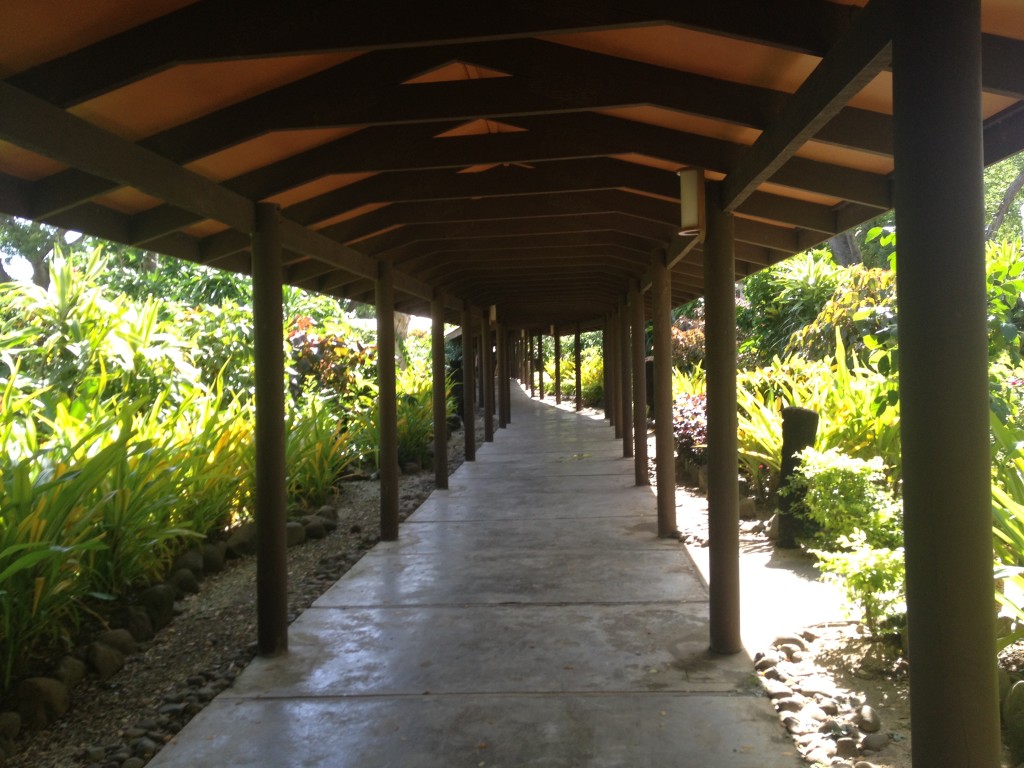 Photo courtesy of me
I have never been whisked anywhere in my life… until arriving at First Landing. As soon as we stepped off the shuttle and waved goodbye to Rishi, the porter was at our side, prying our bags from our hands and leading us to check-in. He then excitedly took us to our villa for the night, telling us all about the beauty and comfort of our new home: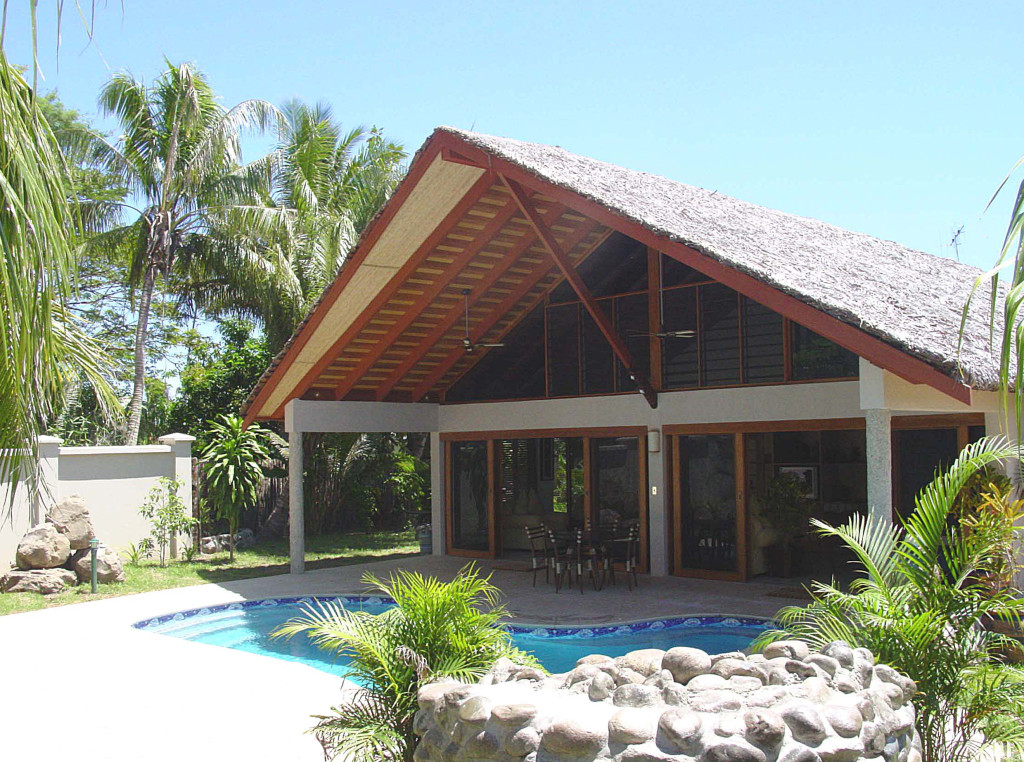 Photo Credit: First Landing Beach Resort
Home INDEED. Complete with our own private pool, a washer & dryer, and two outdoor showers, I was immediately unsure of how we were ever going to leave this place.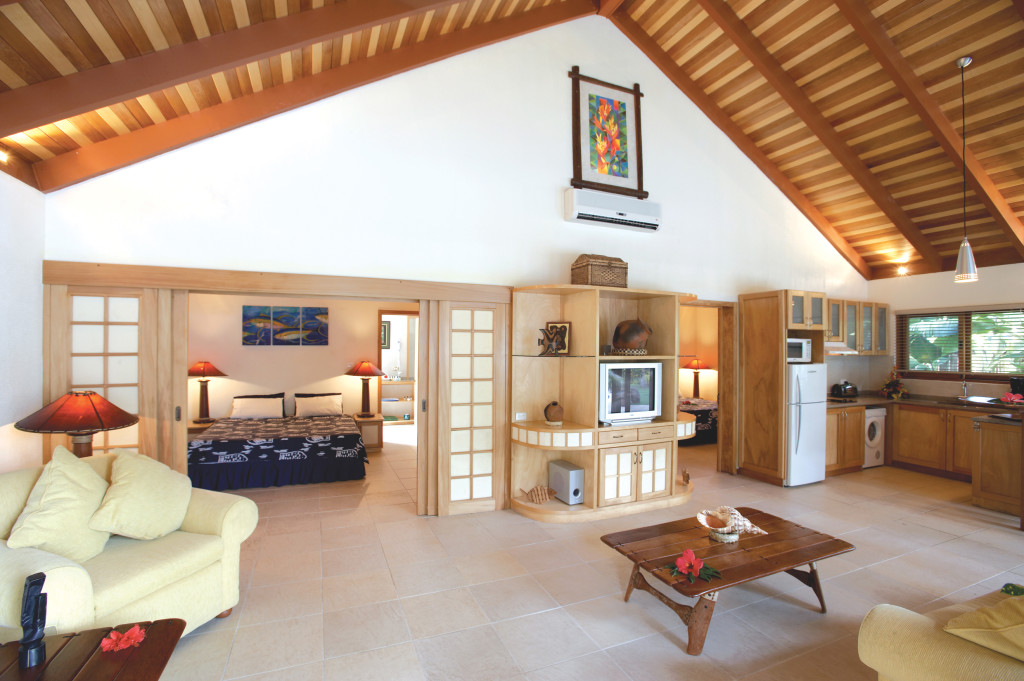 Photo Credit: First Landing Resort & Spa
One of my favorite parts about First Landing is that it really did feel like home–unlike many resorts, nothing about the property was remotely sterile. It had its quirks (everything was a little bit older), but the style and design fit perfectly with the natural, untouched beauty of Fiji, and we both felt as though the understated decor only added to the charm. PLUS. ALSO: our own private pool.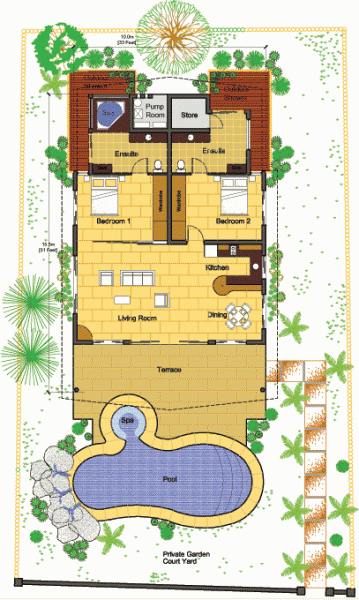 Our villa floorplan [click to enlarge] Photo Credit: First Landing Resort & Spa
After our porter set down our bags and gave us a quick orientation, we both mentioned we'd love to take a shower and unwind. Our request went unnoticed, because we were again being whisked away.
"Your welcome drink awaits! And so does the spa!"
Poor us.
At this point, the porter might as well have been holding our hands and running us through the resort, he was so excited. It was contagious. By the time we reached the bar for our welcome drink, we were giggling…almost maniacally.
"Bring your welcome drink! It's time for the spa!"
From what I recall, we then hopped onto a giant seahorse and floated through the air, straight into the warm embrace of two waiting masseuses. Or at least we could have… we were moving so quickly that I actually have no idea HOW we got to the spa. I just know that the next 60 minutes were insanely relaxing, and exactly what we needed after our first rough night of sleep in Fiji.
Though the spa was under renovation and not the coziest of spaces, the masseuses made up for it—as did whatever heavenly smelling products they were using… I can only imagine the level of magic that will happen once the spa is fully redesigned. It took the hubs and me an embarrassing amount of time to find our way back to our villa because we were so relaxed, but don't worry: find our way we did.
We spent the rest of our afternoon in the pool, lounging around and watching frogs hop around our patio—sometimes even hopping INTO the pool. Silly drunk frogs. Eventually, we forced ourselves to go inside and shower, before heading to the bar for happy hour: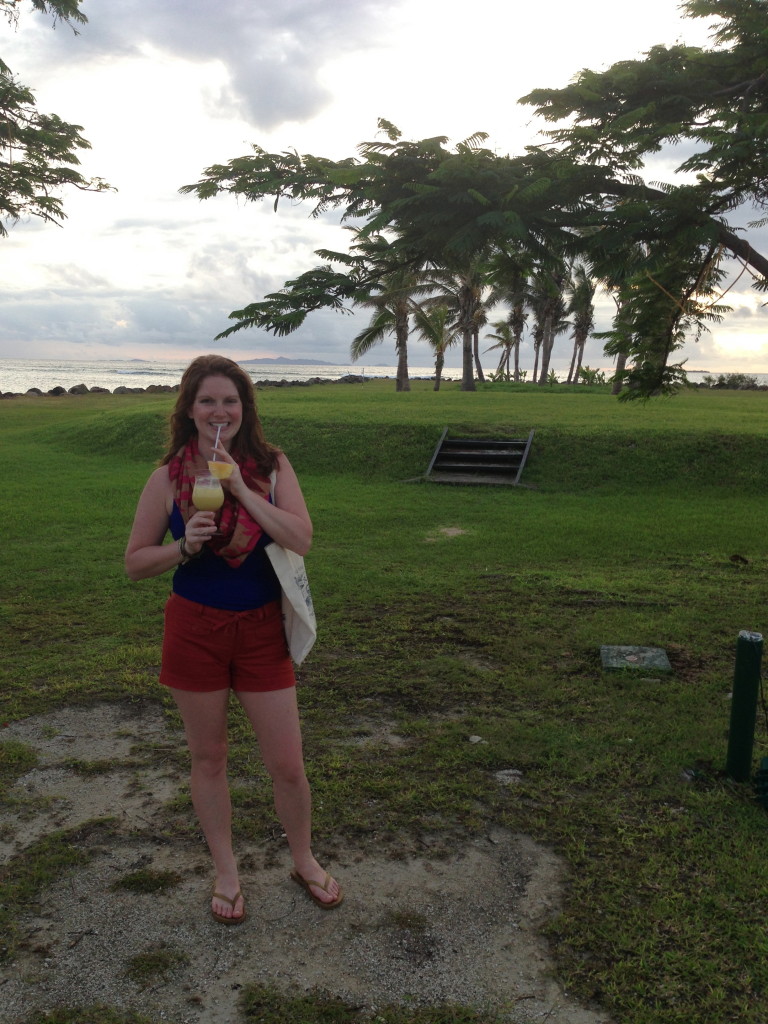 And this sunset: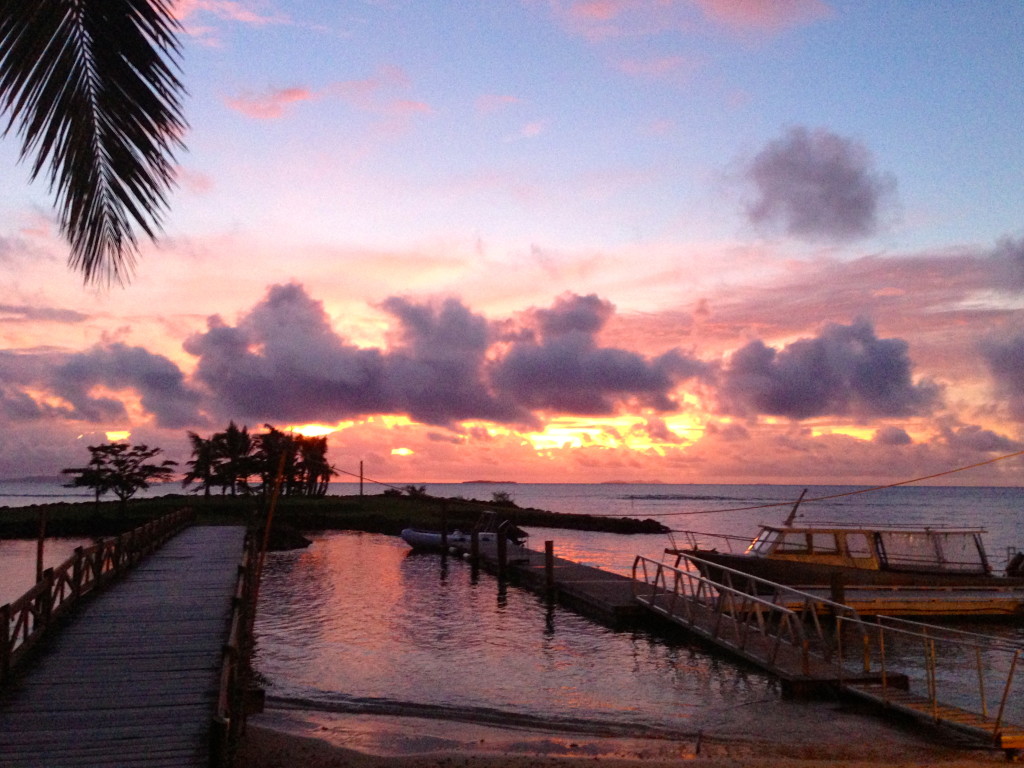 Photo credits: the hubs… completely unedited, taken with an iPhone.
That's how magical this sunset was.
As we sat at the bar, chatting with other tourists and the bartenders, we overheard one woman talking to some of the staff about how sad she was to leave the next day. They immediately gathered together and sang the traditional goodbye song while the woman, her friend, and both of their husbands sobbed. I mean it—these people were weeping. It was then that our initial impression was officially confirmed: this place and these people get under your skin.
We headed back to our villa shortly after, and arrived to see it looking perfectly peaceful and even prettier at night: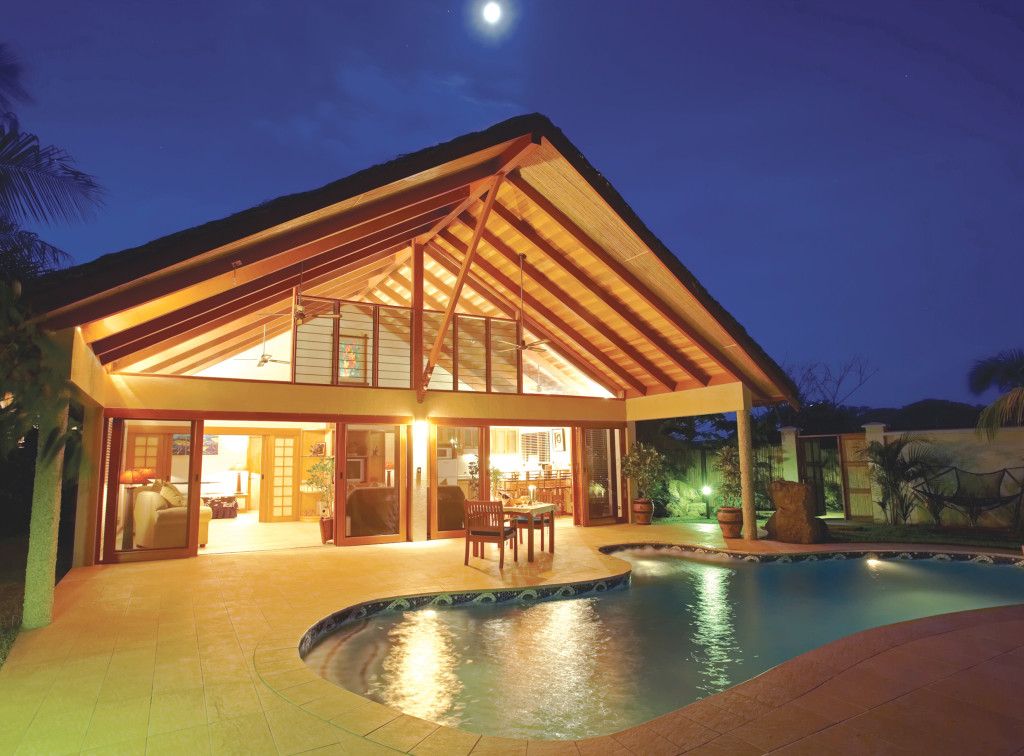 Photo Credit: First Landing Resort & Spa
When we looked up and realized that the sky was full of stars so close you could practically grab them, we laid out in the hammock for a bit and reflected on the fact that, technically, if we had followed all our other life plans, we should be at work. This was better.
Though we were definitely sad to leave so quickly, five days later we returned to First Landing. Unfortunately, our return boat from the Yasawas arrived later than expected (more on that later), so we didn't have as much time as we had hoped. However, since we had to leave bright and early for the airport (we're talking 5 AM, people), it was the perfect choice for our last night in Fiji.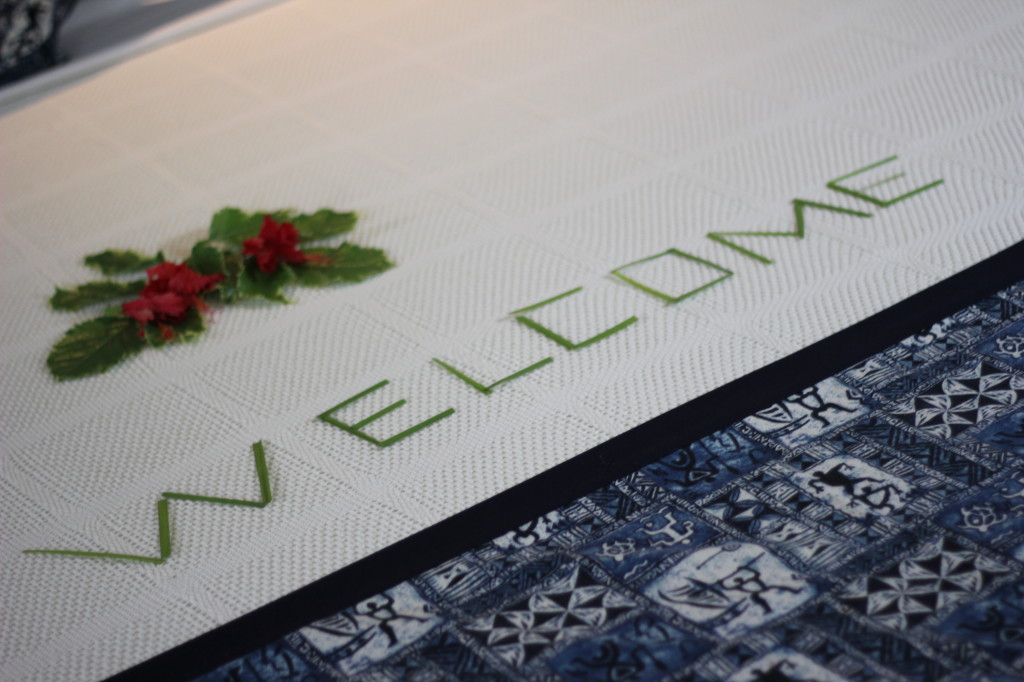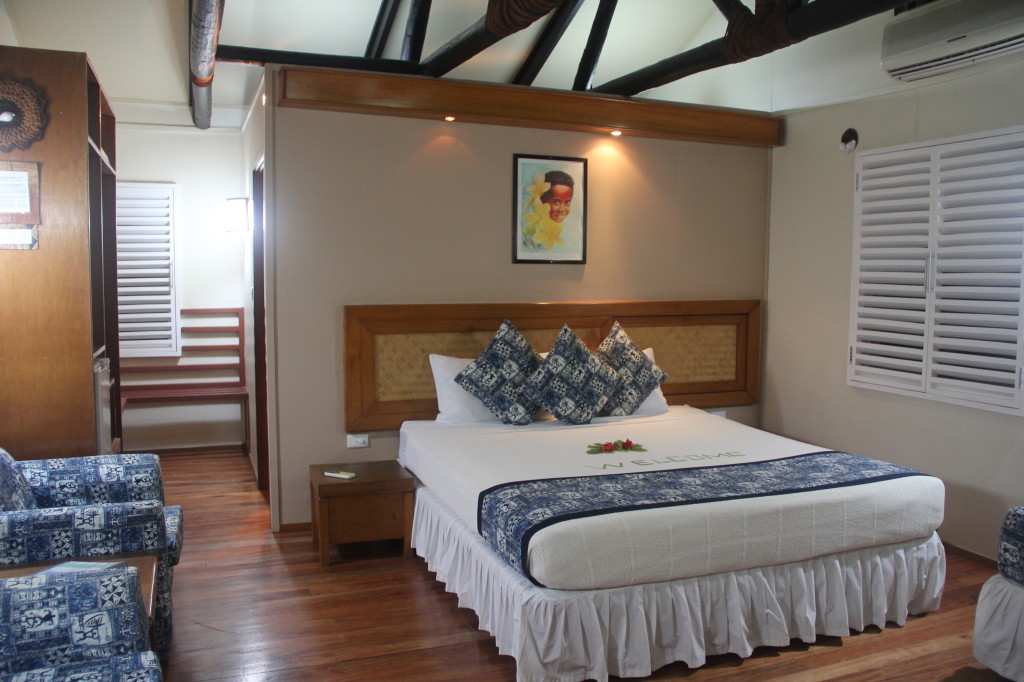 Photo credits: yours truly
The bure is perfect if your budget is a little more moderate, though we had been far too spoiled in the villa on our first night. Still, the style totally matched the rest of the resort and was clean and comfortable—the only thing we didn't love the bathroom. It could use some upgrading, but old doesn't mean dirty, so we were happy.

Photo Credit: First Landing Resort & Spa
We had been looking for a hotel near Denarau because we had an early morning boat out to the Yasawas and later, something accessible to Nadi for our early flight to New Zealand. First Landing completely fit the bill on both accounts. Most people we talked to said that this was their go-to resort, either for the few days surrounding their arrival and departure, or for their entire time in Fiji. We can see why.
xo!
the romantic
Though TTF offered complimentary services and First Landing hosted both of our nights at the resort, all opinions are, as always, my own. I mean, private pool & a killer sunset? What's not to love?