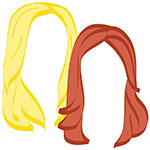 Remember, once upon a time, when we featured weekly jetsetters? YEAH, those were the days.
Luckily, 30 Traveler to the rescue! Our blogger today blogs VERY anonymously… so we can't tell you much other than that she is vegan, she is from New Zealand, and she has a soft spot for NYC–and thus, a long list of vegan NYC restaurants we are unfamiliar with! Also… she is planning to leave her job later this year annnd will be starting in Hawaii. Sound familiar? No, she's not RTW Rookie, which means we now have two super anonymous bloggers on our hands with big plans on the horizon. Oh, you guys.
Without further ado, meet 30 Traveler!
Favorite Place: New York City. I spend 2 months a year there, and sublet an apartment (usually in Brooklyn). For someone from New Zealand who grew up watching Sex and the City etc, being in NYC is like stepping inside a TV! I also love Broadway shows, so those are a big draw for me.
More importantly, favorite meal: One of my favorite meals in NYC is at Taim Falafel in the West Village. I'm vegan and New York is heaven for vegans. I wrote a post about my favorite cheap vegan eats in NYC.
The moment you caught the travel bug: I know exactly when it was! 2003! I went to Bondi Beach, Sydney for a conference during Grad School and Mamma Mia the musical (not the movie) was on in Sydney. I went to the show twice in a week! I was then desperate to get to NYC to see more Broadway shows, and the actual Broadway production.
First experience traveling alone: The Bondi trip, mentioned above. I love traveling alone and I have done a lot of solo travel because my partner and I have had different vacation schedules, but we're quitting our jobs to travel together from May 2013.
Ever been (or thought you've been) in imminent danger while traveling?: No – thank goodness.
Worst hotel/hostel experience: In 2004, I booked a guest house in Tobago that had one Tripadvisor review and no other information. It was a dump, nowhere near the beach. We didn't stay.
Best hotel/hostel experience: I love to get a great deal, so my favorite hotel experiences are usually when I manage to get an incredibly cheap deal on Priceline (not an ad). I stayed at a Marriott in San Francisco last July for $125 when the Motel 6 was charging $110 and was booked out. My best accommodation experiences have been apartments and cabins rather than hotels. I do like nice hotels though! Another favorite from last year was the G Tower Hotel in Kuala Lumpur.
Favorite family vacation: Home – To Punakaiki on New Zealand's South Island's West Coast.
Must-have packing item: I am always trekking around to vegan restaurants and I also shop at supermarkets and vegan bakeries quite a bit. I carry a soft, slightly bigger than lunch-size cooler bag to transport food back to where I'm staying without it melting e.g., vegan cake.
Most unbelievable travel experience: Going to an island in Tonga in 2012 with no electricity and no other tourists. There were only 3 locals on the island and me. DIY Survivor! It was also rainy season and it was full on!
Favorite "I can't believe I'm doing this" moment: Sitting front row in a Broadway show!
Place you can't wait to return to: Thailand – Ooom ooom Mango sticky rice.
Place you can't be paid to return to: I didn't like Paris but I went there in the dead of Winter, so I think I need to give it another chance in a better season.
Any exciting trips coming up?: I have a one way ticket to Hawaii booked for May. From there, who knows. We'll probably spend 6 months in North America initially.
Dream vacation: I love postcard perfect beaches. Right now I'm dreaming of the outer Cook Islands (the ones that aren't Rarotonga)
Favorite tourist attraction: Broadway!
Favorite "I'm trying not to look like a tourist" attraction: When I'm in NYC, I spend as much time in Brooklyn these days as in Manhattan.
Favorite travel photo: This one – camping a Punakaiki near where I grew up: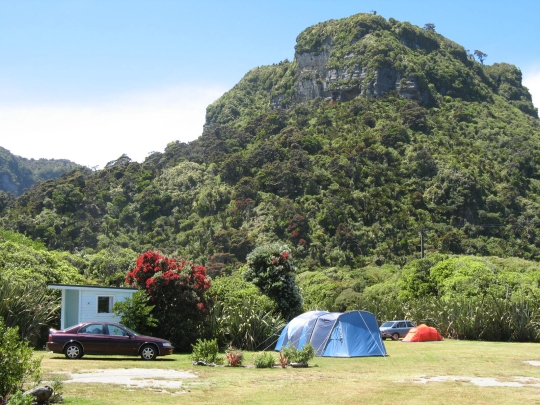 If you want to be our next jetsetter–get at us!
xo!
the romantic & the wino