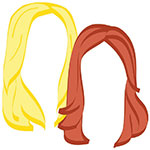 We celebrated our Wine Wednesday early and in Rockville this weekend, but we'll still send our well wishes your way!
This week's jetsetters are Andrea and John of Inspiring Travellers–and we don't even hold it against them for spelling travelers the fancy way. You know… with two L's. We also don't consider jetsetters to be competition, per se, but it's going to be RULL hard to beat John's imminent danger experience. Also: we pretty much need to know the reasons behind their places they wouldn't be paid to return to!
Enjoy!
Favorite Place:
Andrea: New York City
John: Berlin
More importantly, favorite meal:
So tough! Going to have to go with…
A: Middle Eastern food
J: Pork chops with chicken breasts
The moment you caught the travel bug:
A: When I was a kid we only ever took family trips to visit one set of grandparents or the other. Don't get me wrong, I love my family but I used to sit in the car and pretend I was on a plane flying off to a more exotic destination. I'd stick with that destination in my playtime for the rest of the trip (yes I was a bored only child with an overactive imagination). The first time I actually got to go somewhere different I was hooked.
J: Travelling to Europe in 2000 when I hopped on a plane to visit my relatives. There's nothing like being in a small village, looking up at the towering mountains and exploring the terrain.
First experience traveling alone:
A: I flew from Singapore to New York City when I was 21 after spending a couple of months with my father over there. After spending time with friends in NYC I then moved to San Francisco by myself.
J: I went to Scotland on my own after four months being with friends in Europe. That first night in Edinburgh a group of six of us from the hostel that had never met each other before went out and had a blast.
Ever been (or thought you've been) in imminent danger while traveling?:
A: Yes – my Dad and I took some kind of private river boat trip in Bangkok when I was in my early 20s (the kind where a tout flags you from the street with a sign – the kind we probably shouldn't have gone on). Halfway through the cruise the driver became very hostile and demanded more money, otherwise he wouldn't take us back to shore. I don't remember exactly how we got out of it but I remember being terrified.
J: Being mugged in Prague. Last thing I remember was being in a bar and then I woke up in a jail cell the following afternoon. I don't know what transpired but I was concussed and all my valuables had been stolen.
Worst hotel/hostel experience:
A & J: Our last time in Vienna was spent in an expensive hotel where the heating broke in -4C weather. Appalling response from management and no money back. We filed a complaint with the city but we'll never get those three miserable days back.
Best hotel/hostel experience:
A & J: Recently we stayed at the Shangri-La hotel in Abu Dhabi and felt like we were treated like a king and queen. It would be a toss-up between that and our press stay at the Four Seasons Amman where we were spoiled rotten.
Favorite family vacation:
A: It's even between the trip I took with my mother to France many years ago and one I took with my father to Spain a couple of years later. Time spent one on one with your parents like that is priceless.
J: I went to Europe for the first time with my family when I was 10. The Austrian Alps took my breath away.
Must-have packing item:
A: An eye mask; once the sunlight hits my eyes in the morning I'm awake for the day and not every hotel has great blackout curtains.
J: Earplugs; I'm a light sleeper
Most unbelievable travel experience:
A & J: Meeting each other in a hostel in a tiny little town at the bottom of Crete.
Favorite "I can't believe I'm doing this" moment:
A: Climbing Volcan Villarrica in Chile
J: Walking in the pouring rain and snow in Torres del Paine on day two of seven thinking, "What the hell has my wife got me into?"
Place you can't wait to return to:
A: Germany
J: Turkey
Place you can't be paid to return to:
A: Croatia
J: Peru
Any exciting trips coming up?:
A & J: We're currently in Singapore for a few days before heading to Europe. We're actually moving to Norway this month for John's new job so that's the most exciting travel news we have right now.
Dream vacation:
A: A few weeks on the coast of Brazil
J: A summer in Turkey followed by an autumn in Germany and Holland
Favorite tourist attraction:
A: Sacre-Coeur in Paris
J: Colosseum in Rome
Favorite "I'm trying not to look like a tourist" attraction:
A: Brick Lane, London
J: Hearing local  traditional music anywhere
Favorite travel photo:
A: Someone snapped a photo of John and me talking on the first night we hung out together (see most unbelievable travel moment). Neither of us has any idea what we were saying to each other that night but it must have been good.
J: This one of Andrea riding on a camel in Petra, Jordan
Let us know if you want to be our next jetsetter!
xo,
the romantic & the wino