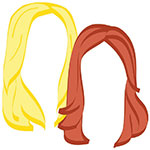 Well, well, well, wouldn't you know? It's jetsetter day! This week's jetsetter is Johnna, on insta at MissJohnna, and one of our former co-workers! Now she's besties with Oprah and basically just living the dream. She offered to let us edit any of her stories below to include tigers–you know, in the event we found them boring–but… she's besties with Oprah. Oprah > Tigers.
Enjoy!
Favorite Place: Boulder, Colorado and New York, NY are both perfect places in completely different ways.
More importantly, favorite meal: The best meal I've ever had was the tasting menu at Blue Hill Stone Barns in Tarrytown, NY.  My favorite meals are at my mom's kitchen table.
The moment you caught the travel bug: I didn't go to Europe until I was in college but the second I did, wanderlust hit me like a ton of bricks.  Right then, I made a promise to myself that every year I was going to go somewhere that I'd never been before and so far, I've stuck to it.
First experience traveling alone: In college I met a friend in Barcelona for the week and had a 4 hour layover in Frankfurt, Germany.  I had the brilliant idea to explore a bit during those four hours and got so turned around that I just barely made it back to the airport in time.
 Ever been (or thought you've been) in imminent danger while traveling?: Thankfully no but I did get pretty scared once.  I was in Canouan Island for an event about five years ago and the only people at our hotel were these very wealthy, stuffy Brits.  Clearly no fun.  A girl that I became friends with was invited to this party by one of the locals who worked at the resort and we ended up at this "nightclub" that was actually just a cave on the beach with really loud speakers called the "Hot Hole."  Everyone else there seemed pretty shady and I was clearly out of my comfort zone, so I solved the problem by drinking way too much of this sweet, blue concoction being ladled out of a cooler.   About five cups in, I was completely convinced that we were going to be sold into some kind of French Indian sex trade so I grabbed the girl who brought me and literally ran back to the hotel.  Looking back it was probably just paranoia brought on by the blue gasoline I was drinking.
Worst hotel/hostel experience: A Super 8 outside of the Detroit airport – it was wretched.  I got bumped from a flight and spent the night sleeping fully clothed and on top of my coat.  I refused to even go into the bathroom.
Best hotel/hostel experience: The Raffles Resort at Canouan Island.  I had my own butler and my own golf cart.  It was heavenly.
Favorite family vacation: Last summer while all of my belongings were being driven across country from NYC to LA, I went to Moab with my family.  We hiked, went white water rafting and rented this awesome house in the desert.  Canyonlands National Park looks like nothing else I've ever seen and is the perfect place to decompress because you literally feel like you're on Mars.
Must-have packing item:  My camera.
Most unbelievable travel experience: Roadtripping from San Diego to Erendira, Mexico to go to surfing.  Driving through Tijuana is literally an extreme sport and the roads past Ensenada are almost all dirt with really confusing road signs.  We got stopped twice by guys with huge guns to search our car for drugs – apparently they couldn't fathom why 19 year old Americans in an SUV would want to be down there. It was my first surfing experience in this little non-nondescript village and now it's one of my favorite  places on Earth.  We stayed at a hostel called Coyote Cal's that's run by this old beat up surfer named – you guessed it – Coyote Cal.  His wife cooks, he teaches the guests how to surf and at night all of the guests sit around this huge bonfire on the beach and drink themselves silly.  It's perfect.
Favorite "I can't believe I'm doing this" moment: Skydiving in Colorado.  Aside from being one of the best things I've ever done, the view was amazing.
Place you can't wait to return to: Paris and Erendira.  In a perfect world, I'd have a house in Erendira.  I have feeling that a beach shack there is about the same price as a good handbag.
Place you can't be paid to return to: I really don't like Vegas and I don't see myself ever making much of an effort to go back.
Any exciting trips coming up?: Hiking the Inca Trail at Macchu Picchu.  I've literally been talking about this trip for five years and it's finally happening in 2013.
Dream vacation: Morocco. Tahiti.  A month in Italy.  The list goes on and on.  I dream about vacations pretty often.
Favorite tourist attraction: The Eiffel Tower.
Favorite "I'm trying not to look like a tourist" attraction: Sitting by the Seine, drinking an espresso and reading a French Vogue.  I thought I was soooo cool.  Actually, I still think that was pretty damn cool.
Favorite travel photo: Riding bikes through Old Montreal.  Not the most adventurous day on Earth but was one of those perfect vacation days with bikes, bar hopping and good friends.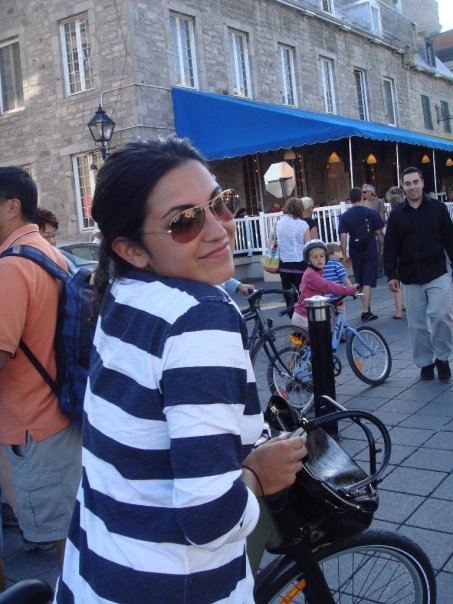 If you want to be a future jetsetter, get at us.
xo!
the romantic & the wino