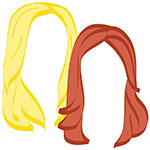 Well hello, fellow travel enthusiasts! It's that time of the week again.
Meet Marysia of My Travel Affairs. She's fairly new to the travel circuit, having only just discovered her love for travel in 2008. Since then, she's built up an impressive (read: atypical) roster of travel destinations. She may have traveled alone to Brazil– something we're not sure we have the courage to do– but the girl never leaves home without a hairdryer, and that's something we can get behind.
Favorite Place:  My favorite place is Tel Aviv. I think it is the best city in the whole world, or at least among all those places I have travelled to. It is the closest to perfect I have ever experienced. We all know that big international cities on the beach are everybody's favorite, and I like Barcelona or Rio, but Tel Aviv has this special vibe I love. A perfect mix of beach culture, superb restaurants, vibrant nightlife, rich heritage, big art focus and more that 300 days of fantastic weather!
More importantly, favorite meal: I do not have an exact meal but I love Japanese cuisine. I'm actually addicted to sushi! Seriously! Can't live without it, maybe that is why I want to travel to Japan so much. To have sushi for breakfast, lunch, dinner and as snacks ha ha ha
The moment you caught the travel bug: It was back in 2008 while two months trip in Asia (Cambodia, Laos and Thailand). I travelled a lot before, but at the end of the trip, on the plane back to Poland I have understood it is what I want to do in life. And I'm easy going person but extremely stubborn when I decide upon something in my head. And here we are in 2013 and I'm still traveling extensively 🙂
First experience traveling alone: It was back in April of 2008, right after I have decided to travel full time. I went on my own to Brazil. Oh my God, it was so much fun, such an amazing country and welcoming people. I landed in Sao Paulo and took a taxi to my hotel, on the way I was trying to find out from the driver how long it is gonna take and no matter how I tried I couldn't understand him. Take in consideration that I speak Spanish so I though that Portuguese won't be that hard. It took me about two days to get used to the accent and people need to speak very slowly ha ha ha But back in the taxi, I though to myself: 'Does it really matter? When I will get there I will get there', I start smiling to myself and watched neighborhoods we drove by.
Ever been (or thought you've been) in imminent danger while traveling?: No, I'm very lucky in this sector. I have never really felt in danger while traveling. But I as well think that as a solo woman traveling some amount of common sense is required. Even though I have nothing against crazy things, I have sneak into Taj Mahal in India during Muslim prayers on Friday. I visited favela in Rio, entered Lebanon with Israeli stamp in my passport and many more but I always stay cautions for unnecessary danger.
Worst hotel/hostel experience: There are not many of those, but I would have to say King George Palace in Athens. Generally nice decor, great location with windows on Parthenon, roof top swimming pool and bar to spend a lazy afternoon but the worst services I have ever experienced. Generally stuff didn't care, ordering a taxi or booking a table in the restaurant was a challenge above concierge abilities, 300euros extras on the bill they claimed we have to pay (room service we didn't use). And all that in Greece which struggle with financial crash! You would think they would care more for returning customers.
Best hotel/hostel experience: I have stayed in many outstanding hotels in my life like Four Seasons (Istanbul & Budapest), Taj Mahal Palace in Mumbai, Oberoi Amarvilas in Agra. The Peninsula in Bangkok or Dolder Grand in Zurich but there was nothing like a stay in La Mamounia in Marrakech this NYE when I was traveling in Morocco.
Favorite family vacation: Annual skiing trips with my parents and sisters, I love this tradition, doesn't matter if it is Italy, Poland or Austria. My parents are cool people and I wouldn't mind travel more often with them but I'm always somewhere on the go.
Must-have packing item:  Ok, I know it may sound a bit silly for a traveller like me who often go to really unusual countries like Benin or Kazakhstan but I do not move from home without my hair dryer, even though majority of hotels offers them to guest, I need to have mine. I have a bad hair day if I'm not able to use my hair dryer. Silly as it comes, but it is! ha ha ha
Most unbelievable travel experience: Meeting 'an angel' called Rebecca in Shauildir in Kazakhstan, where nobody spoke Russian or English or any language I speak. I was very close to giving up on seeing ruins of ancient Silk Road city of Otrar when she appeared out from nowhere asking how can she help me. In this forgotten by God town, where you would never expect meeting any tourist, she was teaching English to Kazakh kids. Oh and breaking into UNESCO site an hour later is pretty high on my list as well ha ha ha
Favorite "I can't believe I'm doing this" moment: I didn't have such one yet, simply because I can imagine myself doing anything, but I precisely know when I will experience one. It will be just before I will bungee jump from the Border Bridge above Victoria Falls in Africa.
Place you can't wait to return to: San Sebastian! I have felt in love with this city last summer and can't get it out of my head. I must go again soon! It doesn't happen to often to me. Although I have many cities I constantly return to like Tel Aviv, Madrid, Zurich, Paris, London or Oslo. San Sebastian charmed me up and I can't stop thinking about it. What can I say? Love from the first sight 🙂
Place you can't be paid to return to: At first let me tell you, I'm awfully optimistic and easy going person so it take a lot for me to dislike any place to the level I wouldn't travel there even when being paid. But there is one place like that, Sharm el Sheikh in Egypt! It is the worst place I have even been in my life. I went there for diving holiday with my best friend and it was the worst experience in my life, people  – men were sleazy and rude, even in the employees of supposed to be 5-star hotel were making distasteful comments about our look. After a day we have moved to the boat to avoid those situations. Even though diving was great there I will never again go back there.
Any exciting trips coming up?: Oh, I have many of them, my list for 2013 is really long ha ha ha But the closest one will be Georgia Armenia Azerbaijan Trio, can't wait. I think I will love it. I always adore travels that allow me to sink into authentic atmosphere of the countries, interfere with locals and feel like in the other world, so different from jet-setting Europe.
Dream vacation: That is quiet hard to decide, I'm having dream vacations all the time, every trip I go ha ha ha But to be honest, I have this dream to travel whole Africa by car, ideally with an amazing boyfriend, but if he won't come along than alone. Like a year, totally switched off from my Europe life. I will do it one day!
Favorite tourist attraction: All modern and contemporary art museums, wherever I go, I always visit them. I'm a big modern art lover and no matter how common-touristy it is and how other travelers always claim that museums are for tourist I will keep on paying visits to those.
Favorite "I'm trying not to look like a tourist" attraction: I like to think about myself as a traveller, but don't we all? Ha ha ha Sometimes you can't avoid those touristy stuff, like a boat trip on Lago Maggiore, Bosphorus in Istanbul or the Blue Lagoon in Malta, but I kind of always mange by going with a private boats.
Favorite travel photo: I have so many. I have quiet weird and quirky tastes when it comes to photography (picture of the empty chair under a tree in Almaty or two cans of Beef Luncheon Meat – Mortadel de Vaca taken on the Jewish cemetery in Fez). My weird taste is quiet hard to explain therefore I have chosen this great picture from Amman in Jordan which is more about actual travel experience. I like this picture because it is a superb memory holder and because it shows a phenomenon I love to experience. I love to travel to places where I seem to be a bigger attraction to locals than they are to me.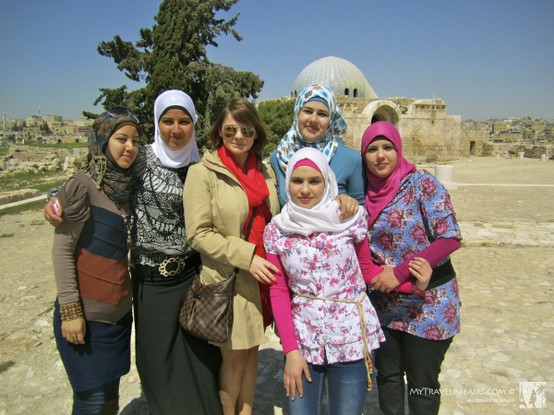 Marysia in Amman, Jordan
If you want to learn more about Marysia's travels, you can follow her on Twitter and Facebook. And, if YOU want to be our next jetsetter, email us at thelazytravelers [at] gmail [dot] com! Don't be shy– it's fun!
xo!
the romantic & the wino