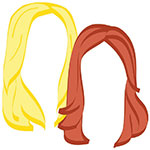 Today we have a little treat for you, readers: our featured Jetsetter happens to be related to the wino! And where there's a wino, there comes many a free spirits to follow…
If the wino gets her blonde hair and good looks from AP, she gets her sense of adventure (and desire to put it down in writing) from her Uncle Bill. In his twenties, he acted the part of the wino's young, impossibly cool uncle, joining the Marine Corps and taking off to the Pacific (and he's got the tattoos and scars to prove it!). Today, he's serviceman-turned-beachcomber, residing full-time at the Jersey shore, where he excels in the laid-back seaside lifestyle. To see more of Bill's journalistic achievements, check out Ocean City Magazine, which he publishes (and writes, and edits, and acts as photographer, and social media guru, and all around man-with-many-hats). Until then, enjoy reading about his adventures right here on the Lazy Travelers.
Favorite Place: Hmm… There's a little spot on Oahu called "Sacred Falls." We used to drive there along Hawaii's windward coast in a Jeep with the top off. Back in the day you could hike to the falls. Once there, you were rewarded with a magnificent waterfall that you could swim around. It's been closed for over a decade now because of an accident there. I feel lucky to have been able to see it up close. My other favorite place is Nantucket. I was married there.
More importantly, favorite meal: These are some tough questions. The snapper at La Vie en Rose on the French side of St. Martin. Brilliant dish, great views. And I'd also have to say La Castagne in Philly. Philly's a great food town and my wife and I love to discover new places there.
The moment you caught the travel bug: I wasn't big on travelling when I was young. All those hours in the car with your parents. Ugh. But there was a moment when I was travelling alone, all by myself, and I tasted true freedom. I can't put my finger on it – it might have been the Denver airport. But that feeling of absolute freedom – of being able to go left or go right or straight or sideways – and then discovering what comes next. I love that.
First experience traveling alone: I drove cross country by myself. Philly to LA. It was awesome. Nobody to answer to. You might think I would have gotten bored. But I savored every minute of it. I went where ever I wanted. Never had to ask "do you mind?' or "is it okay?"
Ever been (or thought you've been) in imminent danger while traveling? We landed in Guam on the way to Japan and almost skidded off the runway. Total white-knuckle moment. And I took a wrong turn and got lost in Pusan, South Korea, near the docks. But the local cops picked me up and took me home. They obviously saw I needed a hand.
Favorite way to travel: Nowadays my favorite way to travel is in a big minivan with a DVD player to occupy the kids.
Worst hotel/hostel experience: Can't really think of one. I try to be smart when I travel. I don't want to get caught in a "worst experience" moment.
Best hotel/hostel experience: My wife and I love the Rittenhouse Hotel in Philly (there's Philly again). And one time I was skiing with friends and the mountain offered cheap rooms in this big brick building. Might have been $10 each for the night. It was bunk beds with a bathroom down the hall. We were the only ones there. I thought Jack Nicholson was going to attack us with an axe. We had a blast.
Favorite family vacation: Orlando. Hands down.
Must-have packing item: Today, sunscreen. Back in the day, a six-pack.
Most unbelievable travel experience: My wife and I stayed in a hotel in D.C., and we went to the hotel bar for a drink. We walked in and were the only white people in the place. The music stopped and everyone stopped talking and turned to look at us. And we just walked right in. I think the crowd actually cheered. We didn't pay for one drink the whole night. One guy said "Most white people turn around and walk out." We had a most memorable evening with our new friends.
Favorite "I can't believe I'm doing this" moment: Sitting on a deserted beach on the Hawaiian island of Kahoolawe watching dolphins frolick in the ocean. Not many people even get to step foot on that island.
Place you can't wait to return to: Somewhere new. But I do like Old San Juan, Puerto Rico.
Place you can't be paid to return to: Duck, N.C. Booooooooooring.
Any exciting trips coming up? No decisions have been made. But half the fun of travelling is deciding where to go. Park City Utah is in line, And of course I'm dying to go to Europe.
Dream vacation: An around-the-world cruise that takes a year.
Favorite tourist attraction: Grand Canyon
Favorite "I'm trying not to look like a tourist" attraction: The Hollywood Walk of Fame.
Favorite travel photo: You're asking me to choose from a million photos! Here's a recent trip with my fam…
Happy hump day, travelers! Tonight, sit back and enjoy a glass for Wine Wednesday… or maybe a six pack in honor of Uncle Bill.
xo!
the romantic & the wino