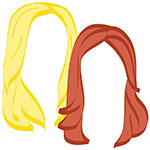 Walk the way you drive.
We're not saying wear a blinker and carry a horn. We're saying that there is never a reason for the awkward which-way-do-i-go sidewalk dance, and there's never ever a reason to go booking it down the sidewalk with nary a care as you slam into unsuspecting pedestrians on your way to the most important place on earth (at least, that's where we assume you're going at such a rampant pace).
No matter where you're headed, please, we beg of you:
Always stay to the same side that you drive. In the states? Stay to the right. Walking down the streets of London? Stay to the left.
xo!
the romantic & the wino