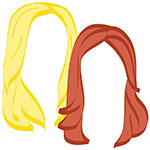 Two wheels are better than none. (sometimes.)
 It's no secret that our preferred method of exploring is on foot. We love walking from neighborhood to neighborhood, finding new places as we please. But sometimes, like when you're in a tiny town or on a remote island, walking isn't the best way to explore, and being cooped up in a car isn't the answer either.
So…rent a bike!
Pros? You'll get to explore your surroundings in a different way, you'll cover more ground, and it won't take much convincing to reward yourself with extra wine (and cheese) (and dessert) at the end of a long day of biking.
ALSO. Bonus points: if you're not a regular biker (aka haven't done it since you were eight), there is a 100% chance that you will come away with a story. We certainly don't believe "just like riding a bike!" to be true. On our most recent attempts, the romantic hit a parked car in Nantucket and fell in a ditch in Lucca, and the wino was blown over at the Jersey Shore. No, not during a hurricane.
But you know what? We DID pick ourselves up, brush ourselves off, and realize that we're coming away with stories we wouldn't be able to laugh about later had we not hopped on a bike. (Later clearly meaning over that well-earned bottle of wine).
xo!
the romantic & the wino