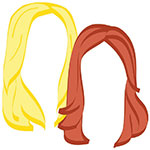 Be aware of your surroundings.
Namely: always know where you are and who's around you. This is probably good life advice, but it's especially important when traveling. On a crowded subway with a giant backpack? Do everything you can to wedge yourself into a corner and not slam into fellow passengers. On a completely full bus? Hang up your cell phone and tell your inappropriate hilarious stories via text.
This one is less for you and more for the people around you, but we can tell you this: if you're always concerned with how your behavior is affecting those around you, you're far more likely to have an enjoyable trip experience if you're not pissing off everyone around you.
xo!
the romantic & the wino