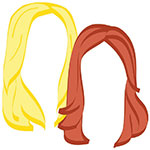 Once the new year starts, it's never too early to start planning for the summer.
Let's be honest: the winter sucks after Christmas is over. Maybe a freak snowstorm will change up the monotony, but otherwise? It's all cold and windy and there's that weird staticky hair issue where it's either all over the place or confusingly flat. Then, spring hits for all of five seconds before a slew of random rainstorms and bright colors invade everyone's lives.
Ok, this might be New York specific, but we can all agree: June-August is better than January, February, and most of March combined. Everyone knows this, and that's why everyone and their mother takes time off in the summer to prance around their favorite beach destination and get all tan (or freckley, WHATEVER). We all do it, and it's glorious.
Less glorious? The prices of summer travel. Airfare in peak season is just ridiculous, and forget trying to book a hotel once Memorial Day hits. This is why, if you're planning to travel in the summer–especially to anywhere in the US or Europe, you had best start planning now.
Prices are about to skyrocket and shit is about to get real. Consider yourself warned.
xo!
the romantic & the wino