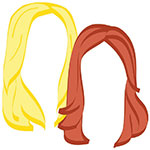 Talk like a local 
(In New-York speak: t-aw-k like a low-cool)
We're sure we've stressed (read: complained about) this before, but nothing irritates us more than being in a foreign country and overhearing fellow Americans acting aghast when someone does not speak English. I'm sure we're preaching to the choir, but: if you're in a non-anglophone country, why would you assume that everyone you come across should speak English?
When we travel, we always make an effort to learn the language basics we'll need when abroad. Truthfully, sometimes we don't get much further than the hello, please, and more wine (aka: the necessities) but the point is: we try. And you should too!
Also note: this rule doesn't just apply to international travel. Even in the United States, our vernacular varies from place to place. Have you ever heard of a hoagie? You'd better, if you plan on visiting Philadelphia. Do you want to order soda in the Midwest? You must mean pop.
And lastly, as New Yorkers, we take the pronunciation of "coffee" and "bagel" very seriously.
This may be the pot calling the kettle black, but stop being so lazy, you travelers! If we can muster up the energy to do a little pre-trip language research, so can you.
xo!
the romantic & the wino