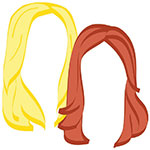 Dream big.
When we started this little blog almost two years go, we were trapped at our desks for twelve hours a day for jobs we that we… well, detested, for lack of a better word. Flash forward to this evening as the romantic & the hubs packed up the last of their belongings and said their final goodbyes to their New York lives (and their New York sisterwife) for the adventure of a lifetime. On Friday, they'll be wheels up to Hawaii, and afterwards, they'll spend five months traveling the world.
If you would have told us two years ago that the romantic's dreams of taking a five month hiatus from New York to travel would actually come to fruition, we would have laughed in your face (and most likely, consumed a good amount of wine afterwards to console ourselves). But its happening! It's really happening. All because the romantic refused to stop at weekend trips and seemingly too-short vacations abroad. As corny as it sounds, she dreamed of bigger and better. Let us reassure you: no one judges you for being corny when you're big dream happens to be a round the world trip and your round the world trip happens to become reality.
Dream big. It may just come true.
xo!
the romantic & the wino