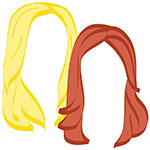 Get to know the locals.
Yes, we know. "Live like a local" seems to be every traveler's mantra these days–ours included. But sometimes, we've noticed that people miss the most important step of living like a local… and that's actually meeting some.
Saying hi is a great start–getting drinks is even better. But the real kicker? Stay with them!
One of our favorite travel memories? Staying at a tiny B&B on the coast of Dingle, Ireland. Along with making us a breakfast that was to DIE for (we still dream of their homemade Irish soda bread and jam), our host was able to give us valuable insight into the town. Sure, hotel concierges will tell you all the top places to wine and dine, but only a local will point you toward the best secret beaches and highlight the shops that are actually worth visiting along the way.
This theory has held up on the romantic & hubs's current RTW, with additional highlights including: a village visit with their "Fijian Mommy" during a homestay on the Coral Coast of Fiji, a day of sailing through the Bay of Islands with their hosts in Russell, NZ, and, most recently, a night of crepes and the finale of "My Kitchen Rules" with their adorable host in Warrnambool, Australia after a long day of driving the Great Ocean Road.
xo!
the romantic & the wino