Always bring water.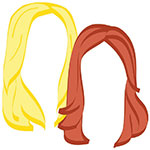 As this weekend signifies the official beginning of summer for the Northern Hemisphere, it's important to stay hydrated, friends.
No, we don't mind with wine. Although, actually, if you're imbibing… you should bring DOUBLE the water.
Fine. We know. We're aware this sounds like kind of a silly rule. But take note! Hopping on a bus to get you from point A to point B? Bring water. Lounging poolside for the day? Bring water. Urban hiking? Bring water. Actual hiking? Bring extra water. And your patience. And sunblock.
You know what, don't go actual hiking. If the weather is nice, find an outdoor spot to enjoy a nice lunch and a pint. PLUS WATER.
Perhaps this is only on our minds because the romantic is currently exploring cities where a water fountain isn't really an option. As a result, she's being extra mindful of the tap water & ice cube, because avoiding tap water is of the utmost importance. But either way: it's a good thing to keep in mind. At the very least (and where feasible), fill up a reusable bottle before heading out for the day to help the environment and save yourself a few bucks.
To help give others the same luxury, consider making a donation to
charity: water
xo!
the romantic & the wino