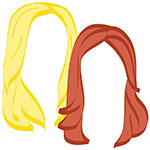 Ignore the rules.*
If there's one thing we've learned in our twenty-something years on this planet, it's this: everyone loves to give advice.
This applies tenfold when it comes to talking with people about their travels.
 "You haven't been to Rome unless you've seen the Spanish Steps." "Don't go to Thailand unless you can devote at least two weeks." "Plan everything in advance so that you never waste a minute!"
Gag us.
We have seen the Spanish Steps exactly zero times but we assure you, we have been to Rome. No country should be skipped just because you're short on time because–chello–you can always go back for more, and planning everything in advance is for losers! Losers with no creativity!
Also, rules are meant to be broken.
xo!
the romantic & the wino
* Please note that ignoring the rules is different than ignoring laws. Don't ignore those, even the lame ones like "don't drink openly on the sidewalk." Foreign prisons seem scary.