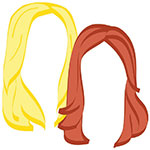 Bottle up your seasonal misery and put it in your pocket.
There will come a time — probably in late August, maybe even early September — when you are going to be sick of feeling sticky.
On that day, as a single bead of sweat rolls down your cheek, another god forsaken picture of someone's 100+ degree dashboard thermometer will appear in your Instagram feed and you will wish you had the energy to raise your fist above your head and throw your phone against the wall.
Don't.
We know, we understand. But don't.
Instead, think back to the recent days of Polar Vortexes and sheets of ice and fluffy snow piles. Join us, fellow sufferers of Seasonal Affective Disorder! Harvest your current winter angst into future summer reprieve!
Alternatively, if you're officially done with this current winter, then please. Close your eyes, pretend your desk chair is a hammock, and ask the person to your left to lightly blow on you as if they're a warm, summer breeze.
(But only ask them if you know them well. Sexual harassment in the workplace is no joke.)
xo!
the romantic & the wino