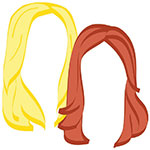 When packing, always consult your bestie.
Good news, travelers! #LTnyc kicks off tomorrow. TOMORROW.
Though it's technically a staycation for the wino, we'll be bouncing around neighborhoods enough for the next week that we both need to pack a bag. Obviously, this means a lot of gchats and texts flying about — all in the realm of, "What are you wearing Thursday?" and "What coat are you packing?" because NYC weather appears to be in the midst of a major schizophrenic meltdown.
Add into the fact that we'll be attending a fancy pants wedding on Saturday (the wedding of the year! no the decade! no the CENTURY!) and it's just a lot of pressure.
And while we adore our significant others for always telling us we're beautiful, only your bff can really, honestly tell you, "Uhhh yeah, no. Don't pack that" …and get away with it.
xo!
the romantic & the wino