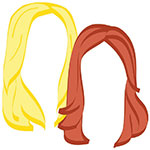 Be a yes girl (or guy).
We're going to let you in on a little secret: we're not particularly brave.
Sure, we've been going on and on for years now that the best way to see a city is to sit back at a sidewalk cafe and watch the world go by. And it's true! We love that more than anything in the whole world!
…but do we love it because we're lazy, or because we're scared? Well, truthfully, a little bit of both. You'll never see us biking around a city, swerving in and out of traffic — and that's not just because we prefer to have both feet firmly planted on the sidewalk with nary a care. We're straight up scared of getting pummeled by a cab and splattered onto the pavement.
But still, even for the most fearful among us, sometimes you just have to take a deep breath, buck up, and try something new. It's how the wino recently got roped into night kayaking despite her serious fear of large-toothed sea creatures, and how the romantic found herself zip-lining through a Costa Rican jungle, despite her fear of falling a billion feat to her death.
Are they things we'd do again? Debatable. Are they things we love to look back on and say, "holy CRAP, that was awesome."
Yes. Yes they are.
xo!
the romantic & the wino