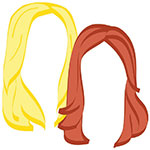 Jump around.
Contrary to our lazy ways, we're not very big fans of staying in one place for too long. Though many travelers dedicate days or even weeks to one city or destination, we normally find ourselves bouncing from place to place. You can blame it on short attention spans, but we chalk it up to our never-ending wanderlust and desire to see visit as many places and cities as we can.
In just a little over a week, the Lazy Travelers will be reunited in the old U-S-of-A, and we have at least four places on our itinerary during our 14 days together. Along with a few of our tride and true favorites, we're adding one city that neither of us have ever been to before! Because we have such limited time together– living an ocean apart and all– we like to see and do as much as we can. Oook, by "see and do," we really mean "drink and eat."
Tune in next week to hear all about where we're spending our time during the Lazy Travelers' summer reunion, and be sure to follow along on Instagram, Facebook, and Twitter. Shenanigans are promised.
xo!
the romantic & the wino