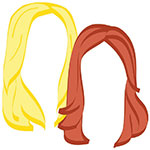 You get one "where is" question per local.
Perhaps, as urbanites, we are just a bit salty about this next travel law, but here's the thing: people bustling down the street who are clearly locals aren't your personal tour guide.
Sure, if someone looks friendly, you may stop them and politely ask if they know which way is Fifth Ave or for quick directions to the Liberty Bell. What you may not do is whip out your map and ask for restaurant recommendations or complicated directions to six different tourist sites.
You get one question. One. Make it count.
xo!
the romantic & the wino