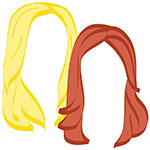 "We'll deal with it later" is not an appropriate packing mentality.
With each trip, we not only become more seasoned travelers — we also become more seasoned packers. We're not claiming to be experts, here, but, like a fine wine, we do seem to be getting better with age.
Our latest revelation was inspired by our recent apartment moves, but it most certainly holds true for travel, too. That lesson is this: don't decide to "deal with it" once you reach your destination. Not sure how those shoes will go with anything else you're packing? That issue will not resolve itself upon arrival, they probably just don't go. Can't imagine not wanting to wear your current favorite chandelier earrings, even on a camping trip? The opportunity to attend a campfire ball will not present itself at the last minute, because a campfire ball is not a thing.
…though now we might make it one.
Anyway, we may be facing boxes of random kitchen appliances and old books, but the sentiment remains: deal with it before you leave. Once you arrive, you're gonna wanna get right to the good stuff (shopping to fill the space of the stuff you left behind, duh.)
xo!
the romantic & the wino