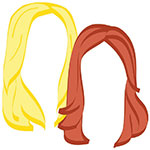 Escape the cold.
Growing up in the Northeast United States, we've become pretty accustomed to frigid winter months chock full of nor'easters, blizzards, freezing rain, and general cold-weather unpleasantries. When the novelty of the season's first snowfall wears off (and it happens quicker and quicker these days), our minds start to wander towards sunnier days and milder climates.
Though a trip to the islands may not be in the cards every year, it's possible to escape the cold briefly by traveling to slightly warmer destinations. The wino just jetsetted to southern California for her honeymoon, and while mid-70's isn't exactly a tropical heat wave, it sure beat the freezing cold temperatures of the east.
This spring, we have two warm-weather destinations in the works, and we can't wait to share them with you. Start trading out those sweaters for shades, snow bunnies, because we're bringing you along every step of the way!
xo!
the romantic & the wino