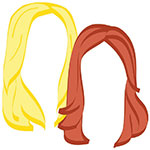 It is incredibly rare that we travel somewhere and voluntarily do something that requires physical exertion. Surprising, we know. However, there are exceptions to every rule, and as such, we'd like to make a case for winter sports: most specifically, skiing & snowshoeing.
They are, arguably, the perfect lazy girls' athletic activity of choice. Think about it! First of all, the cold temps demand pure coziness before and after. Second of all, no other sport has an attached cool-down activity that actively encourages you to booze it up. Have you ever heard of après-jog or après-spin??? We didn't think so, SoulCycle.
Après-ski, however, is basically the main reason we even go skiing. Plus, ice skating, sledding, and, as we've come to learn, snowshoeing, are a close enough off-shoot, right? So let's just apply it to all winter sports. You have earned yourself a hot toddy after all that physical activity!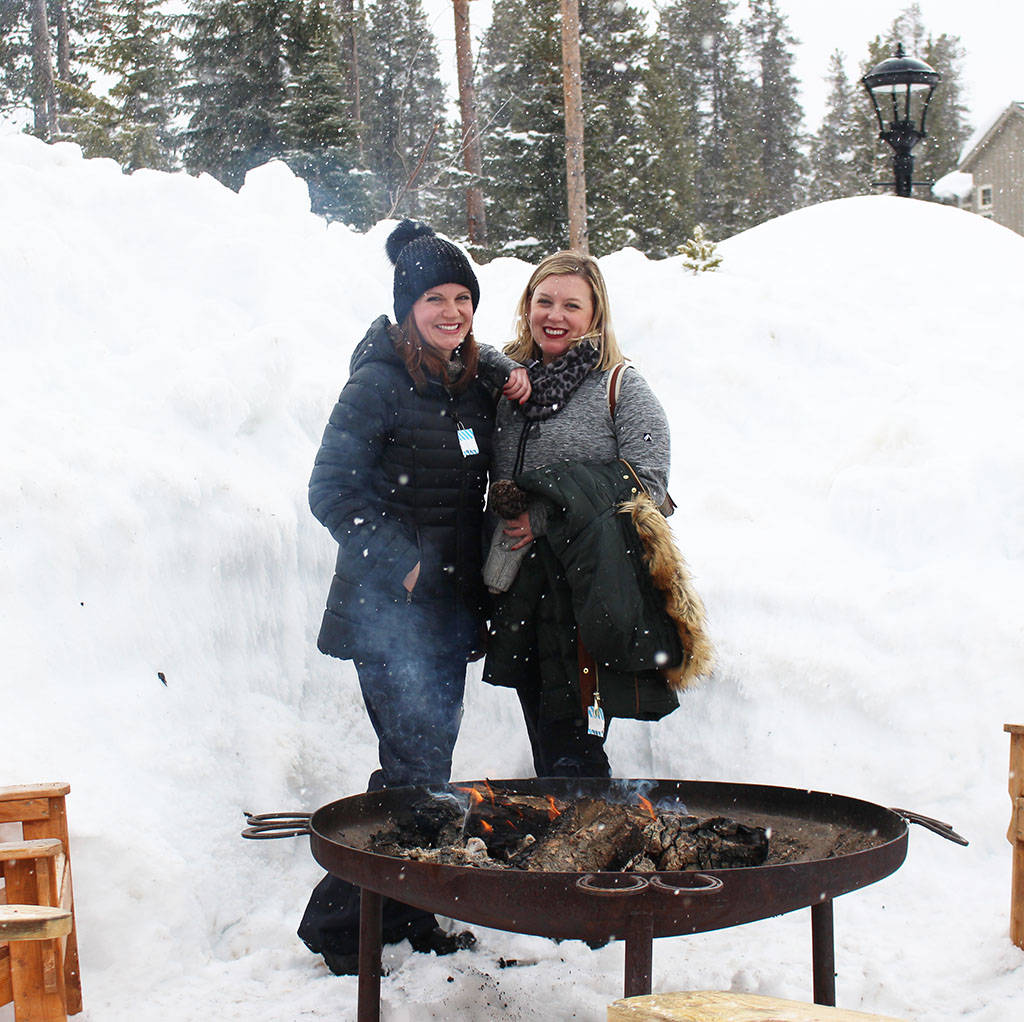 When we realized we were heading to Breckenridge with InvitedHome for a long weekend of red wine & group fireside snuggling, we were thrilled to team up with Carver's Breckenridge Ski Shop to add a few days of skiing and snowshoeing into the mix.
Shortly after we reunited over drinks at Blue River Bistro, we popped down the street to Carver's to pick up our gear. There, a dedicated ski pro was assigned to get each of us into the ideal equipment for our varying levels of ability. In what felt like no time at all, we walked out the front door with skis, boots, poles, helmets, and showshoes… plus a buggy that's not great in the snow… during what, apparently, was the middle of Ullr Fest.
(Turns out, we should have listened to the Carvers' team when they told us to pull our car around to their alley for pick-up. Trust us when we say: they know what they're talking about.)
We had to divvy up our ski days to suit lazy baby's schedule, but one afternoon was set aside for a private lesson with ski instructor Lee Sky of Breckenridge Ski School. While the boys took on baby duty (read: carried Margot between bars as they tested the local craft beer scene), we met Lee on Peak 7 for a half-day lesson on the slopes. Having never skied the Rockies, we knew we could each benefit from a good refresher, and a little touch up on our form.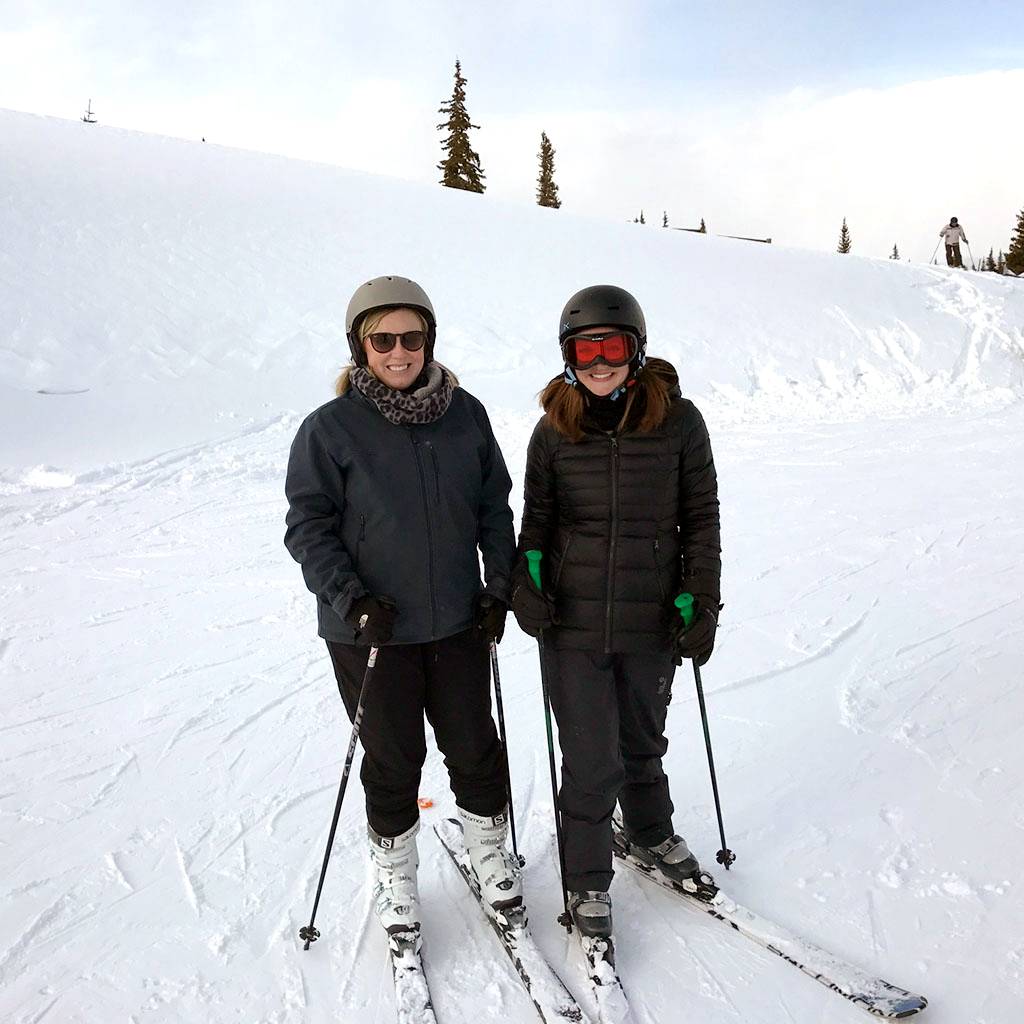 Our morning session with Lee flew by, and, with his help, we quickly got back into the swing of things. By the end of our lesson, he had us testing our limits, and even doing a small off-trail obstacle course. Had we more time, we definitely would have spent more of it with Lee. Breckenridge Ski School offers lessons for all levels, so there's something for everybody, no matter your skill level.
Later, Lee asked where we were staying, and declared Peak 9, the are surrounding our InvitedHome cabin, as "Moose Country!" This motivated some of us to get back on the slopes for one more morning run. Sean stayed back with Ashley et la bébé (the ole husband swap, as we like to say), while Carolyn and Jeff headed out to ski, and we all kept our eyes peeled. Sadly, we spotted zero moose near the cabin OR on the mountain.
Le sigh.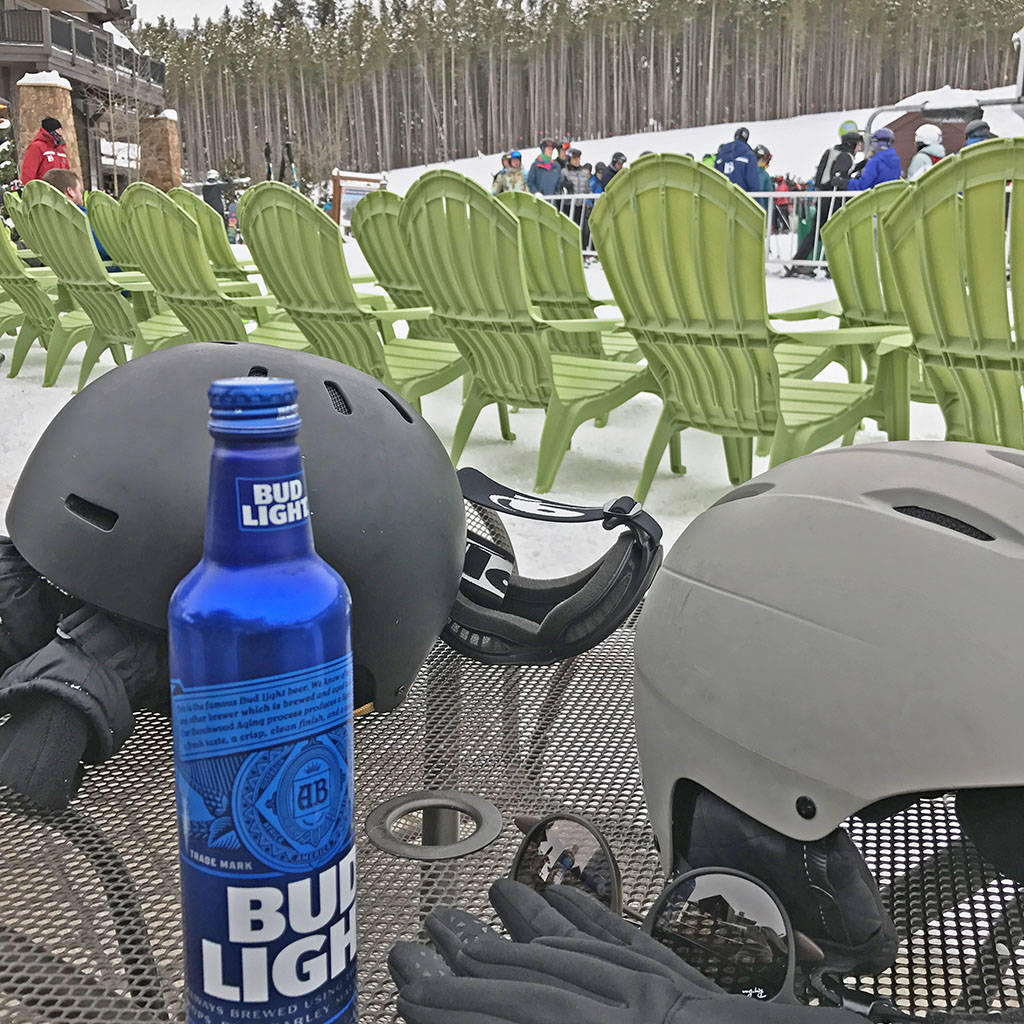 After two morning runs and one beer at the base, we all reunited for our first-ever snowshoe adventure. Keep in mind, none of us had ever been snowshoeing. But, we had decided that:
a) It looked marginally less taxing and FAR less dangerous than skiing.
b) Lee told us the day before that snowshoeing is almost as popular as skiing in and around Breckenridge!
In fact, he pointed us to an entire Nordic Center with 50km worth of cross-country ski and snowshoeing trails.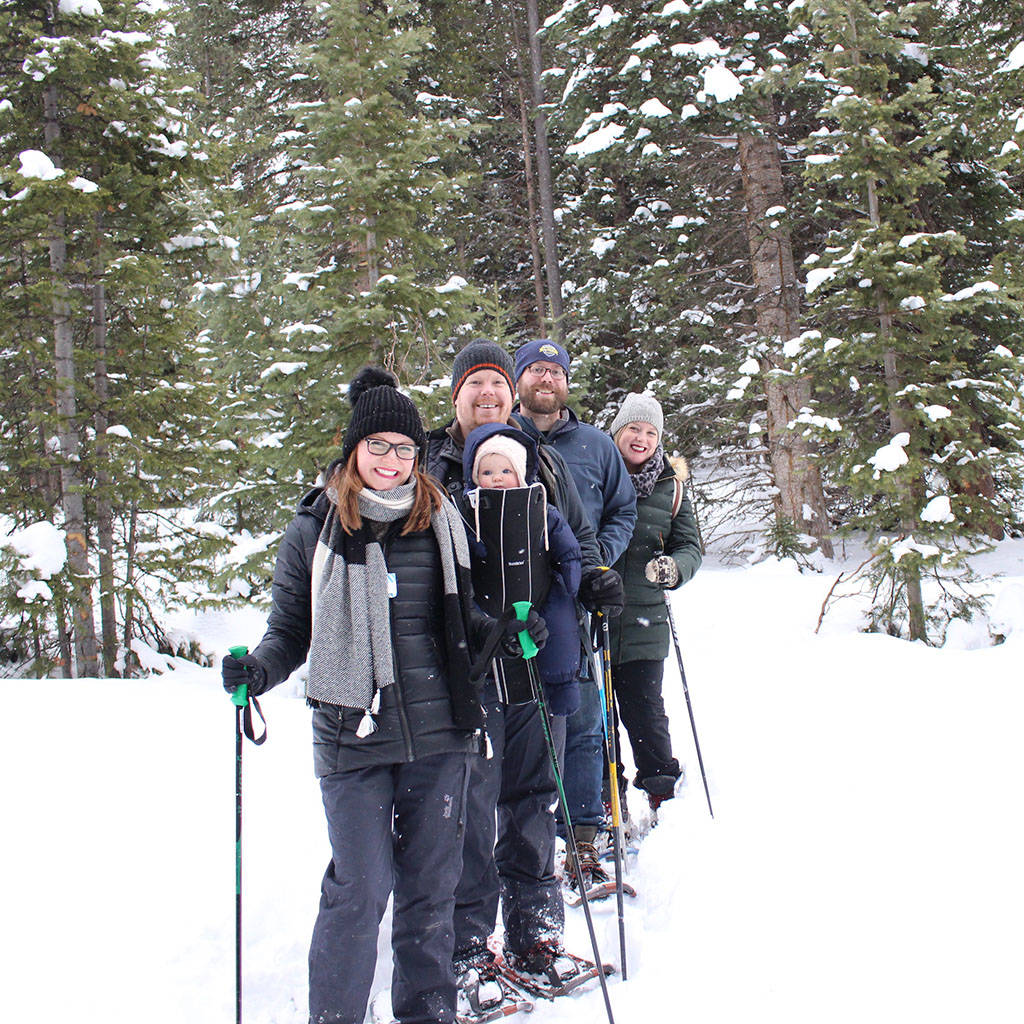 That afternoon, we packed up our Carver's gear and headed to the Nordic Center. It was high time we try our hand (and feet!) at snowshoeing. Major revelation: it's the best lazy sport of all time! It's relatively easy if you keep on a flat surface AND you can easily go at your own pace.
Read: take lots and lots of breaks.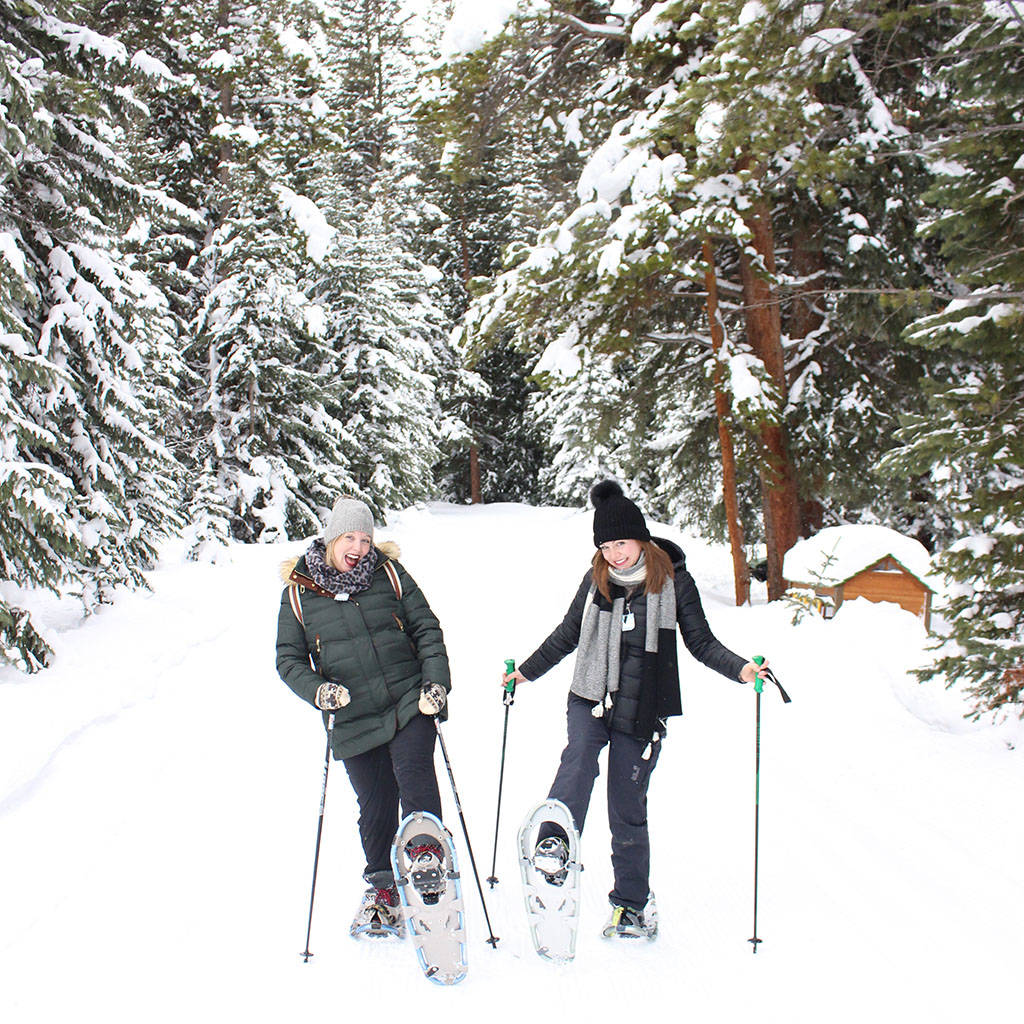 Naturally, we were more into taking in the beautiful scenery and stopping to take photographs than covering a lot of ground. We decided to take a 5km beginners trail, and we spent a good part of the afternoon slowly making our way through the snow.
Though we couldn't enjoy it due a wedding that evening, the Nordic Center also has a perfectly cozy lodge with hot beverages, snacks and fireplaces. Snowshoeing for the win.

We left Breckenridge feeling pretty accomplished, and who could blame us after SO MANY ACTIVITIES. And for those of you that are concerned that we're about to change our name from the lazy travelers to the mildly-active-in-the-wintertime travelers, please note that our time inside with wine far outweighed our time outdoors. Because what can beat a drink by the fireplace in your pjs? Absolutely nothing.
xo!
the romantic & the wino
We were partners with InvitedHome, Carver's Ski Shop, and Visit Breckenridge during our stay in Breckenridge. Thank you to all of our partners for keeping us safe during our time on the mountain, and NO THANKS to the moose population of Peak 9 that refused to walk by our cabin. All opinions are our own.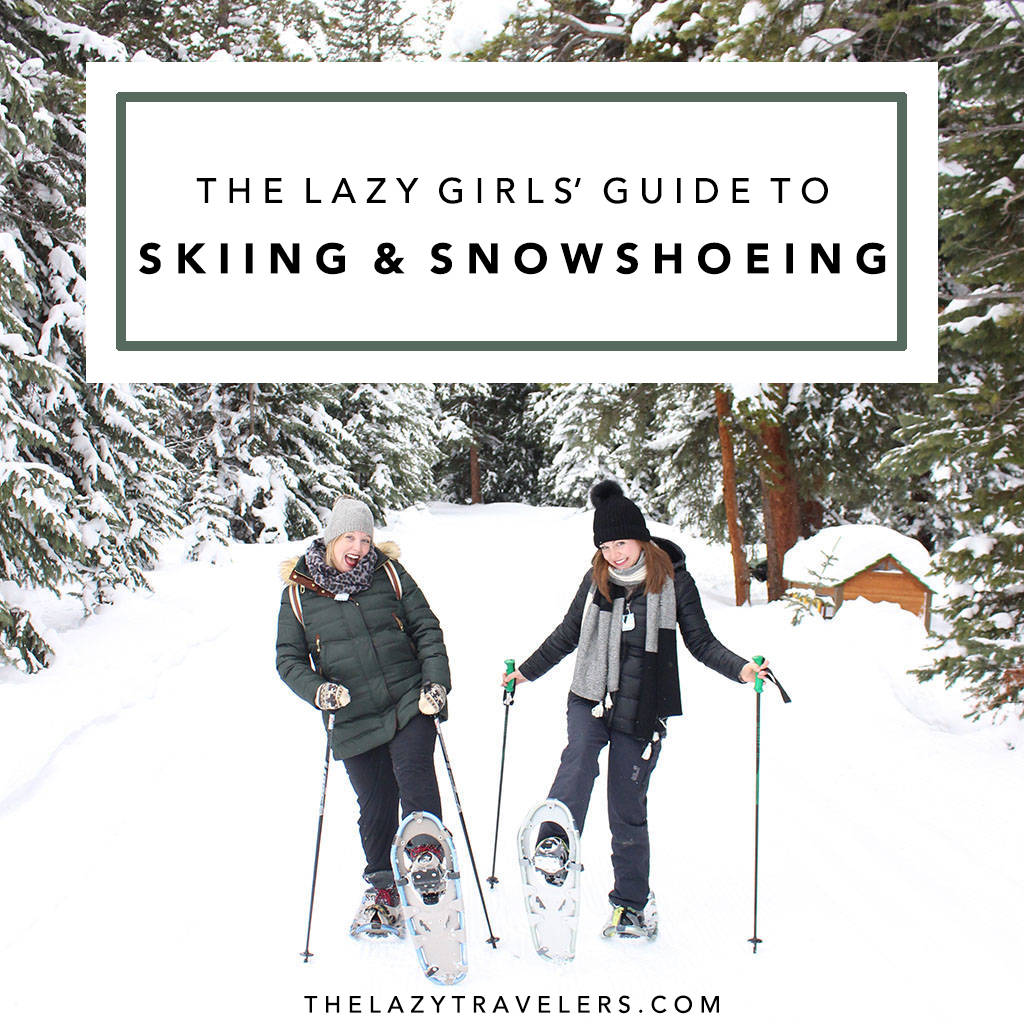 Save
Save
Save
Save
Save
Save