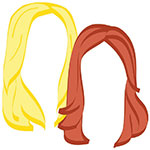 As the leaves are starting to change and we crank up the cozy on our current wardrobe, we can't help but look back just once more at our final trip of the summer: one week living it up on the Costa Blanca.
In case you missed it, this August, we maxed out our true lazy girl potential with a villa rental in Benitachell, just outside of Moraira, Spain.
It was exactly what we craved, and the perfect end to our whirlwind summer.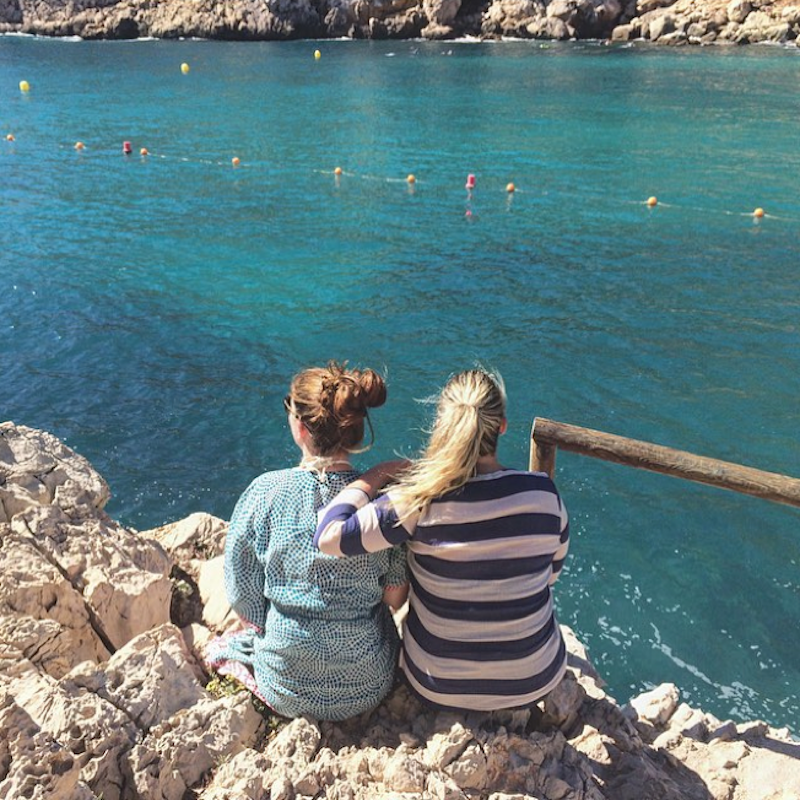 photo via instagram | @lazytravelers
And yet! While we will proudly tell you all about the nothingness we experienced… we didn't really do nothing. Sure, there were days where we only moved from the pool to top up our mocktails, cocktails & beers, but we were also in a totally new region we'd never visited before! We had some exploring to do!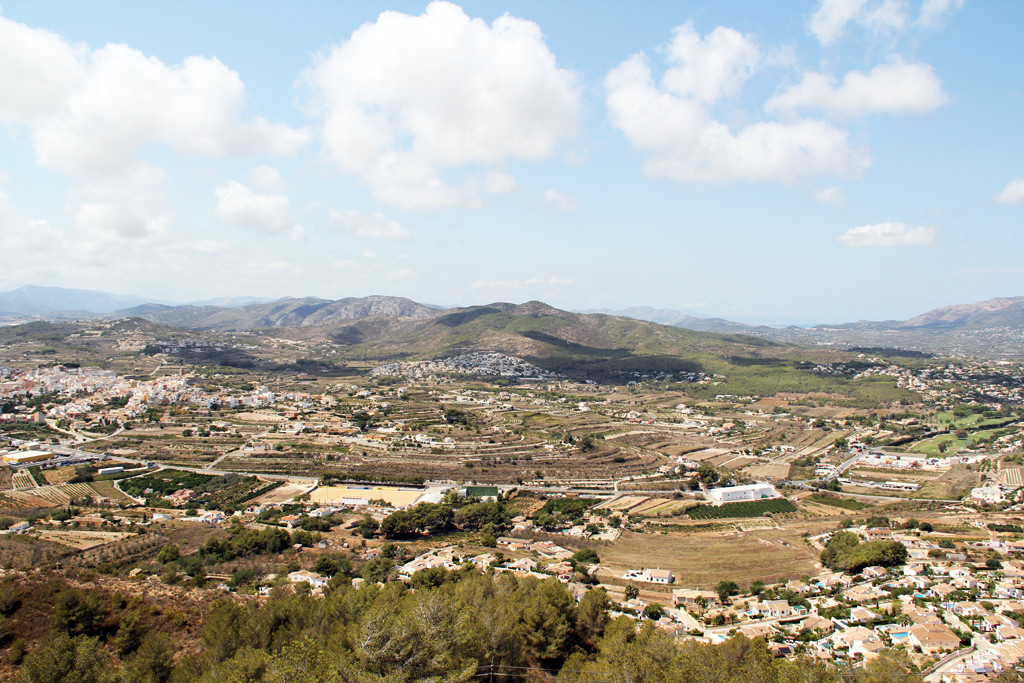 When we did dare to leave our humble abode, we let ourselves fall in love with the surrounding towns and beaches, and our little bit of exploration means we can officially declare the Costa Blanca as one of our new favorite European destinations.
We're not going to lie to you, though. It wasn't love at first sight. In fact, after our first day of driving around, we were a little confused about all the fuss. The towns of Moraira and Jávea had their moments of charm, but for the most part, we weren't feeling it. It wasn't until we stepped off the beaten path (travel blogger cliché alert) that we found where the real beauty of the region was hiding.
Cala del Moraig // After a morning battling the crowds at Arenal Beach in Jávea, we were desperate to find a more picturesque seaside retreat. Though we considered giving up entirely and resigning ourselves to the villa pool for the day, we decided we'd try one last attempt at a nearby beach that Google claimed to be worth the trip — Cala del Moraig.
Driving down the windy, steep road to the beach, we spotted crowds of people working their way up and down the hill to get to their cars, and once again, we almost turned back around toward the villa. But when we got to the bottom, we knew this was the beach we were looking for all along. Though somewhat crowded in the late afternoon, no amount of people could take away from the beauty of Cala del Moraig.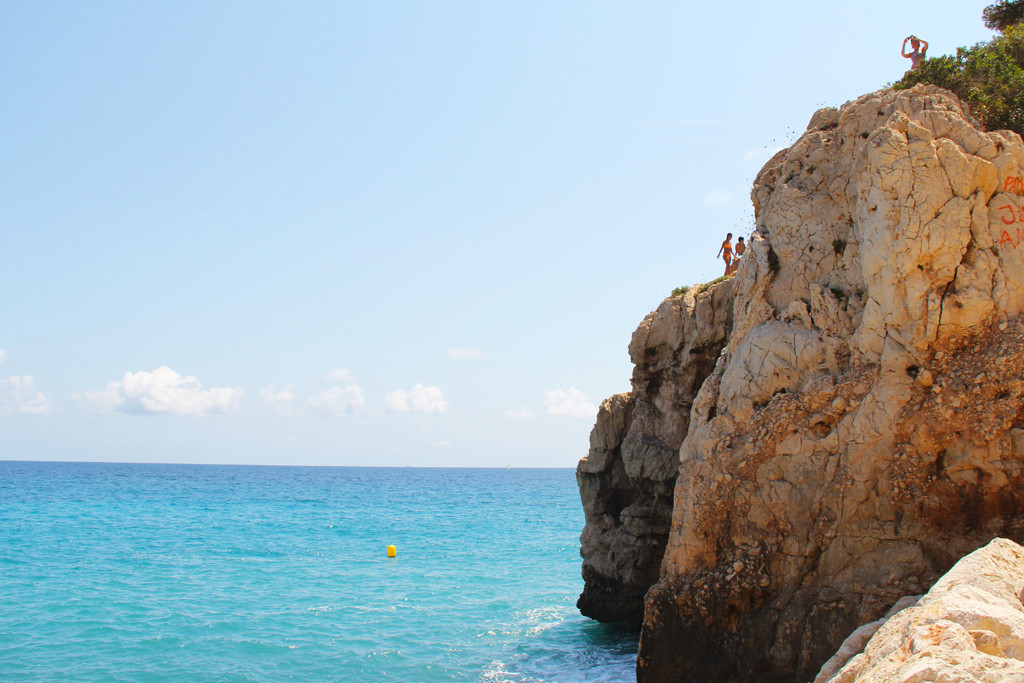 Early the next morning, as Jeff flew from London to Costa Blanca to join us, we dragged ourselves out of bed early — a feat on a lazy seaside vacation — to claim our spot on the beach for the day. Being used the crowds at the Jersey Shore, we aimed to arrive at 9 AM, allowing ourselves plenty of time to find a primo parking spot and rent a few loungers while awaiting the hubs's arrival…only to find that the only other people at the beach so far were a group of scuba divers and an even larger group of nude swimmers. So, we set up our towels on the rocky beach until the umbrella and chair rentals staff arrived (roughly around 10:30, in true Euro fashion), and played a game of "where should we focus our gazes so as not to stare at the nude beachgoers?"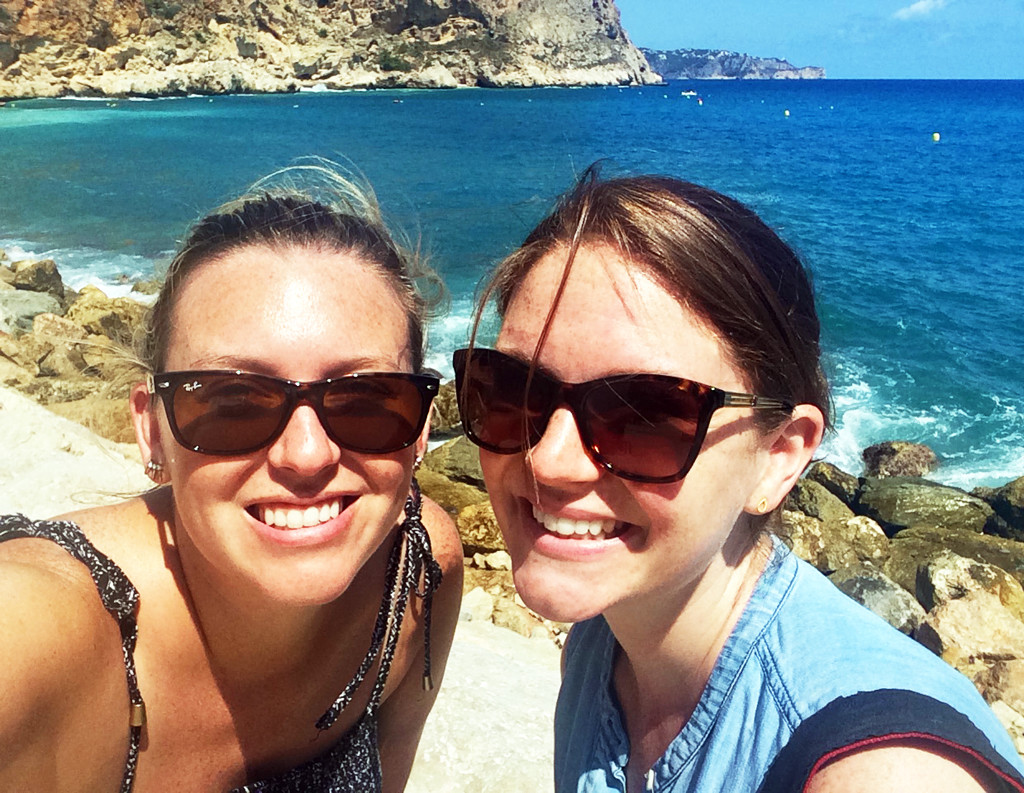 (a selfie aimed AWAY from the beach felt safe…)
By the time Jeff arrived in the afternoon, we were ready for a break from the sun, so we posted up at the seaside cafe for a lunch of jamon and manchego sandwiches (sans the jamon for the prego). With our bellies full and our freckles starting to run together, we headed home to our villa for the rest of the afternoon, where we could float in the pool and enjoy another meal involving… more jamon and manchego.
drool-worthy dinner spread via instagram | @lazytravelers
Valencia // Most of our time in Costa Blanca was spent in the nearby seaside towns, but we knew we wanted to spend at least one day in Valencia, which looked to be about an hour and a half drive from Benitachell. Having not done a lot of advance research (quelle surprise), we weren't quite sure what Valencia had to offer us.
With Jeff behind the wheel, we let him decide where our first stop would be, so he took us in the direction of the waterfront to Malvarossa Beach, known for its wide sandy beach and promenade of restaurants, shops, and hotels. Since none of us had dressed in our beach gear and, let's face it, our priority is always food, we decided lunch would be our first stop.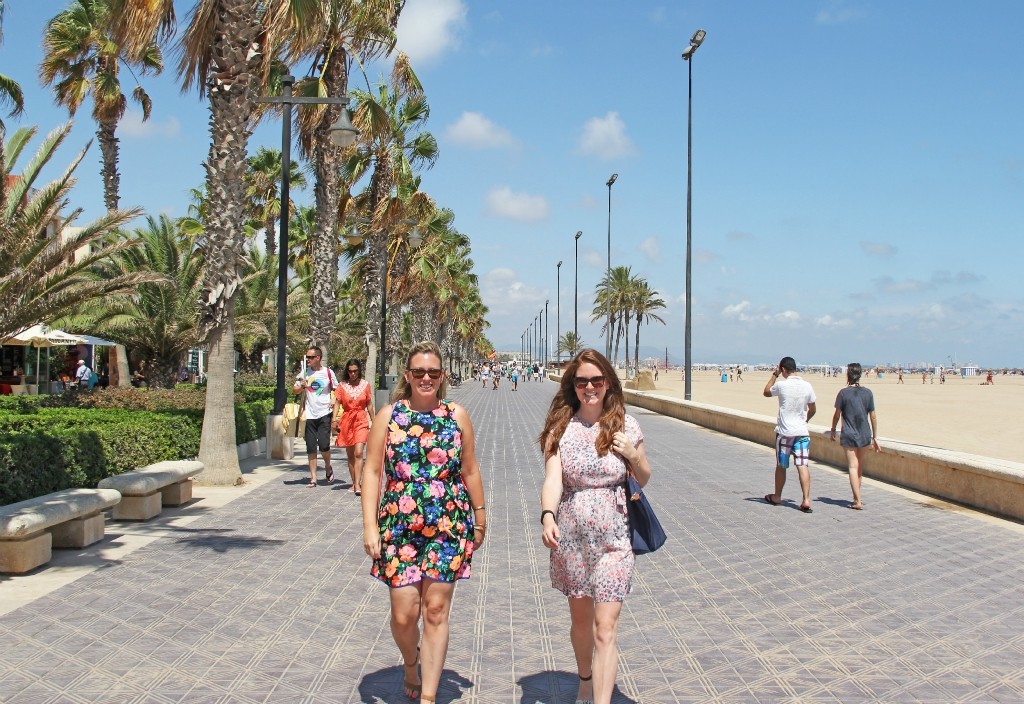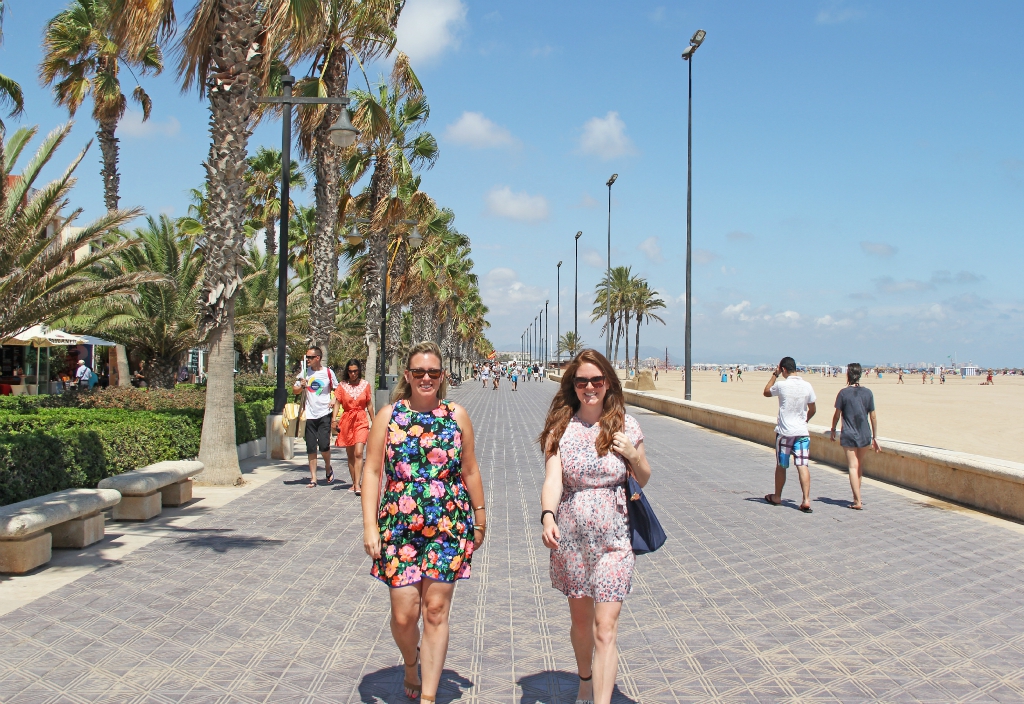 We took a quick stroll up the promenade to survey our options and settled on a cute-looking wine bar facing the beach, Portolito. The menu featured a variety of tapas and traditional Spanish dishes, but we had complete tunnel vision: Valencian paella. On our previous trips to parts of Spain, we had sampled all sorts of paella, mostly made with seafood. However, as we learned quickly during our week in Costa Blanca, Valencia is considered the birth place of paella and the most traditional way of cooking it is with a chicken and lamb base rather than seafood.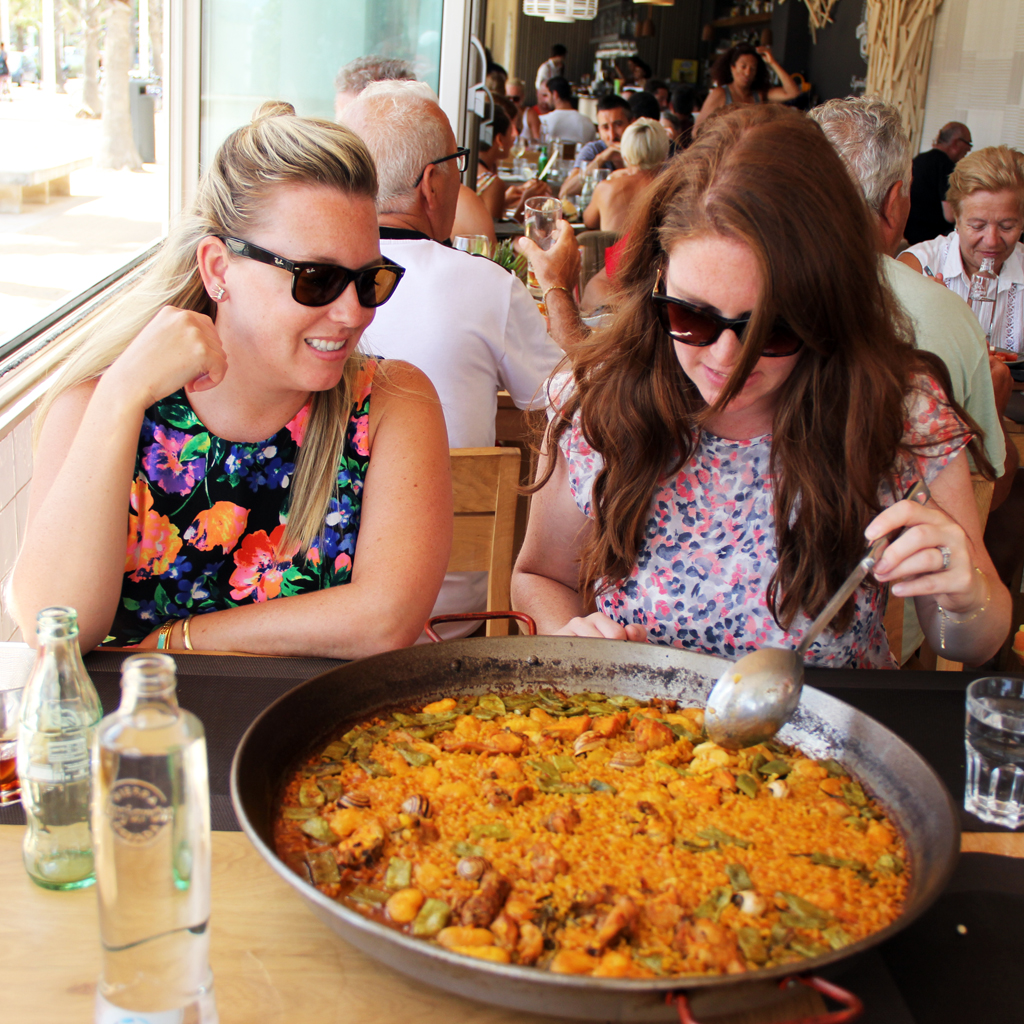 Oh, and snails? WELL, OK, WE'LL TRY IT. The verdict? PERFECTION.
After our long lunch, we headed back to the car to explore our next neighborhood… just in time for siesta. Though we drove around the streets of Old Town, the majority of shops and restaurants were closed up for the summer season or siesta, and coupled with our heavy lunch, we were reluctant to leave the comfort of the car to wander the streets. So, we changed our plan of attack and decided to abandon Valencia for the rest of the afternoon and head instead to seaside town of Dénia, where we were confident the ocean breeze and a happy hour cocktail/mocktail would re-energize us.
Dénia // Driving towards the Dénia marina, with sailboats on our right and the Montgo mountain on our left, we knew we had made the right decision.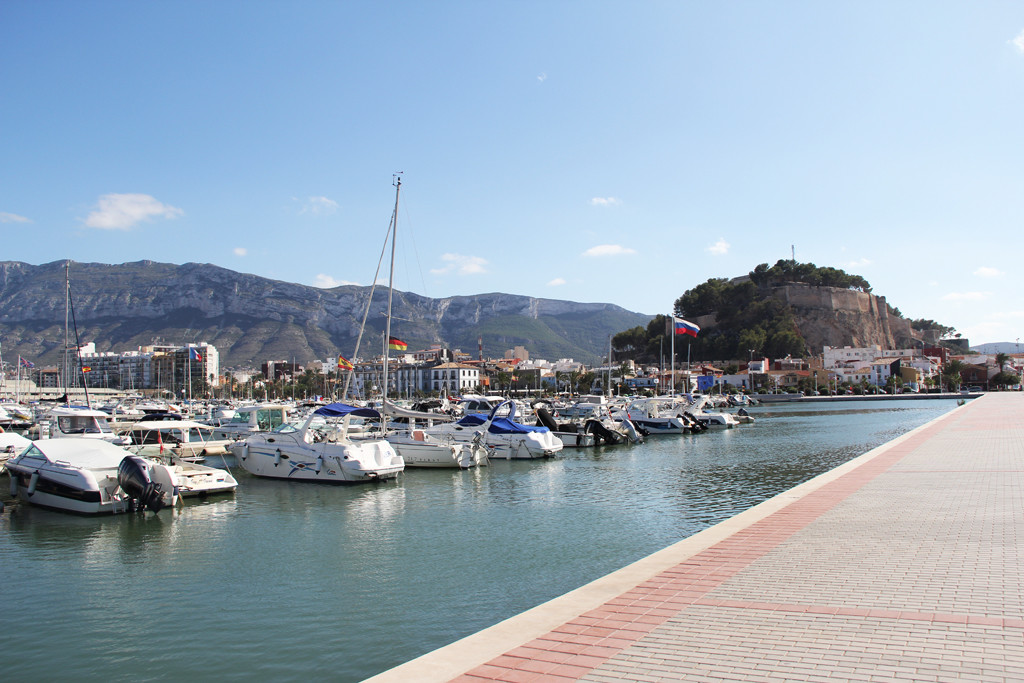 We parked near by the marina, where we stumbled across a kite show, much to the hubs's delight, and then we walked along the boat slips picking out our favorite yachts and sailboats.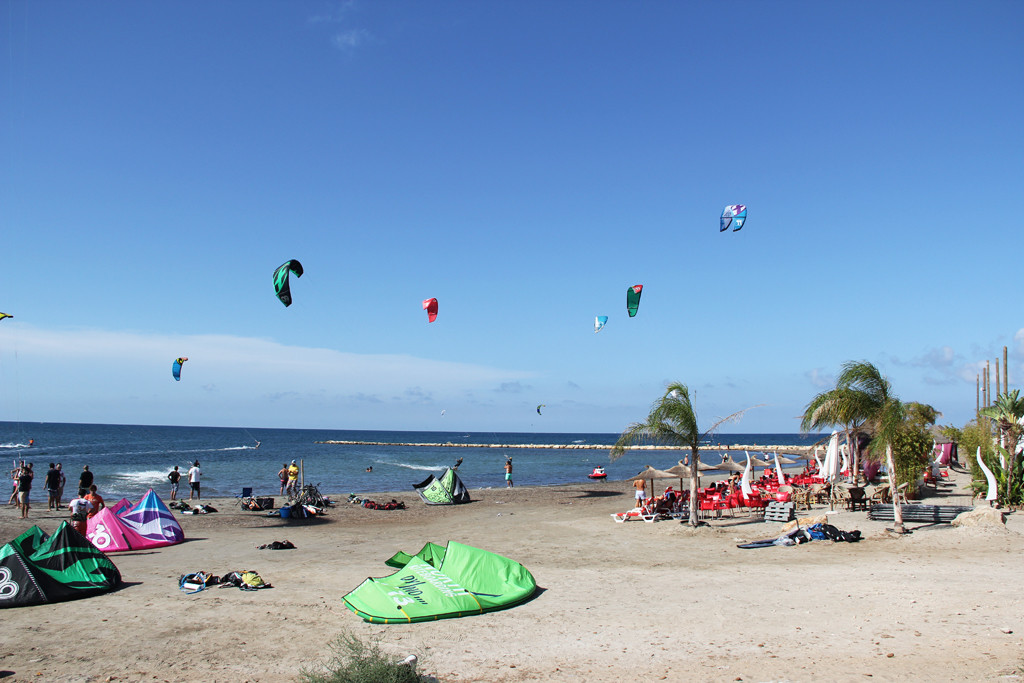 Daily yachts to Ibiza actually leave straight from the harbor, but we seemed to have missed our invite out to party with Leo. Next time.
We had this guy to party with instead: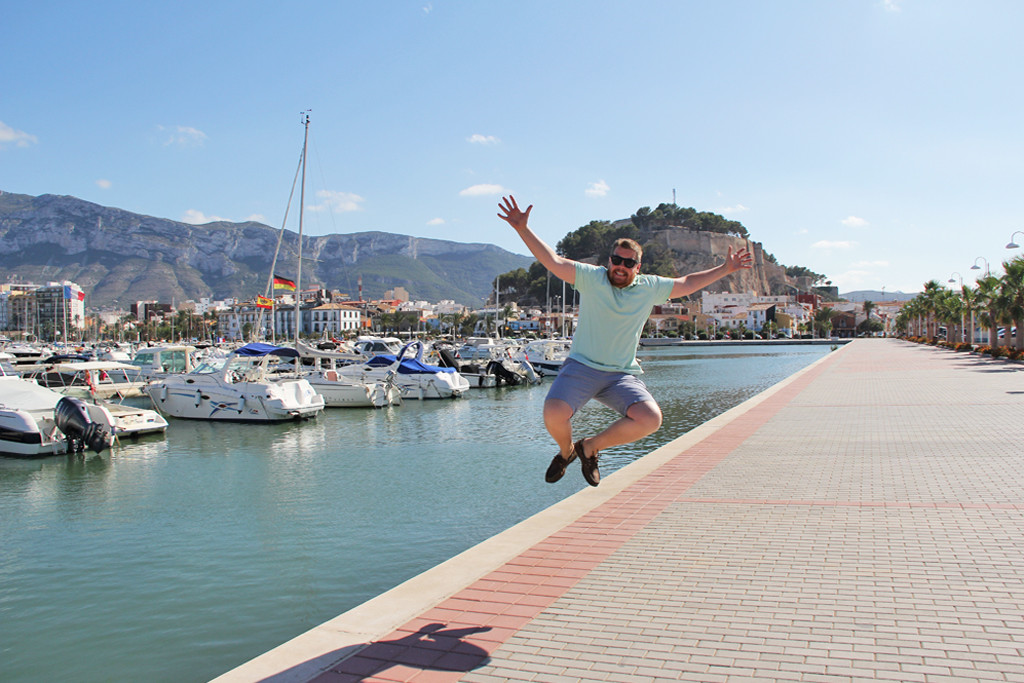 (This was actually his reaction to seeing the kitesurfers.)
We walked along the waterfront restaurants, spotting Es Tapa Ti, a tapas bar recommended to us by one of Jeff's colleagues, and decided to stop in for happy hour — gin & tonic for the hubs, a Spanish beer for the wino, and sparkling water galore for the romantic.
It just so happened that an old college friend of the hubs's now lives in Valencia and has a beach home in Dénia with her boyfriend, so we met up with the two of them for pre-dinner tapas. Not wanting to give up our water view, we headed back over to the harbor to a restaurant whose name is completely escaping us, where we munched on fried calamari, boquerones, and tomate pain.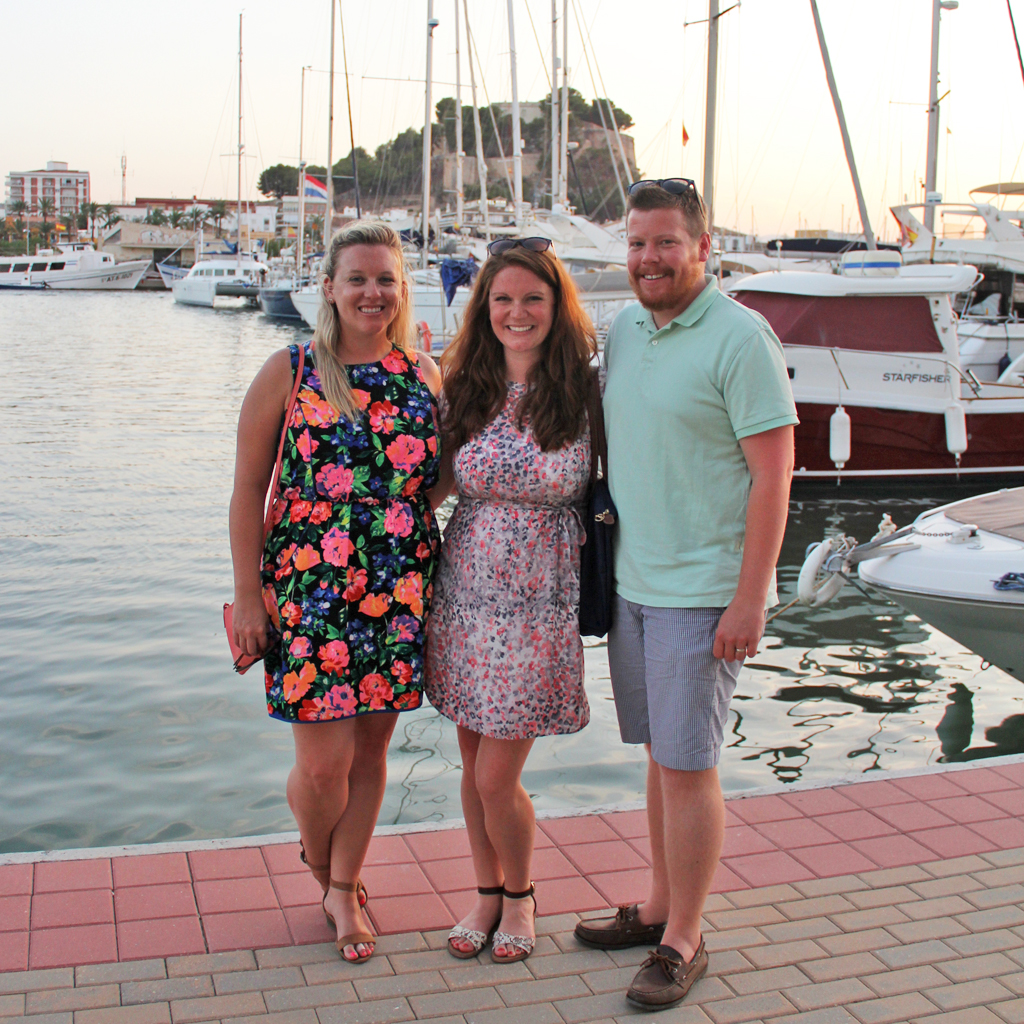 As the sun started to set, the hubs's friends urged us to drive back to the villa before it got dark so we could catch a glimpse of the beautiful views from the scenic road back to Benitachell. They were right.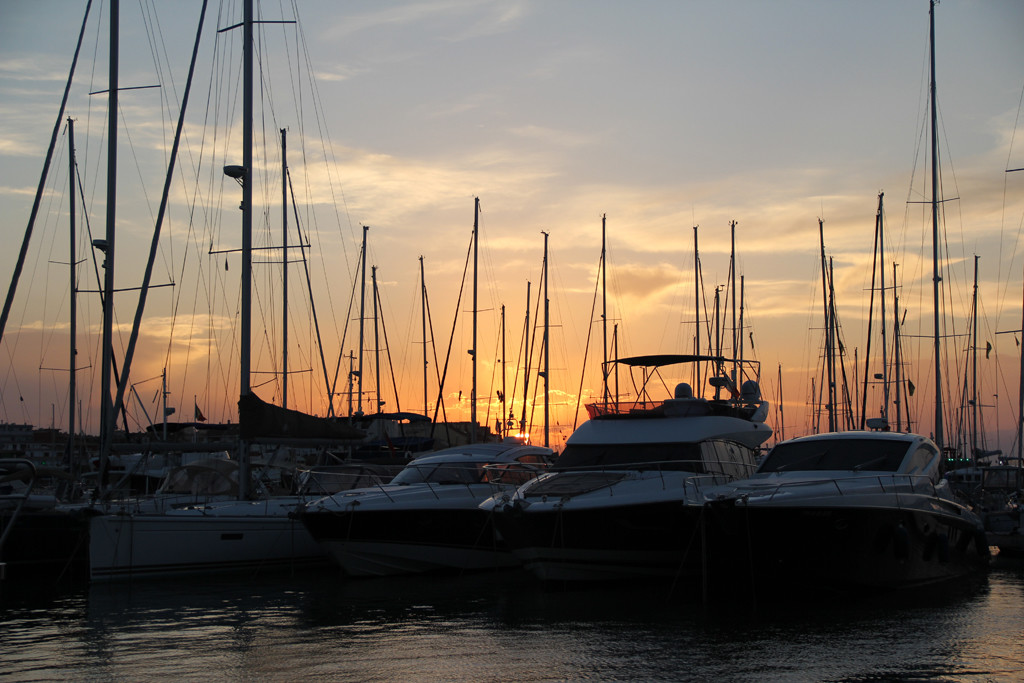 Cala Granadella // During dinner in Dénia, our new local friends were surprised to hear that we didn't enjoy our first trip out to Jávea. Thinking perhaps there was a part of the nearby town that we may have missed, we did a bit of research before our last beach day and decided to give another beach in Jávea a try: Cala Granadella.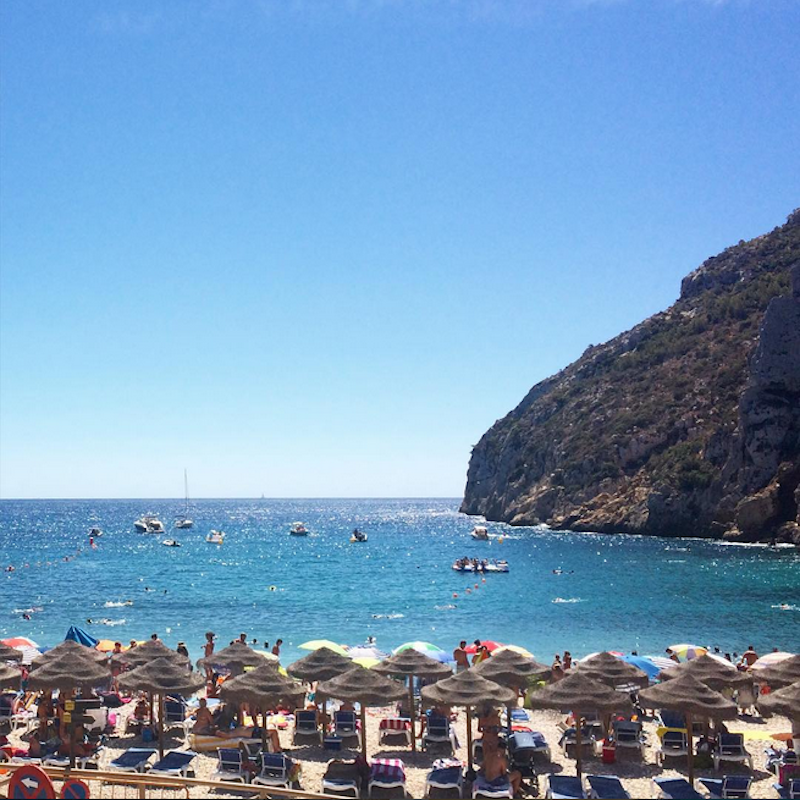 photo via instagram | @lazytravelers
The romantic had read that our drive to Cala Granadella would take us through a scenic forest, so we didn't question it when Google Maps took us off a paved road and onto a a dirt road… which turned into just dirt… and eventually brush. When it took us running over a full bush to advance further, we sent Jeff out on foot to check out just how much more of this "scenic forest" we had to drive through.
Turns out,  we were in the middle of a (VERY POORLY MARKED) National Park and definitely not one that allows for cars to drive through it. We quickly backtracked over the brush, out to the paved road, and off on a longer, but just as scenic, drive through the park down to Cala Granadella.
In the end, it was totally worth it! Cala Granadella rivals Cala del Moraig as the most beautiful beach in the area. Having forgotten to grab cash before we made our way to the beach, we found that we couldn't rent loungers and an umbrella like we had at Cala del Moraig, so we explored the cliffs and rocks around the beach and then headed inside to Restaurante Sur for a leisurely lunch. We let our server decide what we should order, which turned out to be octopus (pulpo!) to start and a variety of local fish and meats as our mains — a flaky white fish called durado for the wino, the chicken a la granadella for the romantic, and a tuna steak for the hubs.
As we sat overlooking the Mediterranean, we knew we had found everything we wanted from our seaside vacation and more. Though we're positive there's plenty we missed around the region, one thing is for sure: we left plenty to explore upon our inevitable return — which will, of course, include mucho, mucho pool time.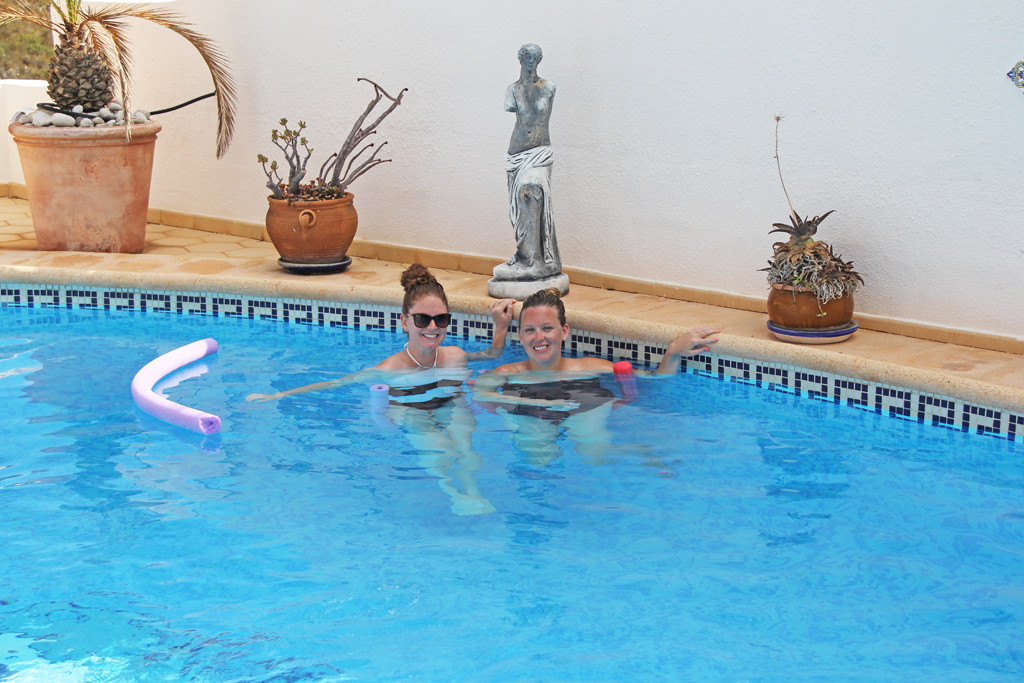 THAT'S RIGHT, Costa Blanca! We shall return!
…and that's not, like, a threat. We just really liked you.
xo!
the romantic & the wino