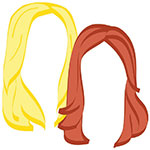 We can't hate on 2016 that much. Sure, there was a LOT of bad. But, as you know, there was a lot of good, too. We've decided that that's what we want to focus on. So, without further ado, let's talk about one of our very best trips of last year. In October, we spent one week in Mykonos at My Greek-Villa's beautiful Villa Ellis!
We had a great time with our husbands during our week-long jaunt in Northern Portugal, but sometimes, it's nice to leave the boys at home and get away for uninterrupted girl time, ie. wine drinking, gossiping, over-eating and plenty of lounging. (Though who are we kidding, our husbands are just as fond  of all of these things as we are.)
After long travel days from our respective cities, we grabbed a quick connection together to Mykonos. There, to Carolyn's delight, we were immediately greeted by two small airport cats. Our villa owner, Panos, also met us at the airport, and led us to our home for the week. This was super necessary, given the windy route up to our villa. It was a long travel day, but all was forgotten when we saw the view from our terrace. This was especially true because we arrived right in time for an absolutely stunning sunset.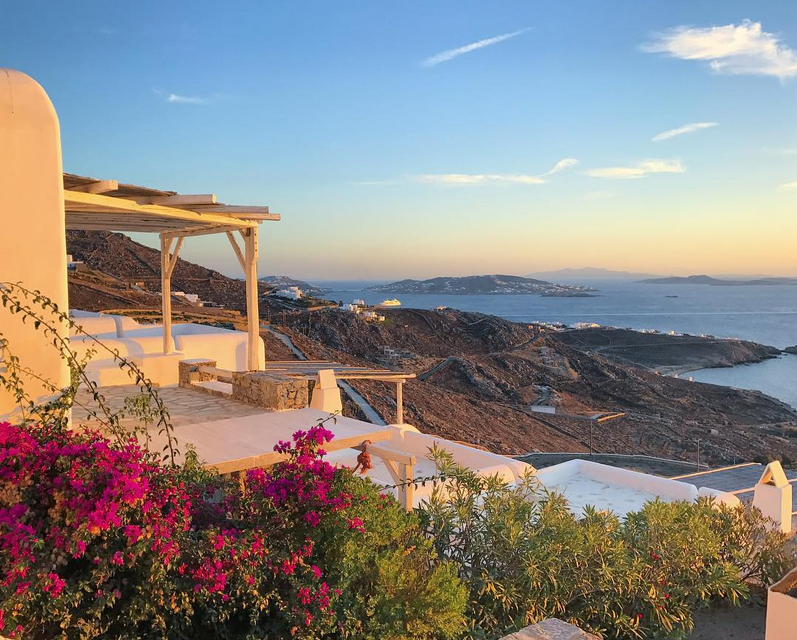 [photo via instagram // @lazytravelers]
We dropped our bags and staked claim on our rooms. This was easy because Panos had very sweetly already set up a crib for MLC in one. Then, we climbed back into our rental car and high-tailed it for a nearby grocer. The streets of Mykonos are intimidating, so we didn't want to be out too long after dark. Fortunately, it was pretty straightforward to get to the store. There, we stocked our fully-equipped kitchen with plenty of tzatziki, whipped feta, olive oil, and bread. Oh, and most importantly, wine. All the essentials for the perfect girls' week!
We crashed hard that night, though not before a glass of wine or two to decompress. The next morning, we woke to find a stunning sunrise and a pack of local kittens to greet us. Their arrival cemented both Villa Ellis and Mykonos in general as Carolyn's new favorite place in the entire world.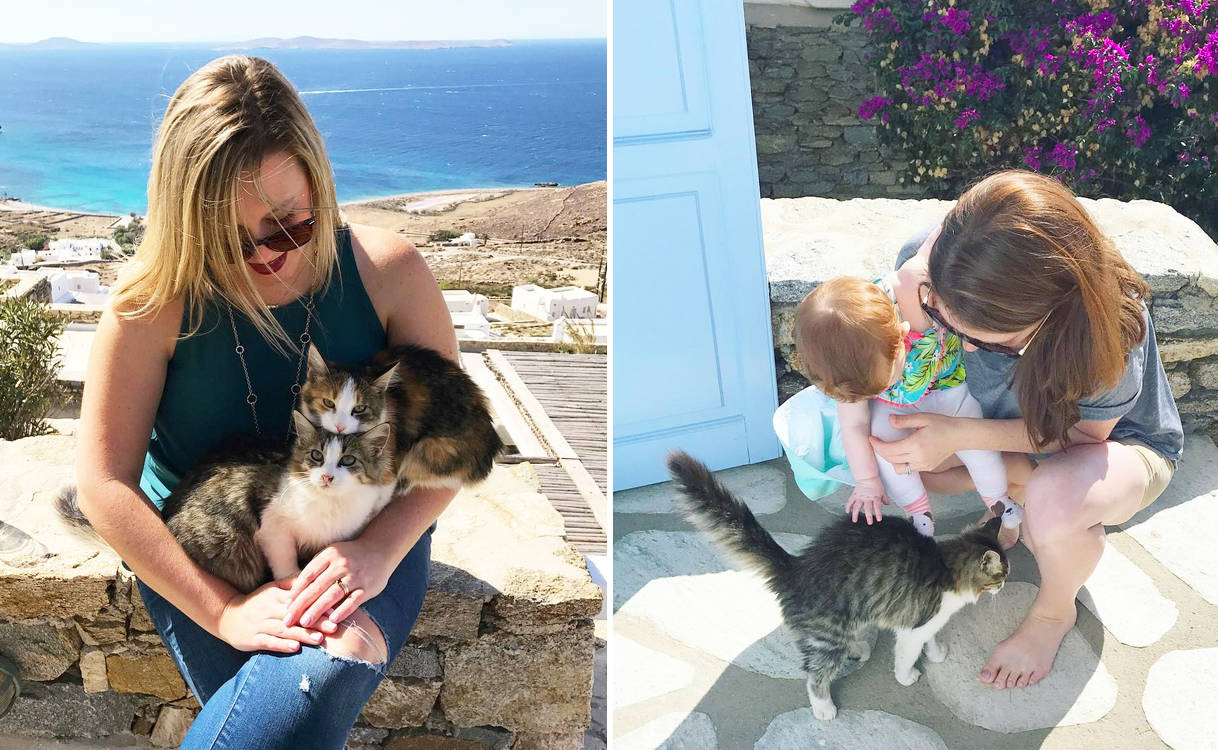 We chose October to visit Mykonos, both because we knew we'd need an autumn pick-me-up as we lamented the end of the summer and because off-peak travel has worked out well for us in the past (looking at you, Napa). Since October is the very, very end of the season, some businesses had started to close. But, honestly, when you're traveling with a baby, shoulder season is kind of the dream! A handful of restaurants and hotels stay open through the end of October. Because it was so quiet, we felt like we had them all to ourselves. A full recap of where we ate and drank is in order because the food was SO. GOOD. But we'll tell you this much: a car is absolutely necessary in order to fully explore.
We (read: Carolyn) drove across most of the island in search of the best restaurants. Along with being an amazing way to see Mykonos, we also got to try places that felt incredibly local. The old town of Mykonos is adorable and about a 15 minute drive from Villa Ellis. It's also so worth getting out and exploring the more rustic areas of the island. This is where the true heart of Mykonos is hiding.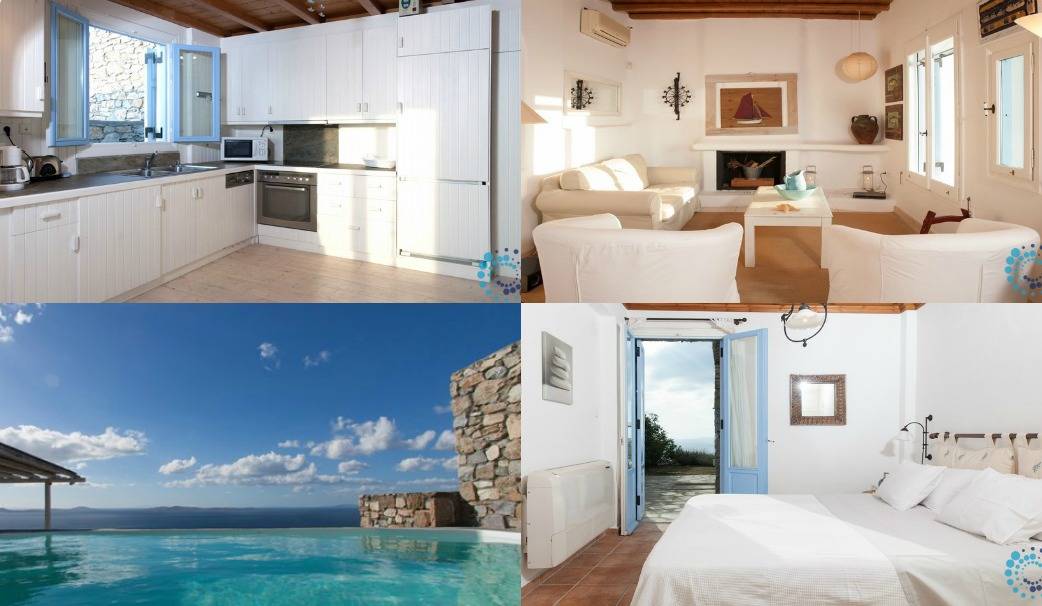 the interior of our villa
photos courtesy of My Greek-Villa
We spent a lot of time exploring the island, but our villa with a view was an ideal spot for lazy mornings and sunset happy hours. October in Mykonos is sunny and warm during the day, but the temperatures dropped along with the sun. The winds kicked up a bit, too. This made for perfect red wine + sunset viewing, which we did each evening from our villa terrace. We also made sure to have extra sweaters and scarves on hand. As the skies darkened, we relocated to the cozy living room to keep the gossipfest going and the wine aflowing.
(Just thought of that rhyme right on the spot, nbd).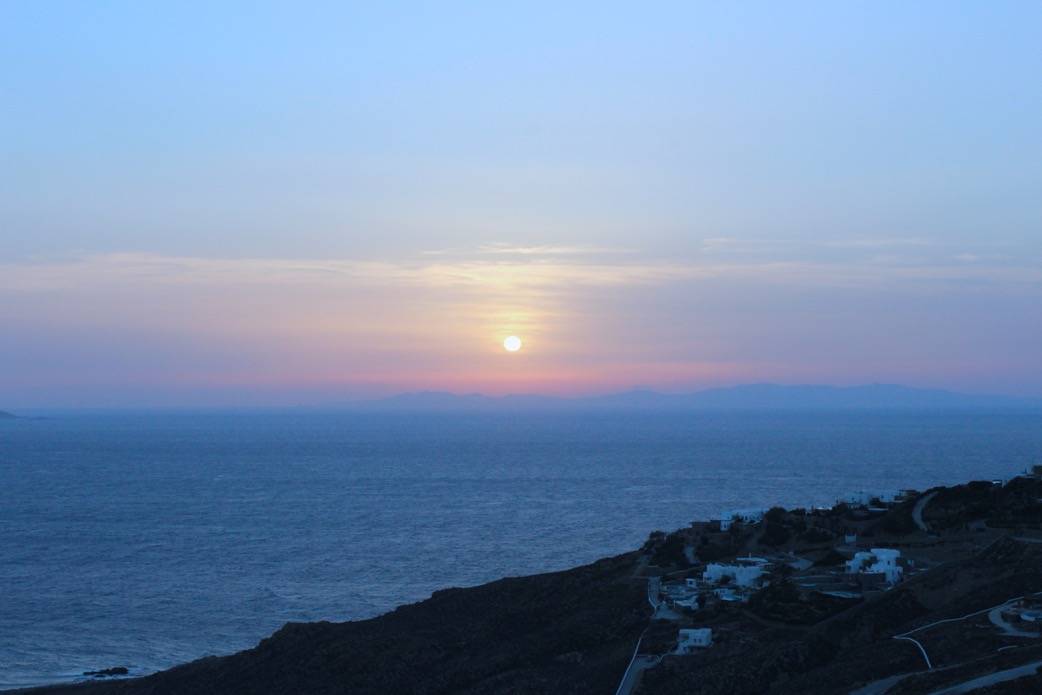 another HIDEOUS sunset from our My Greek-Villa terrace
One upside of the villa's layout is that two of the bedrooms are downstairs (where we and Margot all slept), and the third, featuring twin beds, is up a spiral wooden staircase on the third floor. This makes it perfect for small groups or families, though the spiral stairs and multi-level layout is maybe not the MOST baby-friendly by design. It was more than doable, but feels worth mentioning if you're also traveling with a tot.
Another important thing to note about traveling in October is that, even though it warmed up during the day, there was just the slightest hint of autumn in the air at all times… and as such, there was unfortunately no time for our private pool. We think this is the perfect excuse for a return trip to Villa Ellis in the summer, yes?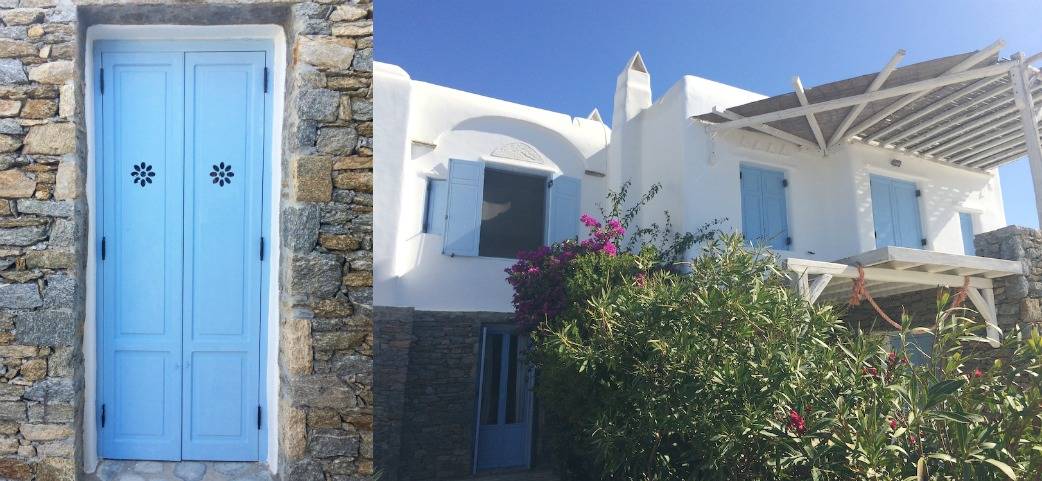 cooould our villa BE any more greek?
We have lots more to share about our girls getaway to Mykonos, including where we ate, drank, and shopped — so stay tuned! Until then, we'll just be here, pouring over photos of our gorgeous villa and feeling very nostalgic for our chilly island nights on the terrace.
xo!
the romantic & the wino
We were guests of My Greek-Villa during our time in Mykonos. All opinions are our own, and it is important to note that much to Carolyn's disappointment, no cats were packed up and taken to America at the close of this trip.