It's no secret that we're long-time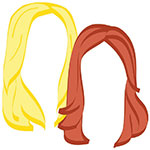 fans of traveling during the off-season. The pace is slower, the locals are friendlier, and best of all, the prices are lower. Now that one of us is traveling with a baby, shoulder season travel is more appealing than ever. One of our favorite things? Wining and dining in Mykonos was SUPER low-key during our recent trip. This was especially welcome, since we were visiting a destination that's also known as one of Greece's top party islands.
Mykonos and its club scene go hand-in-hand, but an October visit meant most places were closing for the year. Fortunately, friends and readers who know the island well knew just where to send us (admittedly not club goers, even in our younger years), and we spent our week with My Greek-Villa wining & dining in absolute style.
Where to feel impossibly chic | Nammos // Psarou Beach, Psarou 846 00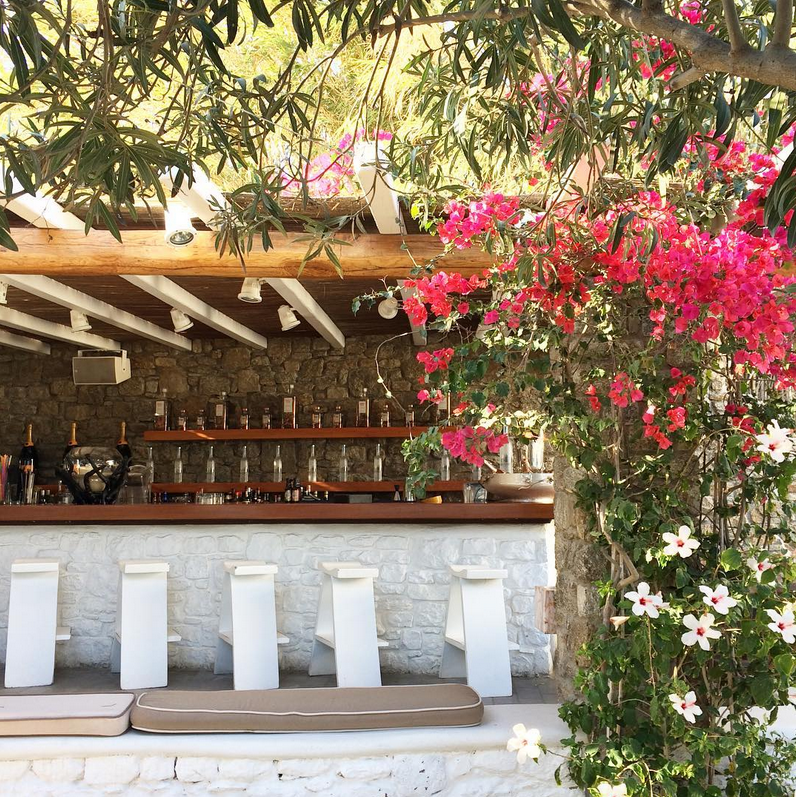 [original photo via instagram // @lazytravelers]
For our very first lunch outing, we opted for the highly recommended Nammos. To be honest, it was one of the few places that was still open for the season! When we rolled up to find a stunning beachfront restaurant impeccably decorated, we were more than pleased with our decision. Fast forward three hours and one octopus later, and we were feeling full and happy. We even wondered if it would be irresponsible to just eat every meal here?

Nammos is situated right on its own private beach. October in Mykonos is on the cooler side, but that didn't stop a handful of beach-goers. We didn't make a day of it ourselves! But post-lunch, we all took dipped our toes in the Aegean. It was easy to appreciate the fact we had one of the island's most popular spots all to ourselves.
Where to pretend you're a celeb | Efisia // Myconian Ambassador Resort, Elia Beach, Mykonos 846 00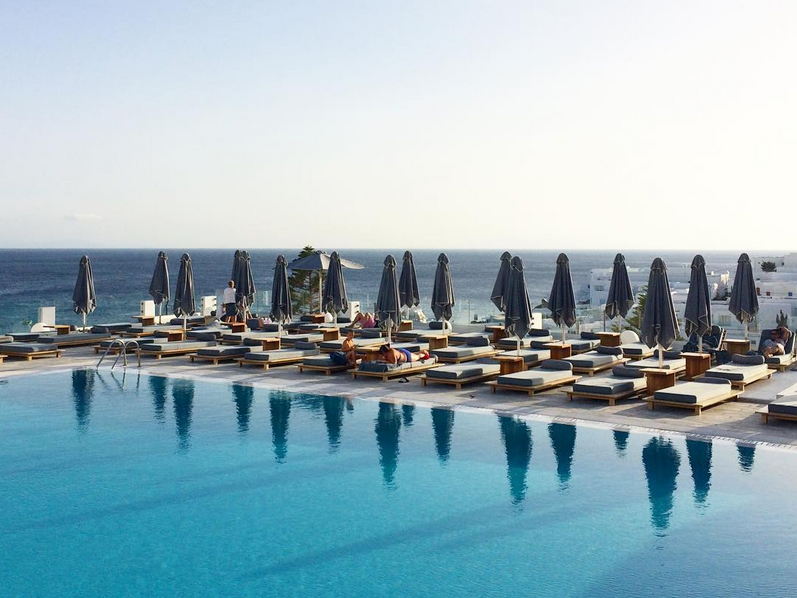 [original photo via instagram // @lazytravelers]
We had planned to visit Efisia for dinner. Instead, a tiny teething baby feeling a bit off her schedule threw a wrench in our plans. Luckily, we asked if we could switch to a lunch reservation, and they happily obliged.
We took a quick peek at some of the hotel's gorgeous rooms, and learned that this place is MADE for honeymooners. Then, we were led to a table by the pool, which looks out over the sea. Here, we ordered prosecco to sip while we browsed the menu, almost at a loss for what to order. Don't worry — we sorted ourselves out eventually, and by the end, couldn't decide who ordered the best dish. We munched on grilled octopus (for the second day in a row). And this time, we added stuffed eggplant, freshly caught fished, and a chocolate dessert to die for.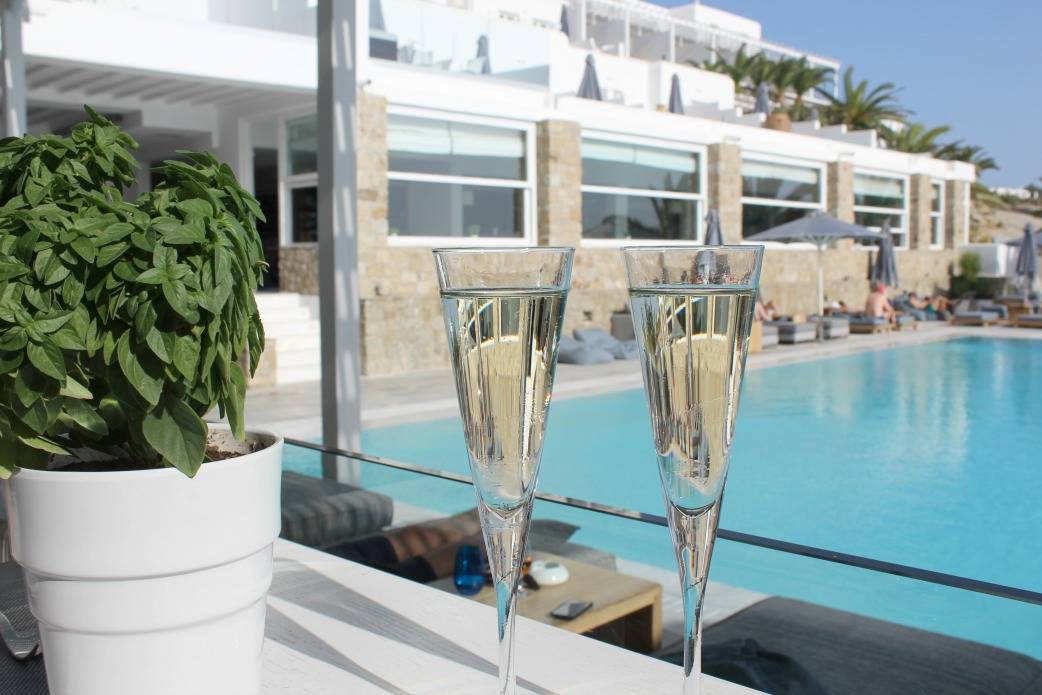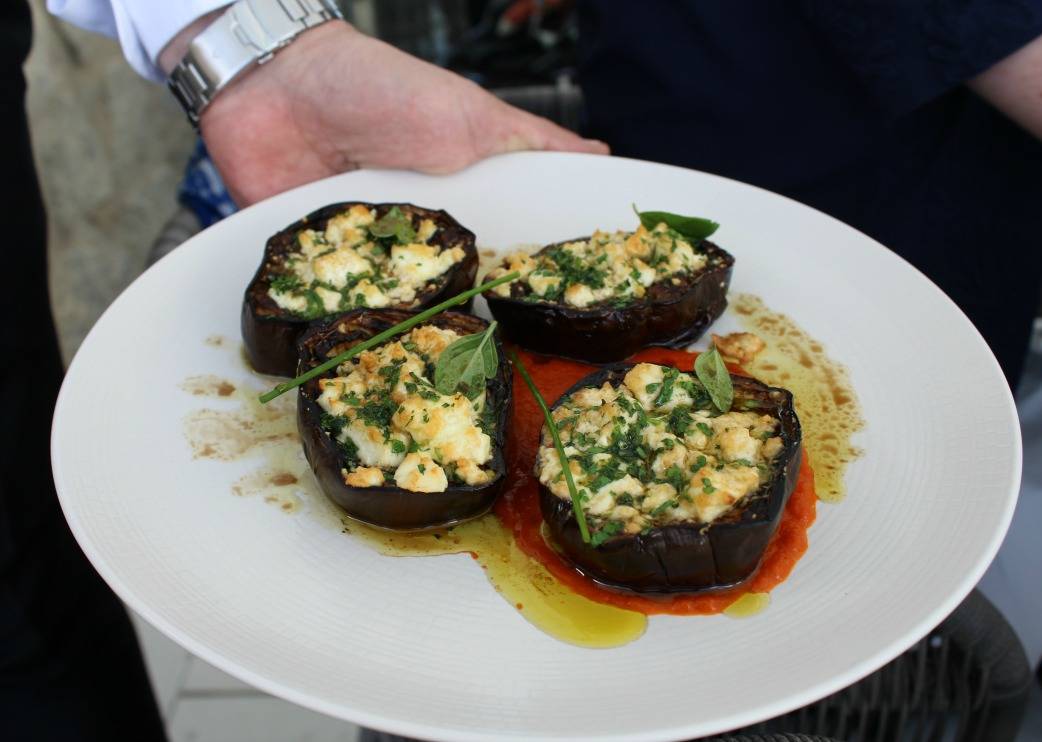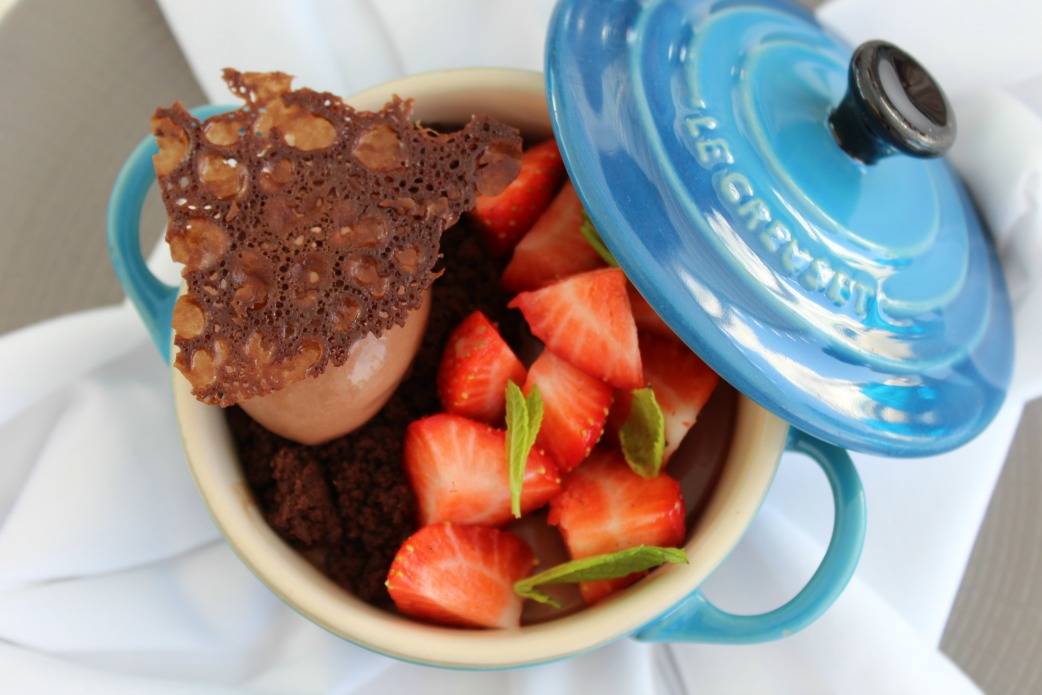 We're positive dinner here would be equally as amazing, but the view at lunchtime made us SO glad we were there before the sun went down. Bonus: if you are traveling with a baby, the staff was next-level attentive to our littlest lazy traveler, bringing her her own bowl of freshly peeled cucumbers to munch on while the grown ups chowed down on  finer fare.
Where to pretend you're a local | Kiki's Tavern // Mikonos 846 00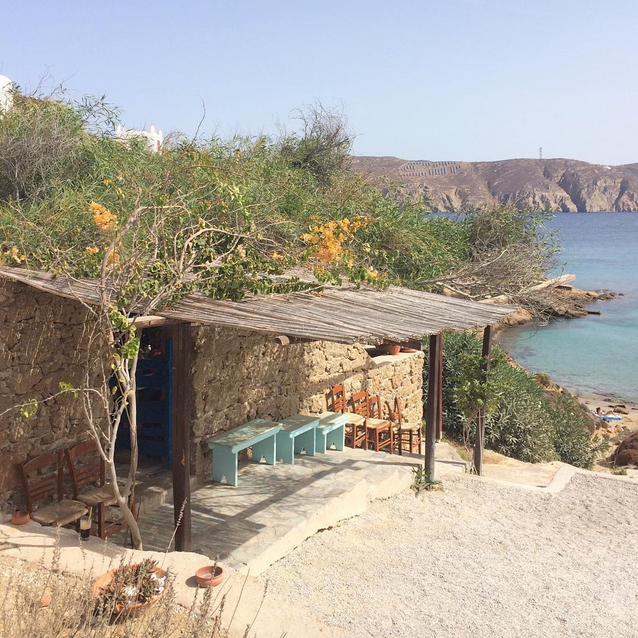 [original photo via instagram // @lazytravelers]
Between our current residency at the Villa Ellis and two lunches fit for A-listers, we decided it was time to switch things up. The next spot on our list is known for being the best option for local flavor, and we were NOT disappointed. We honestly can't pick a favorite meal, but we can tell you that you shouldn't rule Kiki's out just because it's far more rustic than our first two recommendations.
After a long drive from our villa, we found ourselves smack dab in the middle of the island, navigating dusty roads as we passed local farmers tending to their mules. Eventually, we found ourselves at what looked like a glorified hut, with a few tables and a deli counter inside. As was becoming customary, we shared everything, family-style, and spent the entire meal oohing and aahing over each dish.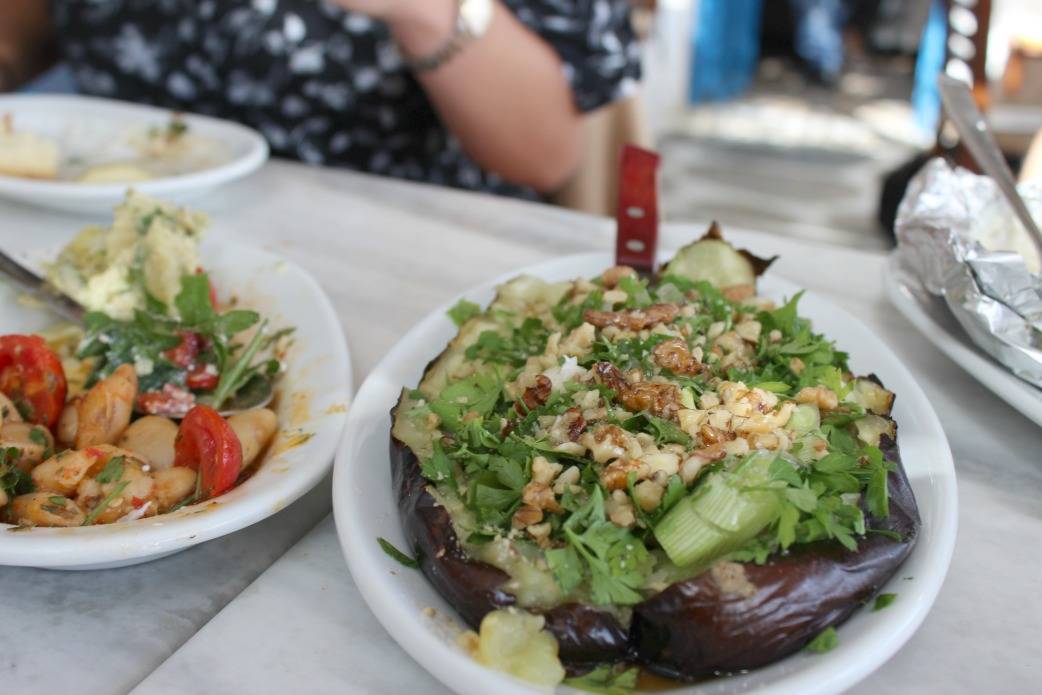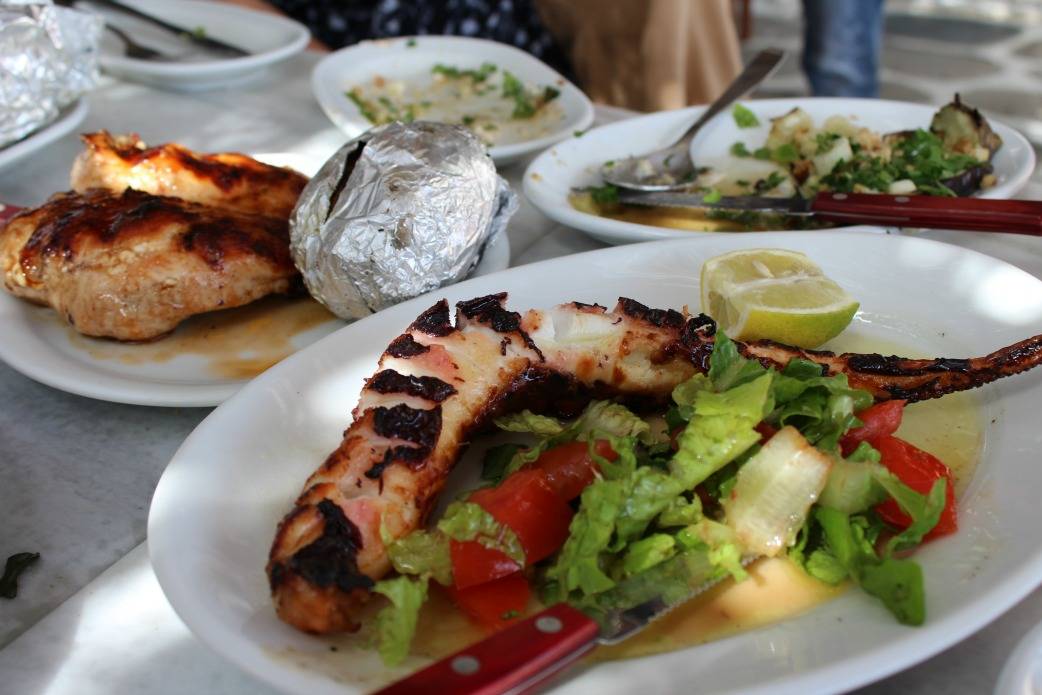 octopus all day 'ERR DAY
If it weren't for the allure of our cozy villa beckoning for us to return for sunset cocktails, we could have happily spent the rest of the afternoon relaxing at Kiki's and ordering dish after dish after dish.
Where to kick back in the Old Town | Caesar's Restaurant // Goumenio Sg. Mykonos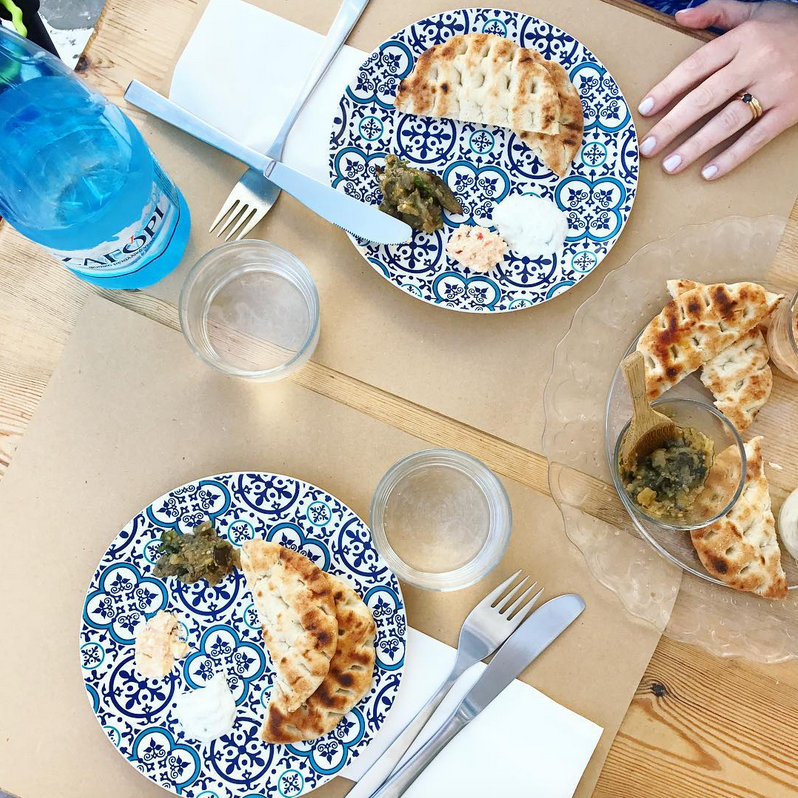 [original photo via instagram // @lazytravelers]
On our last day, we were wandering around the old town, wondering if we should just opt for some street-side souvlaki. Then, we spotted Caesar's. We decided to sit and make a proper lunch out of it. Even though finding a place on a whim in the most touristy area of an already pretty touristy place can be a crapshoot, we majorly lucked out. We split a bunch of mezze platters, people-watched, and wondered if the owner would let us buy all of his adorable plates.
The off-season dining scene was definitely proof that Mykonos isn't just a place to party. In fact, it's totally possible to do it without setting foot into one single club. Also note that every restaurant we visited was an easy drive from our villa. But, as we mentioned before, a car in Mykonos is definitely necessary. We rented ours from AutoEurope, which has become our go-to. It was an easy Hertz pick-up right as we got off the plane.
As for us, we're going to go dream of baked aubergine and whipped feta. Don't forget the side of warm pita, ahthankyou very much.
xo!
the romantic & the wino
– Thank you to My Greek-Villa for hosting our stay in Mykonos, and to Efisia at the Myconian Ambassador Hotel for inviting us to lunch. Our car with Auto Europe was not sponsored, but if you use the link above, we may receive a small booking commission. All opinions are, as always, our own.