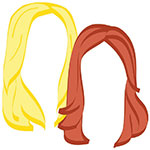 Bear with us for a moment while we ask you to reach back into the far corner of your memory. Please remember that approximately four months ago when we went to Portugal. Yep, complete with a tour of the Douro Valley and three nights in Porto.
Seems like a distant dream, right?? We spent a full week in Northern Portugal, drinking wine and exploring the Douro Valley, and bookended it all with a little preview of one of our new favorite cities: Porto.
Though we hardly scratched the surface on everything the city has to offer, we made a valiant effort. With two days and three nights, we crossed the city on foot. We wound up and down the many, many hills. Most importantly, we refueled on pastels de nata as we saw fit.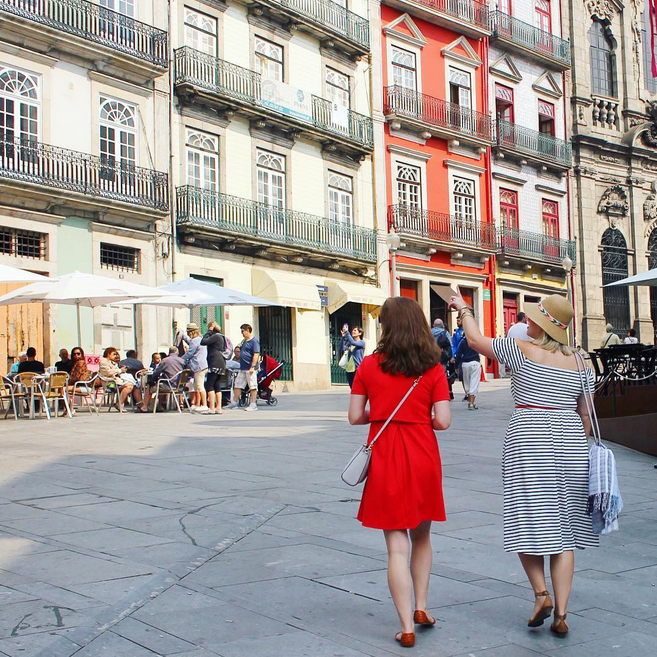 photo via instagram
Because we're helpful, we decided to share our findings via map… but a quick note about that — not everywhere is included, because some tips are just general neighborhoods, and others, like Graham's Port Lodge & the restaurant and beaches we visited in Foz, are a drive away from the center of the city. All well worth a visit, but not doable if you're only on foot.
So, without further ado, here's what we loved most!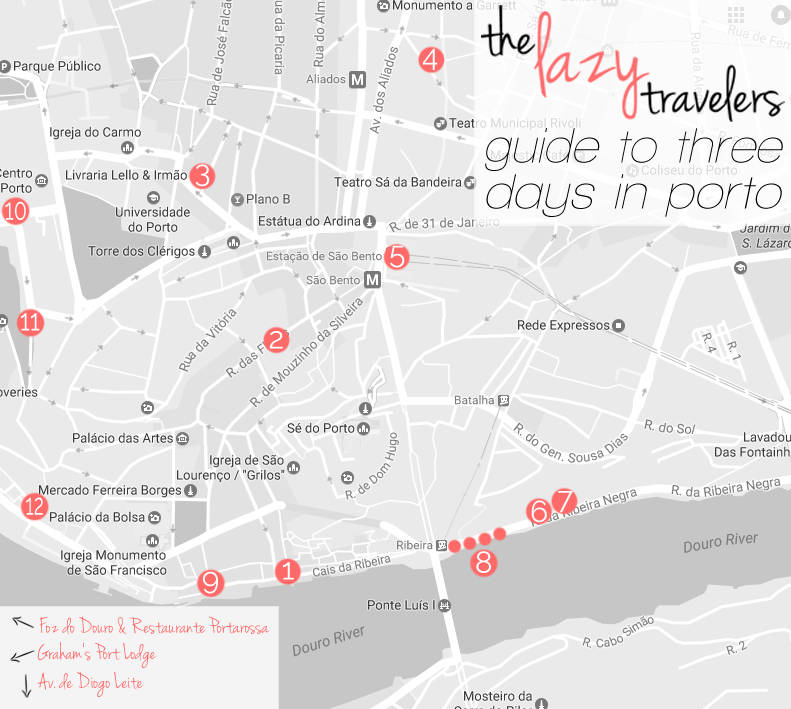 where we stayed // After flying from our respective cities, we all met at the (1) Pestana Porto Vintage Hotel (Rua da Ribeira Negra 184) for one night before our early morning roadtrip to the Douro. The hotel is situated on the (VERY) touristy Praça da Ribeira, so while it's perfectly located, it's also a little insane to get in and out the front door — and if you're on one of the lower floors, the noise level isn't great. We had a stay reminiscent of our Radisson Blu Bratislava experience, but flipped… Carolyn's night was lackluster to say the least, while Ashley found everything to be pretty seamless. It was another reminder that a bad stay doesn't necessarily mean a bad hotel. But, by the time we checked out, we were very ready to go. We wanted nothing more than a few nights of pure relaxation at our villa!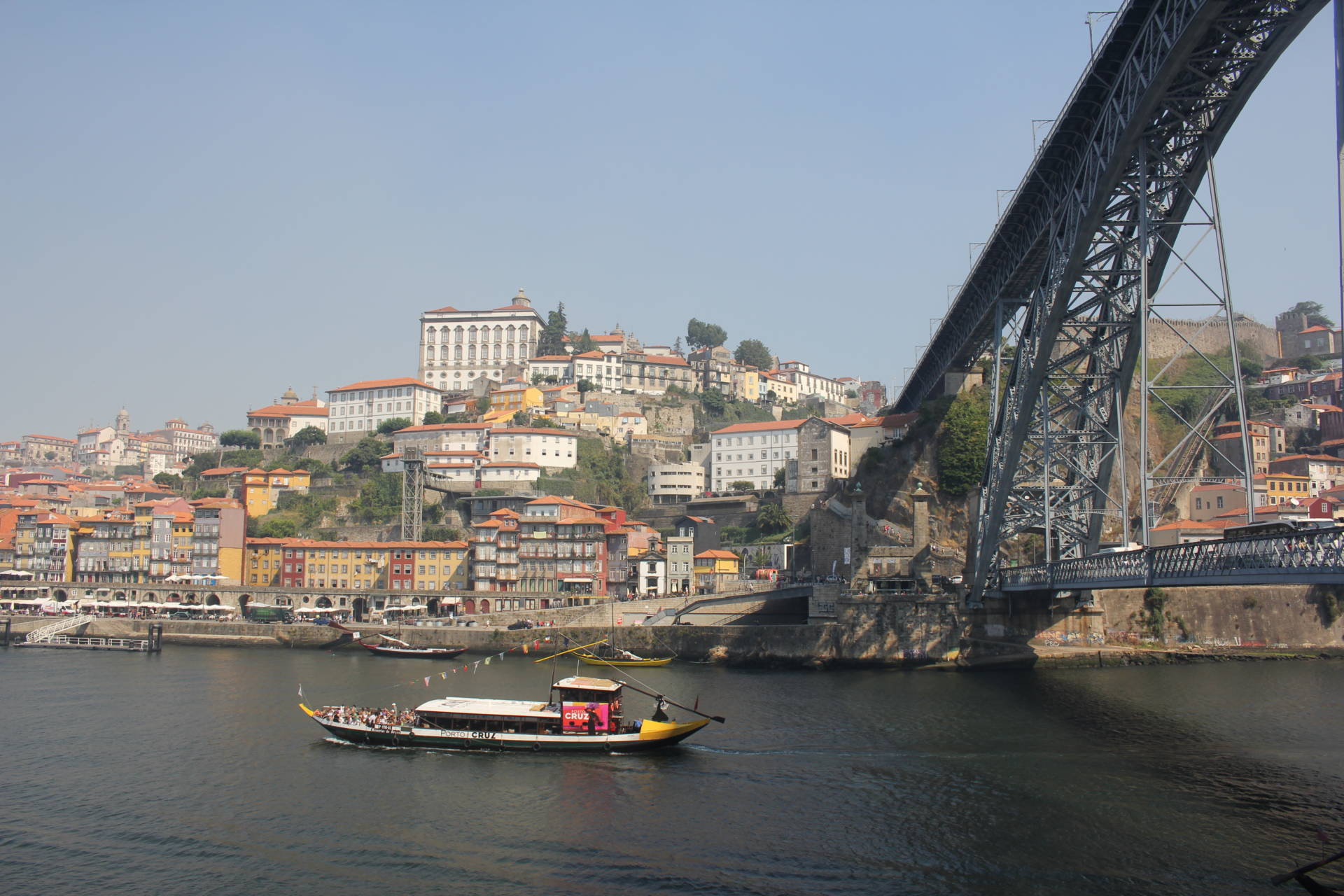 View of our hotel from across the river… it's somewhere down there on the left side?
At the end of our trip, we rented an adorable (7) AirBnb Apartment (Avenida de Gustavo Eiffel 184), also on the river, but situated just past the Ponte Luís I. It was just a 7 minute walk from our first hotel, but that bit of distance made all the difference with crowds. Then, on their last night, Carolyn & Sean relocated to a second AirBnb while the other half of our crew headed home. Having officially tested the waters, we can confirm: renting an apartment in Porto is just the way to do it.
where we ate // On our first morning, we strolled out of our apartment and along the riverfront market at the base of the bridge, before winding back up a randomly selected side street. It was here that we found a few cafe tables outside the (2) Chocolataria das Flores (Rua das Flores 121), so we settled in for a late breakfast and our first pastels de nata.
Later that afternoon, we started to feel peckish again, and decided it was time to try one of Porto's signature spots: (4) Pedro dos Frangos (R. do Bonjardim 223), famous for their roast chickens. (Peckish… chickens… get it? Pun obviously intended). We went understandably crazy at this family-style spot, but all agreed that the roast chicken was the absolute winner, hands down. A note: there are two Pedro dos Frangos, and the local who gave us a tip was VERY clear that we  had to go in the newer one across the street from the original. It's the same food in a nicer, more comfortable space, and with a long wait at both, this tip was key.
That night, we made it back to our apartment just in time for lazy baby's bedtime… and it was immediately clear she wasn't letting us strap her back up and head out for dinner. Fortunately, our apartment was just above (6) À Bolina (R. da Ribeira Negra 202), an adorable and delicious little restaurant that Carolyn & Sean had already taste-tested on their first night in town. We decided to run down and see if they do takeaway, and though they don't officially, they let the boys run plates from the restaurant up to our apartment, and back down again once we had finished. When fireworks started going off over the river, we realized we had officially found the perfect set-up.
On our last day together, we decided to drive to the residential neighborhood of Foz, and take a stroll along the beach.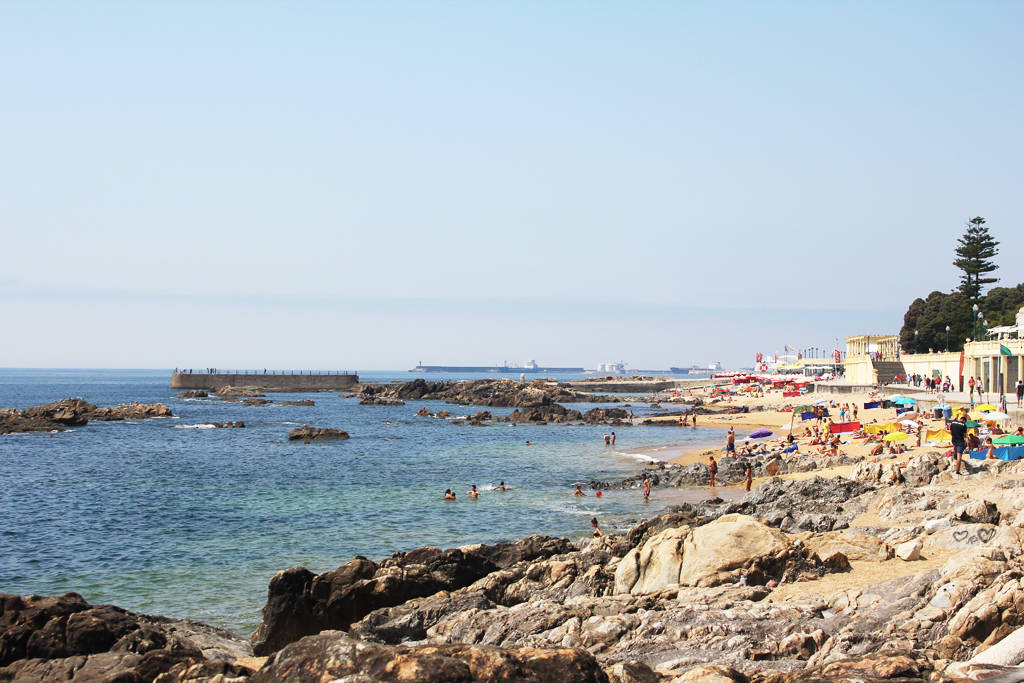 Restaurante Portarossa (Rua Côrte Real 289) was what actually called us here, because who can say no to wood-fired pizza and freshly made pasta??
where we drank // You already know of our love for Graham's Port Lodge (Rua do Agro 150), but we (unsurprisingly) tried a few more glasses of wine in and around Porto.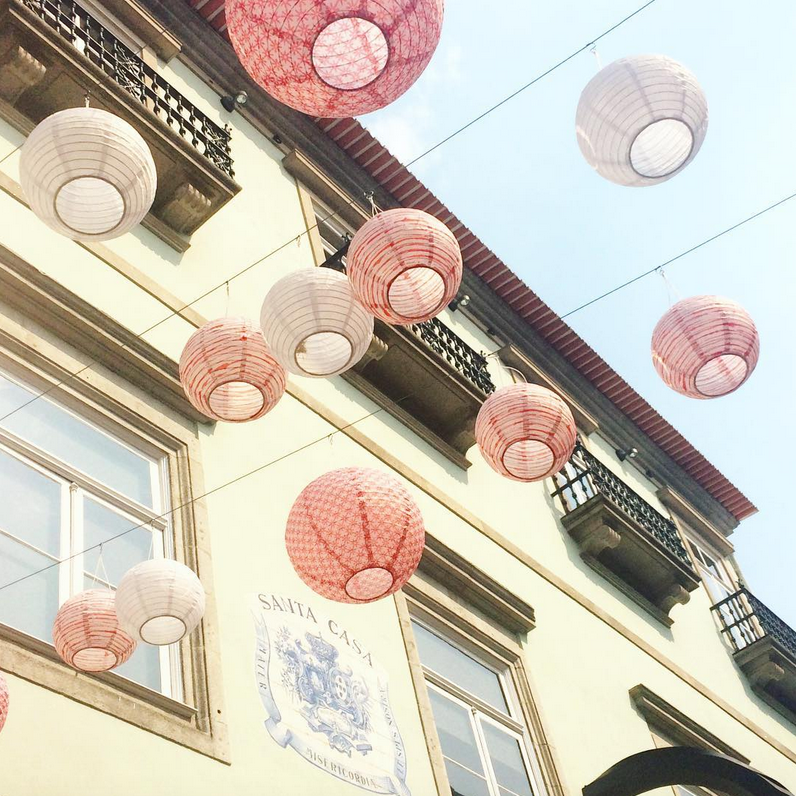 photo via instagram
Because of our itineraries, Carolyn and Sean ended up with some extra time before and after the trip to themselves. On the first night, while waiting for Ashley, Jeff & lazy baby to appear, they strolled the historic (8) Ribeira neighborhood and stopped at a small bar on the picturesque (9) Cais da Estiva for their first glass of Portuguese wine — and a side of olives and bread, natch. With the sun setting on the Douro and the sounds of an accordion player down the street, it was the perfect place to kick off the week. Later, they the many outdoor bars and cafes along Av. de Diogo Leite, just on the other side of the Luis I bridge. More wine, more olives, more bread — you get the picture.
Our point? Porto was just right for our lazy style of traveling and sightseeing. With copious small cozy bars, many of which come with Douro views, you can't really go wrong in Porto.
what we saw // We honestly had so much fun strolling down Porto's adorable streets and popping in little shops and restaurants that we didn't really do anything touristy (surprise, surprise). But, as proud Harry Potter fans, we weren't about to miss (3) Livraria Lello & Irmão (R. das Carmelitas 144), the charming bookshop that inspired JK Rowling when she was living in Portugal, teaching English. Unfortunately, as August is peak season in Porto… you can imagine how crowded it was. We queued, we pushed through, but we couldn't really get a good photo or properly enjoy the space. Even so, we're glad we got to see it in person — but we suggest googling around for some proper images to fully envision its beauty.
Also on the list: (5) São Bento Railway Station (4000-069 Porto)… which seems like a weird choice, no? But it's impossible to visit Porto without becoming immediately obsessed with their signature blue and white tiles, and we had heard that one of the most impressive displays is inside the train station.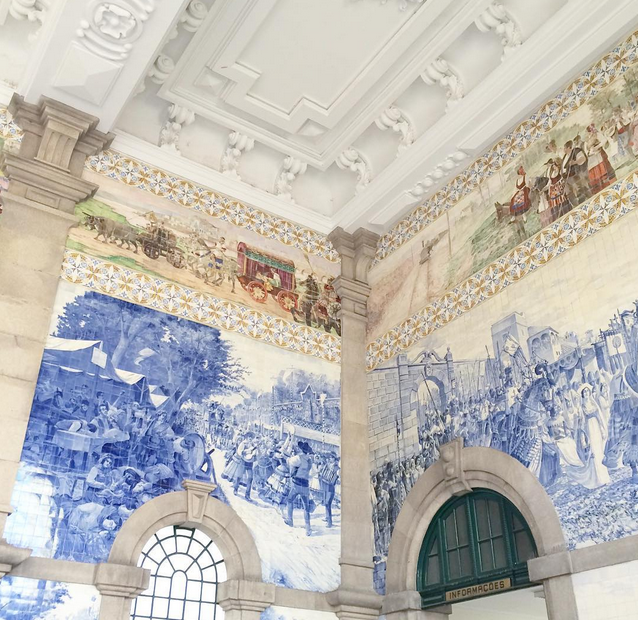 Clearly, a visit was in order to see if this is true, and si! It is, and we definitely suggest a stroll through.
During their solo time, Carolyn and Sean also visited the historic (10) Miragaia neighborhood. Completely unintentionally, they walked up and up and up until they stumbled upon the (11) Jardim do Passeio das Virtudes, which appeared to be a very popular spot for watching the sun set while drinking a Super Bock.
Later, while attempting to find their way back to their neighorhood, they came across the Escadas do Caminho Novo, one of Porto's many long, winding, stone staircases.

If you were looking for the top 10 sites in Porto, perhaps this wasn't the post for you. But if you, like us, are just fine with leisurely soaking up Porto's old world charm while stopping for a few glasses of wine or port along the way, we're your gals.
xo!
the romantic & the wino